I often wonder how many ingredients can we mix with pasta?  Almost anything and everything I imagine. But I also think that sometimes it is the classics that work the best and when I am craving an amazing, fast and scrumptious pasta dish this is it, Baked Pasta.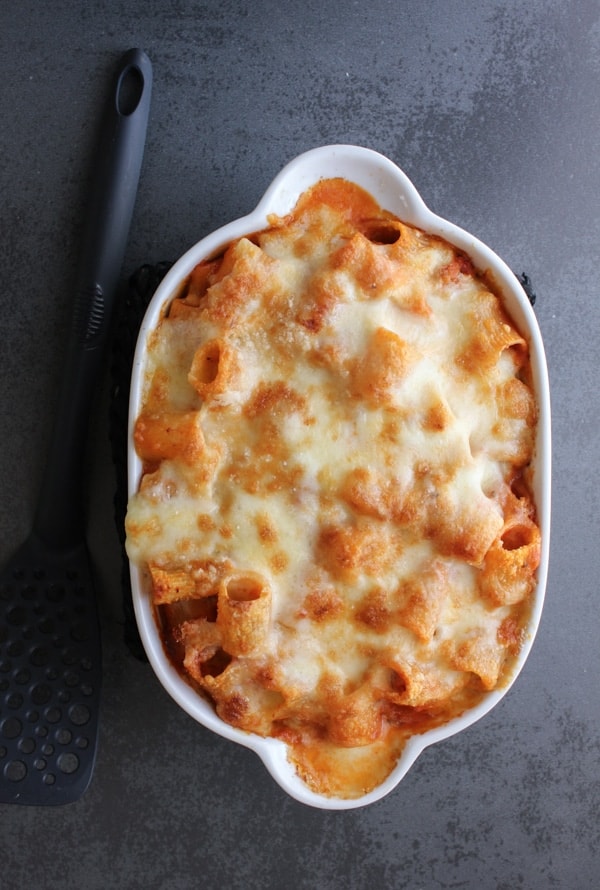 You basically need one bowl, an easy meat sauce and a lot of fresh mozzarella and parmesan cheese; add a little white sauce and it becomes so creamy and delicious you will be making it more than once.
The strange thing is  I never ate this dish at anyone's house but people would often talk about "pasta al forno", (baked pasta).  In Italy it can be a little confusing, because pasta al forno, also refers to lasagna, cannelloni virtually any pasta baked in the oven.  So talking to my sister- in- law (many years ago) she set me straight on  all the different types of baked pasta.
Over the years I have made this type of  baked pasta in many different ways, but I have to admit this is the winner, I think adding  just that bit of white sauce brings it all together.
Creamy Cheesy Baked Pasta
Before it gets too hot to turn on the oven, or too hot to even think about turning on the oven,  you must definitely give this a try.  Buon Appetito!

Rosemary
Yields 6
Creamy Cheesy Baked Pasta
For the white sauce, since you use so little, I bought a good ready to go at the supermarket or if you prefer you can always make your own, see white sauce lasagna for a recipe and it can be halved.
25 minPrep Time
25 minCook Time
50 minTotal Time
Ingredients
4-5 cups (660 grams) cooked short pasta ( or 2 - 2 1/2 cups (350-400 grams) dried pasta)
Topping
1 1/4 cups (175 grams) diced fresh mozzarella
1/2 cup (50 grams) freshly grated parmesan cheese
1/2 cup (100 mls) white sauce
For the Sauce
1/2 pound (300 grams) lean ground beef
2 cups (700 grams) tomato puree
2 tablespoons (27 grams) olive oil
1/2 teaspoon (3 grams) salt
1 teaspoon (1/2 gram) basil
3 leaves fresh basil (chopped)
1 teaspoon (1/2 gram) oregano
1 clove of garlic chopped
2 cups (450 grams) water
Instructions
Pre heat oven to 350° (180°)
In a small pot filled with water add the ground beef and and boil for about 10 minutes, drain.
In a large oven proof pan add 2 tablespoons olive oil, tomato puree, drained ground beef (crumbled), salt, basil, oregano, garlic and water stir to combine, add basil leaves and cook on medium heat, half covered until thickened (approximately 20-25 minutes).
While sauce is cooking, In a large pot of boiling salted water cook pasta al dente, drain.
When sauce has thickened, add drained pasta and mix well to combine. Drizzle 1/2 cup of white sauce and top first with diced mozzarella and then parmesan cheese. Bake for approximately 20 -25 minutes in a preheated 350° (180°) oven. Enjoy!
http://anitalianinmykitchen.com/baked-pasta/