I've been in Canada for two weeks, and yesterday afternoon my daughter and I decided to go check out, an Italian festival taking place on College Street in Toronto, called 'The Taste of Italy." I thought maybe we could find a plate of Pasta AllAmatriciana!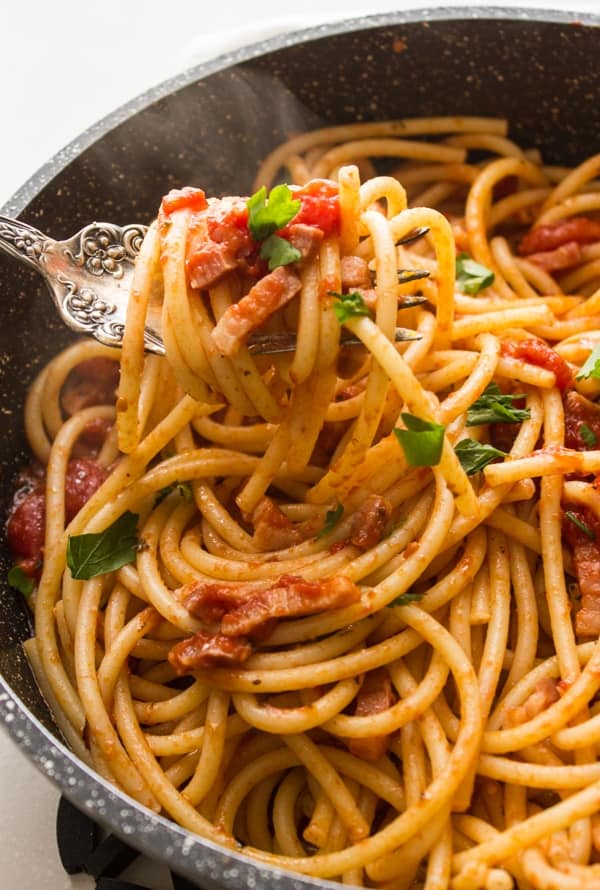 We walked around the street, passed by many Italians and mangia-cakes.  As the Italians coming from the old country used to call Torontonians.  It felt like I was back in Italy.  There was a very friendly atmosphere surrounding us.  And when we started to get a little hungry we decided to go try an Italian restaurant called "Il Gatto Nero."
The place was filled with people watching the World Cup game: Argentina vs. Bosnia. Everytime I come back to Canada for a visit it's always World Cup time, (strangely enough and is in no way planned).   I get so hyped up about it. There are so many different ethnicities in this city, which radiates a sense of unity and respect towards other ethnic groups as well as their own.
My daughter and I were sitting at our table and sharing a pizza when I started thinking of how great Italian cuisine is.
Some of the most amazing Italian recipes, in my opinion, involve pasta and one of my favourites, which I am eager to share with you today, is called Pasta allAmatriciana.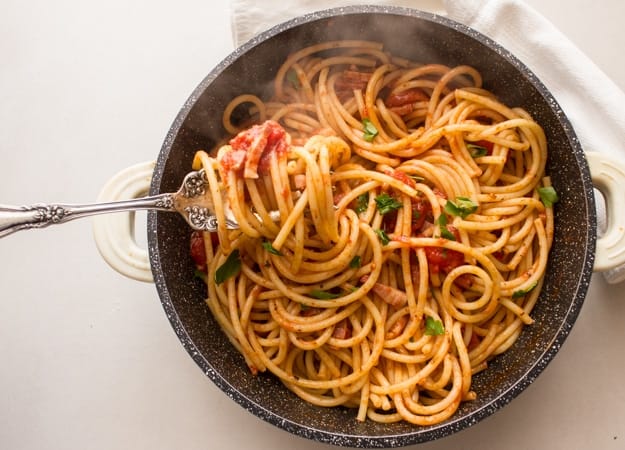 It's made with tomatoes  and pancetta, it's easy and  simple,  yet so delicious.  Buon Apettito!

Pasta AllAmatriciana
Author:
An Italian in my kitchen
Ingredients
¾ cup chopped pancetta
2 tablespoons olive oil
¼ cup water
1-2 cloves of garlic chopped
1 can Roma or Marzano tomatoes with juice (just canned tomatoes, nothing added) normal size not the large can.
1½ teaspoons oregano
1 teaspoon basil
¼ teaspoon salt
pinch or more of hot pepper flakes (if desired)
½ cup water
Instructions
In a medium pan add the 2 tablespoons olive oil, pancetta and ¼ cup water, cook over medium heat till pancetta is cooked (not over cooked or crisp) and water has evaporated (approximately 10 minutes).
Add garlic, can of tomatoes (cut up the tomatoes and mash gently with a fork), then add oregano, basil, salt, hot pepper flakes and ½ cup water. Stir to combine, place lid on pan but leave a small space uncovered, continue cooking over medium heat, stirring occasionally for approximately 10 minutes, remove cover and continue cooking until thickened.
Add 3 cups cooked pasta (my husband prefers short pasta,he says it holds the sauce better, I prefer Bucatini (today I won) you decide), add ½ ladle of pasta water and toss together gently until well combined. Serve immediately, top with freshly grated parmesan cheese if desired. Enjoy!
Pasta AllAmatriciana