I know, who would have thought that I, Rosemary, would be making a smoothie? A Chocolate Strawberry Banana Smoothie to be exact.
When I first got invited to share my recipes along with 41 other amazing bloggers, to this amazing Recipe E-Book. I noticed that there were different dishes that were being featured.
One was 5 minute snacks, which was easy enough. And then there was one that was completely out of my league. Green Smoothies. When I read that I thought: "Smoothies"?
I don't make smoothies and I don't drink smoothies and I certainly can't imagine a green one!" That my friends was and is my daughter's job.
My eldest daughter would make herself a smoothie every afternoon, she would continually tell me how yummy they were and that I really had to try one.
So needless to say,  I asked her for a quick smoothie course. And that my friends was the beginning of a new and happy relationship with me and Smoothies.
Ok I have to admit, my smoothies maybe aren't the ones that everyone will say "Oh my, that is the healthiest Smoothie ever", but they will say "Now, that is a good Smoothie".
Chocolate Strawberry Banana Smoothie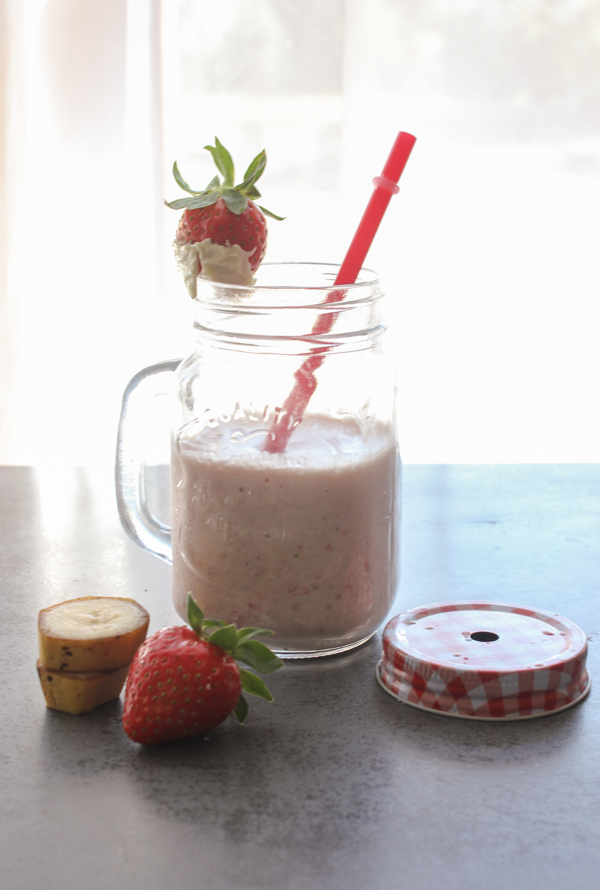 I decided that I was going to try a strawberry smoothie. Since strawberries are really starting to show themselves in every grocery store I enter these days.
And a banana. Because a banana is probably one of the best fruits to include, especially if it is frozen because it makes it so deliciously thick, (that was something I learned in my course).
And how could I have forgotten chocolate, my new favourite of course, White Chocolate. I melted the chocolate together with the milk and blended everything together to make a thick wonderfully tasty Chocolate Strawberry Banana Smoothie. Enjoy!
Chocolate Strawberry Banana Smoothie
Chocolate Strawberry Banana Smoothie, an easy strawberry smoothie recipe, a perfect snack, kids will love it. Simple, fast and healthy.
Ingredients
5

strawberries quartered

1/3

banana frozen

1

tablespoon

greek yogurt

1/2

cup

milk

1-2

ounces

white chocolate

(depending on how chocolatey you like it, I used white chocolate but I'm sure dark would work too) (25-50 grams)
Instructions
In a small pot melt white chocolate and milk together, let cool.

In a blender add strawberries, frozen banana, yogurt, and milk/chocol

ate mixture.

Blend until combined. If too thick add a little extra milk. Enjoy!
Nutrition
Calories:
290
kcal
Carbohydrates:
36
g
Protein:
7
g
Fat:
13
g
Saturated Fat:
7
g
Cholesterol:
18
mg
Sodium:
84
mg
Potassium:
474
mg
Fiber:
2
g
Sugar:
31
g
Vitamin A:
200
IU
Vitamin C:
38.7
mg
Calcium:
211
mg
Iron:
0.3
mg