It's time to get the water boiling and the pasta cooking, because in my house summer and warmer weather mean pasta salad season is here and will be most definitely the highlight of a lot of our meals. I know that summer is coming when I hear "Ma, can you make pasta salad today?"
All those fresh vegetables, spices and pasta just scream summer, and I love the fact that it's a cold dish and so easy and quick to make, you can or maybe you should make it ahead of time, sometimes mine doesn't even make it to the fridge to let those great flavours mingle for an hour or 2. It's great for a barbecue or a picnic, it's tasty enough to serve to friends and family and to make them go back for seconds. When you do start up your barbecue why not grill up some Grilled Eggplant or Grilled Zucchini two yummy summer appetizers!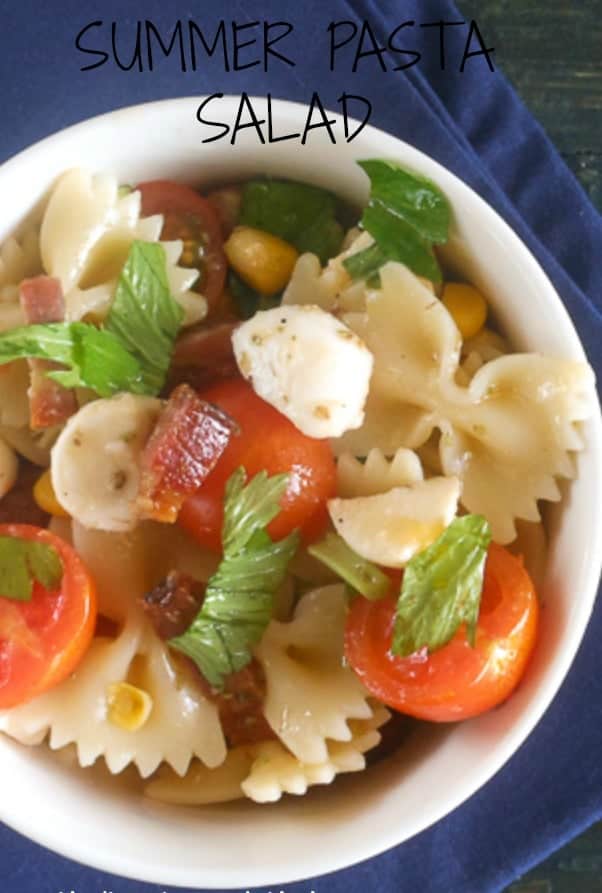 Getting back to the Summer Pasta Salad the saltiness of the pancetta and the crunchiness of the corn and celery all mixed together with pasta, mozzarella and cherry tomatoes, make this dish a light and healthy choice on those hot and sunny days when you just don't have the strength or even the willingness to cook up any Michelin-star meal.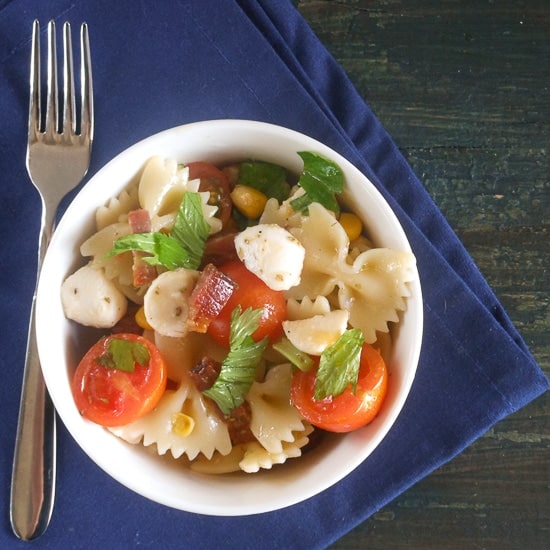 I go through so many cherry tomatoes during the summer that I've already planted my tomatoes and basil, because tomatoes and basil, as the Italians say, go together like "culo e camicia", which basically means they are a perfect match.
So when someone says "can you bring a dish"? This could be it. Get ready for summer and all that freshness. Buon Appetito!
Summer pasta salad
A deliciously easy and healthy, with all fresh ingredients, the perfect summer pasta salad.
Ingredients
3

cups

cooked bow pasta

1

cup

fresh chopped mozzarella*

3/4

cup

cooked sweet corn

10-15

cherry tomatoes (halved)

3/4

cup

cubed pancetta

1

stalk celery chopped

4-5

fresh basil leaves

1

teaspoon

oregano

1/2

teaspoon

salt

3-4

tablespoons

olive oil

56 grams
*or fresh small balls (halved).
Instructions
In a small frying pan add chopped pancetta and 1/4 cup water, cook on medium heat until the pancetta is tender and browned, but not burnt, drain on paper towels.

In a large pot of boiling salted water cook bow pasta al dente, then drain, and rinse in cold water or toss the drained pasta with a teaspoon of olive oil to prevent sticking.

In a large bowl add, mozzarella, corn, tomatoes, celery, pancetta, salt, oregano, and mix gently, add pasta, fresh basil and olive oil toss gently, let sit in the fridge for 1 or 2 hours before serving.

Toss gently before serving. Enjoy!
Nutrition
Calories:
276
kcal
|
Carbohydrates:
26
g
|
Protein:
9
g
|
Fat:
15
g
|
Saturated Fat:
4
g
|
Cholesterol:
16
mg
|
Sodium:
333
mg
|
Potassium:
130
mg
|
Fiber:
2
g
|
Sugar:
1
g
|
Vitamin A:
280
IU
|
Vitamin C:
3.4
mg
|
Calcium:
110
mg
|
Iron:
1.4
mg