I know what you are thinking, hmm that doesn't sound Italian! And it is not, it is Mexican and I introduced it to a little Italian.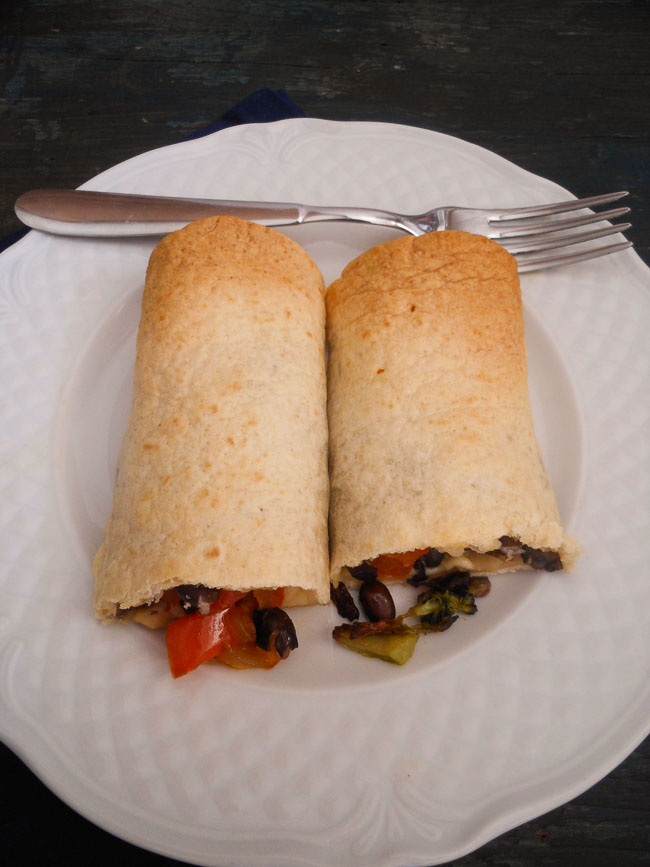 In my house at least two or three times a month we eat Mexican, as my youngest daughter says "Mexican is my absolute favourite!!" So to tell the truth I , ok not just me, but three out of four of us have sort of gotten tired of burritos.
In Italy it is quite hard to find hard  taco shells so it is burritos for us. That is until my eldest daughter discovered a new Mexican tasty dish called  Taquitos, which is a rolled up tortilla usually filled with a meat mixture and then deep-fried.
To tell the truth I didn't want a meat mixture and I didn't want to deep fry. So we discovered that these can also be baked, and bake them I did.
These Taquitos are so delicious, I decided to make an Italian veggie stir-fry consisting of chopped  onion, zucchini, mushrooms and broccoli and of course I had to add my favourite bean of the moment, black beans.
Believe it or not I first tried black beans this summer in Toronto,  I must have eaten a half-dozen black bean wraps, they are my new personal discovery and I plan on eating a lot of these amazing beans!
So naturally I couldn't resist adding them to my veggie mix and it was amazing. Add just enough hot pepper flakes to give it a little kick and with some medium cheddar and swiss cheese melted to perfection and believe me one won't be enough.
Taquitos have become our new favourite and guess what, they are on the menu for lunch tomorrow!
More good news you won't even notice that these Taquitos are even good for you, all those vegetables, baked, not fried. So what the heck! you could even have some dessert. Buon Appetito!
Taquitos
Taquitos, a delicious cheese and veggie stuffed tortilla rolled and baked to crunchy perfection.
Ingredients
8

tortillas

2

peppers diced

1

onion diced

1

cup

mushrooms chopped

1

cup

large chopped broccoli

1

cup

black beans

1/2 cup dried beans soaked for 8-10 hours the night before

2 1/2

tablespoons

olive oil + 1 tablespoon for brushing the tortilla before baking

1/2

teaspoon

salt

pinch or 2 of oregano

hot pepper flakes

to your liking

1- 1 1/2

cups

grated cheese (your choice

I used swiss, firm mozzarella and medium cheddar)
Instructions
Pre-heat oven to 400° (200° celsius)

In a medium frying pan add olive oil, peppers and onion, saute for approximately 15 minutes, then add the mushrooms,broccoli and oregano and continue cooking for 15 minutes or until tender (but not mushy) add the black beans and toss gently to combine.

On a flat surface place a tortilla one at a time, fill with 2-3 tablespoons of the veggie mixture and top with some shredded cheese.

Firmly roll up the tortilla and place on a parchment paper lined cookie sheet, brush the top of the tortilla with olive oil and bake for 15-20 minutes. Enjoy!
Nutrition
Calories:
324
kcal
Carbohydrates:
26
g
Protein:
14
g
Fat:
18
g
Saturated Fat:
8
g
Cholesterol:
37
mg
Sodium:
578
mg
Potassium:
350
mg
Fiber:
4
g
Sugar:
3
g
Vitamin A:
535
IU
Vitamin C:
35.1
mg
Calcium:
304
mg
Iron:
2
mg