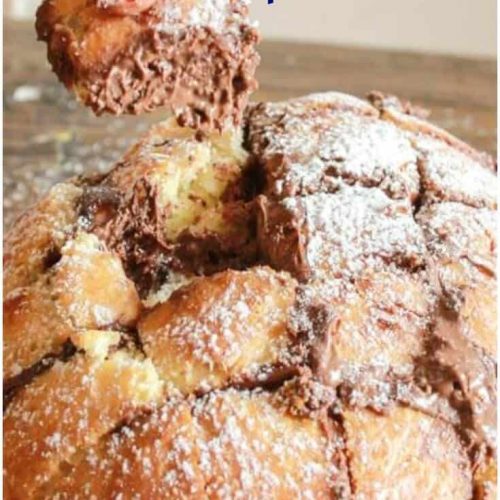 Print Recipe
Easy Homemade Nutella Pull Apart Brioche Bread
Easy Homemade Brioche Nutella Pull Apart Bread, a delicious not too sweet, Pull Apart Bread, a Nutella Dessert lovers dream!
In the bowl of the stand up mixer add flour and butter, combine with a fork to form a crumbly mixture, using a wooden spoon stir in sugar, yeast and salt. Attach bread hook to mixer, add eggs and combine on low to form a soft dough, continue mixing on low - medium for approximately 5 minutes. Remove dough (will be sticky) to a lightly floured flat surface and knead gently for a minute, form into a ball and place in a large bowl, cover with plastic wrap and let rise until doubled in size in a warm draft free area for 2 hours.

Remove dough to a lightly floured flat surface knead gently a few times, divide in two (I made 1 loaf plain and 1 loaf Nutella pull apart) balls, place on parchment paper lined cookie sheet, cover in plastic and let rise 1 hour.

Pre-heat oven to 400° (200° celsius)

Brush top of loaf/loafs lightly with milk, bake for 20-25 minutes or until golden, (tap the bottom of the loaf it should sound hollow when done). Remove to wire rack to cool completely.

NUTELLA PULL APART BREAD

Pre-heat oven to 350° (180° celsius)

Cut the loaf lengthwise into 1/2 inch (1 1/4 centimeters) slices, do not cut through to the bottom crust. In between the slices spread with 1/2 the Nutella, turn the loaf 90° and slice 1/2 pieces again, spread with the rest of the Nutella. Wrap in foil and bake in pre-heated oven for 10 minutes. Let cool slightly, dust with powdered sugar and serve. Enjoy!