Don't you just love fall, the colours, the sweaters, school starts (haha I just had to throw that in there)and comfort food. When I think of comfort food I think of a good Stew or a nice warm bowl of Soup. Two of my favourites that I would love to eat in Canada were Bean soup or Creamy Mushroom Soup.
Creamy Mushroom Soup and Parmesan Bread Twists
I was first given this recipe quite a few years ago from a friend. Since that time I have lightened it up a bit and added a couple of things here and there.
It is a simple, easy, wonderfully delicious Fall soup. There might be a pot or two extra but hey, you can't have everything.
I also came to the conclusion that the best accompaniment to soup would be some freshly baked warm out of the oven no-yeast Parmesan Twists.
So while your soup is coming together, your no yeast dough can sit for 15 minutes. In the last 10 minutes of heating the Creamy Mushroom Soup, you can just bake up the Parmesan Twists.
And there you have lunch or dinner on the table in about 30-45 minutes. Buon Appetito!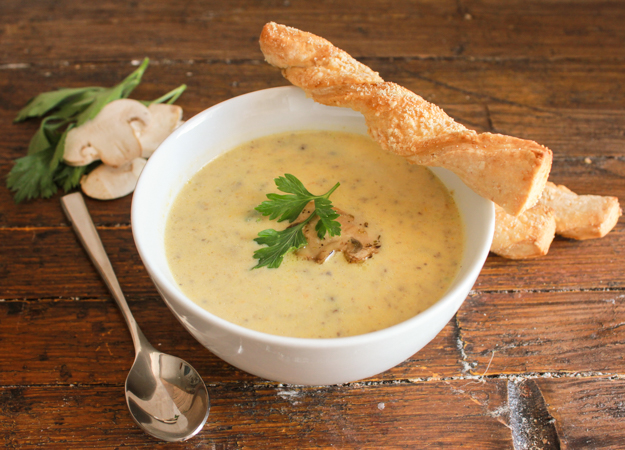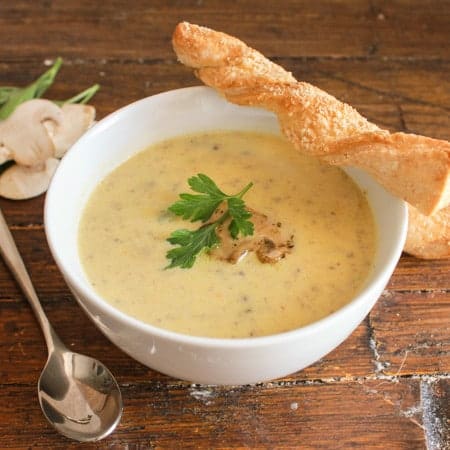 Creamy Mushroom Soup and Parmesan Bread Twists
Creamy Mushroom Soup and Parmesan Bread Twists, an easy delicious homemade creamy mushroom soup recipe, perfect with these no-yeast Twists.
Ingredients
MUSHROOM SOUP

2

cups

chopped mushrooms

approximately 1/4 pound / 110 grams

1/2

carrot chopped

1/2

stalk celery chopped

1/2

small onion chopped

3

sprigs fresh Italian parsley chopped

1/4

teaspoon

salt

1.4 grams

dash of pepper

1 1/4

tablespoons

butter

17 1/2 grams

1 1/2

cups

water

1 1/4 cups if you prefer a thicker soup

1

tablespoon

flour

8 grams

1/2

cup

cream

whole, 120 grams

1/2

cup

milk

115 grams

1

tablespoon

butter

14 grams

pinch of salt

NO YEAST PARMESAN BREAD TWISTS

1

cup

flour

110 grams

1/2

tablespoon

sugar

6 1/4 grams

1/4

teaspoon

salt

1.4 grams

1/4

teaspoon

baking soda

1 1/4 grams

1/3

cup

butter milk (or add 1/2 tablespoon vinegar or lemon juice to 1/3 cup and top with milk

let sit 5 minutes) (80 grams)

freshly grated Parmesan cheese
Instructions
Pre-heat oven to 440° (225° celsius), line a cookie sheet with parchment paper.

MUSHROOM SOUP

In a medium pot add 1 1/4 tablespoons butter and chopped mushrooms and cook on low-medium, stirring until tender and golden, remove from pot and set aside. In the same pot add water and chopped carrots, celery and onion, cover and cook on medium heat until tender. Blend with half the chopped mushrooms until smooth. Set aside.

In the same pot over low-medium heat add 1 tablespoon butter, flour and salt, whisk together slowly add milk and cream (or 1 cup half and half), continue whisking until smooth and slightly thickened, add remaining sautéed mushrooms, vegetable puree, parsley, salt and pepper stirring to combine and heat thoroughly. Serve hot with Parmesan twists. Enjoy!

PARMESAN TWISTS

In a medium bowl whisk together flour, sugar, salt and baking soda, make a well in the middle add buttermilk, stir with a fork to almost combine, move to a flat surface and knead for approximately 2-3 minutes, form into a ball, cover and let sit for 15 minutes.

Roll dough out on a lightly floured flat surface and brush lightly with olive oil, sprinkle with Parmesan cheese, cut into small to medium strips and twist (starting in the middle and move outwards to the ends), place on parchment paper lined cookie sheets, sprinkle with extra Parmesan cheese if desired. Bake for approximately 12-15 minutes until golden. Serve warm or cool, Enjoy!
Nutrition