This Italian fresh Fruit Salad can be made with your favourite variety of Fresh Fruit. A refreshing bowl of fruit that is perfect for Breakfast or even Dessert.
Fresh Fruit Salad
I knew with all the fresh fruit trees that are abundant in Italy, that my mother-in-law probably had a Fresh Fruit Salad ready to be served at any moment.
My husband loves Fruit Salad or Macedonia as what it is called in Italy. Apparently the name is derived from the French word "Macédoine" which means a mixture of diverse ingredients.
To tell the truth this Fruit Salad is based on the best fruit salad I have ever had. I got to taste it when we were visiting family in Frosinone. I needed to know what was in that salad!
So Zia told me she added a jar of her Frozen Strawberries (thawed) and a couple of tablespoons of her Homemade Limoncello.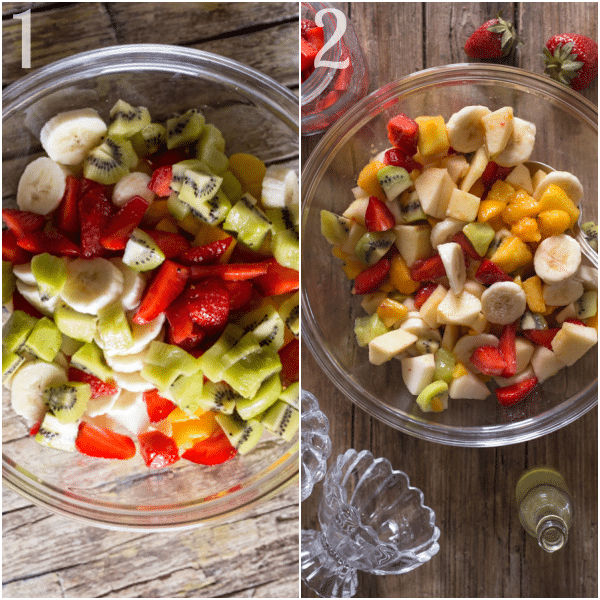 Making Fruit Salad
In this Fresh Fruit Salad I added chopped banana, peaches, a pear, kiwi, an apple and of course a jar of my Frozen Strawberries that I saved from last year's crop.
But also apricots, bananas, cantaloupe, figs, guavas, grapes, honeydew, mangoes, nectarines, papayas, peaches,  persimmons, and even plums make for a delicious addition.
I like to use seasonal fresh fruit, I sometimes add a can of pineapple and the juice this will give it a nice addition and especially if you need some extra juice.
The frozen strawberries mixed with the juicy ripe fruit actually gave me enough juice, especially when I added  a couple of tablespoons of Limoncello. You can leave it out if you wish.
If you use apples, pears, bananas or even avocado in your fruit salad, you need to keep them from turning brown after you have chopped. So be sure to toss the fruit with the juice of 1/2 a lemon.
I like to make the Fresh Fruit Salad a few hours or even the night before and let it sit in the refrigerator before serving.
Fruit Salad
How to Store Fruit Salad
Fruit Salad should be refrigerated in an airtight container. It will last for approximately 3-5 days in the refrigerator.
What to serve with Fruit Salad
It can be served with a little yogurt or even sweetened yogurt.
Or how about a dollop of a Chantilly Whipped Cream.
Spoon over a slice of pound cake with a spoonful of Whipped Cream for a Special Dessert.
Or how about topping with a scoop of Vanilla Icecream?
Or eat it like an Italian, spoon the fresh fruit salad into a bowl and grab a spoon.
How ever you decide to eat or serve an Italian Fresh Fruit Salad I hope you enjoy it!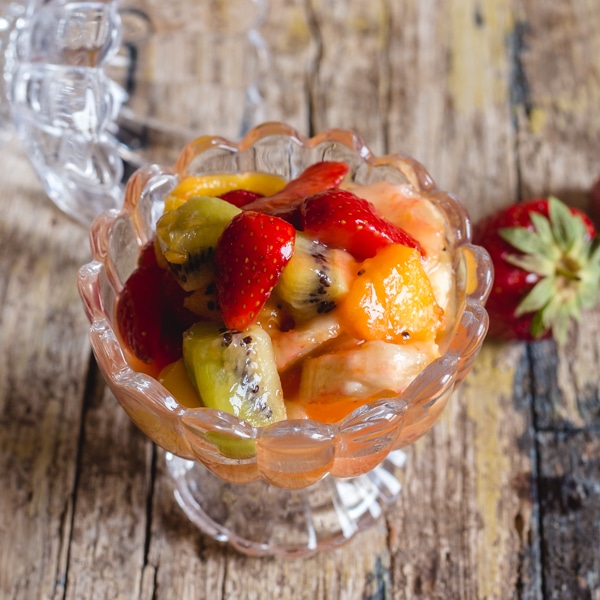 Italian Fresh Fruit Salad
This Italian Fresh Fruit salad can be made with your favourite Fresh Fruit. A refreshing bowl of fruit, perfect for Breakfast or Dessert.
Ingredients
FRESH FRUIT*
1

medium

banana (sliced)

1

large

apple (peeled and chopped)

1

large

pear (peeled and chopped)

1

cup

frozen sliced strawberries + juice (or fresh)

(150 grams)

3

medium

peaches (peeled and chopped)

2

kiwi (peeled and chopped)
* Fresh Fruit, be sure to clean the fruit, you can leave the peel if desired.
EXTRAS
juice from 1/2 small lemon

(2 tablespoons)

2

tablespoons

limoncello (if desired)

1

small

can pineapple chunks with juice if desired
Instructions
Be sure to chop the banana, apple and pear first then place in a medium bowl and toss with the juice of 1/2 a lemon.

In a large bowl add the remaining chopped fruit add the banana fruit mixture and the frozen strawberries toss with 2 tablespoons of limoncello. Cover with plastic or place in an airtight container and refrigerate for 2-3 hours before serving. Enjoy.
Notes
 If you think you need more juice then you can add a can pineapple chunks with the juice.
Nutrition
Calories:
198
kcal
Carbohydrates:
46
g
Protein:
2
g
Sodium:
3
mg
Potassium:
642
mg
Fiber:
7
g
Sugar:
33
g
Vitamin A:
470
IU
Vitamin C:
78.4
mg
Calcium:
37
mg
Iron:
0.8
mg