Frozen Yogurt a creamy delicious frozen homemade dessert treat, made with fresh berries, yogurt and cream. So good you won't even miss ice cream!
Homemade Frozen Yogurt
I will start out by saying I don't like yogurt! But I love Frozen Yogurt.
In my working days in Toronto, a few co workers and I would sometimes go to the underground concourse and get ourselves a creamy delicious frozen yogurt with any choice of fruit. I would always choose mixed berries.
Now when I go back to Toronto I still love to splurge on a frozen yogurt. The last one I tried was a Chocolate Frozen Yogurt and it was sooo good! Living in Italy you have no choice but to love Gelato, and yes Frozen Yogurt is becoming popular too.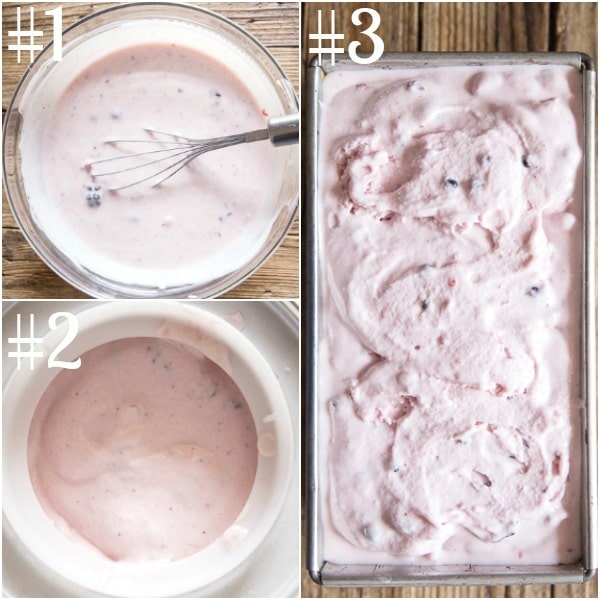 For the past few years I have been posting a few No Churn Ice Recipes such as Raspberry Swirl Ice Cream , Kiwi Ice Cream one of the Italians favourites, and a No Churn Ice Cream Cake, Death by Chocolate Ice Cream Cake, that is really easy and tastes amazing.
But a couple of weeks ago something stuck in the corner, in the kitchen, caught my eye. After I realized what it was,  I thought never mind that no churn ice cream,  I'm going back to the good stuff. And out came my ice cream maker. And let me tell you if you don't have one, you will not regret buying one. I love it and I missed it!
Tools you are going to need
So the first thing I decided to do was bring back my first taste of that Creamy Mixed Berry Frozen Yogurt. After reading what Emma from The Kitchn had to say about making Frozen Yogurt I decided I was going to give it a try.
A few tips on how to Make Homemade Frozen Yogurt
Because yogurt has more water than fat you need to use a whole fat yogurt or you are going to get ice crystals, and that is the last thing you want in a creamy frozen dessert.
You are definitely going to need a little sugar, I used fine / fruit sugar.
A tablespoon of corn syrup is like extra security on keeping away those ice crystals.
And yes you are going to have to add a little cream. Why? Yup too much water and not enough fat.
Homemade Fresh Berry Frozen Yogurt
And believe me it so easy and so much better than store bought. Besides do you know how expensive good ice cream is? Just think of all the flavours you can make. With all the wonderful fresh fruit and berries in the summertime, frozen yogurt could be your new favourite frozen treat. Enjoy!
More Ice Maker Frozen Desserts
Homemade Fresh Berry Frozen Yogurt
Frozen Yogurt a creamy delicious frozen homemade dessert treat, made with fresh berries, yogurt and cream. So good you won't even miss ice cream!
Follow me on Youtube!
Watch the videos and don't forget to subscribe on Youtube!
Ingredients
3

cups

whole plain yogurt

(cold from the fridge)

1/2

teaspoon

vanilla

1/2

cup

cream

(cold from the fridge)

1

tablespoon

corn syrup

3/4

cup

fine / fruit sugar

1

cup

berries

(coarsely crushed)
Instructions
In a large bowl whisk together the yogurt, vanilla, cream, corn syrup and fine sugar for approximately 2 minutes, then stir in the berries.

Pour the mixture into the ice cream machine** and churn until thick (like soft ice cream) or thicker if you wish. Serve immediately. Or place in a container with a lid and freeze until firm like ice cream, 6 hours or overnight.

Remove from freezer and let sit 10-15 minutes before scooping and serving. Enjoy.

**Read ice cream maker instructions before use.
Nutrition
Calories:
264
kcal
|
Carbohydrates:
37
g
|
Protein:
4
g
|
Fat:
11
g
|
Saturated Fat:
7
g
|
Cholesterol:
43
mg
|
Sodium:
66
mg
|
Potassium:
218
mg
|
Sugar:
35
g
|
Vitamin A:
425
IU
|
Vitamin C:
1.2
mg
|
Calcium:
163
mg
|
Iron:
0.1
mg
As an Amazon Associate I earn from qualifying purchases.
.