Cooking Tips for baking and cooking Italian, from pasta to cookies to the popular Italian pasta frolla (pie dough) and don't forget some delicious cakes! , looking for help with trying out some of my Italian Recipes? I hope these Cooking Tips will help.

How to Cook Pasta
Always buy a good pasta and cook till al dente, if it is a good package following the cooking time on the box is a good idea. No need to throw it against the wall, taste one to see if its cooked.
Always cook the pasta in enough water, you will need 4 cups (1 litre) for 3 1/2 ounces (100 grams) of pasta. Be sure to choose the correct size pot, you don't want the water to reach the rim and overflow, because pasta, when cooked, can increase in volume up to three times. Always cover the pot when boiling the water, but remove it once the pasta has been added.
Calculate about 5g (1 teaspoon) of salt for every litre (quart) of water. Add the salt only when the water has reached a boil and never before.
After adding the pasta to the pot, bring it back to a boil and keep it at a boil while the pasta is cooking. This allows the pasta to achieve an even cooking, be sure to stir frequently while it is cooking.
Never pass the freshly drained pasta under running tap water. You should never stop the cooking, even when you are making a cold pasta salad, let it cool by adding a drizzle of olive oil to prevent it from sticking. Drain the pasta al dente, this is done by tasting, if it has a bite to it it's ready, nothing worse than mushy pasta.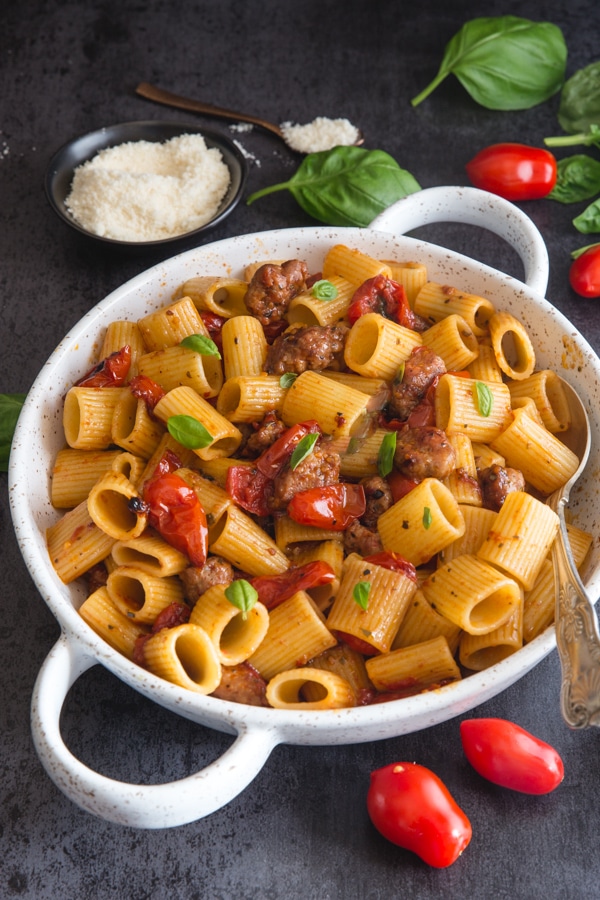 What are the best ingredients to use?
Always use olive oil. The best you can afford. It's also a good idea to have the correct Italian herbs and spices on hand.
Conserva is called tomato puree in english, not to be confused with tomato paste. Tomato paste is much thicker and a stronger taste, please don't substitute one for the other.
Don't forget the perfect sauce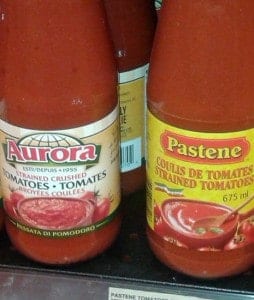 When I write a lasagna recipe, it isn't necessary to use fresh egg pasta, in fact I find (and my family seems to enjoy more) the new oven ready lasagne (no boiling needed) is a perfect alternative. I'm sure you can find it in the pasta section of your supermarket. It's perfect for a red or even a white sauce lasagna.
Fresh ingredients are always the best, fresh is what I use in all my recipes, unless otherwise written.
Salt and tasting is really important in Italian cooking, you can always add salt but it you can't take it away, (sometimes you might be able to correct or try by adding more water) so remember to taste, taste in the beginning, taste in the middle of cooking and taste just before the end of cooking.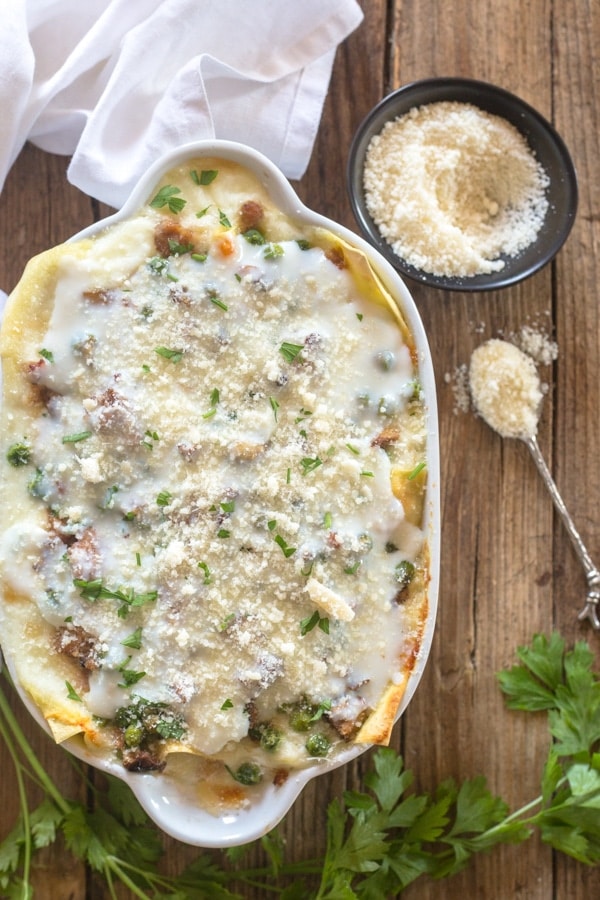 More Pasta Recipes to try
Tips for making Pizza
Always start with a really good pizza dough, my Best Pizza Dough or Easy Pizza Dough are the perfect way to start. I learned to use fresh tomatoes on my pizza instead of a sauce and believe me it is so much better. Fresh herbs and olive oil make it even better.
When I make pizza I usually use a firm mozzarella instead of fresh, fresh has alot of moisture so it will make your dough soggy. Nothing good about soggy pizza dough. Although a friend told me if you do prefer fresh then placeit in a sieve over a bowl and let it drain for about an hour, that should help remove some excess moisture. Add the cheese in the last couple of minutes of baking time. You want a nice melty cheesy pizza.
Make sure your yeast is active
To start make sure your yeast is active,
In a small bowl add the water, make sure it is lukewarm (if it is too warm it will kill the yeast), then add a pinch of sugar to the water.
Sprinkle the yeast over the top, stir to combine, then let it rest for about 5 minutes.
If the yeast is active it will dissolve in the water and the mixture will bubble.
How to flavour the crust
If you like to give your dough a bit of extra flavour then you can certainly add a couple of dashes of garlic or onion powder, or even oregano or basil or if the Italian had is way a couple of good pinches of hot pepper flakes. Whisk them into the flour before adding to the yeast mixture.
How to make and form the Dough
When making Homemade Pizza Dough be sure to knead the dough until it is smooth and elastic.
-Let it rise in a lightly oiled bowl (make sure to turn the dough in the bowl so it gets covered lightly in oil), cover the bowl with plastic wrap and a clean large kitchen cloth.
-Place the bowl in a warm draft free area and let it rise for about two hours.
-Always use olive oil.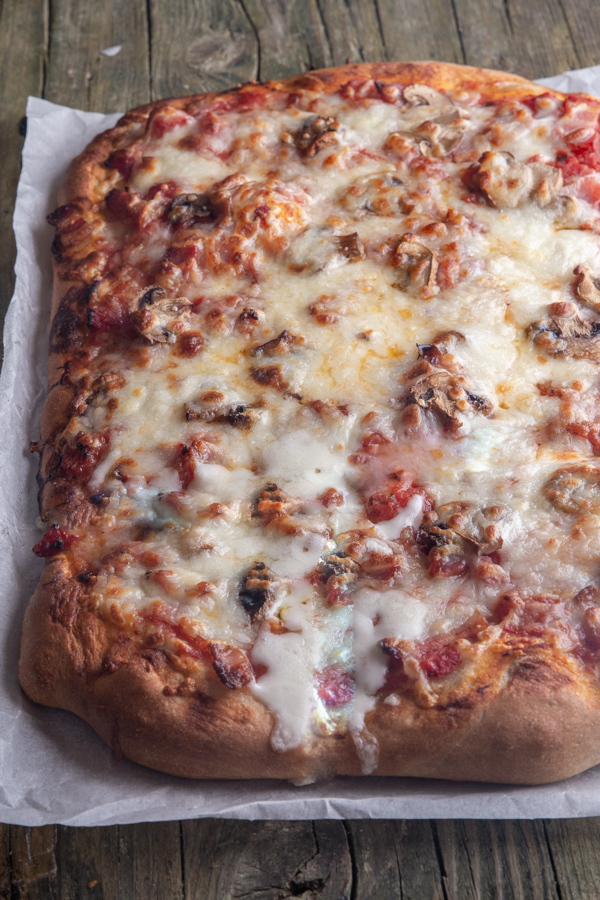 Tips for Baking Cakes
How much baking powder to use?
One teaspoon of baking powder for one cup of flour is the perfect amount of leavening for most cake recipes. For baking soda (which is used if the recipe has a considerable amount of acidic ingredients), use 1/4 teaspoon soda for each cup of flour.
How to correct dry cakes
If a cake recipe calls for more than one egg and the cake is dry instead of 2 or 3 eggs substitute 1 or 2 eggs and 1 egg yolk.
Check your oven temperature, some ovens are over or under heating, then adjust the temperature as needed.
Turn the oven down by 10 degrees.
Make sure you aren't over baking the cake, this can cause dry cakes also.
Substitute oil for butter in a recipe.
What makes a cake fall?
There are a lot a reasons a cake may fall, but the most common ones are, your oven temperature is off, you can always check it with an oven thermometer to check this.
You open the oven door too early. Never open the oven door before 25-30 minutes of baking.
Once the batter is mixed it should be baked, letting a cake batter sit too long can cause it to fall. The baking powder or baking soda usually start acting immediately and will only last for a very short period of time, therefore if the cake batter is left to stand before baking then there is always a risk that the baking powder or soda will have expired by the time that the cake goes into the oven.
Your baking powder or soda has expired and is no long active.
Use room temperature ingredients.
The pan size might not be the correct size, sometimes using a bundt pan will help.
Why use cake / pastry flour?
I like to use cake/pastry flour in most of my cake recipes because it makes a cake softer and more tender. You can easily make your own – for every cup of all purpose flour, remove two tablespoons and replace with two tablespoons of corn starch. Be sure to sift the flour and cornstarch together a couple of times, this way it is sure to be properly combined and lump free.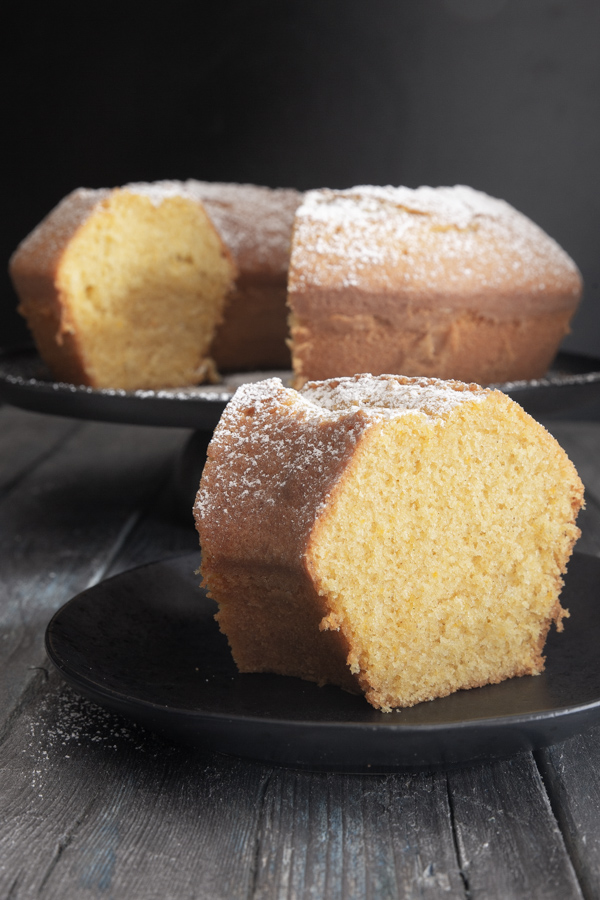 How to store baked cakes
The cake should be stored in an airtight container or a covered cake dish. It will keep at room temperature for approximately 1-2 days. If left longer it should be refrigerated, covered well. It will last 4-5 days in the fridge. Bring the cake to room temperature before serving.
Wrap the completely cooled cake tightly in plastic and place in a freezer safe bag or container. It will keep for up to three months in the freezer. To thaw a frozen cake, remove it from the bag or container, but leave wrapped. Let it thaw overnight in the fridge, then bring to room temperature to serve.
If the cake is frosted with whipped cream, or any type of cream filling then it should be refrigerated immediately and after each serving, also Icebox cakes should be refrigerated, all ice cream cakes should be stored in the freezer.
Cakes that are frosted with ingredients including cream cheese, milk, cream or eggs should be refrigerated, because it also includes sugar in the ingredients it can remain on the counter for a no longer than 1-2 hours.
How to make a cake ahead of time
A cake can be baked the day before, cover it tightly with plastic wrap, and refrigerate. You can also make the frosting and store in the refrigerator. Allow them to come to room temperature and then frost the cake the day of the event. You could also wrap the cake tightly in plastic wrap and place in a freezer safe bag, and freeze. It will keep for up to 2 months in the freezer. Make the frosting when needed and frost the cake, you can even frost the cake while frozen, it will give you a more even spread.
How to add fruit, nuts or chocolate to cake batter
When adding the above to cake batter be sure to toss it with 1-2 teaspoons of flour, this will keep them from sinking to the bottom of the cake while baking.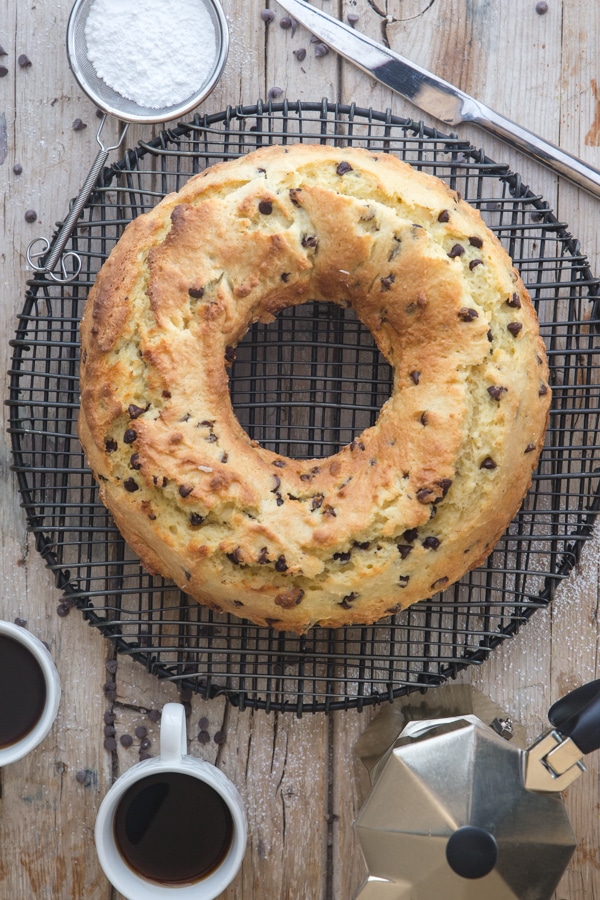 Cookie baking Tips
Follow the cookie recipe, if it calls for room temperature ingredients, then be sure to remove them at least 45-60 minutes before using.
Never over mix cookie dough
To keep your cookies from spreading be sure to use a higher protein flour – 11-12%. Refrigerate your cookie dough and formed cookies before baking. It is also a good idea to refrigerate cookie dough for at least 12-24 hours before baking, this creates a more flavourful cookie.
If your cookie dough is too dry (crumbly) add some softened butter to the dough to soften it up and then proceed with recipe.
Line your cookie sheet with parchment paper or use a silicone baking mat.
Make sure your oven temperature is accurate before baking. It makes all the difference between a perfect baked cookie or an under baked or burnt cookie.
It's always best to bake the cookies on the middle rack and one cookie sheet at a time, this way they are more evenly baked.
This is a good post to read if you need help on freezing cookies.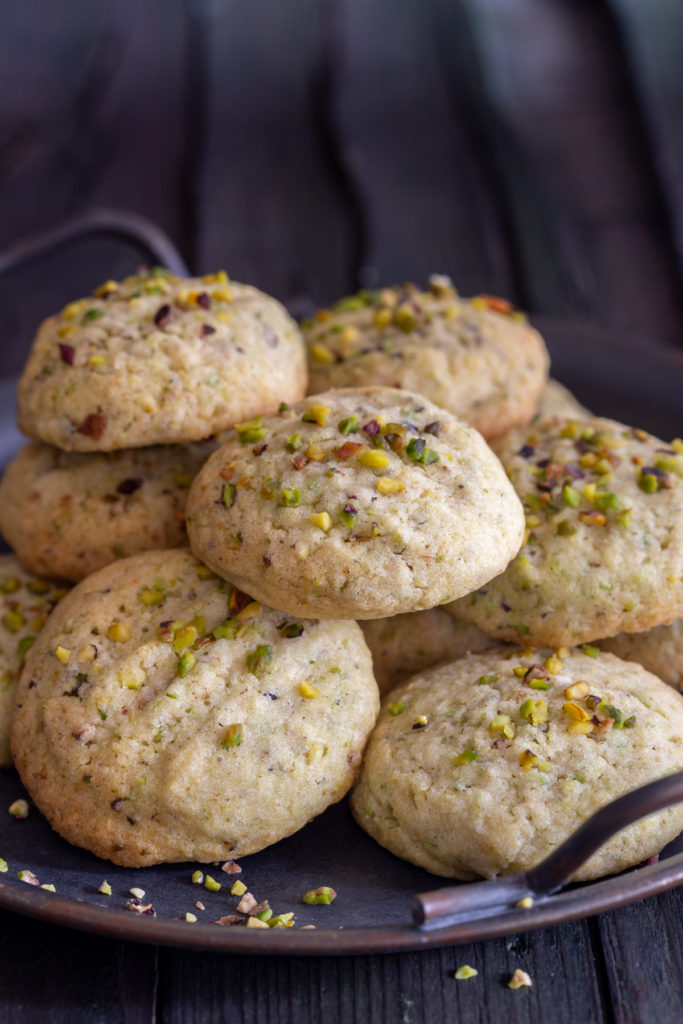 Flour can make or break your baked goods
All Purpose Flour – Protein count – 10-12%
Bread Flour – Protein count – 12-16%
Cake/Pastry Flour – Protein count – 7-9% – used to make a soft and tender cake. Some pastry chefs use it also to make pastry dough.
Semolina Flour – Protein count -12.5-13% – perfect for making pasta, lots of Italians like to use it to make bread also.
When measuring the flour, be sure to spoon the flour into the cup then level it off with a spoon, dipping the cup into the flour bag is not a good or accurate way to measure flour.
The above are probably the 4 most popular flours that I use on the blog. Cake or Pastry flour can also be made at home, for every 1 cup of all purpose flour remove 2 tablespoons and replace with 2 tablespoons of cornstarch, be sure to sift a couple of time in order to mix well and remove any lumps.
Making the Best Italian Pastry Cream
Only use Egg yolks.
Stir continuously.

Before turning on the heat mix your dry ingredients.

Heat the (liquids) milk and cream (if using cream) until hot but do not boil, (unless you are making my other Pastry Cream without cream).

Make sure you have 15-20 minutes of non interrupted stirring time, don't stop stirring!

Immediately place thickened cream in a clean bowl, cover with plastic wrap, make sure it touches the Pastry Cream.
Let Pastry Cream cool to room temperature and then refrigerate.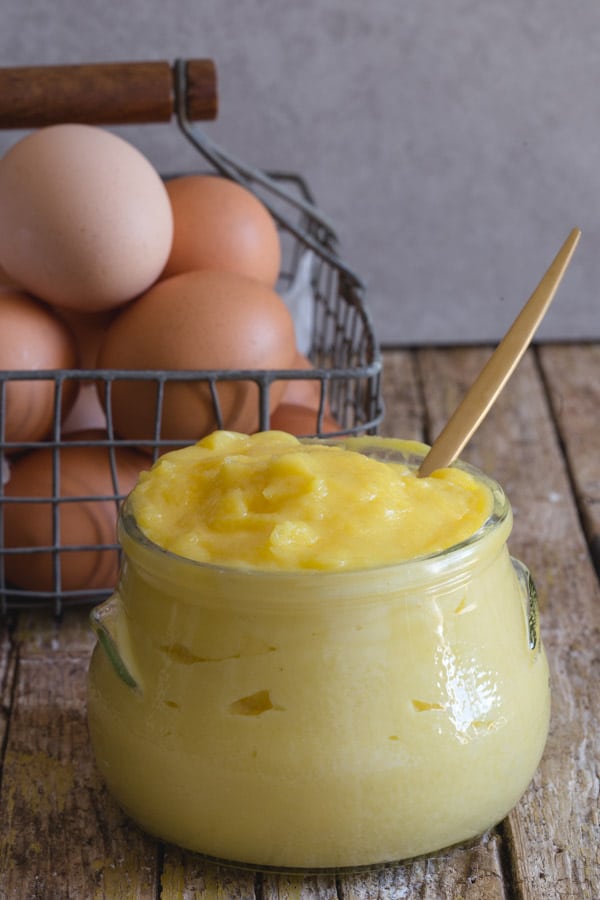 Making the best Rice
I have a trick on making the best rice, cook it like pasta. Meaning boil a big pot of water, add some salt and then toss in the rice. Make sure to cook it al dente, drain well and serve. Works every time.
When making a risotto I rarely use arborio rice, one it's on the expensive side and two normal rice works just as well. Although I would stay away from the par boiled type. A risotto should cook long and slow for the best flavours.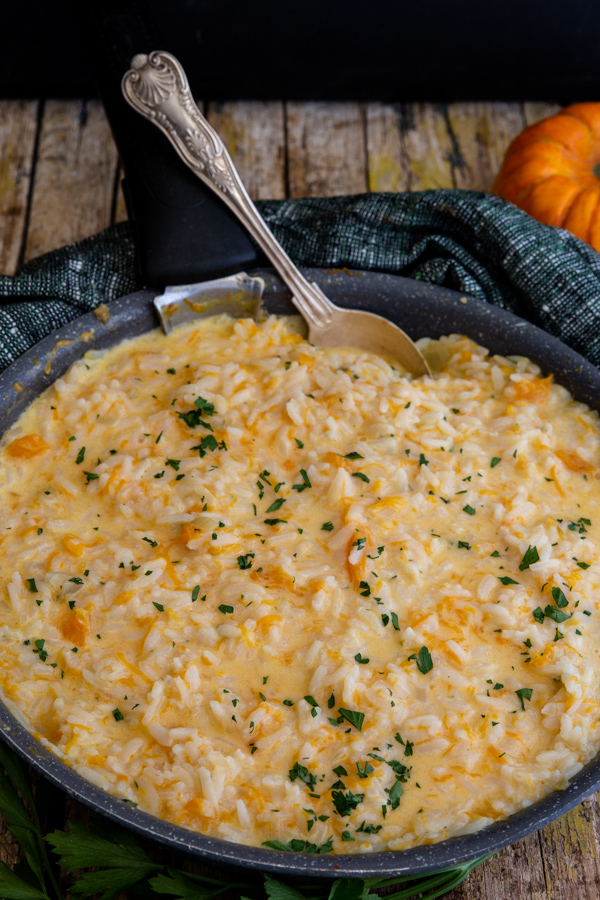 Useful Conversion Charts
Wondering what pan or if you can substitute a cake pan for your favourite recipe?
Cake Pan – Conversion
One 6 x 2 inches (15 x 5 cm) Round Pan = 4 cups (948 ml)
Use these instead
8 x 1 1/2 inch (20 x 4 cm) – Round Pan
8 x 4 x 2 1/2 inch (20 x 10 x 6 cm) – Loaf Pan
One 8 x 2 inch (20 x 5 cm) Round Pan = 6 cups (1422 ml)
Use these instead
9 x 1 1/2 inch (23 x 4 cm) – Round Pan
7 1/2 x 3 inch (19 x 8 cm) – Bundt Pan
8 x 8 x 1 1/2 inch (20 x 20 x 4 cm) – Square Pan
8 1/2 x 4 1/2 x 2 1/2 (22 x 11 x 6 cm) – Loaf Pan
24 cup medium muffin tin
12 cup jumbo muffin tin
One 9 x 2 inch (23 x 5 cm) Round Pan = Volume 8 cups (1896 ml)
Use these instead
8 x 8 x 2 inch (20 x 20 x 5 cm) – Square Pan
9 x 5 x 3 inch (23 x 13 x 8 cm) – Loaf Pan
8 x 2 1/2 inch (20 x 6 cm) – Heart Shaped Pan
One 9 x 2.5 inch (23 x 6 cm) Springform Pan = Volume 10 cups (2370 ml)
Use these instead
1 x 10 x 2 inch (25 x 5 cm) – Round Pan
9 x 2 inch (25 x 5 cm) – Square Pan
11 x 7 inch (20 x cm) – Loaf Pan
11 x 7 x 2 inch (28 x 18 x 5 cm) – Rectangular Pan
10 1/2 x 15 1/2 x 1 inch (27 x 39 x 2 1/2 cm) – Jelly Roll Pan
One 9 x 3 inch (23 x 8 cm) Springform Pan = Volume 12 cups (2844 ml)
Use these instead
10 x 2 1/2 inch (25 x 5 cm) – Springform Pan
10 x 3 1/2 inch (25 x 9 cm) – Bundt Pan
9 x 3 inch (23 x 8 cm) – Tube Pan
10 x 10 x 2 inch (25 x 25 x 5 cm) – Square Pan
12 1/2 x 17 1/2 x 1 inch (32 x 44 x 2.5 cm) – Jelly Roll
One 9 x 13 inch (23 x 33 cm) Rectangular Pan = Volume 14 cups (3318 ml)
Use these instead
1 x 10 x 3 1/2 inch (25 x 9 cm)- Bundt Pan
2 x 9 x 2 inch (23 x 5 cm) – Round Pans
2 x 8 x 2 1/2 inch (20 x 5 cm) – Round Springform Pan
How to substitute Cocoa Powder for Melted Chocolate in a recipe
For 1 square (1 ounce) (28 grams) of unsweetened baking chocolate you will need 3 tablespoons of unsweetened cocoa powder (dutch processed) and 1 tablespoon of melted butter or vegetable oil.
For 1 cup of semisweet chocolate chips you will need 1 cup + 2 tablespoons of dutch processed unsweetened cocoa powder + 6 tablespoons of melted butter or vegetable oil. This also works in reverse.
Convert Cakes & Pies to miniature sizes
9 inch 2 layer cake – 60 x 1 inch mini muffins or 12 regular (3 inches) muffins
8-9 inch pan – 24 1 inch mini cupcakes
9 inch cheesecake – 36 mini tarts or 12 regular tarts (3 inches)
9 inch pie – 12 regular tarts (3 inches)
Muffin Baking Times
Baking Time – 350F / 180C
Mini Muffin Pans 1 inch – 8-10 minutes
Regular Size 3 inches – 18-20 minutes
Jumbo Size – 5 inches – 23-26 minutes
Need some help converting to metric?
1 cup all purpose flour = 125 grams
1 cup cake flour – 130 grams
1 cup semolina flour – 160 grams
1 cup almond flour – 100 grams
1 cup Rye flour – 110 grams
1 cup powdered sugar – 120 grams
1 cup corn starch – 135 grams
1 cup sugar – 200 grams
1 cup brown sugar – 220 packed / 180 lightly packed
1 cup cocoa – 100 grams
1 cup raisins – 135 grams
1 cup pitted whole cherries – 150 grams
1 cup mini chocolate chips – 180 grams
1 cup coconut flakes – 80 grams
1 cup whole pecans – 110 grams
1 cup finely ground nuts – 96 grams
1 cup coarsely chopped nuts – 100 grams
1 cup whole almonds – 140 grams
1 cup Parmesan cheese grated – 100 grams
1 cup shredded cheese – 100 grams
1 cup liquid (water / coffee) – 235 grams
1 cup pumpkin puree – 240 grams
1 cup milk – 240 grams
1 cup butter – 225 grams
1 cup cream – 230 grams
1 cup vegetable oil – 200 grams
1 cup Hazelnut Cream Spread – 296 grams
1 tablespoon cream cheese – 14 grams
1 cup yogurt – 240 grams
1 cup cooked rice – 180 grams
1 cup basil pesto – 260 grams
BUTTER TO OIL CONVERSION
1 teaspoon butter = ¾ teaspoon oil
1 Tablespoon = 2 ¼ teaspoons
2 Tablespoons = 1 ½ Tablespoons
1/4 cup = 3 Tablespoons
1/3 cup = ¼ cup
1/2 cup = ¼ cup plus 2 tablespoons
2/3 cup = ½ cup
3/4 cup = ½ cup plus 1 tablespoon
1 cup = 3/4 cup oil
I hope these Cooking and Baking Tips help to make you whether you are making Italian or not. Buon Appetito!