Pasta Pepper Cream Sauce is a delicious anytime easy and simple cream sauce for any type of Pasta.  So good and perfect for dinner tonight.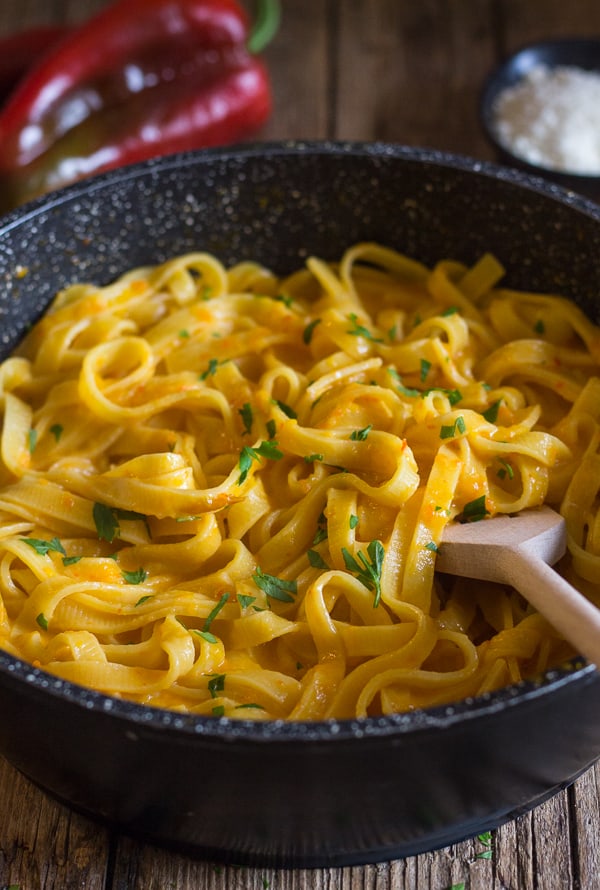 Pasta Pepper Cream Sauce one of my favourite go to recipes for a delicious homemade Pasta dish.
I will be the first to admit that I was so lucky to have a mother-in-law who is not only a great cook and a great teacher,  but also a wonder in the vegetable garden department.
Every year I would tell her ," You plant enough vegetables  to feed the country" , but when I was given one of her bags  full of fresh delights from the garden I never complained.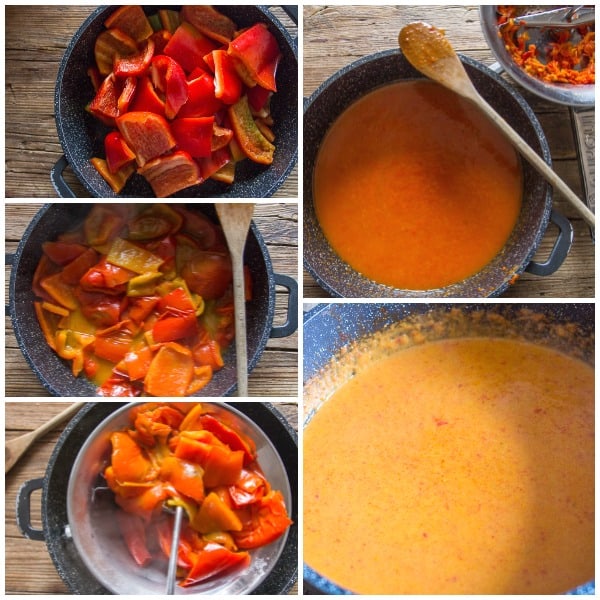 I remember one year when there was an overload of peppers. I was so glad to receive that bag full, and I knew exactly what I was going to do with those peppers!
First off I made a big pan of Pepper Pepper Cream Sauce, and the rest well I did roast some and some I cut cleaned and cut them up stuck them in freezer bags and froze them for the next craving of this amazing Pepper Cream Sauce.
Pasta and Pepper Cream Sauce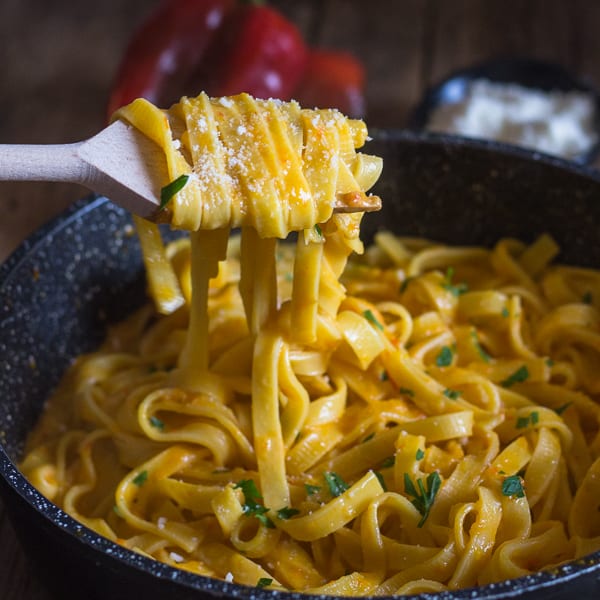 And I knew it was going to happen often!
Every time I go visit my sister in Toronto, it is the first dish she asks for.  As she always tells me Pasta and Pepper Cream Sauce is her favourite Pasta dish.
I usually make this dish with a couple of red peppers and either a green or yellow one, the Italian thinks the sauce is too sweet with all red peppers.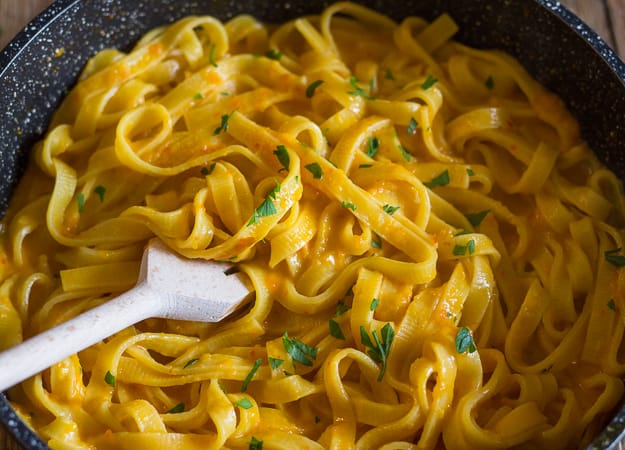 Then in a large pan I simmer the peppers with a little olive oil, salt and some water.
Once the peppers are tender then I pass them in a food mill not a blender because you don't want the skin you just want the pulp from the peppers.
More Pasta Cream Sauces you may Enjoy!
Easy Tomato Cream Sauce for Ravioli
Baked Creamy Cheesy White Sauce Gnocchi
Homemade Creamy White Sauce Lasagna
Add the pulp back to the pan and stir in some cream, then add your favourite pasta, toss it all up and serve.  I like a sprinkle of Parmesan cheese!  Buon Appetito!
We are a participant in the Amazon Services LLC Associates Program, an affiliate advertising program designed to provide a means for us to earn fees by linking to Amazon.com and affiliated sites.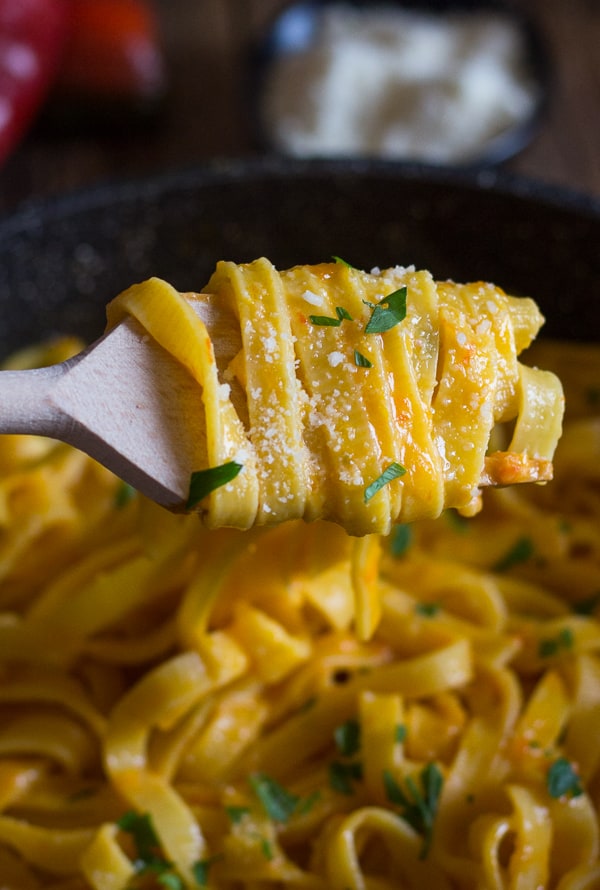 Pasta Pepper Cream Sauce
Pasta Pepper Cream Sauce is a delicious anytime easy and simple cream sauce for any type of Pasta. So good and perfect for dinner tonight.
Ingredients
2

pounds

large peppers**

2

tablespoons

olive oil

1/4

teaspoon

salt

1/2

cup

water

1/4

cup

whole cream

3

cups

cooked pasta

(3-4 cups if needed)

freshly grated parmesan cheese to your liking
**cleaned and sliced any colour of pepper can be used. (red, yellow or green bell peppers), 2.5 total weight before cleaned (I usually mix red and green because red peppers are usually sweeter)
Instructions
In a medium pot add olive oil, peppers, salt and water, cook on medium heat for approximately 20 minutes until tender (15 minutes covered, 5 minutes uncovered)*( At this point you can start your water boiling for the pasta, cook pasta al dente).

Once cooked, place a clean bowl underneath your food mill using the smallest holed disk and begin to pass the peppers (almost all the liquid will be gone, but don't drain any liquid that might be remaining no more than approximately 1 tablespoon), Depending on the size of your food mill you might have to pass 1/2 the peppers at a time. Remember do not use a blender, a food mill, because we want the pulp of the peppers not the skin. The food mill step can take up to 15 minutes, pass a spatula underneath the disk every now and again to loosen pulp into the bowl, and keep turning because there is a lot of pulp in these peppers.(careful not to let any pepper skin fall into the bowl, remove if this happens).

Once all the peppers have been passed, pour the pepper sauce back into the medium pot, place on medium heat and add the cream, heat until boiling, simmer on a low boil for approximately 5 minutes. Toss with cooked pasta , serve immediately with freshly grated parmesan cheese. Buon Appetito!
Nutrition
Calories:
297
kcal
|
Carbohydrates:
38
g
|
Protein:
7
g
|
Fat:
13
g
|
Saturated Fat:
4
g
|
Cholesterol:
20
mg
|
Sodium:
160
mg
|
Potassium:
446
mg
|
Fiber:
5
g
|
Sugar:
5
g
|
Vitamin A:
21.2
%
|
Vitamin C:
221
%
|
Calcium:
3.9
%
|
Iron:
10.6
%
Republished from January 13, 2014.