This Homemade Traditional Italian Pizza Dough Recipe, is the only Pizza Recipe you will ever need. Make it by hand or in your stand up mixer.
This Pizza Dough can be made the same day or left to rise overnight in the fridge. Perfect either way. Make a typical Pizza Margherita or a popular Pizza Bianca.

Authentic Italian Pizza never tasted so good. Everything you need to know to make this your family's new favourite Pizza Recipe. In your house what day is pizza day? If you are like us it could mean any day. Sometimes Friday or maybe even Saturday but last week it was Sunday!
This time I made 3 different types of Pizza, all easy and all delicious. I started with my daughter's favourite
Pizza Margherita to my favourite Italian Sausage and Artichoke Cheese Pizza to one of the Italian's Grilled Zucchini Pizza. But if you want to try something different why not give this Potato Pizza a try?
In Italy it is so easy to get a good pizza dough. Sometimes I would stop at my local bakery (forno) and pick up a pound or two of dough.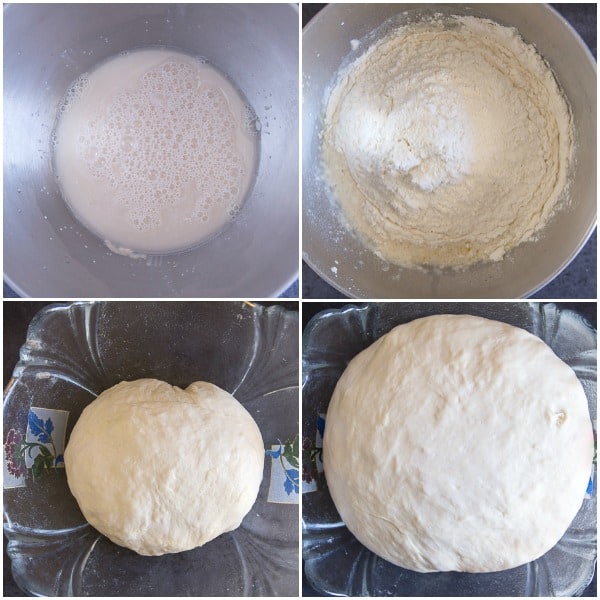 But when I tasted a pizza made with this dough, I thought no matter how good the bakery dough was, it was now a thing of the past for me. That pizza made me determined to make my own pizza dough from then on.
Needless to say this pizza dough was one of those recipes that was passed down for I can't tell you how many years. And trust me it is the best Pizza Dough. 
You can make it thin crust or thick crust whatever suits you, then you can top it with whatever fresh ingredients you want.
Who invented it?
It is thought that the Italian baker Raffaele Esposito from Naples was the first to make a "pizza pie". Although it is also thought that street vendors in Naples would sell flatbreads with toppings for many years before Raffaele.
Apparently the Italian King Umberto I and Queen Margherita visited Naples sometime in 1889. Esposito was asked to make a pizza for them. He proceeded to top the pizza with fresh tomatoes, mozzarella cheese, and basil. That pizza was named Pizza Margherita and of course is still extremely popular today.
What is the best flour for making Pizza Dough?
To tell the truth some people will swear by bread flour, but I always use all purpose (11% protein or higher). It's not necessarily the flour but how you go about making the pizza that counts!
Although if you prefer bread flour then by all means use it!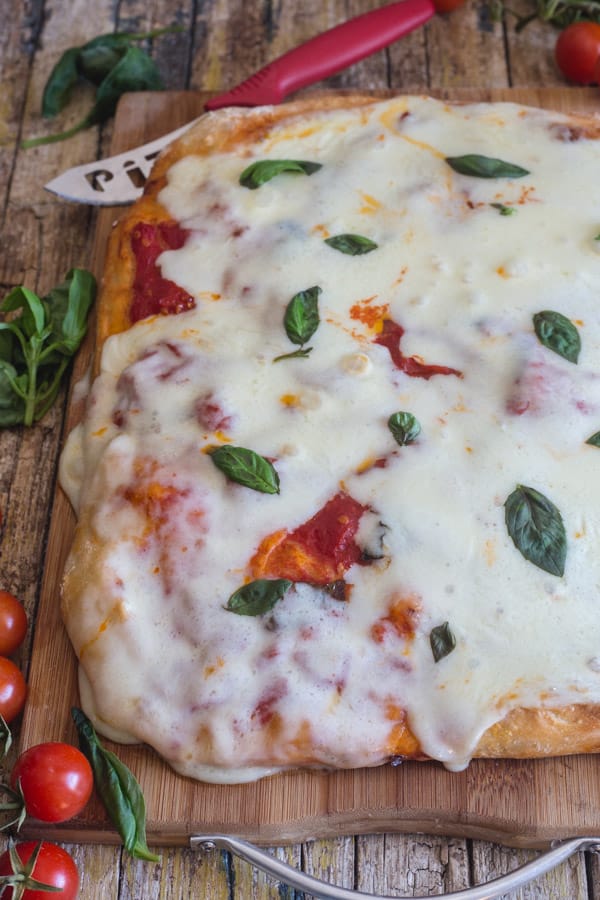 Make sure your Yeast is active:
To start make sure your yeast is active, 
In a small bowl add the water, make sure it is lukewarm (if it is too warm it will kill the yeast), then add a pinch of sugar to the water.
Sprinkle the yeast over the top, stir to combine, then let it rest for about 5 minutes.
If the yeast is active it will dissolve in the water and the mixture will bubble.
Different types of Pizza to make:
With this Pizza Dough Recipe I made two large and one small pizza. Sometimes I will make an all veggie one, with fresh, halved, cherry tomatoes, peppers, mushrooms and onions.
Or I will sauté a couple of Italian sausage (casing removed) with sliced mushrooms, peppers and a small onion and place the mixture on a pureed tomato sauce (with just a few spices and a little olive oil).
For the third pizza I top with chopped fresh tomatoes and sliced black olives and of course all the pizzas are topped with shredded firm mozzarella after they were baked.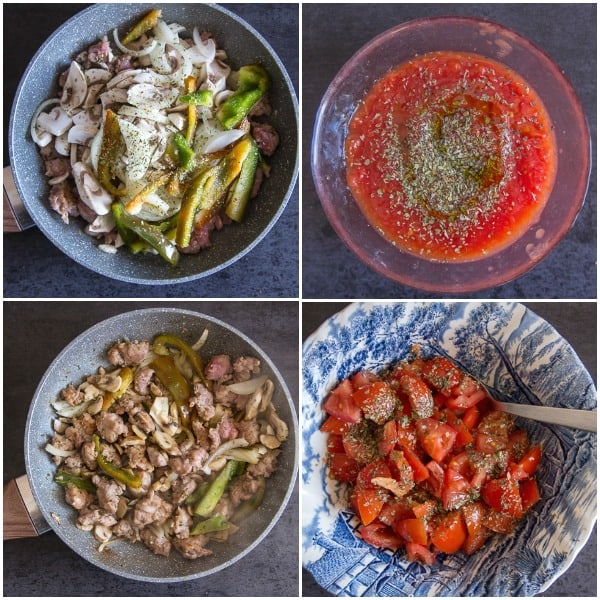 How to make and form the Dough:
-When making Homemade Pizza Dough be sure to knead the dough until it is smooth and elastic.
-Let it rise in a lightly oiled bowl (make sure to turn the dough in the bowl so it gets covered lightly in oil), cover the bowl with plastic wrap and a clean large kitchen cloth.
-Place the bowl in a warm draft free area and let it rise for about two hours.

-Always use olive oil.
-Once the dough has risen, divide it into 2-3 rounds, make sure to cover the rounds with the kitchen cloth and let it rest for about 20-30 minutes.
This way your dough will spread and not spring back when you try to fit it into the pan.
No knead to roll the dough with a rolling pin, clean hands work best.
Why grease the dough before rising?
Always place it in a lightly oiled bowl and roll the dough to lightly cover it with oil first, the oil keeps from forming a crusty top on the dough and keeps is smooth and soft.
How long do you knead it for?
Be sure to knead the dough until it is smooth and elastic, approximately 7 minutes by hand and 5 minute by machine. The dough can be kneaded by hand or by machine using the dough hook in your stand up mixer. Do not over-knead.
It's also best to stretch the dough gently with your finger tips rather than using a rolling pin. The air bubbles in the dough cause the crust to be light and airy, and that is exactly what you want. 
Can the Dough be made in advance?
The dough can certainly be done in the fridge, overnight works perfectly. Prepare the dough, place in a lightly greased bowl, cover with plastic wrap and let rise overnight in the refrigerator.
Remove the dough from the fridge and bring it to room temperature, about 30-60 minutes, punch it down, then divide it into 2 or 3 parts, again let it rest for about 20 minutes, form into your preferred shape and top as desired.
How to know when it has risen enough?
With your knuckles or a couple of fingers make an indentation in the dough, If the indentation disappears, the dough needs more time to rise. If the dent remains, the bread is ready to bake.
Why do you punch dough down?
Punching it down removes some of the gas bubbles which is formed by the yeast while the dough is rising. It also helps to relax the gluten which makes the dough easier to roll and or shape.
Does pizza dough need two rises?
It doesn't need to rise twice and this recipe is delicious with just a first rise. But if you are looking for something amazing do as a lot of Italian Pizza places do and let the first rise happen in the fridge overnight, bring the dough to room temperature 30-45 minutes then punch it down and let rise a second time for about one hour. 
What is the difference between Pizza and Bread Dough?
The difference between Pizza and Bread dough is Pizza dough is made with a higher protein flour other than that they both use the same ingredients, yeast, flour, salt and water.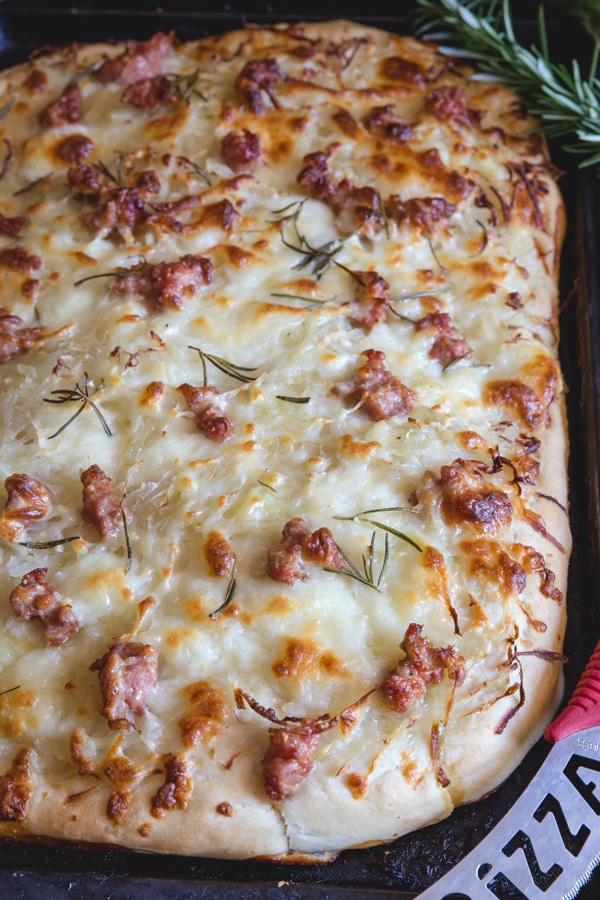 How to Freeze Pizza Dough
Let the dough rise before freezing, then divide the dough into your desired pizza portions, place in airtight freezer bags and freeze. Dough will last up to 3 months in the freezer. Let dough thaw overnight in the fridge, then bring the dough to room temperature before using.
How to bake the Best Pizza
Pizza should always be baked in a very hot oven 450F (250C). It's best to top your pizza let it cook then add the shredded mozzarella cheese and bake until melted.
So however you like your pizza, thick crust, thin crust, double cheese, veggie or pepperoni I hope you try it with this pizza dough. Buon Appetito!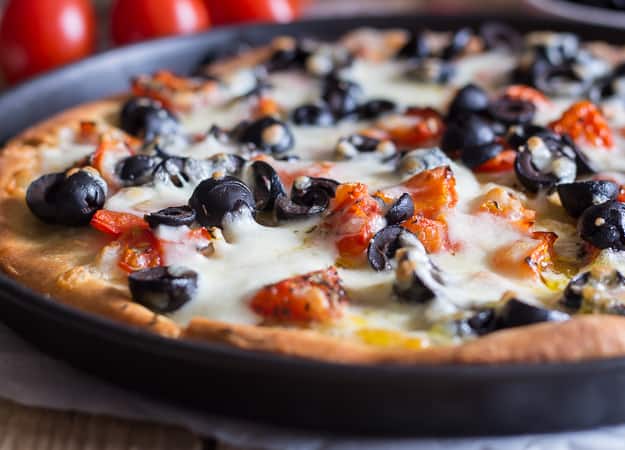 Best Pizza Dough
Best Pizza Dough, an easy, homemade pizza dough recipe that will become your favorite go to for pizza night. Thick or thin crust you decide.
Follow me on Youtube!
Watch the videos and don't forget to subscribe on Youtube!
Ingredients
2

cups

lukewarm water

(470 grams)

1

pinch sugar

1 1/2

tablespoons

active dry yeast

2

tablespoons

olive oil

5 1/4

cups

all purpose flour or bread flour

(680 grams)

1 1/2

teaspoons

salt
Instructions
In the bowl of your stand up mixer (or a large bowl if you knead by hand) add warm water then add yeast and sugar, let sit for 5 minutes, then stir to combine. Continue with Machine or Hand.
MIXING BY MACHINE
Add the olive oil, flour and salt, with the hook attachment start to combine on low speed, scrape the hook and then raise to medium speed and knead for approximately 5 minutes or until you have a smooth elastic dough (scrape the hook halfway through kneading).  
MIXING BY HAND
Add the olive oil, flour and salt, then with a fork mix until the dough starts to come together. On a lightly floured surface remove dough from the bowl and knead until dough is smooth and elastic approximately 10 minutes (if dough is really sticky add a little extra flour). 

Place in a lightly oiled bowl and cover with plastic wrap and a large clean kitchen towel, leave in a warm draft- free place until doubled in bulk, approximately 2 hours.**

Pre heat oven to 450° (250° celsius). Punch dough down a few times and divide into 3 balls, let dough rest for 20 minutes.

Place dough in desired pizza or cookie sheets (lightly oiled) and fit dough into desired shapes (using your clean hands).

Top with your favourite toppings (without the cheese), bake for approximately 15-20 minutes (until crust is golden) and then top with grated mozzarella cheese and bake for three more minutes or until cheese is melted. Enjoy!

**At this point, dough can also be refrigerated, place in plastic bag, remove air and tie securely up to 24 hours.
EASY PIZZA SAUCE
In a medium bowl add a can of diced or pureed tomatoes, add 1 teaspoon oregano, 1 teaspoon basil, a sprinkle of salt, tablespoon or two of olive oil and stir to combine.  Top pizza dough.
FRESH TOMATO SAUCE
Chop fresh tomatoes (15-20 grape or cherry or 3-4 roma tomatoes)if you use roma tomatoes then remove the seeds, toss with 1 teaspoon oregano, 1 teaspoon basil (or even 5-6 fresh basil leaves chopped) 1-2 pinches salt and a tablespoon or 2 of olive oil.
STIRRED FRIED VEGGIES & ITALIAN SAUSAGE
In a medium frying pan add Italian sausage (casing removed and chopped) and fry until starting to brown, add thinly sliced, onion, pepper and mushrooms and a drizzle of olive oil, 1/2 teaspoon oregano, basil, salt and pepper to taste, cook on medium for approximately 10 minutes. Use as topping for pizza (on the sauce and then bake).
Notes
If using instant yeast instead of active dry use 2 1/4 teaspoons of instant yeast. In the bowl of the mixer add the flour, yeast and sugar and combine, then add the water and oil, start to mix with the dough hook and add the salt, continue to knead for about 8-10 and continue with the recipe. When using active dry yeast your dough may rise a little quicker so keep your eye on it. If you have a fan-assisted oven, then you can lower the oven temperature by 50 degrees F (or 20 degrees C).
Nutrition
Calories:
265
kcal
|
Carbohydrates:
50
g
|
Protein:
7
g
|
Fat:
3
g
|
Sodium:
1048
mg
|
Potassium:
75
mg
|
Fiber:
1
g
|
Calcium:
10
mg
|
Iron:
3
mg
Republished from January 6, 2016.