This is not your average Italian Sausage Artichoke Cheese Pizza, because I actually added a few more ingredients than I listed. I guess you could call it a loaded Italian White Pizza.
Needless to say I used the last of the large jar of sun-dried tomatoes that I bought to make that amazing No-Yeast Sun-Dried Tomato Olive Bread and a yummy Pasta dish, Spaghetti with Sun-Dried Tomatoes and Pancetta. I guess it's time to pick up another jar!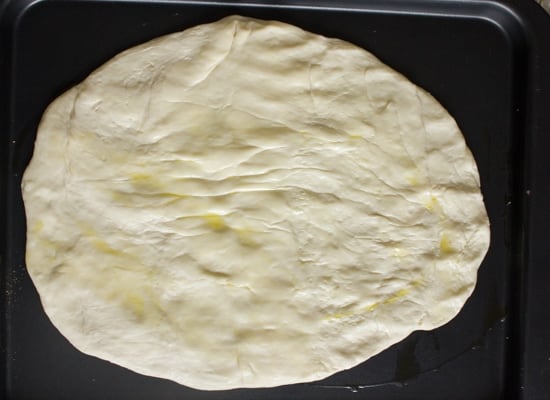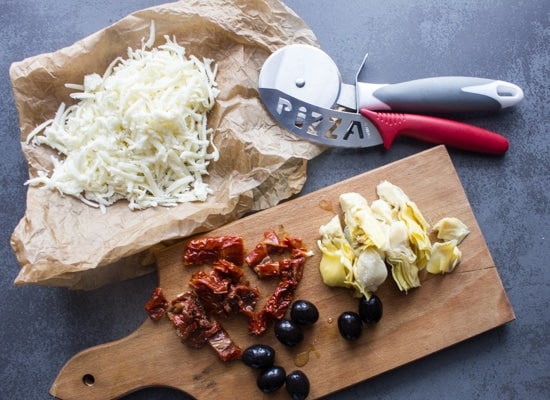 I know a lot of people make Pizza on Friday night or the weekend, but you can bake this Italian Sausage Artichoke Cheese Pizza  so quickly with store-bought or bakery bought pizza dough, you will want to make during the week too.
I actually buy pre-made focaccia dough, I find it a little thicker and tastier. Or you can also make your own Best Pizza Dough when you have time. Nothing like homemade.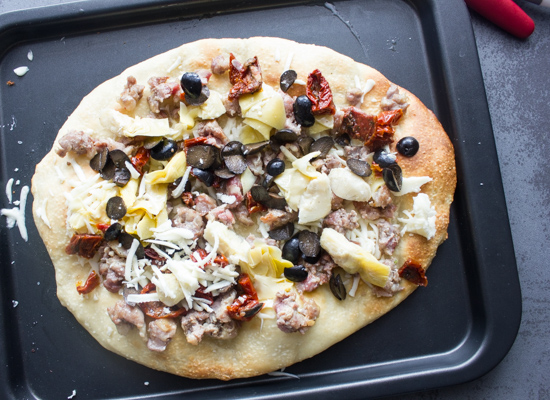 The first thing I did was bake the crust, since all the ingredients are pre-cooked all you need to do is heat them and melt the cheese. I decided to place some shredded cheese under and on top of the ingredients.
I know a lot of Italian food is made with tomatoes, but believe me some of the most delicious Italian food is the under-rated Piatti Bianchi (white dishes), White Sauce Lasagna, Grilled Zucchini Pizza, Cheesy White Sauce Gnocchi  just to name a few.
The Italian has decided that this Italian Sausage Artichoke Cheese Pizza is one of his favourites, especially when I added black olives and of course rucola (rocket). It seems rucola is becoming my new "I can't get enough of this amazing green".
If you haven't tried it, you must. It gives everything that extra kick. I add a ton of it to my salads also. Buon Appetito!
Italian Sausage Artichoke Cheese Pizza
Italian Sausage Artichoke Cheese Pizza
Italian Sausage Artichoke Cheese Pizza, pre-made or homemade dough, fast and easy. A healthy Italian white pizza recipe.
Ingredients
1

pre-made pizza or focaccia dough or Best Pizza Dough Recipe

2-3

Italian sausages

3

whole artichokes under oil (drained and sliced)

4-5

sun-dried tomatoes drained and sliced if under oil

½-¾

cup

shredded firm mozzarella

15

or more sliced black olives

chopped rucola (also known as arugula or rocket)
Instructions
Pre-heat oven to 450° lightly grease pizza pan.

Place pizza or focaccia dough on pan, brush lightly with olive oil.

Bake for approximately 10 minutes (or until golden).

While Pizza is baking, in a medium saucepan add ½ tablespoon olive oil and Italian sausage (remove from casing and chop into small pieces and cook until brown, and drain.

Remove from oven and sprinkle with half the mozzarella cheese, top with drained sausage, sliced artichoke,sun-dried tomatoes, chopped olives, a little sprinkle of basil and oregan and the remaining mozzarella.

Bake in oven until cheese has melted approximately 3-5 minutes. Top with shredded rucola if desired. Enjoy!
Nutrition
Calories:
497
kcal
Carbohydrates:
49
g
Protein:
16
g
Fat:
26
g
Saturated Fat:
7
g
Cholesterol:
42
mg
Sodium:
1480
mg
Potassium:
188
mg
Fiber:
2
g
Sugar:
6
g
Vitamin A:
420
IU
Vitamin C:
11
mg
Calcium:
24
mg
Iron:
3.7
mg