Homemade Creamy White Sauce Lasagna, an easy delicious Italian Lasagna Recipe, layered with peas, sausage, mushrooms and the perfect Bechamel Sauce. It just might become your new favorite Dish.
White Sauce Lasagna
Everyone has eaten Lasagna I'm quite sure. I know I have eaten a lot of pans of Lasagna made by my Mom and my sister's mother-in-law in Canada. But they were all the traditional Red Sauce Lasagna.
Delicious and different in their own way. Some made with eggs, some with ricotta cheese and some with meat.
White Sauce Video
But not everyone has had the good fortune of eating a White Sauce Lasagna (or Lasagna Bianca). This I'm sure will become one of your favourites. Quite rich but oh so delicious.
It does take a little bit of extra time, (fortunately there are those oven ready lasagna noodles which makes life easier) and few extra pots, but well worth it. Which makes this Lasagna recipe the perfect Special Occasion Dish.
The first  White Sauce Lasagna I had ever tasted was made by my sister-in-law. I really didn't know what to expect.
But I knew, that the ingredients of peas, mushrooms, Italian Sausage and a creamy homemade white sauce were everything I loved.
  How to Make the Perfect White Sauce (Bechamel)
On low heat, melt the butter, then add the flour and salt and whisk until smooth.
Gradually add the milk, stir constantly until sauce starts to boil and thicken, remove from heat.
So just imagine it all in a Lasagna!
You know it can't get much better than that! So needless to say you can certainly bet I got that recipe written down before the evening ended.
After living in Italy for a few years I came to realize that there are so many delicious Lasagna Recipes.  Every region has their own and every family has their own way of making this Classic Italian Dish.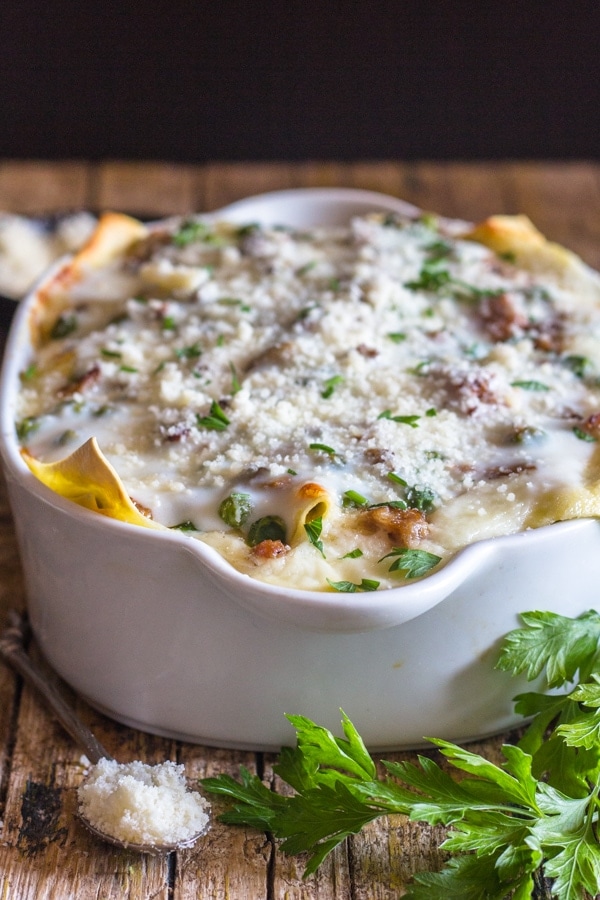 More Delicious Lasagna and Baked Pasta Recipes
Baked Gnocchi Double Cheese Tomato Sauce
But I am sure after tasting a few of these different types of Lasagna you will decide what your favourite is, or if you are like me,  you will have more than one that is your preference. Buon Appetito!
Homemade Creamy White Sauce Lasagna
Homemade Creamy White Sauce Lasagna
You could always make this into a vegetable lasagna, increase the peas and mushrooms and leave out the Italian sausage.
Follow me on Youtube!
Watch the videos and don't forget to subscribe on Youtube!
Ingredients
FOR THE LASAGNA
1 1/2 -2

cups

frozen peas

3

Italian sausages

(skinned and broken into pieces)

1 1/2

cups

chopped mushrooms

2

tablespoons

olive oil

1/4-1/2

teaspoon

oregano

1/4

teaspoon

dried parsley

1/4

teaspoon

salt

1/4

cup

water

1 - 1 1/2

large

fresh mozzarella chopped

1 1/4

cups

freshly grated parmesan cheese

16

lasagna noodles

(also referred to as strips)
FOR THE WHITE SAUCE
3 1/2

cups

milk

(2%)

1/4

cup

butter

1/4

cup

flour

1/4

teaspoon

salt
Instructions
Pre-heat oven to 350F (180C).

In a small pot of boiling water add peas and cook until tender about 10 minutes, and drain.

Cook sausage in a small frying pan adding a 3 tablespoons of water, cook until slightly golden, and water has evaporated (watch that it doesn't burn).

In a medium frying pan add 2 tablespoons of olive oil, add mushrooms, oregano, parsley , salt and 1/4 cup of water, cook on medium heat until tender and water has evaporated, stirring occasionally , watch that they don't burn. Then add the drained peas, Italian sausage (break into smaller bits if too large) and combine well.

FOR THE WHITE SAUCE

In a medium large pot melt butter over low heat, then blend in the flour and salt, gradually stir in milk , cook and stir constantly over medium heat until mixture begins to bubble and thicken, remove from heat.
PUTTING IT TOGETHER
In a medium baking pan (I used a 12x10 inch / 30 x 25cm) spread a ladle (using a 1/2 cup ladle) of sauce on the bottom of the pan (keeps the noodles from sticking) then doing 3-4 layers , place lasagna noodles (or strips) on top (I used 4 for every level, 1 noodle break in half length wise to fit the pan if need be), add 1 1/2 to 2 ladles of white sauce (spread so that it covers the noodles), 1/4 of the mixture spread on top, 1/4 of the chopped mozzarella, and a 1/4 of the grated parmesan cheese for 3-4 layers.

Bake in 350° degree oven for approximately 20-25 minutes, broil for approximately 3 minutes until top is browned. Let sit for 5 minutes before cutting . Enjoy!
**You could always make this into a vegetable lasagna, increase the peas and mushrooms and leave out the Italian sausage.
Notes
Depending on your choice of lasagna noodles, some may need to be cooked (boiled) or use oven ready which need no pre-cooking.
Nutrition
Calories:
588
kcal
|
Carbohydrates:
52
g
|
Protein:
23
g
|
Fat:
31
g
|
Saturated Fat:
13
g
|
Cholesterol:
71
mg
|
Sodium:
795
mg
|
Potassium:
520
mg
|
Fiber:
2
g
|
Sugar:
7
g
|
Vitamin A:
485
IU
|
Vitamin C:
0.8
mg
|
Calcium:
315
mg
|
Iron:
1.8
mg
.
Updated from January 27, 2014.