Lasagna Cups are a fun twist on lasagna and great for dinner or as a party appetizer. Layers of pasta, meat sauce, and cheese baked as cute little cups is a delicious way to enjoy your favorite Italian lasagna.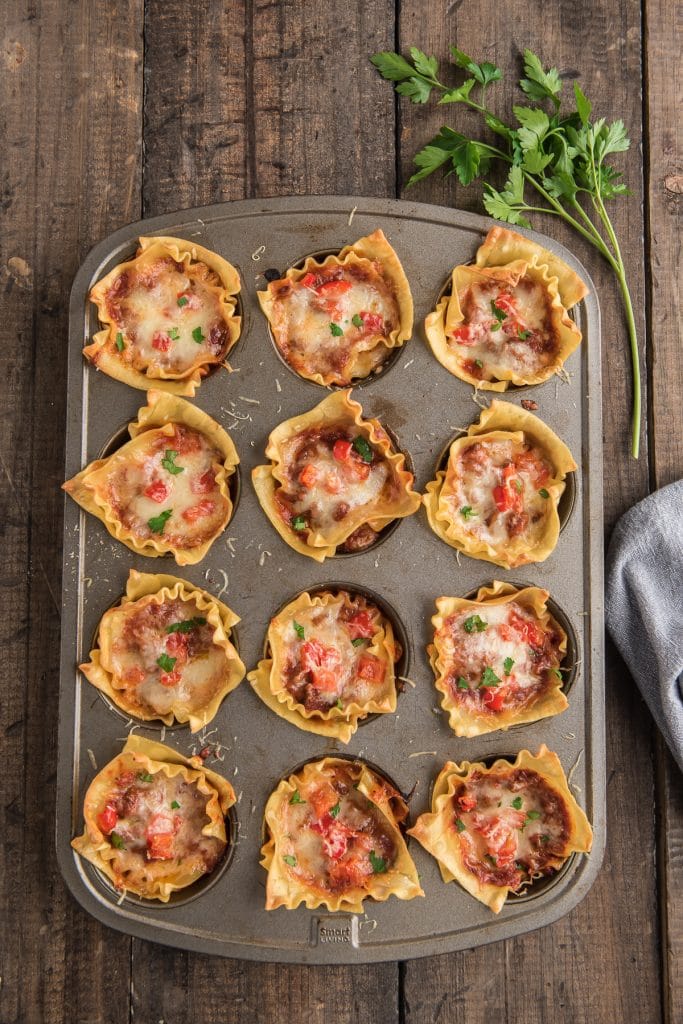 I first started making these rustic lasagna cups when my girls were young. My youngest daughter especially loved them along with her good friend who's as lasagna crazy as I am!
I love traditional lasagna, but my girls love anything mini-sized so that's how I decided to make these. You get all the wonderful, comforting flavors of the baked pasta but served as lasagna cups.
I've seen many other recipes for lasagna cups and so many use wonton wrappers. Well, that's not the Italian way so I use Lasagna noodles, you could also use fresh pasta which would be delicious. I cut them in half to fit the muffin tins, depending on the size they may need to be cut more than once especially if you are using medium size muffin tins.
I made a simple ground beef sauce, topped with shredded Mozzarella and freshly grated Parmesan cheese. I made four layers in the large muffin tin and three layers in the medium size tin.
I called them Rustic Lasagna Cups because I didn't do any fancy cutting, I just fit the pasta in the muffin tins, alternating them in each layer. My daughters call them lasagna cupcakes and I have to agree that's a great name, too.
The large muffin tins are perfect for single-size servings. These are perfect for get-togethers too. You could make a simple sauce and a meat sauce and add different toppings, everyone could have their own personal Lasagna.
If you asked me what is the ultimate comfort food I would answer, no questions asked, Lasagna. Lasagna anyway you can get it.  Red Sauce, White Sauce, Creamy Squash Lasagna and now these Lasagna Cups.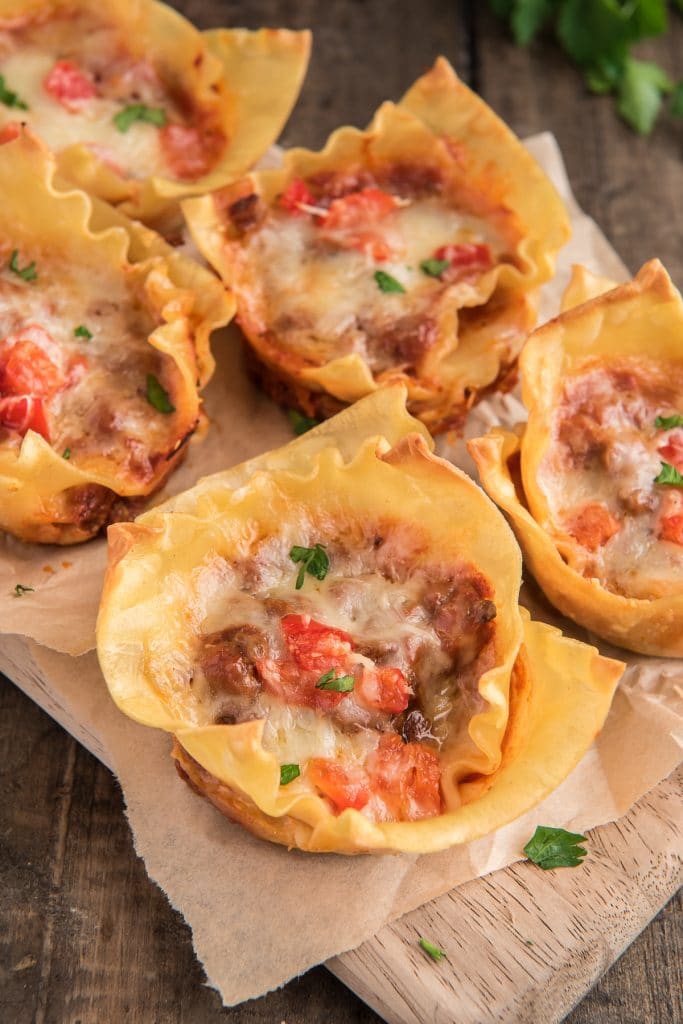 Ingredients
Olive oil
Lean ground beef
Chopped garlic
Tomato puree (passata)
Salt
Dried oregano
Dried basil
Red pepper flakes
Water
Freshly grated Parmesan cheese
Shredded mozzarella cheese (firm not fresh)
Lasagna noodles
Cooked bell peppers or mushrooms (optional)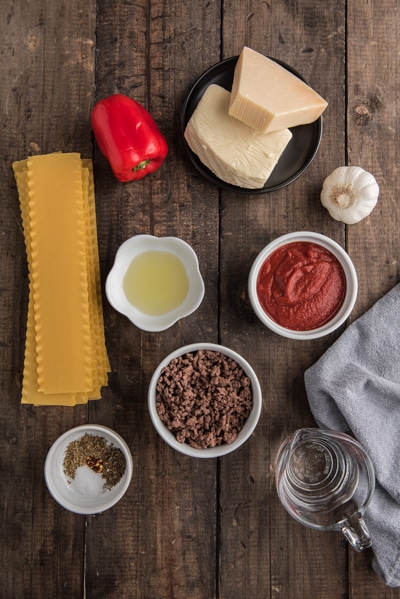 How to Make Them
Place the oil, ground beef, garlic, tomato puree, salt, oregano, basil, red pepper flakes, and water in a large pot. Cook the meat mixture over medium heat for 30 minutes or until the sauce is thickened.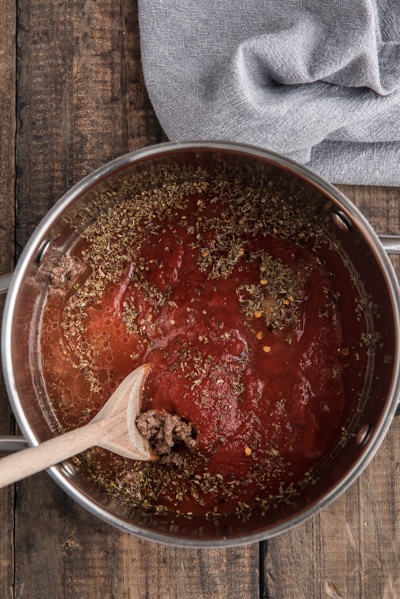 You can make large lasagna cups or mini lasagna cups depending on the size muffin pan you have. You will need to trim the lasagna noodles to fit the molds and this will vary depending on how big/long your sheets are.
Large lasagna cups: Slice the al dente noodles in half and fit them into the muffins molds so there are no gaps.
Mini lasagna cups: Cut the sheets into thirds and fit them in the mini molds.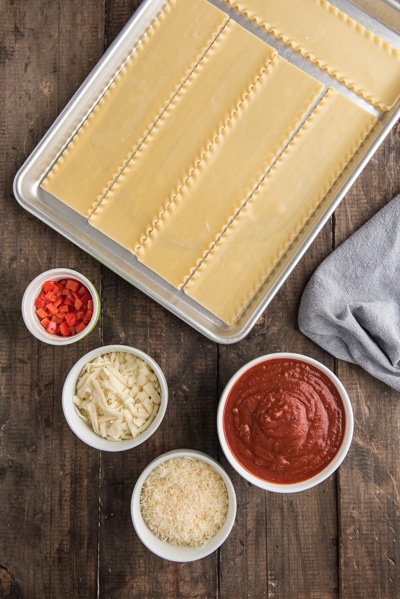 Layer the lasagna fillings in the pasta cups. Start with the meat sauce, the cooked vegetables (if using), and sprinkle the shredded cheese over the top. Add the grated Parmesan. Add another layer of pasta and continue layering the other ingredients. For large cups, I can get four layers. For mini ones, three layers should work.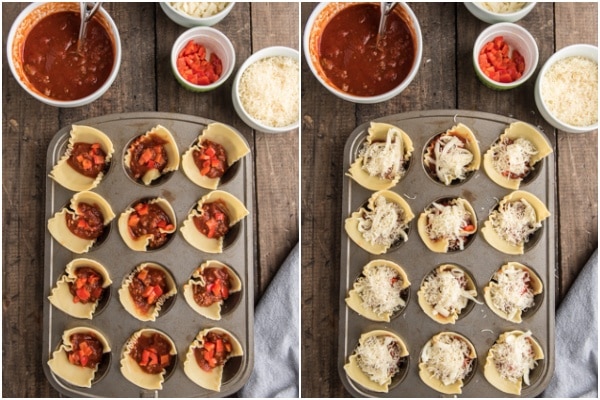 Bake the lasagna cups for about 20 minutes at 350°F (180°C). Cool them at room temperature for two to three minutes before serving.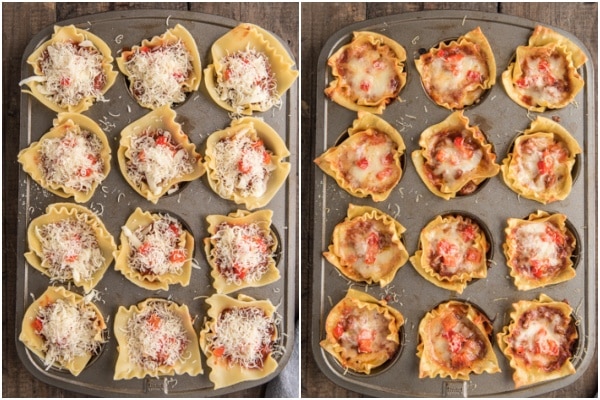 Recipe Variations
You can make this recipe with ground pork, Italian sausage, or even ground turkey instead of ground beef.
Or, you can leave the meat out and make tomato sauce. Just be sure to cook the sauce long enough so it's thick.
The cooked veggies are optional for this recipe. I sauté the mushrooms and peppers ahead of time in a skillet with olive oil. You could also use cooked onions.
Instead of using dried basil and oregano, you can use Italian seasoning instead. One teaspoon is a good amount.
For serving, feel free to sprinkle more grated Parmesan cheese over the top along with chopped fresh parsley or fresh basil.
FAQs
How to store leftover Lasagna cups
Any leftovers should be stored in the freezer in an airtight container. They will keep for up to 3 days. Reheat in a low oven or microwave.
Can they be frozen?
Freeze the baked cups in a freezer safe container. They will keep for up to 2-3 months in the freezer.
Sometimes it's fun to switch things up and these lasagna cups are a fun recipe to make. I hope you try them – Buon Appetito!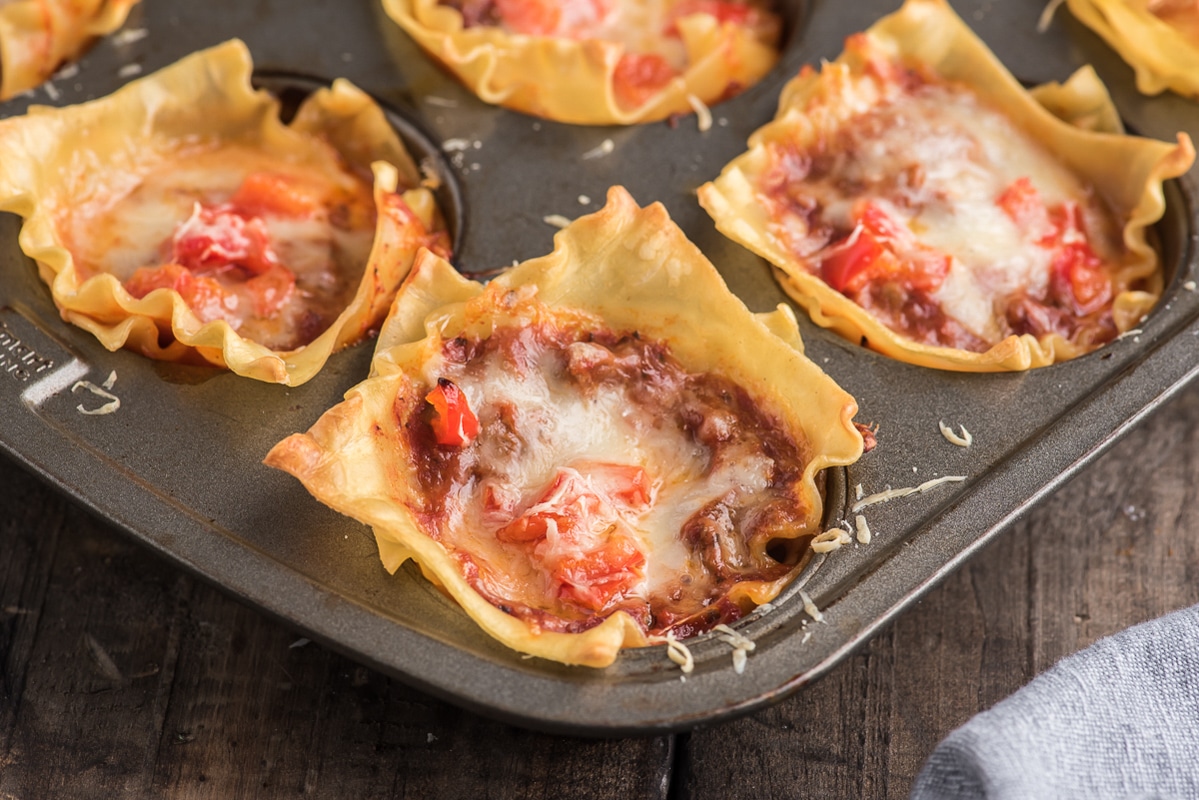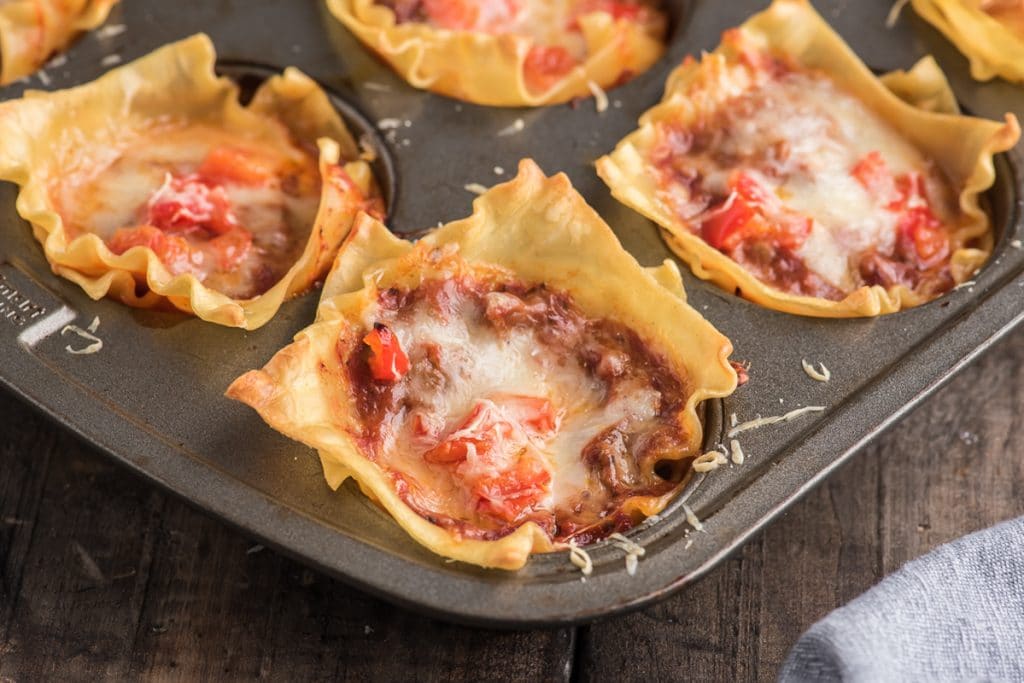 More Delicious Recipes to Try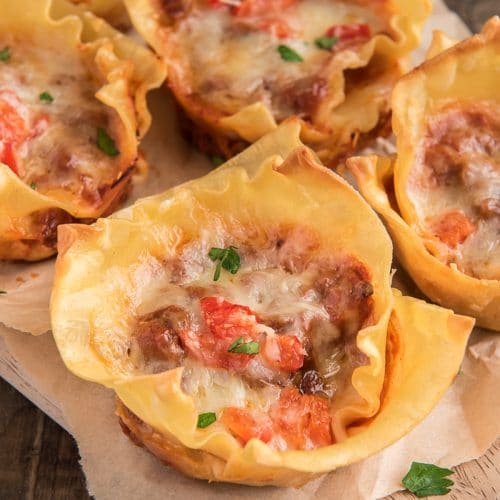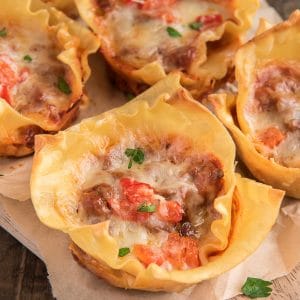 Rustic Lasagna Cups
Rustic Lasagna Cups, a fast and easy lasagna recipe, a simple sauce, sauteed veggies, and double cheese, the perfect family or party food.
Ingredients
TOMATO MEAT SAUCE
1 1/2

tablespoons

olive oil

1

clove

garlic chopped

1/2

pound

lean ground beef

2

cups

tomato puree (passata)

453 grams

1/2

teaspoon

salt (or to taste)

2.7 grams

1/2

teaspoon

oregano

1/2

teaspoon

basil

1-2

pinch

hot pepper flakes, if desired

3/4

cup

water
EXTRAS
1

cup

freshly grated Parmesan cheese

1

cup

shredded firm mozzarella cheese

approximately 8-10 (more or less) lasagna noodles (pre boiled until al dente as per direction on package)

depending on size

sautéed chopped pepper or mushrooms if desired (sautée with a little olive oil parsley and oregano until tender)
Instructions
TOMATO MEAT SAUCE
In a large pot add the oil, garlic and ground beef, cook on medium until the meat has browned, then add the remaining ingredients, stir to combine. Cook on medium heat for approximately 30 minutes or until very thick, taste for salt.

Pre-heat oven to 350° (180° celsius). Lightly grease muffin tin, I made 6 large and 6 medium cups.

Line muffin tins with a lasagna noodle cut cut to fit the muffin tin size. Top with 1-1 1/2 tablespoons of sauce, (sautéed veggies if using), some shredded mozzarella and a heaping teaspoon of Parmesan cheese, continue for 4 levels for the large or 3 for the medium (change direction of the strips on every level), the last level end with sauce,(veggies) and Parmesan. Bake for approximately 20 minutes. Let sit 2-3 minutes and serve. Enjoy!
Notes
Any leftover cups should be stored in the refrigerator in an airtight container. They will keep for up to 3 days. Reheat in a low oven or microwave.
They can also be frozen in a freezer safe container. They will keep for up to 2-3 months.
Nutrition
Calories:
136
kcal
Carbohydrates:
3
g
Protein:
9
g
Fat:
10
g
Saturated Fat:
4
g
Polyunsaturated Fat:
1
g
Monounsaturated Fat:
4
g
Trans Fat:
1
g
Cholesterol:
28
mg
Sodium:
375
mg
Potassium:
142
mg
Fiber:
1
g
Sugar:
2
g
Vitamin A:
264
IU
Vitamin C:
1
mg
Calcium:
151
mg
Iron:
1
mg
Updated from December 14, 2015.