If you asked me what is the ultimate comfort food I would answer, no questions asked, Lasagna. Lasagna anyway you can get it. Red Sauce, White Sauce and now these Lasagna Cups.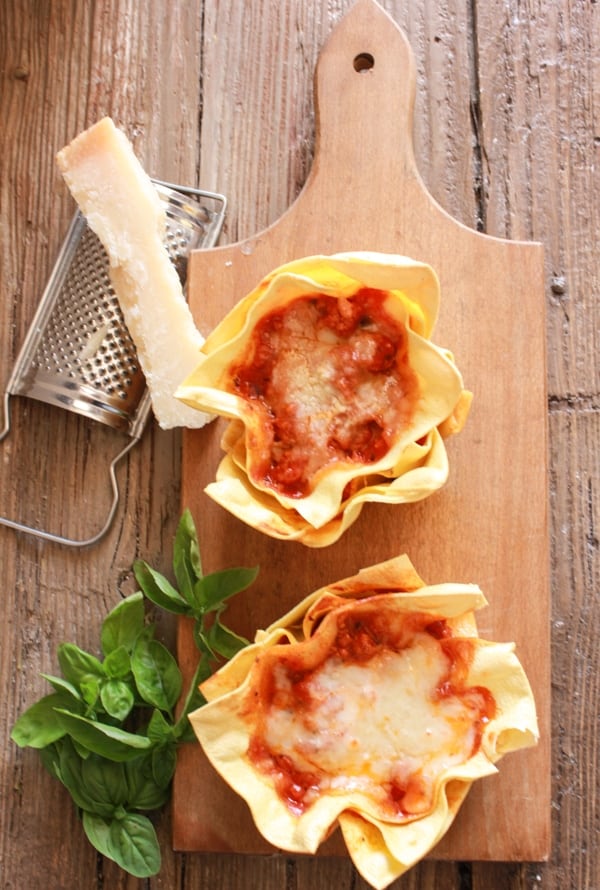 I was basically forced to make Lasagna Cups because my youngest daughter is lactose intolerant. Yes the Nutella queen is no longer a Nutella queen, don't worry she has already found another chocolatey nut cream to take its place.
Another reason I decided to make these is because my daughter's pool friend was coming for lunch and she is a girl after my own heart, a lasagna lover. Of course I wanted my daughter to enjoy a delicious dish of lasagna, so what better way than this way.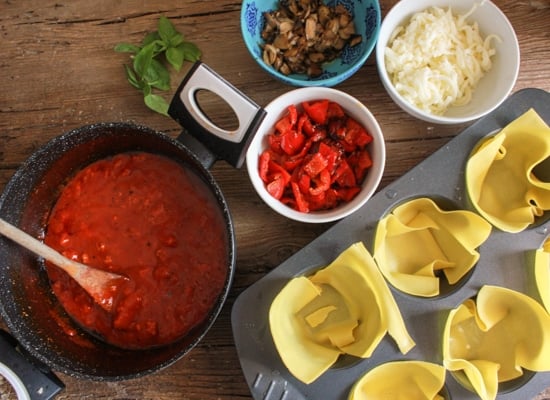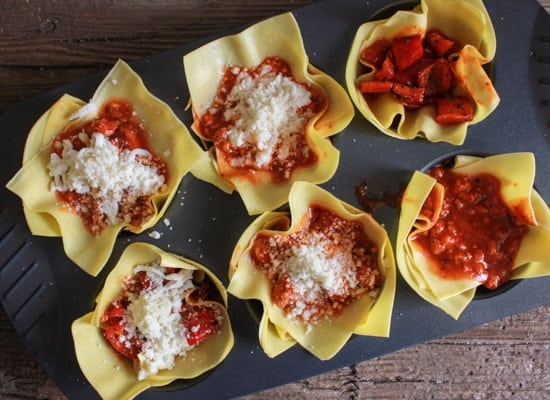 I used Lasagna noodles or also known as Oven Ready Strips, I cut them in half to fit the muffin tins, depending on the size they may need to be cut more than once especially if you are using medium size muffin tins.
I made a simple ground beef sauce, topped with shredded Mozzarella and freshly grated Parmesan cheese. I made four layers in the large muffin tin and three layers in the medium size tin. Of course in a few for my daughter I used lactose free cheese.
I called them Rustic Lasagna Cups, because I didn't do any fancy cutting, I just fit them in the muffin tins, alternating them in each layer. Fast and easy.
The large muffin tins are perfect for single size servings. These are perfect for get togethers too. You could make a simple sauce and a meat sauce and add different toppings, everyone could have their own personal Lasagna. Buon Appetito!
Rustic Lasagna Cups
Rustic Lasagna Cups, a fast and easy lasagna recipe, a simple sauce, sauteed veggies, and double cheese, the perfect family or party food.
Follow me on Youtube!
Watch the videos and don't forget to subscribe on Youtube!
Ingredients
TOMATO MEAT SAUCE

1 1/2

tablespoons

olive oil

26 grams

1/2

pound

lean ground beef ( I pre-boil for 5 minutes to remove extra fat and drain)

250 grams

1

clove

of garlic chopped

2

cups

tomato puree (passata)

453 grams

1/2

teaspoon

salt

2.7 grams

1/2

teaspoon

oregano

1/2

teaspoon

basil

pinch hot pepper flakes, if desired

3/4

cup

water

1

cup

freshly grated Parmesan cheese

1

cup

shredded firm mozzarella cheese

approximately 8-10 lasagna sheets

depending on size

sautéed chopped pepper or mushrooms if desired (sautée with a little olive oil parsley and oregano until tender)
Instructions
TOMATO MEAT SAUCE

In a large pot add all the ingredients for the meat sauce (in order listed) cook on medium heat for approximately 30 minutes or until very thick, taste for salt.

Pre-heat oven to 350° (180° celsius).

Line muffin tins (I made 6 large and 6 medium) with a lasagna sheet cut in half for large or 1/3 for medium (of course depends on the size of the sheet), top with 1-1 1/2 tablespoons of sauce, (sautéed veggies if using), some shredded mozzarella and a heaping teaspoon of Parmesan, continue for 4 levels for the large or 3 for the medium (change direction of the strips on every level), the last level end with sauce,(veggies) and Parmesan. Bake for approximately 20 minutes. Let sit 2-3 minutes and serve. Enjoy!
Nutrition