When you have a craving for Eggplant Parmesan but don't want to go to all the trouble, then these Eggplant Stacks are perfect.
Made with grilled eggplant, mozzarella, parmesan cheese and a simple fresh tomato sauce. Then baked until melted. The perfect main dish or appetizer recipe idea.
Eggplant Parmesan Stacks
Now that summer is halfway done and eggplant and tomatoes have become front and centre,  I am finding that I prefer to make some easy light and quick meals with these delicious fresh veggies.
Thanks to an over abundance of vegetables that I have been given by my brother and sister-in-law, I am happy to say, I see a lot of eggplant.
Thank goodness for my in-laws and friends and all their amazing recipes, I can usually use up all these great vegetables quite easily.
What I love about these Baked and Grilled Eggplant Parmesan Stacks is that you are combining two delicious fresh vegetables, fresh spices and melted cheese together, and what could be better than that!
The other day a niece of mine came to visit, and her last night here I told her to try an eggplant stack, she told me that eggplants were not one of her favourites because they tend to taste slimy (a problem the Italian has too)!
So I reassured her by telling her that when grilled, all that sliminess disappears (eggplant is quite watery so grilling removes the excess water). And in fact she loved it.
When grilling the eggplant you don't even have to toss the eggplant with salt and let it sit. Whenever I am in the supermarket I always reach first for the Rosa Bianca (white and purple striped eggplant) and then the globe.
The Rosa Bianca is a tender almost no seed eggplant that I find perfect for every recipe, from Bucatini with Eggplant to a simple Grilled Eggplant. If you haven't noticed we are a big veggie grilling family.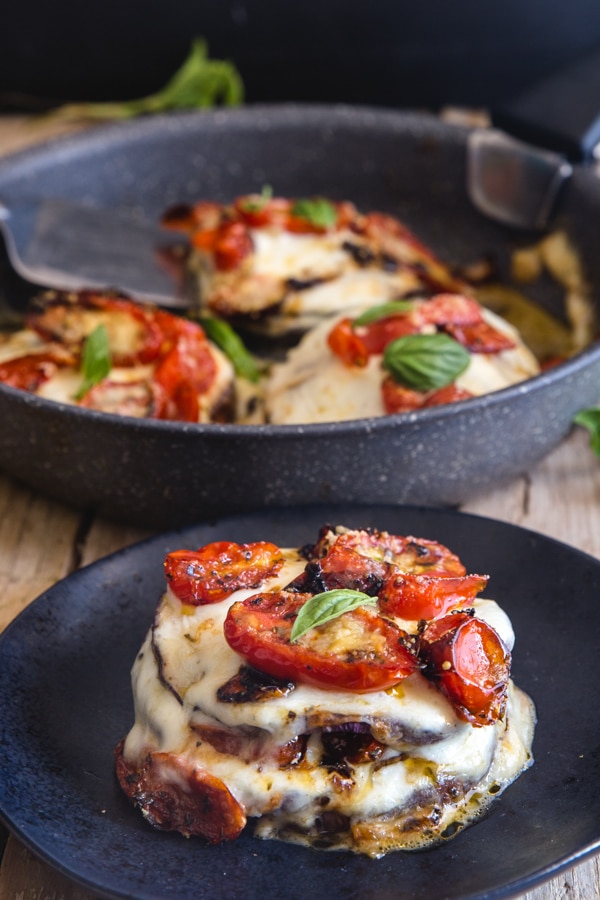 How to make Eggplant Parmesan Stacks
In a medium frying pan add the olive oil, grape tomatoes, halved lengthwise and spices.
Cook on medium heat until tomatoes are softened, this is when it becomes a personal preference, we like our tomatoes cooked well, not quite pan dried but almost, you may like yours lightly cooked.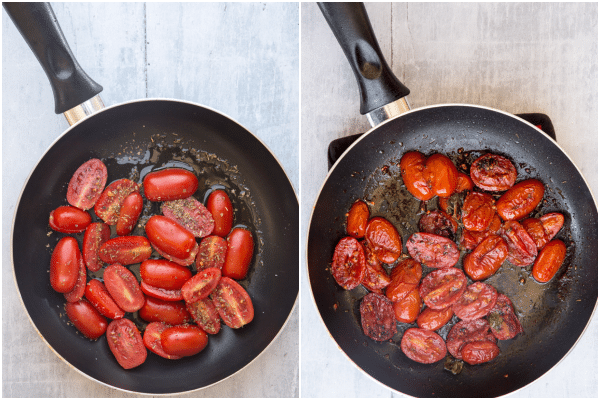 Grill 8 slices (or more, then double the recipe) of eggplant until lightly grilled.
Place 4 slices in an oven safe pan or baking dish and top with a slice or two of firm mozzarella, 2-3 tomatoes, a teaspoon or two or freshly grated parmesan cheese, then top with another grilled eggplant and repeat. Drizzle any leftover oil over the top.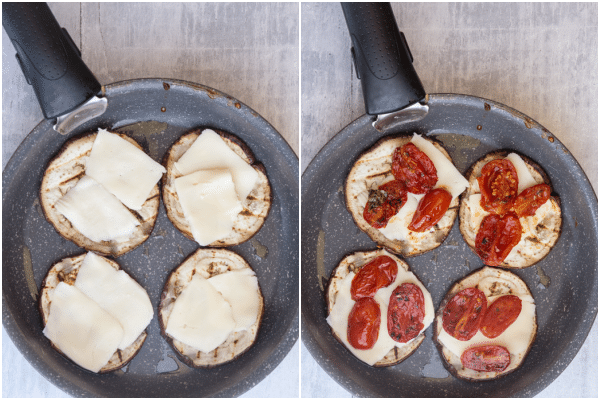 Bake in a hot oven for about 10-15 minutes.
If you prefer you can even make a 3-4 layer Eggplant Parmesan Stack.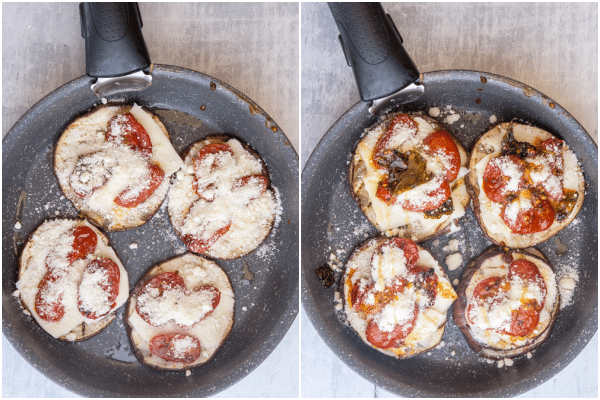 How to prepare Eggplant
If you decide or can't find the Rosa Bianca eggplant then the globe  or another type where you can cut circles will work. If you prefer you can place the sliced eggplant in a bowl and toss with one to two teaspoons of salt, but I really don't think it is necessary.
Let the eggplant sit for approximately 20 minutes, then drain the water from the bowl but do not rinse. Lightly grill the eggplant slices on both sides.
How to store Eggplant Parmesan Stacks
Any leftover stacks should be stored in an airtight container and eaten within two days. You can reheat either in the oven or microwave.
This dish would be perfect as a main dish or you could even serve it as an appetizer. Whatever way you choose, give it a try and let me know. Buon Appetito!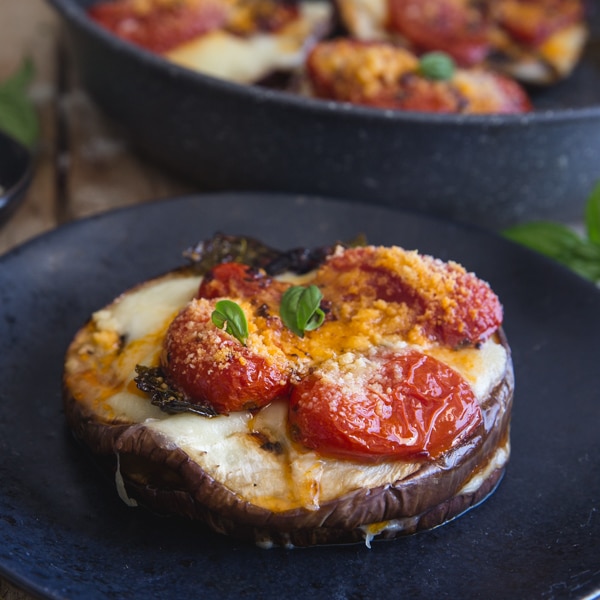 Easy Eggplant Parmesan Stacks
When you have a craving for Eggplant Parmesan but don't want to go to all the trouble, then these Eggplant Stacks are perfect.
Ingredients
FRESH TOMATO SAUCE
2

tablespoons

olive oil

1

clove

garlic minced

14

small

roma tomatoes ( or large grape tomatoes/sliced in half lengthwise)

1

teaspoon

oregano

4-5

fresh

basil leaves chopped

2-3

pinches

salt

1-2

pinches

hot pepper flakes (if desired)
FOR THE STACKS
8

slices

thick round eggplant

(1/4 inch)

8

slices

firm mozzarella cheese (or more if you prefer)

1/4

cup

freshly grated parmesan cheese (or more)
Instructions
Pre heat oven to 375F (190C). Lightly drizzle a oven proof baking dish or pan with a tablespoon or two of olive oil.

In a small frying pan add the olive oil, garlic, halved tomatoes, sprinkle with oregano, chopped basil leaves, salt and hot pepper flakes. Gently stir to combine. Cook on medium until desired doneness is reached.

In a medium bowl add sliced eggplant (if using globe or Italian, if using Rosa Bianca this step isn't necessary) add a teaspoon of salt and toss to combine.  Let sit 20 minutes. Drain but do not rinse. I rarely use this step only with older eggplant.

Grill the eggplant slices on both sides (can be grilled on the barbecue or pan grill). Place 4 of the slices on the prepared baking dish, top with one slice of mozzarella, 2-3 cooked tomatoes, a heaping teaspoon or two of parmesan cheese, then top with another grilled eggplant and repeat. Drizzle a little olive oil on the top of each stack (or if there is oil left in the pan use that). Bake for approximately 10 minutes or until cheese has melted. Serve immediately. Enjoy!
Notes
If you wish you can double the recipe and make 3-4 layer stacks. 
Nutrition
Calories:
319
kcal
Carbohydrates:
15
g
Protein:
18
g
Fat:
22
g
Saturated Fat:
10
g
Cholesterol:
49
mg
Sodium:
662
mg
Potassium:
750
mg
Fiber:
5
g
Sugar:
9
g
Vitamin A:
2312
IU
Vitamin C:
32
mg
Calcium:
397
mg
Iron:
1
mg
Updated from March 15, 2018.