Italian Grilled Eggplant, a fast and easy any season appetizer.  This simple and easy Italian Grilled Recipe will become one of your favourites.
Make it with an outdoor bbq or an stove top grill pan.  Tossed with chopped parsley, garlic, olive oil and a little salt.  Grilled Eggplant is your new favourite appetizer or side dish.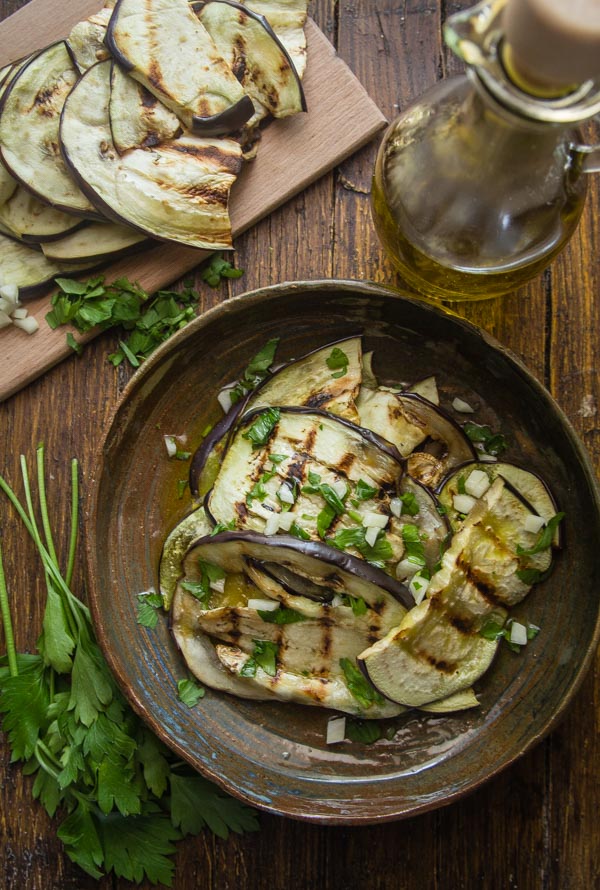 My husband and I have decided that this year we will be planting our own vegetable garden. I usually give a hand to my mother-in-law and sister-in-law.
So I think I have learned a lot about planting over the years or at least I hope I have. And of course my husband likes to think of himself as an expert!
For the past few days we have been busy planting our winter vegetables, lettuce (thank goodness it is warm enough here to have fresh lettuce all year) broccoli, chicory , cabbage and broccoletti (another one of my favourites).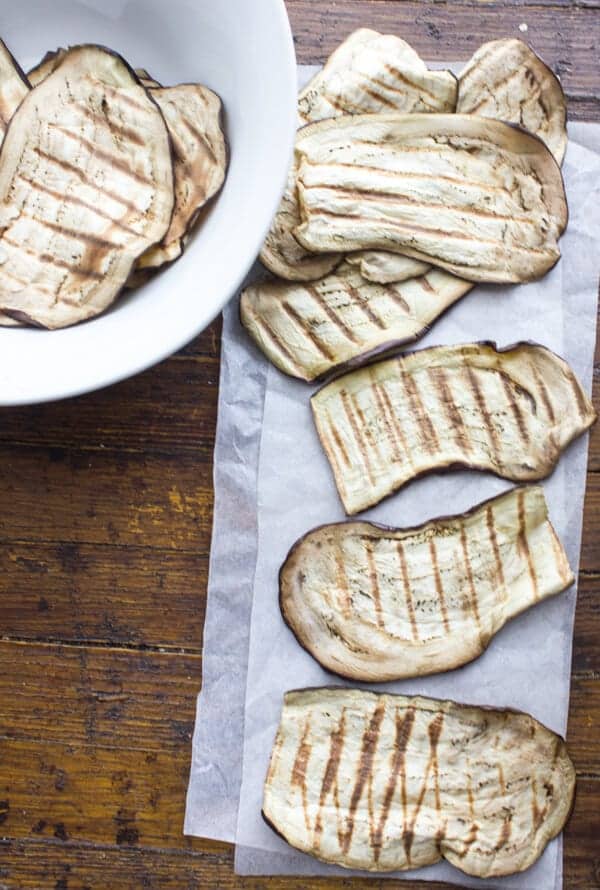 So time will tell on how well our garden grows.  But thank goodness for my mother-in-law and the warm weather we are still having.
I received my last bag of eggplants from her amazing vegetable garden. Although if this heat continues I might just get another bag out of her garden.
When I first arrived in Italy and my mother-in-law made pasta and eggplant, for the longest time this was my favourite eggplant recipe, but then I tried grilled eggplant and I was hooked.
Simple, fast, easy and so tasty.
These good to know tips will help you to make the best Grilled Eggplant.
For me the best way and easiest way to grill eggplant is not to add or brush with any oil before grilling, you don't want to burn them.
You must add the spices and olive oil after, we want the flavours to mingle!
Once you are finished grilling the eggplant place the slices on a plate to cool.
You are then ready to toss the grilled eggplant slices with fresh Italian parsley, garlic, salt and olive oil.
Italians sure know what they are doing when they cook with this summer vegetable.
Stuffed, sautéed, baked or even topped on a pizza what more could you ask for from a veggie?
 Grilled Eggplant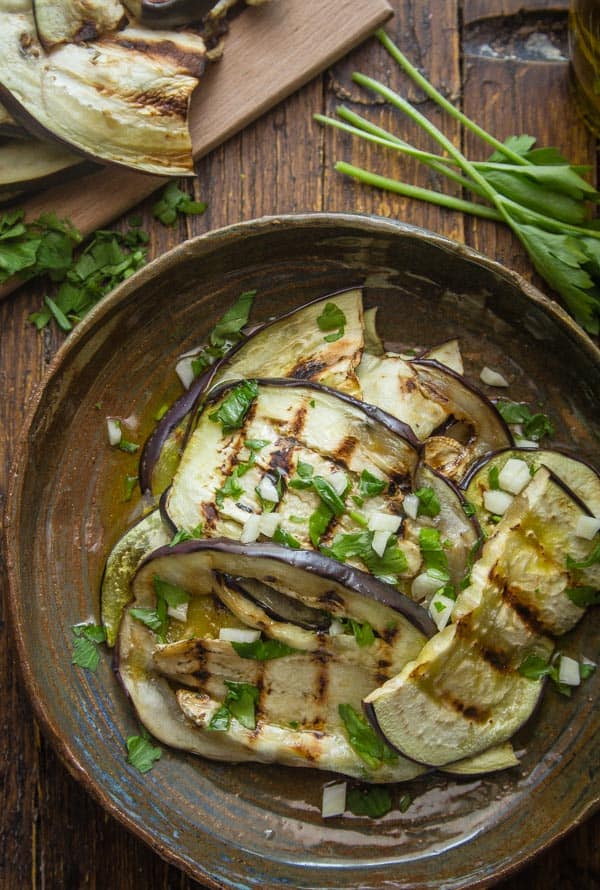 This Italian Eggplant Dish makes a perfect appetizer, served with some fresh Italian crust bread or bruschetta, or even as I prefer it, as a main dish.
Make it an all veggie meal, and serve it with some delicious cheese. My favourite is serving grilled eggplant with a big chunk of Parmesan cheese. This has to be one of my favourite combinations.  A must try!
Imagine a slice of crusty bread, topped with a slice or two and a nice slice of parmesan cheese.
Believe me nothing better, oh yeah, don't forget a nice glass of wine.  Buon Appetito!
More Grilled Eggplant Recipes you may enjoy!
Easy Hot or Cold Grilled Eggplant Caprese
Easy Double Cheese Grilled Tomato Eggplant Stacks
Italian Grilled Eggplant
Italian Grilled Eggplant, a fast and easy eggplant appetizer recipe, tossed with fresh gariic, parsley & tomatoes. Amazing!
Ingredients
4-5

small round eggplant

1/4

cup

freshly chopped Italian parsley

7 1/2 grams

2

cloves

garlic finely chopped

salt to taste

1/4

cup

olive oil

30 grams
Instructions
Rinse and trim the ends of the eggplant. You don't have to peel the eggplant but discard the first and last slices (they will be the heels) Slice eggplant lengthwise (thin but not too thin), place in a bowl with a teaspoon or two of salt, let sit for approximately 20 minutes, drain but do not rinse, then grill until tender (careful not to burn) for approximately 1-2 minutes on either side (can be grilled on a barbecue or a pan grill), remove grilled eggplant to a clean plate and continue until all the eggplants are grilled.

In a medium bowl layer eggplant, sprinkle with a pinch of salt ,some chopped garlic , some chopped Italian parsley and drizzle with olive oil (from the 1/4 cup), continue with layers until all the eggplant is finished (I usually do 3 layers). Toss gently together, serve with a simple bruschetta or Italian crusty bread. Enjoy!
Nutrition
Calories:
189
kcal
|
Carbohydrates:
22
g
|
Protein:
3
g
|
Fat:
11
g
|
Saturated Fat:
1
g
|
Sodium:
9
mg
|
Potassium:
855
mg
|
Fiber:
11
g
|
Sugar:
12
g
|
Vitamin A:
6.7
%
|
Vitamin C:
15.1
%
|
Calcium:
3.9
%
|
Iron:
6.1
%