Italian Grilled Eggplant, a simple, fast and easy appetizer or side dish. Make it on a bbq or stove-top pan grill. A few fresh ingredients will make this one of your favourite vegetable dishes.
Italian Grilled Eggplant
I just received one of my first bags of eggplants from my sister-in-law's amazing vegetable garden. With this heat I'm sure I will get a few more bags.
When I first arrived in Italy and my mother-in-law made Pasta and Eggplant, and for the longest time this was my favourite eggplant recipe, but then I tried grilled eggplant and I was hooked.
Simple, fast, easy and so tasty.
Tips to make the best Grilled Eggplant.
The best way and easiest way to grill eggplant is not to add or brush the slices of eggplant with any oil before grilling, you don't want to burn them.
You must add the spices and olive oil after they are grilled, we want the flavours to mingle!
Once you are finished grilling the eggplant place the slices on a plate to cool.
Then toss the grilled eggplant slices with fresh Italian parsley, garlic, salt and olive oil.
Store leftovers covered in plastic wrap and place in the refrigerator.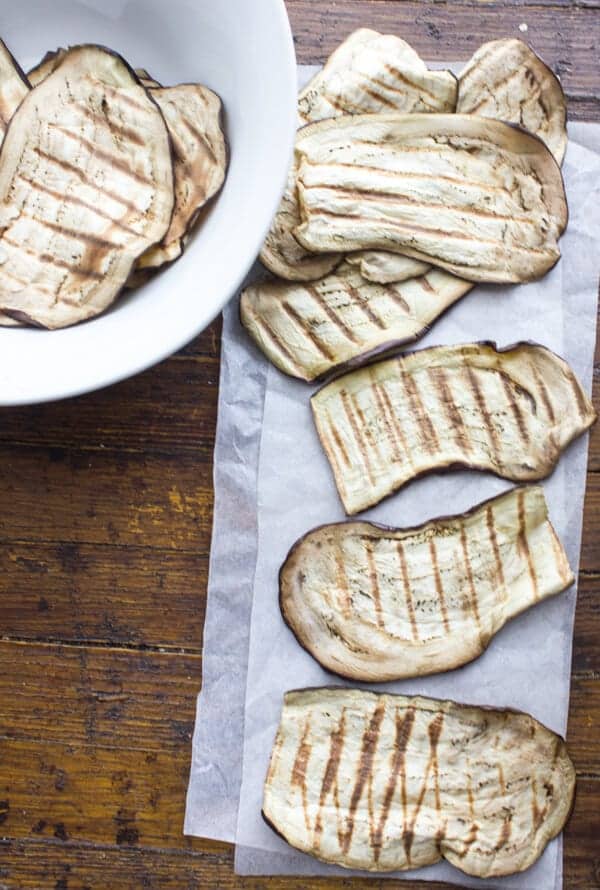 Italians sure know what they are doing when they cook with this summer vegetable.
Stuffed, Sautéed, Baked or even topped on a pizza what more could you ask for from a veggie?
This Italian Eggplant Dish makes a perfect appetizer, served with some fresh Italian crusty bread or bruschetta, or even as I prefer it, as a main dish.
Should you peel the Eggplant?
If the eggplant is new, tender, and on the small side, (I also find the striped light purple ones to be the best for grilling), then there really is no need to peel, unless you prefer to.
The flesh should be free of blemishes and firm, not mushy.
Grilled Eggplant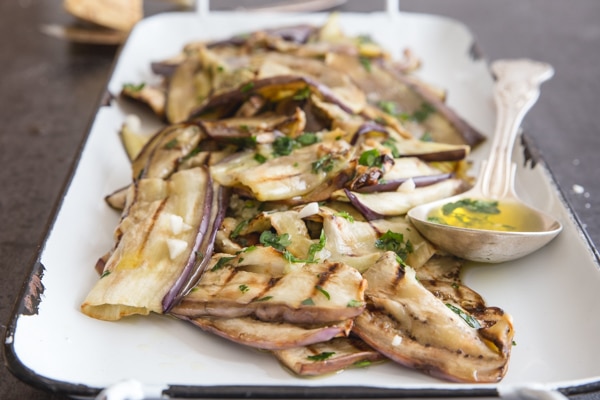 Can grilled Eggplant be frozen?
Yes grilled eggplant can be frozen. Be sure to freeze the cooled grilled eggplant in freezer bags or freezer safe containers. Properly stored it will last from 10-12 months in the freezer.
Should the Eggplant be salted before grilling?
The eggplant slices do not need to be salted before grilling, as salting makes no difference. Salt should be added after when adding the remaining ingredients.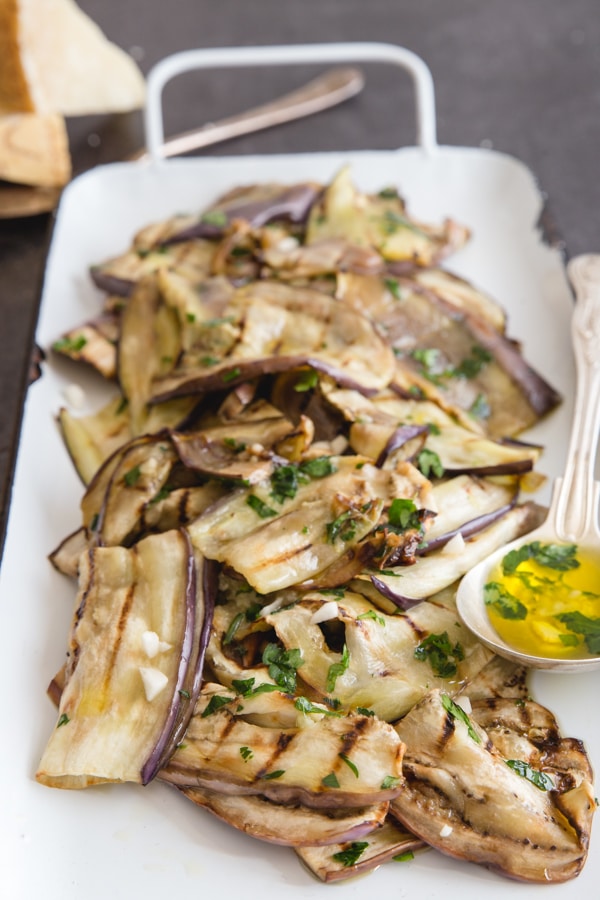 How to Store Eggplant
Eggplant should keep for about three days on the countertop or 5-7 days in the refrigerator. Cut eggplant should be wrapped in plastic and kept in the refrigerator.
Make it an all veggie meal, and serve it with some delicious cheese. My favourite is serving grilled eggplant with a big chunk of Parmesan cheese. This has to be one of my favourite combinations. A must try!
Imagine a slice of crusty bread, topped with a slice or two and a nice slice of parmesan cheese.
Believe me nothing better, oh yeah, don't forget a nice glass of wine. Buon Appetito!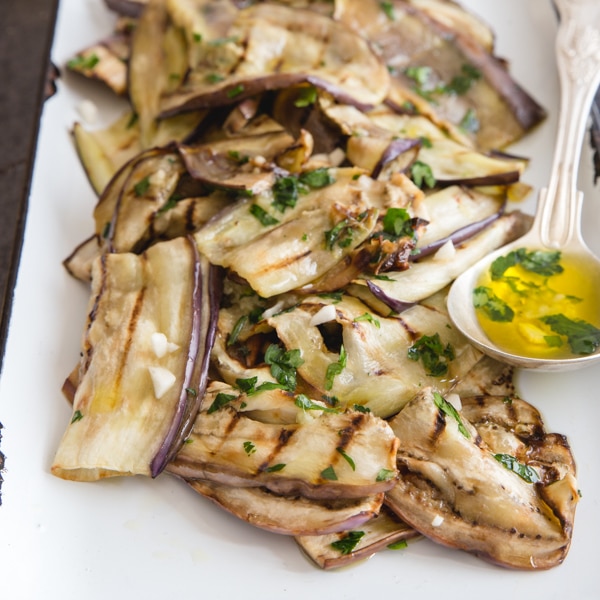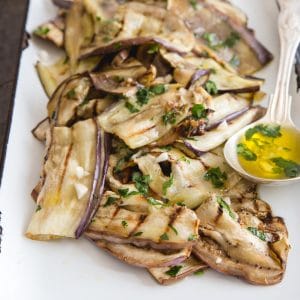 Italian Grilled Eggplant
Italian Grilled Eggplant, a fast and easy eggplant appetizer recipe, tossed with fresh gariic, parsley & tomatoes. Amazing!
Ingredients
2-3

long or round eggplant of choice*

1/4

cup

freshly chopped Italian parsley

(7 1/2 grams)

2

cloves

garlic finely chopped

salt to taste

1/4

cup

olive oil**

(56 grams)
*use eggplant of choice either purple or striped light purple, round or oblong.
Instructions
Rinse and trim the ends of the eggplant. You don't have to peel the eggplant but discard the first and last slices (they will be the heels) Slice eggplant lengthwise (thin but not too thin), grill the slices on either a hot pan grill or bbq until tender (careful not to burn) for approximately 1-2 minutes on either side, remove grilled eggplant to a clean plate and continue until all the eggplant slices are grilled.

In a medium bowl layer eggplant, sprinkle with a pinch of salt ,some chopped garlic , some chopped Italian parsley and drizzle with olive oil (from the 1/4 cup), continue with layers until all the eggplant is finished (I usually do 3 layers). Toss gently together, serve with a simple bruschetta or Italian crusty bread. Enjoy!
Nutrition
Calories:
144
kcal
Carbohydrates:
11
g
Protein:
2
g
Fat:
11
g
Saturated Fat:
2
g
Sodium:
6
mg
Potassium:
436
mg
Fiber:
6
g
Sugar:
7
g
Vitamin A:
295
IU
Vitamin C:
8.4
mg
Calcium:
23
mg
Iron:
0.7
mg
Updated from January 1, 2018.