Easy Grilled Eggplant Rolls with a Fresh Veggie Stuffing. A fast baked summer casserole, made with fresh vegetables, fresh herbs, and Parmesan Cheese. Not just delicious but healthy, Vegetarian and Gluten Free too. Grilled Eggplant Rolls at their best.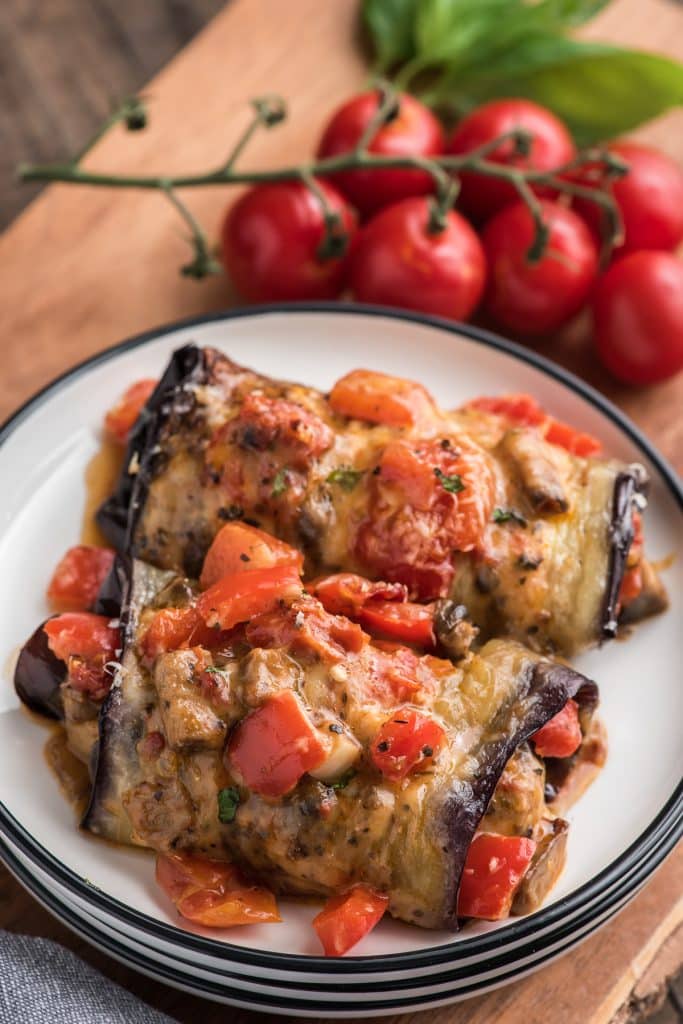 This dish is similar to eggplant rollatini without the heavy sauce. It's light and with a delicious fresh flavor – the perfect summer meal.
Eggplant has become one of my favourite Summer Vegetables. There are so many different ways you can make eggplant delicious. From A Baked Eggplant Parmesan to Grilled Eggplant to an Amazing Appetizer.
And now I have made a quick and easy Eggplant Casserole, made with all fresh veggies. So you know that it is also good for you.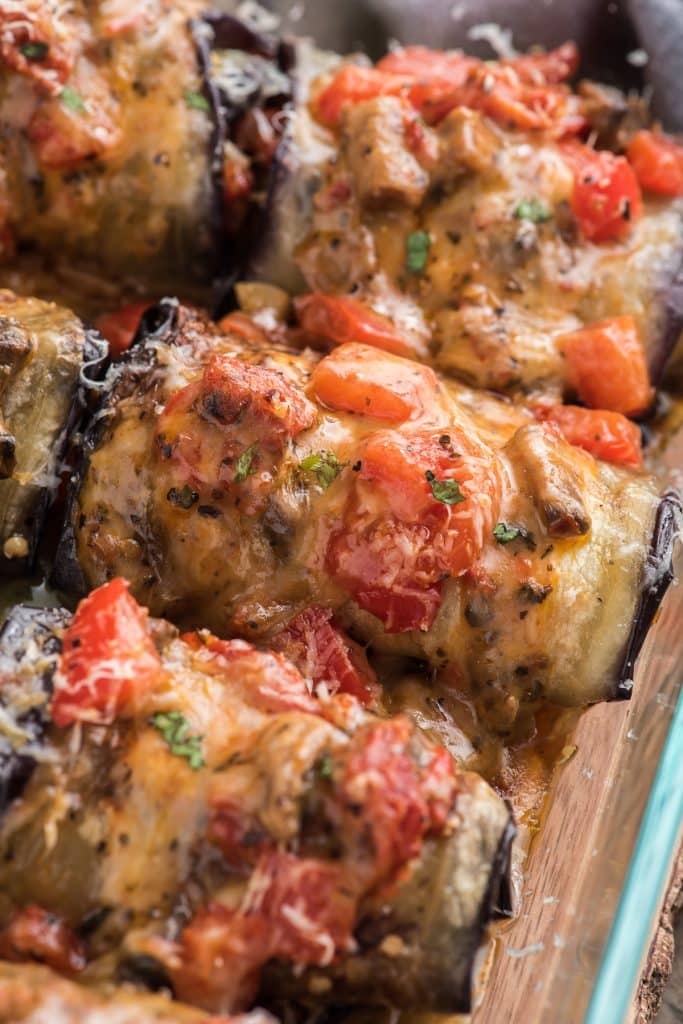 Ingredients
Sliced eggplant –
Olive oil
Cherry tomatoes – grape tomatoes or 2-3 firm but ripe whole tomatoes
Bell pepper
Mushrooms
Garlic
Dried oregano
Dried basil
Fresh basil leaves
Red pepper flakes
Salt
Grated gruyere cheese – or fontina cheese
Grated Parmesan cheese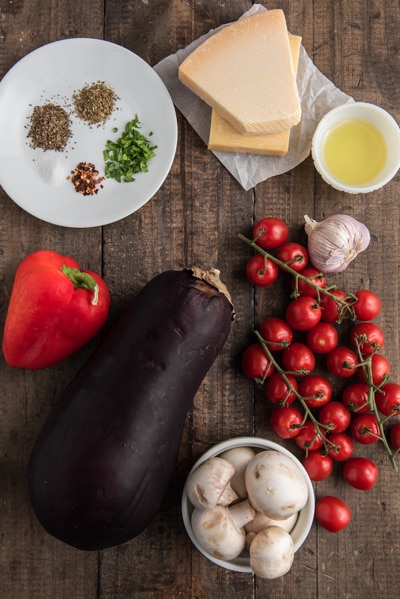 Different types of eggplant
Apparently there are about 12 different types, African Garden Egg, Bianca, Chinese Round Mauve, Graffiti, Indian, Japanese White Egg, Little Green, Ping Tung, Santana, Tango, Thai and of course Italian. To tell the truth I probably haven't heard or seen 90% of these. I usually use the Globe, Graffiti and Italian the most. For this recipe I used the Italian type.
How to pick the perfect eggplant
It's best to pick medium to small eggplants they are more tender and contain fewer seeds than the much bigger ones. You are going to find seeds in the eggplant, but no worries you can eat them, just make sure they are white and not black. Black seeds indicate a tougher older vegetable.
You can tell if it's tender and young by its firmness, size, colour and uniformity. The best ones are tender but firm, with smooth, shiny skin. In good condition the stem should be bright green, as it turns brown it becomes less desirable.
I decided to grill the eggplant before making the Roll Ups because my husband doesn't like as he says "mushy cooked food". The biggest culprit of this mushiness, is Zucchini in his books.
I also didn't want everything to be covered with the usual Tomato Sauce. Everything had to be fresh and needed to complement one another. And I think I managed to do just that. My daughter even ate the last one cold she liked them so much.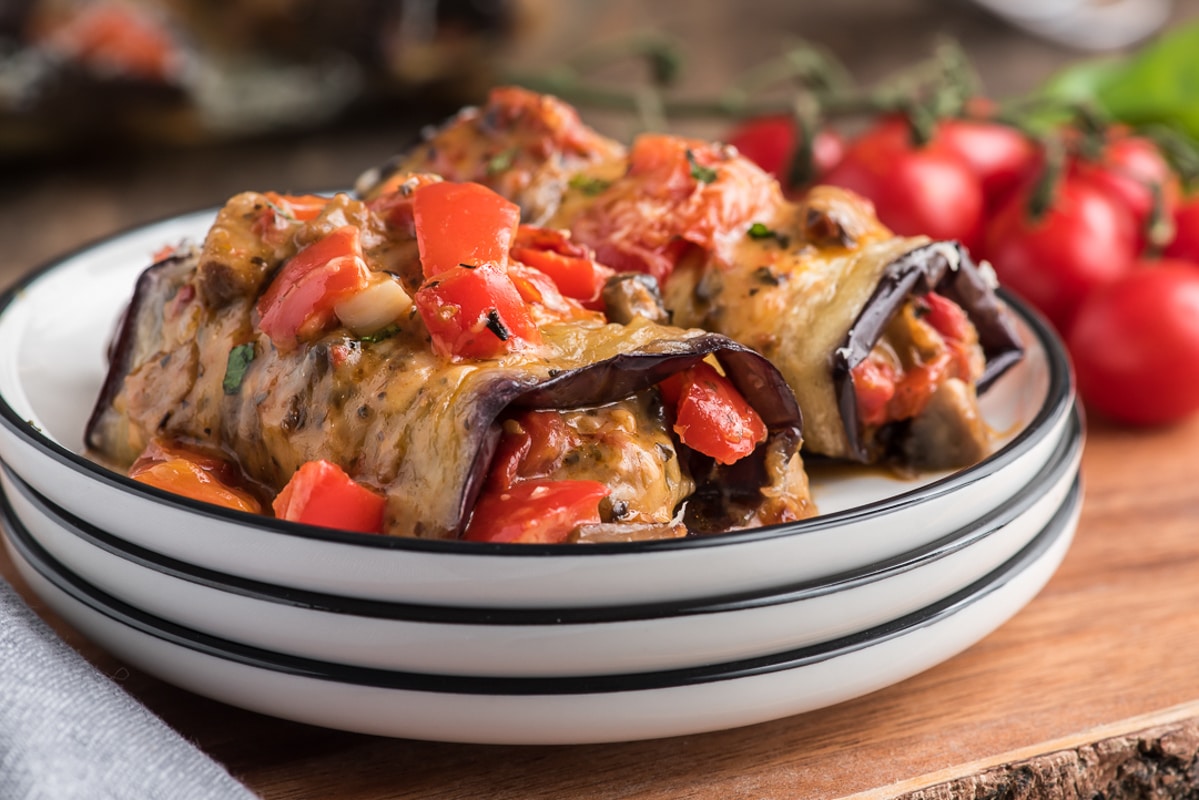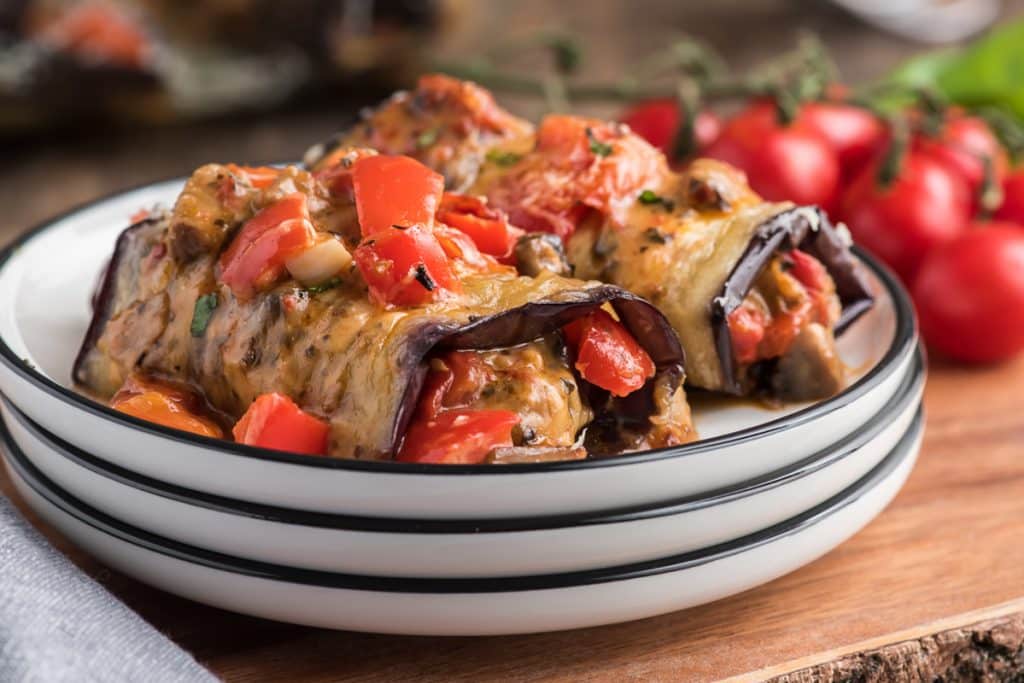 How to Make Eggplant Roll Ups
It all comes together very easily and quickly. In a medium frying pan sauté the chopped tomatoes, sliced mushrooms in a little olive oil with the fresh spices. While the mixture is cooking grill your eggplant slices.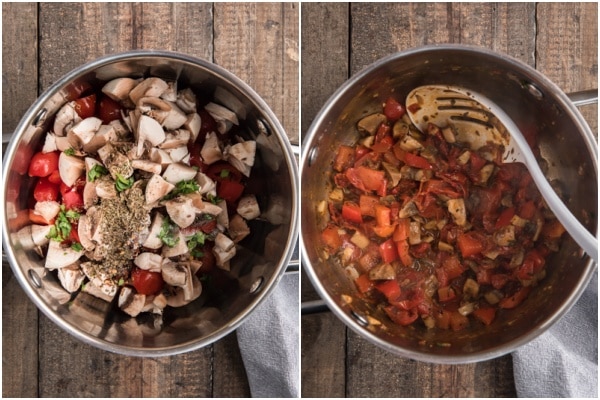 Once your mixture is cooked until tender, place it in a medium bowl and stir in the Gruyère or Fontal cheese and of course some freshly grated Parmesan Cheese. Add some of this mixture to your grilled eggplant and roll them up.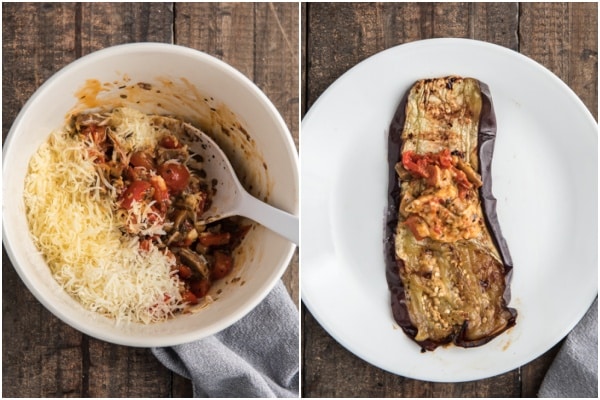 Place the rolls seam-side down in a lightly oiled baking dish and top with the remaining tomato mixture, sprinkle with some extra Parmesan cheese.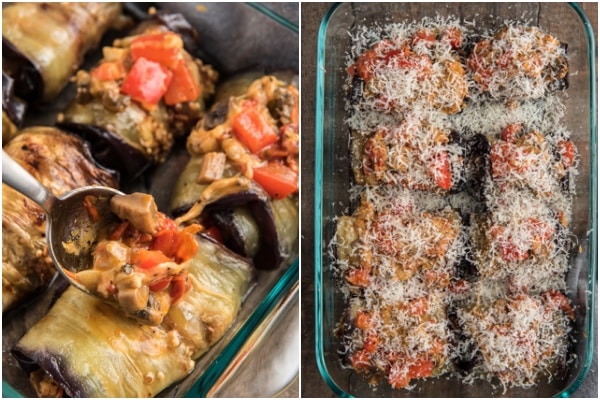 Bake for five minutes and then broil for two or three, until golden.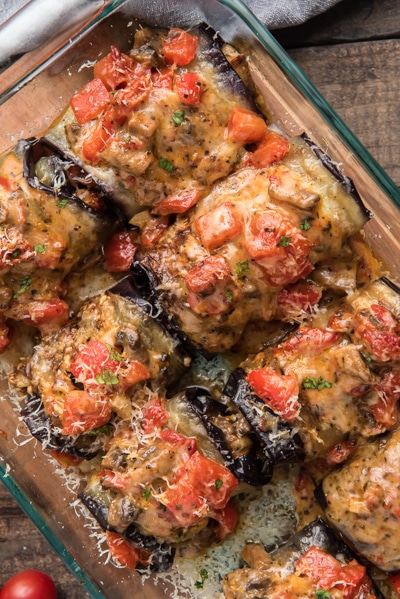 Is it necessary to place the eggplant under salt?
It depends on the eggplant, if the eggplant is young and tender then I usually skip this step, although it does help make the dish more tender and less bitter. If you have time I recommend that you do do it. In a large bowl toss the sliced eggplant with a little salt, let sit for about 20-30 minutes, then drain, never rinse.
Is Eggplant good for you?
Eggplant which has vitamins A and C, they help protect against cell damage. It can also help cells process sugar better because it is high in a natural plant chemical called polyphenols, which is very helpful if you have diabetes.
How to store it
Store any leftovers in the refrigerator well wrapped or in an airtight container. They will keep for up to 3 days in the fridge. Re-heat in a low oven or microwave.
And there you have the perfect Weeknight or Weekend Meatless Meal. Yummy, Cheesy and Easy, Grilled Eggplant Rolls. Buon Appetito!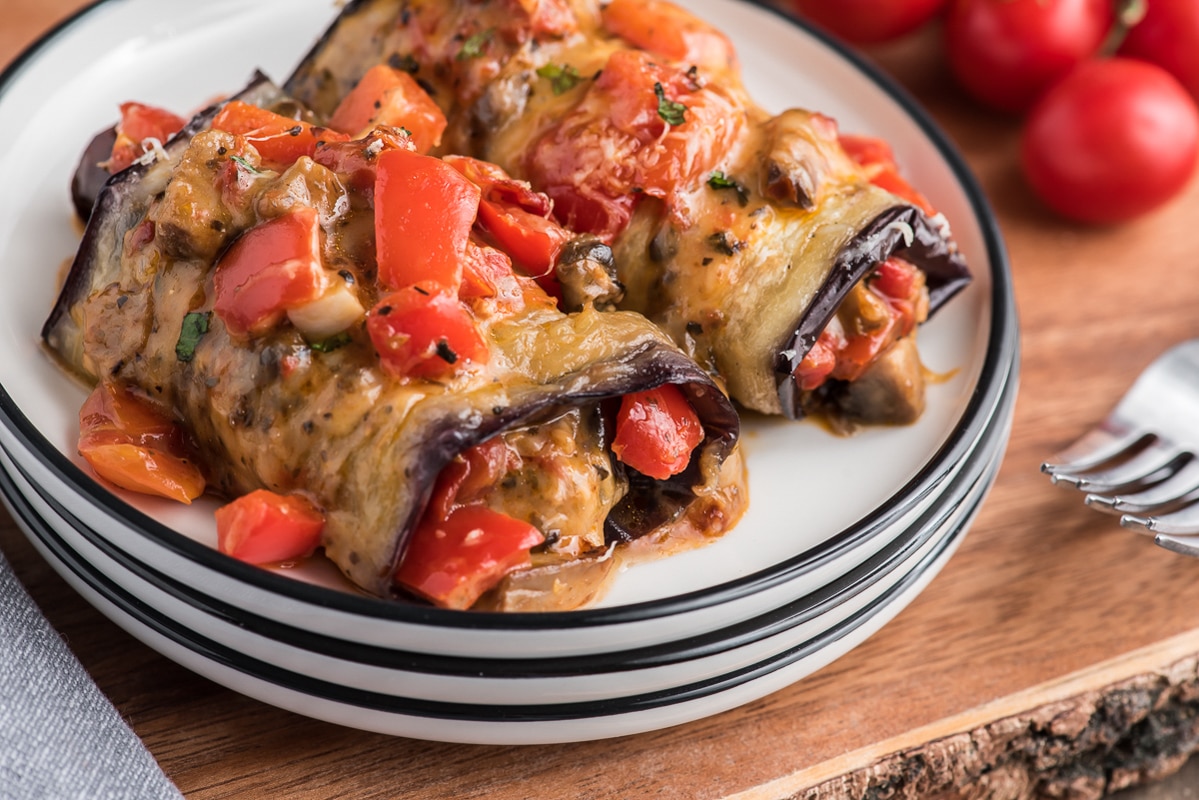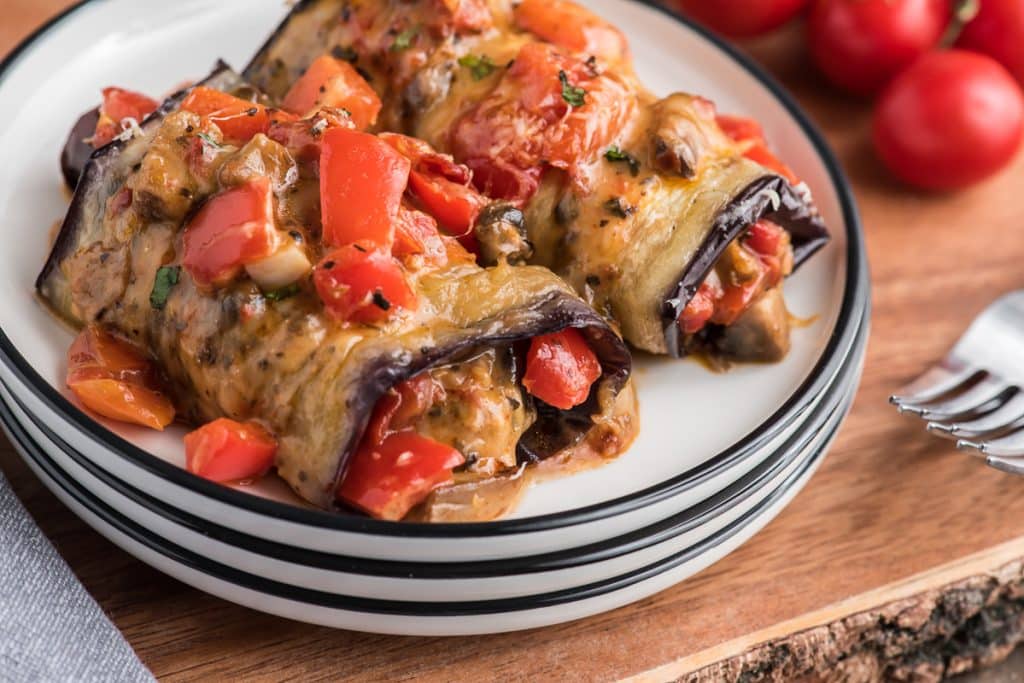 More Summer Recipes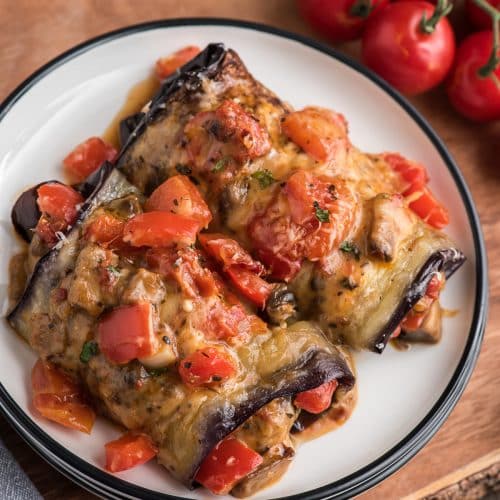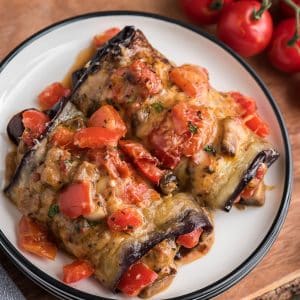 Vegetable Stuffed Eggplant Rolls
An easy delicious Grilled Eggplant Rolls recipe, filled with fresh tomatoes,mushrooms, peppers and double cheese. The Perfect Healthy Meal.
Ingredients
8

medium slices of eggplant grilled**
FRESH VEGGIE SAUCE
2

tablespoons

olive oil

20 -25

cherry/grape tomatoes (sliced in half/ squish gently to remove seeds)

1

pepper chopped

1 1/2

cups

chopped mushrooms

150 grams

1

clove

garlic chopped

1/2

teaspoon

oregano

1/2

teaspoon

basil

5

leaves

fresh basil chopped

1-2

pinches

hot pepper flakes (optional)

1/4

teaspoon

salt

1/2

cup

grated gruyere or fontal cheese

50 grams

1/2

cup

freshly grated Parmesan Cheese

50 grams + extra
EXTRAS
2-3

tablespoons

freshly grated Parmesan cheese
Instructions
**Before you grill the eggplant, place slices not too thick in a bowl and sprinkle with a little salt, let sit for 30 minutes, drain, do not rinse, then grill slices. Set aside.

Lightly oil a small to medium baking dish. Pre-heat oven to 350° (180° celsius)
FRESH VEGGIE SAUCE
In a medium saucepan add olive oil, sliced tomatoes, chopped pepper, mushrooms, garlic, oregano, basil, basil leaves, hot pepper flakes and salt, cook on low to medium heat until golden and tender. (I let the mixture brown a bit).

Remove to a bowl and gently stir in gruyere or fontal cheese and Parmesan cheese.

Place a heaping tablespoon in the middle of each grilled eggplant slice, roll and place in prepared baking dish, top with the remaining Fresh Veggie Sauce and sprinkle with some Parmesan Cheese, bake for 5-10 minutes and then broil for approximately 2 minutes or until golden. Serve immediately. Enjoy!
Notes
If you want to change it up and add some meat, sliced or chopped Italian sausages would be delicious mixed and cooked with the vegetables.
You can also use 2-3 whole tomatoes, chopped.
Store any leftovers in the refrigerator well wrapped or in an airtight container. They will keep for up to 3 days in the fridge. Re-heat in a low oven or microwave.
Nutrition
Calories:
227
kcal
Carbohydrates:
31
g
Protein:
10
g
Fat:
9
g
Saturated Fat:
3
g
Polyunsaturated Fat:
1
g
Monounsaturated Fat:
4
g
Cholesterol:
16
mg
Sodium:
277
mg
Potassium:
1207
mg
Fiber:
15
g
Sugar:
17
g
Vitamin A:
282
IU
Vitamin C:
11
mg
Calcium:
195
mg
Iron:
1
mg
Updated from July 4, 2016.