Baked Fish Marinara, a tasty tomato sauce made with fresh tomatoes and herbs is the perfect addition to a healthy baked fish recipe. A fast and easy weeknight meal.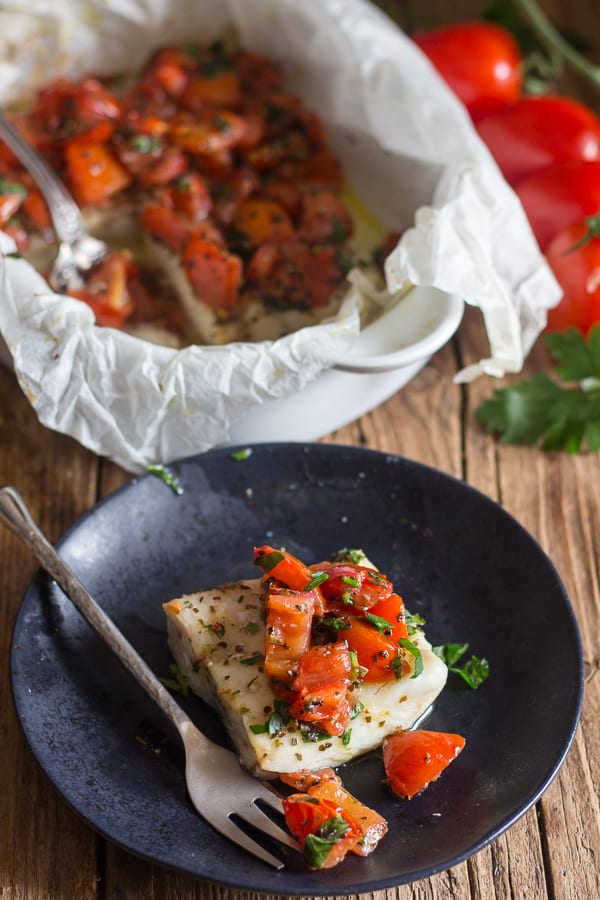 Looking for something a little healthier? Well this Italian Baked Fish is the perfect fish dish for you.
I remember the first time I saw the Colosseum. I got chills then as I do every time I go to Rome and lay my eyes it.
Coming from a new country I am always in awe at the history and culture of such an amazing city as Rome.
A few of years ago when my eldest daughter had an exam to write at the University,  she asked if I would like to go along. How could I refuse?
A day in Rome, I don't have to cook lunch, so eat pizza I did, thank you very much.
And dessert? Yes please, gelato, it was creamy and amazing, my two favourite flavours stracciatella (chocolate chip) and chocolate.
I remember that day like it was yesterday. I remember since I had a couple of hours to waste I took a little stroll.
I stopped for an espresso in a quaint little coffee bar,  ahhh the good life!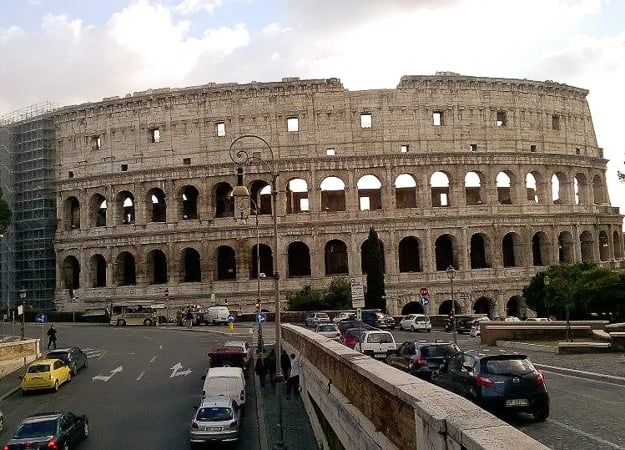 So after a day of self indulging, which I highly recommend, I thought I should make a healthy, good for you but really tasty Baked Fish Dish.
More Delicious  Fish Dishes you may enjoy.
Italian Fresh Herb Baked Fish and Chips
Easy Homemade Italian Fish Soup
Smoked Salmon Cream Sauce Pasta
This is an easy and quick fish dish, perfect anytime. Of course don't forget the crusty Italian bread for accompanying those delicious baked tomatoes. Buon Appetito!
Baked Fish Marinara
Italian Baked Fish Marinara
Baked Fish Marinara, a healthy fresh tomato sauce goes perfect with this delicious Italian fish bake. A fast and easy weeknight meal.
Ingredients
4

fish fillet (I used flounder, frozen fish can be used, de-frost and towel dry before baking)

10-14

small roma tomatoes (seeded and cut into small pieces

3/4

teaspoon

oregano

3/4

teaspoon

basil

1/4

teaspoon

salt

dash hot pepper flakes

if desired

1/4

cup

chopped fresh Italian parsley

7 grams

2 1/2

tablespoons

olive oil

1

tablespoon

olive oil for drizzling
Instructions
Pre-heat oven to 350° (180° celsius)

In a medium bowl add, cut up seeded tomatoes, oregano, basil, salt, hot pepper flakes, Italian parsley and 2 1/2 tablespoons (37 grams) olive oil. Mix gently to combine.

Line a medium to large baking pan with a large enough piece of parchment paper (large enough to fold over the fish), line fish fillet (they can be touching) top fish with tomato mixture, drizzle with 1 tablespoon (15 grams) olive oil and fold the parchment paper to cover the fish.

Bake in the oven for approximately 20-25 minutes. Uncover and drain excess water, raise heat to 400° (200° celsius) and continue to bake for another 5 minutes. Remove from oven and serve immediately. Enjoy!
Nutrition
Calories:
139
kcal
Carbohydrates:
6
g
Protein:
1
g
Fat:
12
g
Saturated Fat:
1
g
Sodium:
156
mg
Potassium:
388
mg
Fiber:
2
g
Sugar:
4
g
Vitamin A:
1605
IU
Vitamin C:
26.2
mg
Calcium:
27
mg
Iron:
0.8
mg