Easy Homemade Italian Fish Soup, full of big pieces of all your favorite fish such as haddock, shrimp, mussels and clams all combined in a perfectly spiced tomato broth.
A delicious comfort dish, a little bit stew, a little bit soup! The perfect Fish Soup recipe.
Italian Fish Stew
Do you ever make something and while you are eating it think "Oh Wow this is so good, I have no idea why the heck I don't make it more often"?
Well this is exactly what I said while I was eating this Italian Fish Soup.
I don't remember my mother-in-law making Fish Soup very often,  so I happened to get this recipe from another of my sister-in-laws quite a few years ago.
This is her mother's recipe. It is easy, quick and so full of flavour, your house will smell amazing while this soup is simmering.
Italian Fish Soup was at one time considered a Poor Man's Soup, all the leftover pieces of fish were added into a soup, at least that is what the Italian said.
Fish Soup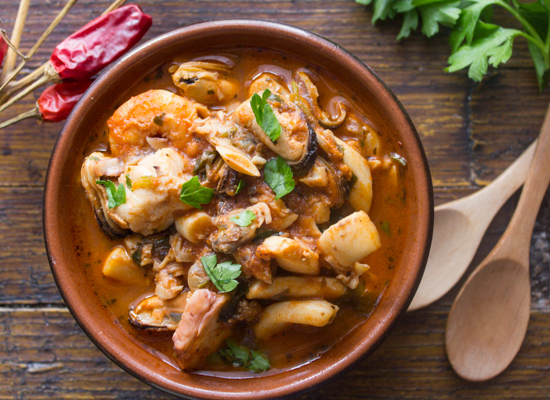 But I also read that it originated from when the fishermen would sell their fish and whatever was left was made into a soup or stew. Personally I like a thicker broth, more like a stew, than a soup.
More Delicious Italian Soups
Chunky Thick Italian Beef Stew
I used approximately 6 or 7 different types of fish and seafood. Mussels, shrimp, haddock, clams, perch, squid, a few cloves of garlic, fresh herbs, Tomato Puree
and of course some hot pepper flakes and with this you will have one of  the most delicious Fish Soups.
 Italian Fish Soup
With the arrival of Easter, Good Friday is the  Biggest Fish eating day with Christmas Eve being a close second in Italy.
Italians like to eat this Easy Italian Fish Soup with a piece of grilled Italian bread placed at the bottom of a bowl and the soup poured on top.
If you don't have time to grill the bread or like me you forget, a nice thick slice of Italian crust bread is delicious also but if you do have some extra time this delicious Easy Focaccia Bread would be perfect.
Or my favourite,  just serve the bread on the side for easy dunking and soaking up all that amazing tasty leftover sauce in the bowl. Buon Appetito!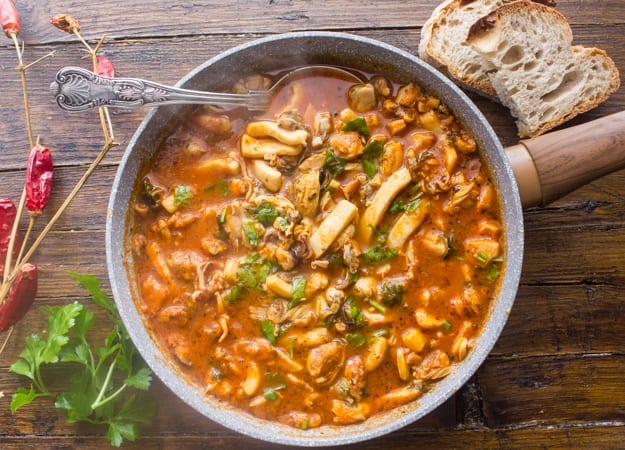 Easy Homemade Italian Fish Soup
Easy Italian Fish Soup, a fast, healthy Italian soup. Full of fish,cod and seafood, the perfect family dinner, spicy or not.
Follow me on Youtube!
Watch the videos and don't forget to subscribe on Youtube!
Ingredients
1

pound

cut up assorted fish (eg. shrimp,prawns, cod, haddock, calamari, mussels, clams etc)

2

tablespoons

olive oil

2-3

cloves

garlic chopped

hot pepper flakes to taste

1/4

cup

dry white wine

3/4

cup

tomato puree (passata)

1 1/4 -1 1/2

cups

water

(depending on how thick you want it, more soup or stew)

salt to taste

I added a pinch

1

teaspoon

oregano

1

teaspoon

basil

1/4

cup

chopped fresh Italian parsley

4

slices

thick Italian crust bread

grilled or plain
Instructions
In a large pot add olive oil, garlic and hot pepper flakes, heat on medium for one minute and then flatten with a fork.

Add cut up assorted fish, cook one minute. Add white wine and cook on medium-high for approximately 3 minutes. Add tomato puree and water, oregano, basil, salt to taste and fresh parsley, stir to combine.

Bring to a boil, then reduce heat to a low simmer for approximately 30 minutes and until thickened. Serve over grilled crusty Italian bread or with crusty Italian bread. Enjoy!
Nutrition