Whatever you call this dish Pasta e Fagioli, Pasta and Beans or even Pasta Fazool it is a Hearty Italian Comfort soup at it's best. Filled with pasta and beans in a deliciously spiced Tomato broth.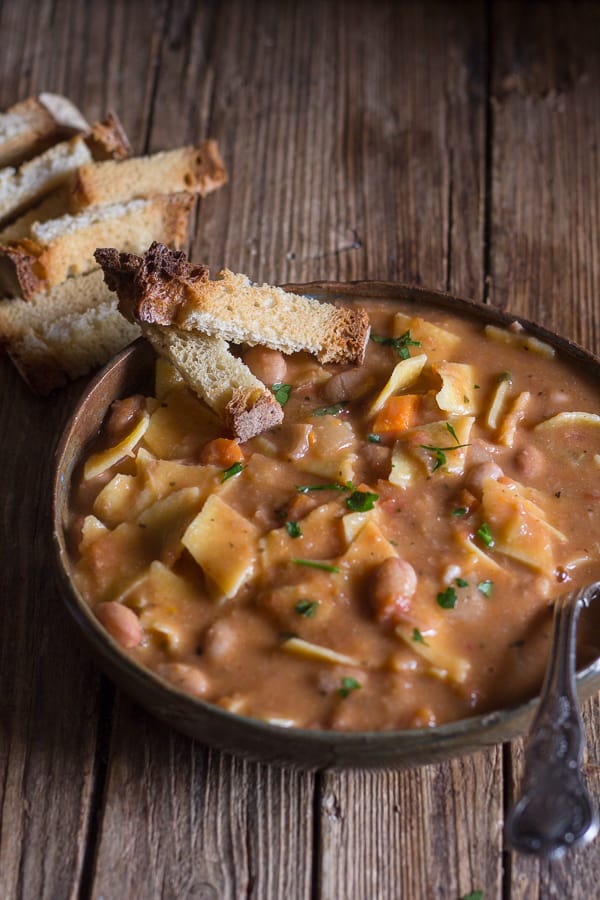 Yesterday was a sad day for my the family, my father-in-law was buried. He passed away early Wednesday morning after being quite sick.
I remember long ago days of tying up the vineyard. Just the three of us, the Italian, his father and me. He would tell us stories or more like horror stories of growing up during the war.
His family's move from Northern Italy to Rome. He was a hard and sometimes hard to get along with man but he was very proud and loved his family dearly.
And to be honest we didn't always see eye to eye, we shared our differences to say the least, but I did respect him and of course thanks to him I married his awesome son.
We did have a couple of things in common though. Spaghetti! It was both of our favourite type of pasta.
He preferred his spaghetti with his wife's homemade ricotta (which unfortunately she doesn't make anymore and hasn't for quite awhile) and I like mine with a Simple Tomato Sauce.
And of course this perfect comfort food soup! Pasta and Beans! Pasta e Fagioli! This was his absolute no doubt about it favourite dish.
How to make the Best Pasta and Beans.
Use dried Borlotti Beans (soak them at 8 hours in cold water – over night will do).
Be sure to cook your beans al dente first then simmer with your lightly sautéed veggies, broth and bean water.
After all the ingredients are cooked (except the pasta) remove half of the mixture and blend until smooth, then return to the pan. Heat and add the cooked pasta.
Remember to cook your pasta separately.
Use a simple small pasta – we love quadrucci which is a square egg pasta.
This is a nice hearty soup so serve it with a simple salad and some toasted Italian crusty bread.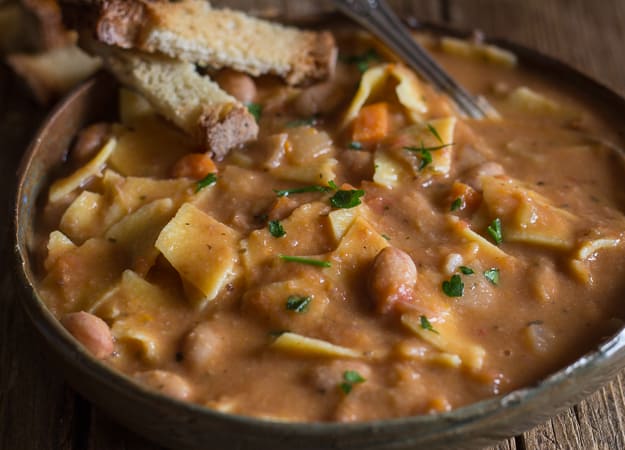 So not only did I make this soup today in rememberence, but also knowing that this is a soup that truly is comforting.
And what better way to be comforted then by a classic Italian Pasta e Fagioli soup.
Pasta e Fagioli, is one of those Italian dishes that is made differently in the regions where it originated. Which are Central and Northern Italy.
There are those that add pancetta or lardo, yes lard, actually pig fat to be precise, it is sold in grocery stores and sometimes cut into very thin slices , usually eaten with a slice of bread and sometimes cooked.
My father-in-law would eat that too!
Also considered extremely delicious, thanks very much, but I think I will stick to my pancetta!
Some regions cook the pasta with the beans, others cook the pasta separately. Some use Borlotti beans some Cannellini beans, some add tomatoes others do not.
Some will even blend a portion of the beans to make a creamier soup. Which is how we love it and without adding cream!
Pasta and Beans
The Pasta e Fagioli I make for my family is one I learned from my mother-in-law and is therefore from the Central Region of Lazio.
Pretty basic and easy to make and really comforting and delicious. It's best if you use dried beans and soak them over night. That way when they are cooking (which takes about 20 minutes) you have the delicious bean water, which gives this Pasta and Beans the best taste.
I also like to cook my pasta (just like she did) separately and then add it to the beans, that way nothing is mushy, just really yummy!
And don't forget to serve it with a big slice of Italian crusty bread. I hope you enjoy it as much as we do. RIP Antonio.
Pasta e Fagioli / Pasta and Beans
Pasta e Fagioli Pasta and Beans, an Italian classic the perfect comfort dish. Healthy, filling and absolutely delicious. Just what you need.
Ingredients
1 1/4

cups

dried Borlotti beans or 2 1/2 cups cooked

(soaked 8-12 hours in a bowl of water drained and rinsed)

2

tablespoons

olive oil

30 grams

1

clove

of garlic chopped

1/2

onion chopped

1

celery stalk chopped

2

carrots chopped

3/4

cup

tomato puree

3/4

teaspoon

oregano

3/4

teaspoon

basil

1/2

teaspoon

salt

pinch or 2 of hot pepper flakes if desired

2

cups

vegetable broth

1

cup

bean water*

1

cup

water

1

cup

cooked small pasta

(quadrucci, ditaloni etc)
*If you use canned beans then use 2 cups water.
Instructions
In a large pot of water cook the beans (only if using dried beans) very al dente for 15-20 minutes, do not throw out the water.

In a large pot add olive oil, chopped garlic, onion, celery and carrot, continuing cooking for 1 or 2 minutes, then add the puree, basil, oregano, salt and hot pepper flakes, continue cooking and stirring occasionally for approximately 2 minutes, then add the beans, broth , bean water and water.

Cover the pot leaving a slight opening and continue to simmer over low-medium heat for approximately 20-30 minutes or until the beans are tender and the soup has thickened. Taste for salt, add if needed.

In a medium pot of salted water cook the small pasta until al dente.

Remove half the mixture and blend until smooth, return to pot and bring to a boil, add cooked pasta and heat through, if you find it too thick then add some pasta water (a ladle or two) . Serve immediately, sprinkle with parmesan cheese if desired.
Notes
Canned or frozen beans will also work.
Nutrition
Calories:
210
kcal
|
Carbohydrates:
34
g
|
Protein:
7
g
|
Fat:
5
g
|
Saturated Fat:
1
g
|
Sodium:
540
mg
|
Potassium:
447
mg
|
Fiber:
6
g
|
Sugar:
4
g
|
Vitamin A:
3761
IU
|
Vitamin C:
6
mg
|
Calcium:
43
mg
|
Iron:
2
mg