Smoked Salmon Cream Sauce, a delicious Italian Pasta Sauce, made with smoked salmon, tomato purée and cream. So Good.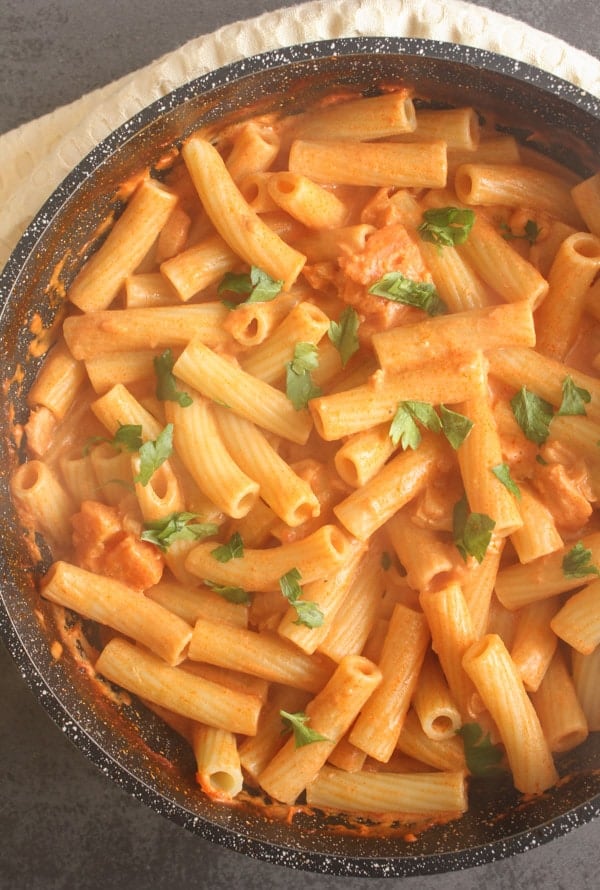 We always hear people talking about how important it is to eat fish. Well this Smoked Salmon Cream Sauce makes it so easy to eat fish.
How fish has many health benefits and it improves and strengthens your brain cells (at least that is what my husband always tells our kids).
I remember him telling our oldest daughter as she would drag herself to the table after an often very intense day of studying classical high school here in Italy, "Mangia ti fa bene, Eat the fish it's good for you", and I have to say this was and still is her favourite pasta.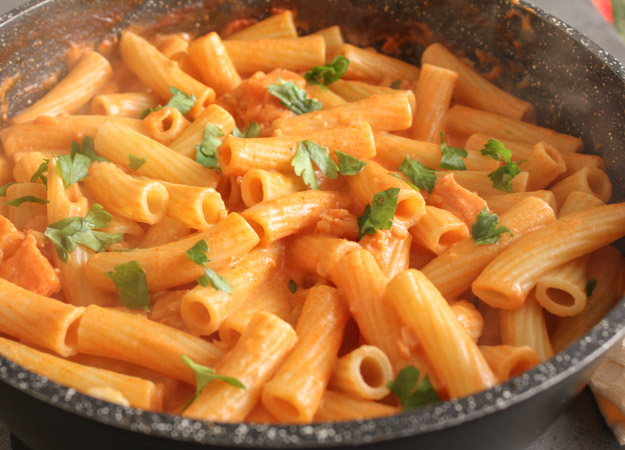 Not at all difficult to make and done in 30 minutes more or less.
Smoked salmon can be done so many ways, as an antipasto on bruschetta, served with a salad, on a pizza but one of the best ways is in a creamy tomato sauce served with a short al dente pasta, penne or rigatoni are perfect for this recipe.
The addition of a couple of cut up carrots adds extra taste and the flavour of the cooked carrots is delicious, Everyone will want a taste.
So start boiling the water and let's get cooking. Buon Appetito!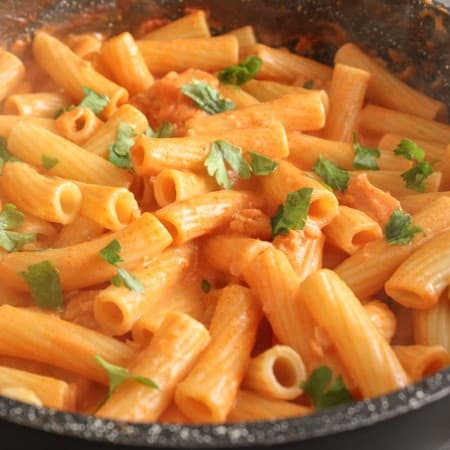 smoked salmon cream sauce (sugo alla crema di salmone)
Smoked Salmon Cream Sauce, a delicious creamy smoked salmon Italian pasta sauce recipe fast, easy and delicious.
Ingredients
2

tablespoons

butter*

3.5

ounces

smoked salmon thinly sliced

100 grams

1

medium

carrot (pealed and cut into cubes)

1/4

cup

heavy cream

(

2

cups

tomato puree (passata)

(400 grams)

1/2

teaspoon

salt (or to taste)

1-2

dashes

black pepper

1/2

tablespoon

fresh parsley minced
Instructions
In a medium sized pot melt butter over low heat, add sliced smoked salmon, cubed carrot and salt, sautee for approximately 30 seconds, add tomato puree and 1 cup of water stirring to combine, raise heat and bring to a boil, lower to simmer till sauce has thickened (approximately 20 minutes),crush carrots with fork (or leave whole)add cream, again bring to a boil and stirring constantly for about 2 mintues. Serve over short pasta al dente. (enough sauce for 3 cups of short pasta). Serve immediately.
Nutrition