An easy and delicious Appetizer, Vol au Vent filled with a creamy Shrimp filling or a tasty Smoked Salmon filling. Both easy and perfect for Holiday get togethers.
Vol Au Vent
Once again I would like to share one of my favourite pastry ideas made with Puff Pastry. Vol au Vent are a fast and easy way to make your appetizers stand out.
I especially like to fill them with 2 of my favourite fillings. A creamy Shrimp filling and the perfect Smoked Salmon, Parmesan Flakes and Arugula Filling.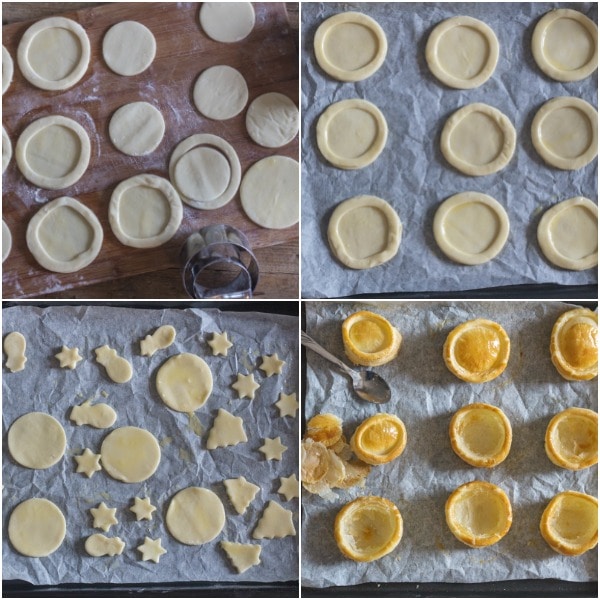 What is the difference between a Bouchee and Vol Au Vent?
Vol au Vents which translated means "fly with the wind", because of the light pastry used, or Bouchee a la Reine, the "little queen".
I have read a few things, the first being that the Vol au Vent was originally made as a large pastry to cut in portions and share, the Bouchée à la Reine is the smaller version, a bite size,  perfect for a buffet table.
Or Bouchee a la Reine is what the French call them and Vol au Vent are known in Switzerland and Belgium.
Although it was the French who invented the Bouchee a la Reine.
How to make them
Cut out medium circles
In half of the medium circles cut out a smaller circle.
Brush all the circles with a beaten egg.
Place 1-2 cut out rings over the large circle, brush each ring and the edges with the beaten egg.
Place on parchment paper lined cookie sheets and bake.
Let cool before filling.
More Delicious Appetizers
Easy Italian Savory Rustic Pie
Vegetable Stuffed Potato Parmesan Cheese Baskets
Vol au Vent don't take very long to bake about 15-20 minutes. I prefer to bake my puff pastry at a lower heat, so that it bakes completely.
While they are baking and cooling you can make your filling. In no time you have a fast, easy and delicious appetizer ready for your Holiday get together. Buon Appetito!
Bouchee a la Reine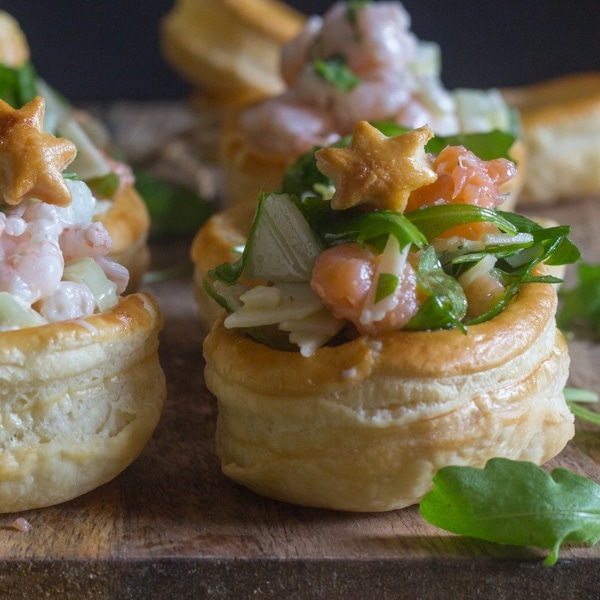 Vol au Vent Appetizers
An easy and delicious Appetizer, Vol au Vent a creamy Shrimp or a tasty Smoked Salmon filling. Easy and perfect for Holiday get togethers.
Ingredients
VOL AU VENT
1

puff pastry roll**

1

egg

(beaten)
SHRIMP FILLING**
3/4

cup

small shrimp

1

teaspoon

lemon juice

3-4

tablespoons

mayonnaise

3

tablespoons

finely chopped celery

salt and pepper to taste
SMOKED SALMON FILLING**
1/4

cup

smoked salmon

(cut into strips)

1-2

tablespoon

olive oil

salt to taste

1/2

cup

arugula chopped

2

tablespoons

parmesan ribbons
Instructions
VOL AU VENT
Pre heat oven to 350F (180C).

Unroll the puff pastry dough, using a 2 1/2 -3 inch (6 cm) diameter circle cookie cutter, cut out circles. Remove half the circles and place on a parchment paper lined cookie sheet. The remaining disks, make a hole in the middle using a smaller cutter 1 1/2 inches (3 cm in diameter).

Prick the circles with the fork tines and brush them with the beaten egg. On each of the circles place 1-2 cut out rings, (make sure to brush the rings and edges with beaten egg. This will help keep the the vol au vent together and also gives them a golden colour).

Bake for approximately 15-20 minutes or until they appear swollen and golden. Let cool completely before filling.
SHRIMP FILLING
Cook shrimp in boiling water for about 2-3 minutes, drain well. Add to a medium bowl and toss with lemon juice, then add the mayonnaise, celery and salt and pepper to taste. Fill cooled vol au vent.
SMOKED SALMON FILLING
In a small bowl add sliced salmon toss with olive oil, salt and pepper to taste and chopped arugula. Fill vol au vent and sprinkle with parmesan flakes.
Fill the vol au vent shells just before serving or they will become soggy.
Nutrition
Calories:
200
kcal
Carbohydrates:
11
g
Protein:
5
g
Fat:
14
g
Saturated Fat:
3
g
Cholesterol:
43
mg
Sodium:
213
mg
Potassium:
44
mg
Vitamin A:
65
IU
Vitamin C:
0.7
mg
Calcium:
32
mg
Iron:
0.9
mg
.