Stuffed Potato Parmesan Cheese Baskets, the perfect healthy, fast and easy year round Vegetarian Appetizer Recipe. Change it up by filling with your favorite in season veggies.
When I discovered Parmesan Cheese Baskets,  I decided that this would be the perfect Appetizer for me. I would fill it with some sautéed summer vegetables and everyone would be happy.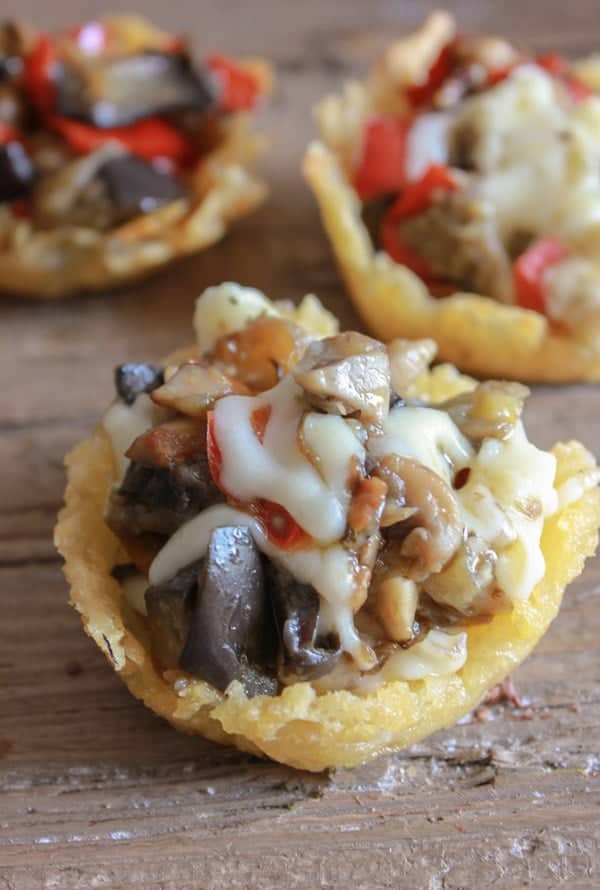 So there is no denying it, my favourite cheese hands down is Parmesan.  I could eat this stuff in chunks and I do!
Unfortunately not to be. There were two members of this family (they will not be named,) who thought that Parmesan cheese was way too strong for their liking.
I was given the idea of adding some shredded potatoes. So I took the suggestion and I ran with it. That is how I came up with Stuffed Potato Parmesan Cheese Baskets.
Great idea the Italian has sometimes! Actually he is my go to recipe critic. If he eats something in silence then I know it's a hit.
If not he is always good for some terrific advice and back to the stove I go. Or we have some pretty good debates on what goes or doesn't go!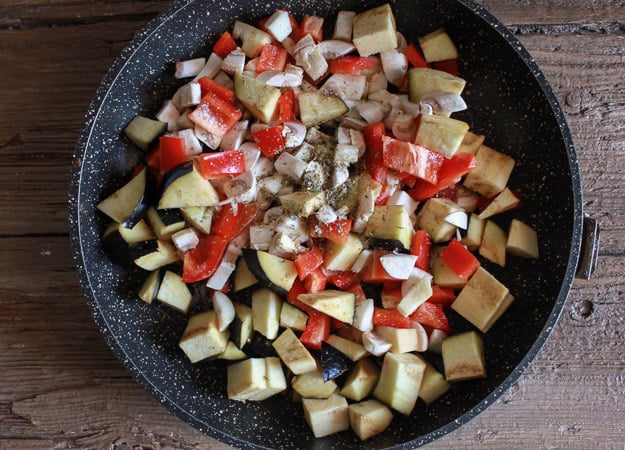 Seriously these pureed Stuffed Potato Parmesan Cheese Baskets are incredibly delicious. One of the best appetizers I have ever eaten.
More Delicious Appetizers you may enjoy!
Easy Tomato Avocado Feta Bruschetta
Baked Breaded Zucchini Roll Ups
Tuna Mozzarella Stuffed Cherry Tomatoes
One of the unnamed family members was quick to grab a second helping so I guess she liked it too.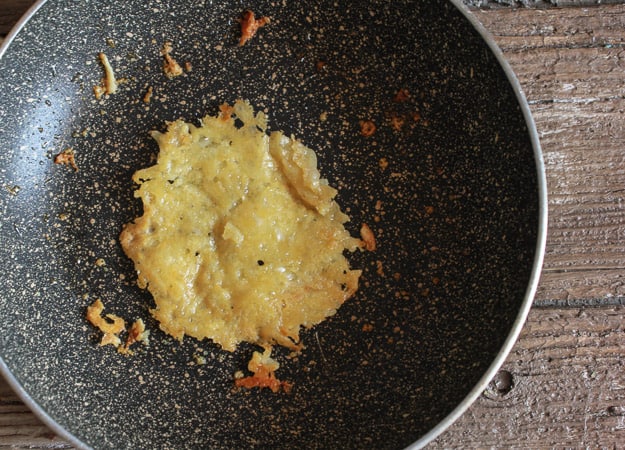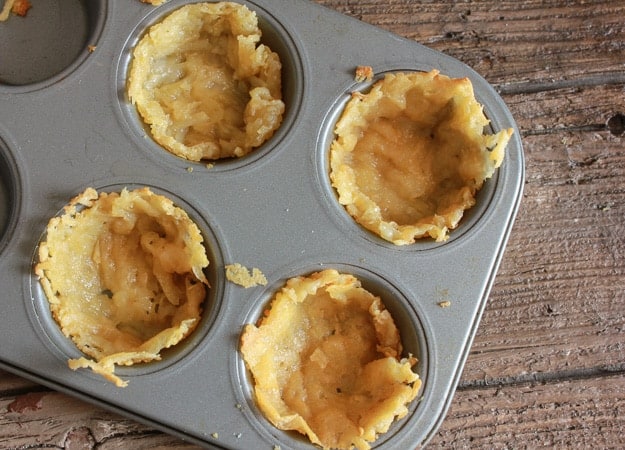 How to Make Vegetable Parmesan Cheese Baskets
I sautéed some chopped pepper, eggplant and mushrooms together with some spices (I can never forget the hot pepper flakes for my husband), but you could probably pick and choose your own favourites.
While the veggies were cooking I shredded my potatoes extra fine (so that they cook quickly) and mixed it up with freshly grated Parmesan cheese.
Nothing to making these Parmesan Cheese Baskets, place a couple of tablespoons of the Parmesan/Potato mixture, flatten into a circle and fry until golden.
Using a muffin tin is the perfect way to form them into baskets. I then filled them with some sautéed veggies and they were enjoyed by all. Buon Appetito!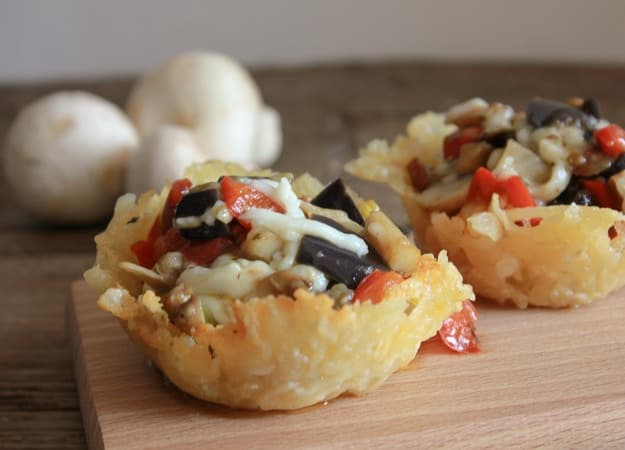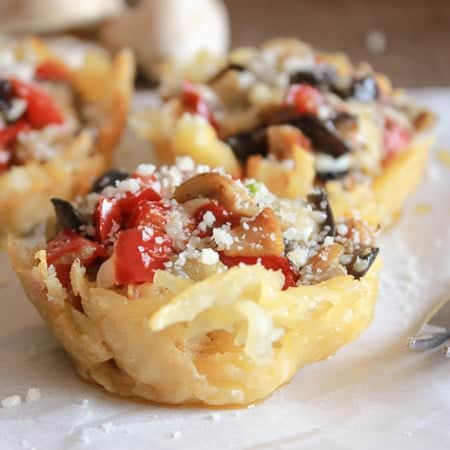 Stuffed Potato Parmesan Cheese Baskets
Stuffed Potato Parmesan Cheese Baskets, the perfect healthy, fast and easy year round appetizer recipe. Fill with your favorite veggies.
Ingredients
VEGETABLE FILLING

1/2

eggplant diced

1/2

pepper diced

4

large mushrooms diced

1 1/2

tablespoons

olive oil

1/2

teaspoon

oregano

1/4

teaspoon

salt

hot pepper flakes to taste

(add more for hot and spicy

2

or 3 sprigs fresh parsley minced

1/4

cup

water

PARMESAN BASKETS

3/4

cup

finely grated potatoes

(approximately 3 small potatoes, squeeze dry with a clean towel remove as much moisture as possible)

3/4

cup

freshly grated Parmesan cheese
Instructions
PARMESAN BASKETS
In a medium bowl toss well together, the well dried finely grated potatoes and Parmesan cheese.

In a small non stick frying pan over medium heat add approximately 2 tablespoons of Parmesan mixture and with the flat end of the spoon spread to form a circle, carefully flip circle over with a fork, (do not use a plastic utensil the cheese will stick) cook until golden on both sides. Place circle in a muffin tin (gently push with a small spoon into the muffin tin) continue until all baskets are formed. Let sit in muffin tin for 2 minutes and then move to a wire rack to dry 2 minutes.
VEGGIE FILLING
In a medium pan add olive oil, diced eggplant, pepper, mushrooms, oregano, salt, parsley, hot pepper flakes and water, cover and cook over medium heat until water has evaporated and veggies are tender. Let cool slightly then toss with 2 tablespoons of shredded firm mozzarella or Gruyere cheese.

Fill with veggie mixture and serve immediately. Enjoy!
Nutrition
Calories:
139
kcal
Carbohydrates:
8
g
Protein:
7
g
Fat:
8
g
Saturated Fat:
3
g
Cholesterol:
13
mg
Sodium:
351
mg
Potassium:
329
mg
Fiber:
2
g
Sugar:
2
g
Vitamin A:
545
IU
Vitamin C:
20.6
mg
Calcium:
183
mg
Iron:
1.5
mg