Easy Tomato Avocado Feta Bruschetta, the perfect side dish to any BBQ. Fast easy and yes healthy. Toasted Italian Bread topped with a delicious combination of chopped Tomatoes, Avocado and Feta Cheese in a tasty Olive Oil, Balsamic Vinegar and Spices dressing, makes this Avocado Feta Bruschetta the perfect side dish or appetizer.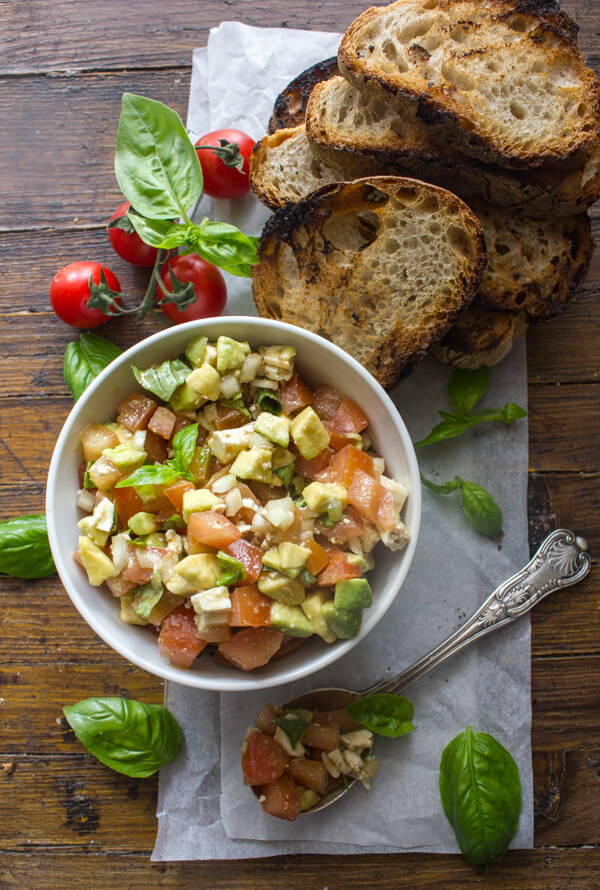 This is the first summer that I have made anything with Avocados. Why? Well because, one they just became popular in Italy and two I wasn't really that crazy about them.
A few weeks ago I went to my friend's family owned grocery store and I couldn't believe in my small town she had Avocados. So naturally I bought one. I made an amazing Shrimp Stuffed Avocado.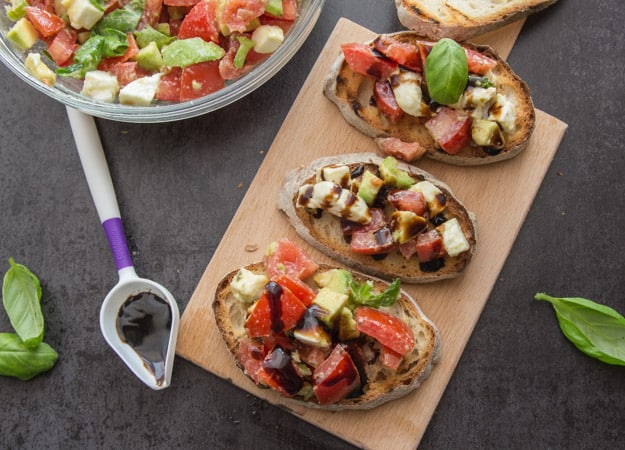 A couple of days later I went back and they were still there. So there you go, sometimes a small town just won't go for something new.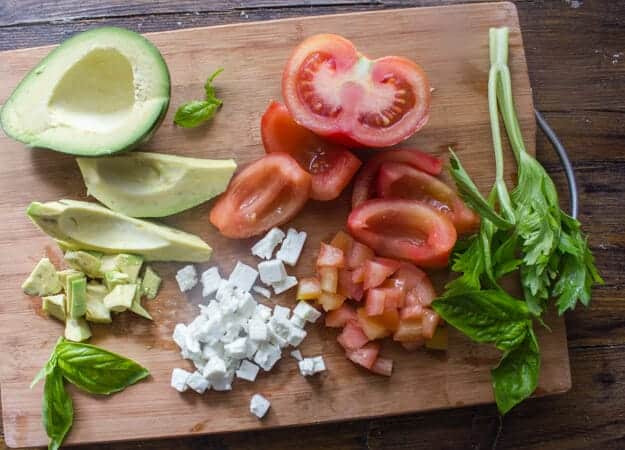 My friend called me aside, she was so hush-hush. Hmmm this should be interesting, and what did she do? She offered the left over avocados for a third of the price. How could I refuse?
Seems my Italian small town neighbours didn't know what avocados were, they had no idea what to do with them, and who knew what they tasted like? They were taking no chances! Lucky for me.
Back home I went with my avocados and a couple of ideas up my sleeve. I knew I would have to use them immediately. I have learned that the perfect avocado is ripe when you squeeze it gently and it gives slightly. And these did. Just make sure you don't buy avocados with brown spots on them, not good.
Easy Tomato Avocado Feta Bruschetta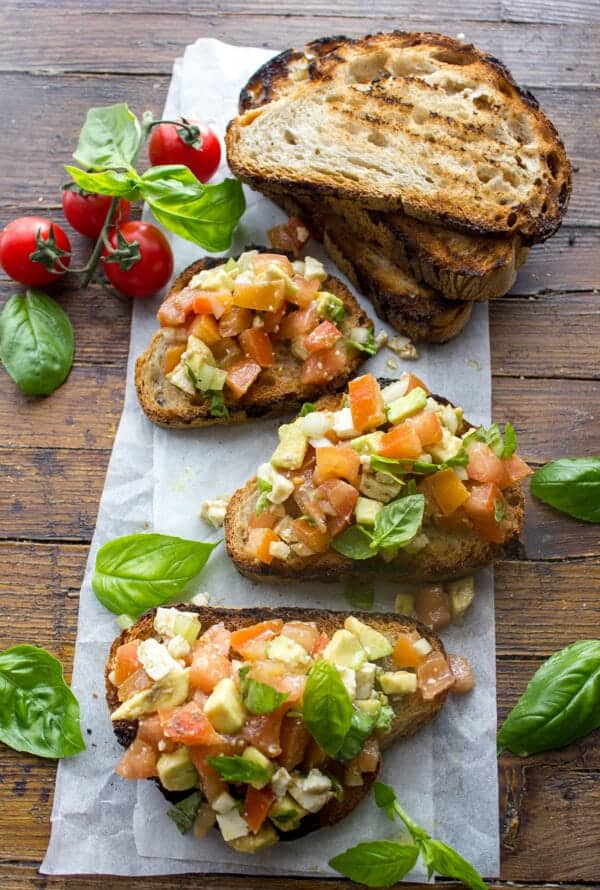 My avocado loving daughter let me know that there are certain cheeses that compliment this fruit. Feta was one of them and as we later discovered, also fresh mozzarella. Take your pick or experiment. Or leave it out and go Vegan.
I had some day old bread so naturally Bruschetta was on the menu for the day and why not make a Tomato Avocado Feta Bruschetta?
I chopped everything up and mixed it with some fresh basil, oregano, olive oil, lemon juice and balsamic vinegar. Let it sit for about 30 minutes so that all the flavours mingle.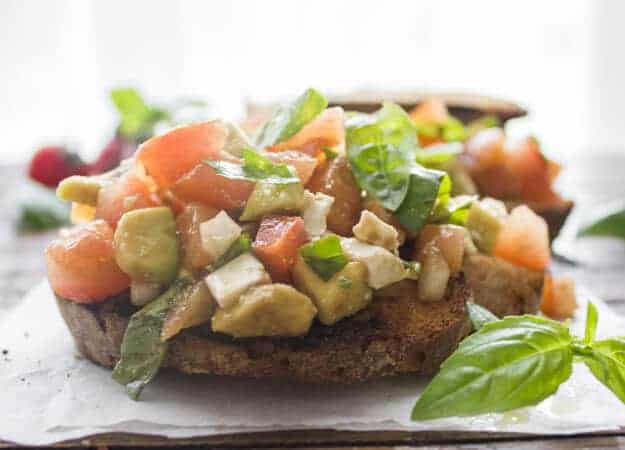 I Grilled my Italian Crusty Bread and topped it with this amazing bruschetta mixture. This Easy Tomato Avocado Feta Bruschetta is so loaded with good healthy ingredients it can easily be served with a salad and you can call it a meal! Buon Appetito.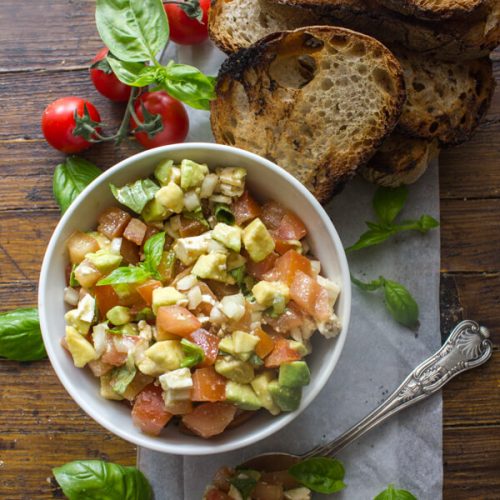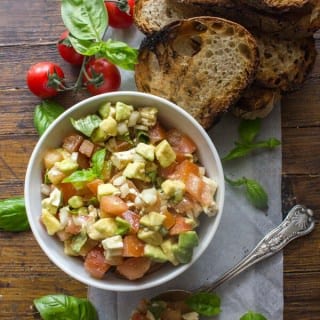 Easy Tomato Avocado Feta Bruschetta
Easy Tomato Avocado Feta Bruschetta a simple & fast appetizer. Fresh ingredients, olive oil and balsamic make this a delicious healthy recipe.
Ingredients
1

avocado cleaned and chopped into small cubes

2

large firm tomatoes

remove pulp and seeds, chop into small cubes (I always get tomatoes more on the greener side)

1

celery stalk chopped

5-8

basil leaves chopped

1/2

teaspoon

oregano

1/2 gram

1/4

teaspoon

salt

1.4 grams

1

teaspoon

lemon juice

4.25 grams

1/2 - 1

tablespoon

balsamic vinegar

7 .5 -15 grams

3

tablespoons

olive oil

41 grams

2

ounces

feta or fresh mozzarella cheese cubed

60 grams

8

slices

Italian crusty bread
Instructions
In a large bowl gently mix together chopped avocado, tomato and celery, fresh basil, oregano and salt, then add lemon juice, balsamic and olive oil and toss gently, then add feta cheese and combine gently. Cover with plastic and refrigerate for 30 minutes.

Grill or BBQ Italian Crusty bread, top with avocado feta mixture. Serve immediately. Enjoy!
Nutrition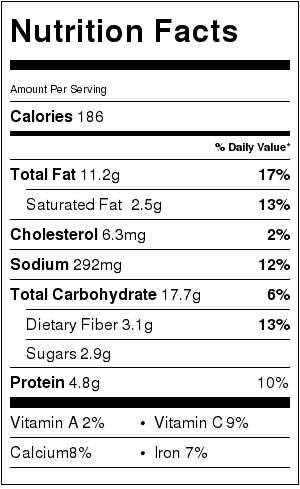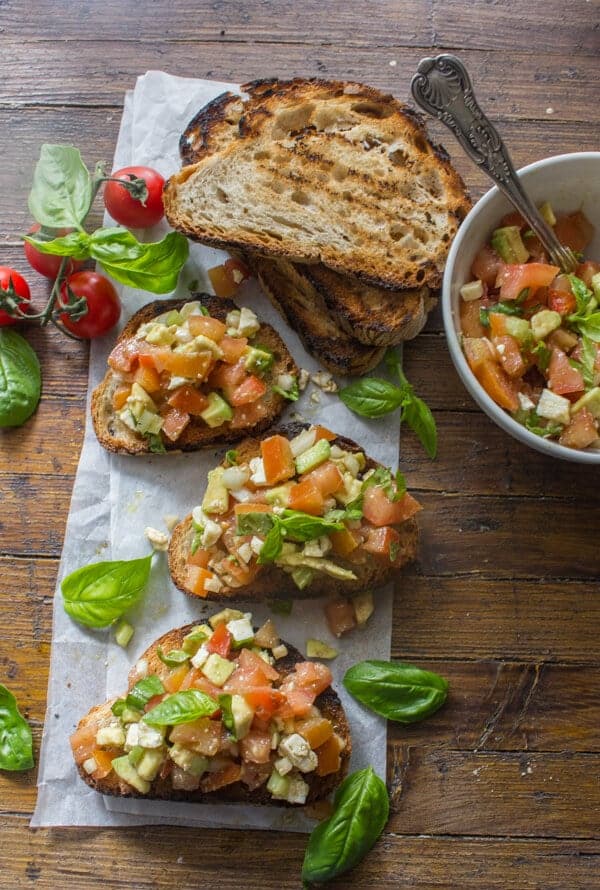 Republished from June 2016