Tomato Bruschetta, is a must for every outdoor grilling or barbecue meal.  Made with fresh tomatoes, onions, celery, basil, parsley, oregano and olive oil.  Easy Tomato Bruschetta, Italian never tasted so good.
Italian Tomato Bruschetta
When I first came to Italy, more years than I care to admit! Bruschetta along with Tiramisu were one of the foods I had never heard of or even tried. 
Back home no one had ever heard of let alone made Tomato Bruschetta ( bruschetta, in Italian ch is pronounced like  the letter k).  But I soon discovered it was one of the many things that they were missing!
The first time the barbecue was lit, (no gas barbecue was in sight at the time) I remember my mother-in-law would use the stem prunings from the vineyard,  light them up, put a grill over them, cut the day old Italian crusty bread (which is the best bread for bruschetta), usually the bread she made weekly, and toast it to perfection.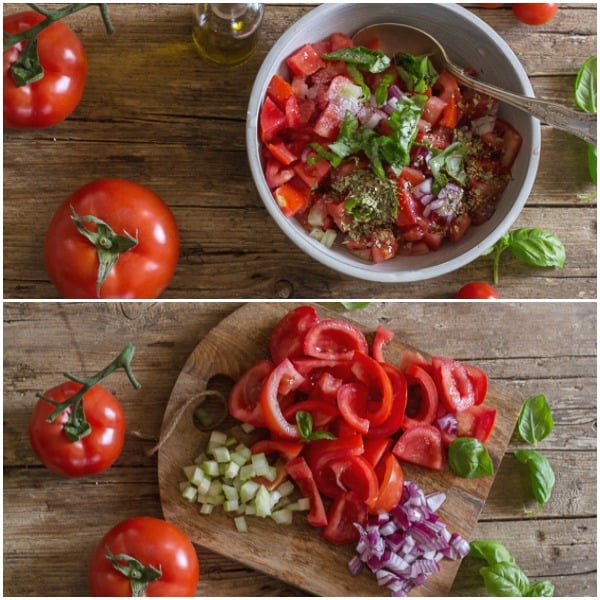 Once the bread was toasted, she would sprinkle some salt and drizzle olive oil on top of the bread. Of course she used oil from the olives  that had been picked the previous November.  
Italians love to eat Bruschetta the traditional way, after the bread has been grilled then rub a a clove of garlic on the bread, drizzle with some olive oil and sprinkle with salt.  So good!
My sister-in-law would be in the kitchen chopping the freshly picked tomatoes, a different combination of tomatoes are the best.
How to make Tomato Bruschetta!
A couple of ripe but firm tomatoes and one or two a little on the green side, which the Italian loves.  Of course don't forget some green onions, celery,  fresh basil and Italian parsley from the garden, then toss them together in a  bowl with olive oil and salt.
 Bruschetta Recipe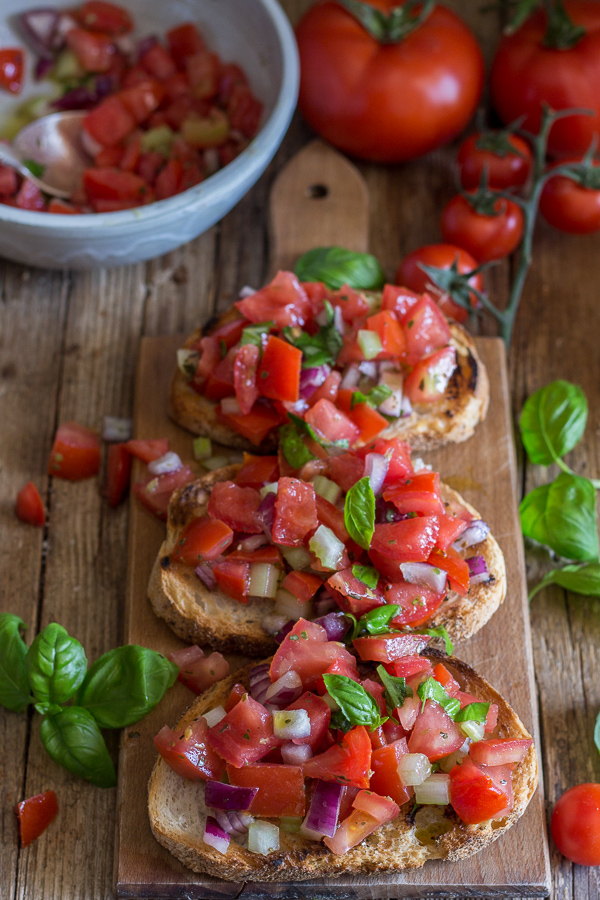 A little drizzle of Balsamic Glaze doesn't hurt either, but if you can't find the glaze, regular Balsamic works just fine too. How can something so simple be so delicious?
After that first taste, I totally understood why my husband came back for the food.
More Delicious Fresh Tomato Recipes
Easy Italian Fresh Tomato Cheese Pie
Spaghetti with Oven Parmesan Dried Tomatoes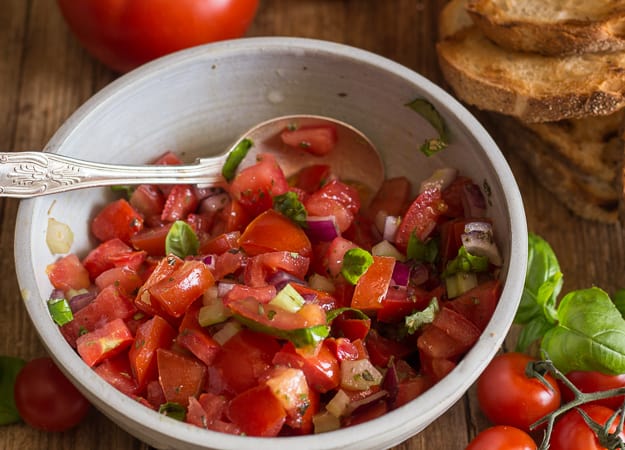 Even if you don't have a garden full of all these fresh vegetables, try to get as close as you can, visit your local farms or farmers' markets for fresh and organic products. You can also plant vegetables in pots, just like  flowers, I did that for years.
Believe me it will be so worth it!  Especially now with the warm weather and BBQ season upon us, nothing like a delicious side dish or appetizer of Easy Italian Tomato Bruschetta.
Nowadays you don't even need the barbecue to make Bruschetta, a simple pan grill will suffice, so start chopping and grilling and Happy Grilling.  Buon Appetito!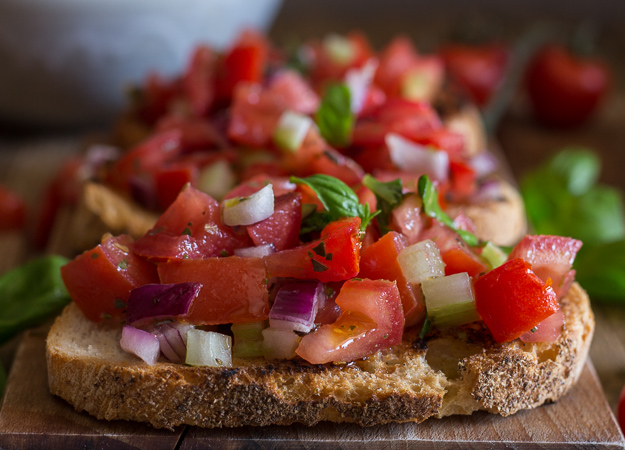 Easy Italian Tomato bruschetta
Easy Classic Tomato bruschetta, a simple delicious healthy dinner appetizer made with fresh tomatoes, basil, oregano and olive oil.
Ingredients
2-3

medium to large firm ripe tomatoes

(chopped / I remove the seeds and extra pulp)

1/2

red onion

(chopped)

1

celery stalk

(chopped)

1/2

teaspoon

salt

1 1/2

teaspoons

oregano

4-5

leaves

fresh basil chopped

1/4

cup

olive oil
Instructions
In a medium bowl mix together all ingredients in above order, serve over freshly toasted bread, best is day old Italian crusty bread,

Bruschetta Recipe

. If you like a little drizzle of Balsamic is a tasty addition. Enjoy!
Nutrition
Calories:
93
kcal
|
Carbohydrates:
3
g
|
Fat:
9
g
|
Saturated Fat:
1
g
|
Sodium:
201
mg
|
Potassium:
134
mg
|
Sugar:
1
g
|
Vitamin A:
7.9
%
|
Vitamin C:
7.9
%
|
Calcium:
1.7
%
|
Iron:
1.9
%
Updated from May 28, 2016.