This easy Bruschetta Recipe is made with pesto, fresh tomatoes, olive oil, goat cheese, a sprinkle of arugula and a drizzle of balsamic vinegar, making this the perfect anytime appetizer. 
I love making and eating Italian appetizers, from Italian Roasted Peppers to Italian Baked Shrimp or even one of our favourites Grilled Eggplant. These are simple, easy and everyone loves them.
Bruschetta with Pesto
There's nothing like beginning the perfect Italian dinner with a slice or two of bruschetta. This is another Poor Man's dish that originated in Naples, and then spread through Italy and of course the world.
For Italians it is very simple and easily made. And is always made when barbecuing. You can always hear someone shouting "don't forget the Bruschetta", and that someone is usually me!
After you have finished grilling your Meat, Fish and or Veggies the last to be grilled is the bread. You are going to want to eat it nice and warm with your meal.
Old bread never gets thrown out, just make Bruschetta. Even using a small pan grill.
Of course Italians will argue on the best possible bread for grilling. They tend to think a closed crust is better than a crust with a lot of holes. Personally I will take it with either bread.
In fact I used my pan grill today to make this delicious recipe. Which I do quite often when we have leftover bread hanging around. You can even make make it plain with a rub of garlic, a drizzle of olive oil and a sprinkle of salt,
or even chop up some Fresh Tomatoes to add. But if you want something special then this is the recipe for you.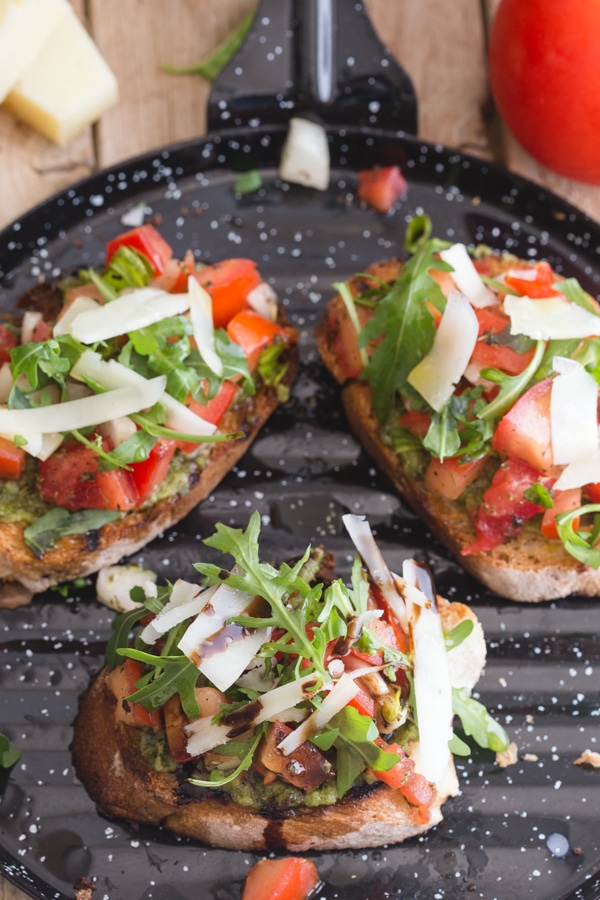 How to make Bruschetta with Pesto
First thing to do is toast the slices of crusty Italian bread that you need (day old is even better).
In a medium bowl mix together the chopped tomatoes, onions, oregano, basil, salt and olive oil.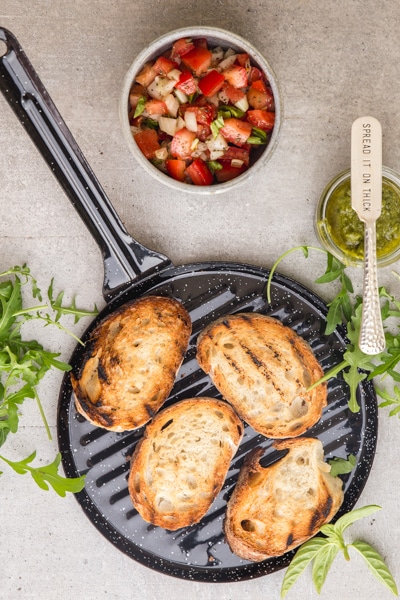 Spread a little Pesto on top of the bread, you can make your own or use a good store bought.
Top with some tomato mixture, a few leaves of arugula, some flakes of goat cheese and a drizzle of balsamic vinegar if you wish.
I decided to go with the classic Basil Pesto but if you like something a little stronger than an Arugula Pesto would work too.
Of course you are going to want a cheese with a bit of a kick that is why I chose a goat cheese. It's tangy and has a slightly sour taste. But so good.
How to store Bruschetta
It should not be stored it should be eaten immediately. Although the tomato and onion mixture can be made a day in advance and stored in an airtight container in the refrigerator, until ready to use.
One of the most important things to remember is the proper pronunciation, remember in Italian "SCH" is pronounced "SK" as in "ski or skip". Therefore it's Brusketta not Brushetta. 🙂
So if you are looking for a new way to eat one of the most delicious Italian appetizers I hope you give this Bruschetta with Pesto a try. Buon Appetito!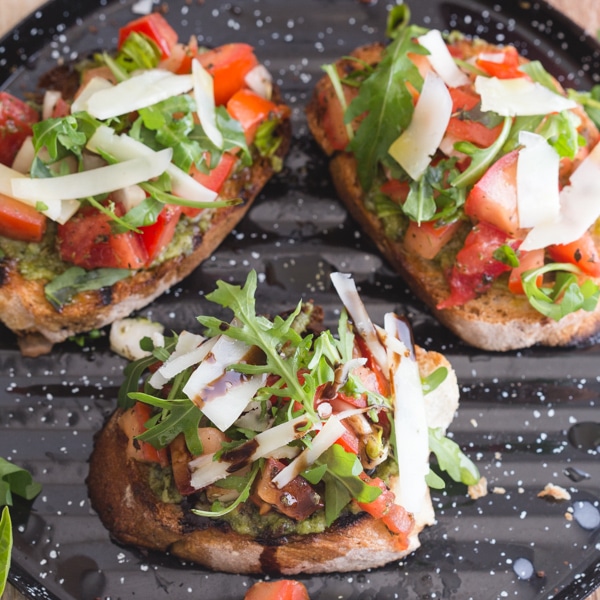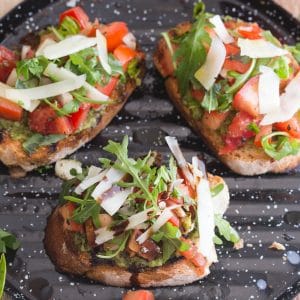 Bruschetta with Pesto
This easy Bruschetta Recipe is made with pesto, fresh tomatoes, olive oil, goat cheese, a sprinkle of arugula and a drizzle of balsamic vinegar. 
Ingredients
8

slices crusty Italian bread

3-4

medium

tomatoes (seeded and chopped)

1

small

onion chopped

1/4-1/2

teaspoon

oregano

4-5

fresh

basil leaves (chopped)

2-3

pinches

salt (or to taste)

2-4

tablespoons

olive oil

1/4-1/3

cup

basil pesto (more if needed)

(55-75 grams)

1

cup

fresh arugula leaves (cut in half if large)

30

ribbon slices* of goat cheese

balsamic glaze (as much as desired)
*slice the cheese with a potato peeler or cheese grater.
Instructions
In a medium bowl toss together the chopped tomatoes, onion, oregano, chopped basil, salt and olive oil. Set aside.

On medium / hot, Heat pan grill and keep temperature relatively high, place sliced bread on pan and turn until toasted, remove to a large plate and spread with pesto, top with a heaping tablespoon of tomato mixture, some arugula leaves, two or three ribbons of goat cheese and a drizzle of balsamic glaze if desired. Serve immediately. Enjoy!
Nutrition
Calories:
127
kcal
Carbohydrates:
14
g
Protein:
4
g
Fat:
7
g
Saturated Fat:
1
g
Cholesterol:
2
mg
Sodium:
266
mg
Potassium:
146
mg
Fiber:
2
g
Sugar:
3
g
Vitamin A:
532
IU
Vitamin C:
6
mg
Calcium:
54
mg
Iron:
1
mg
Updated from March 31, 2014.