Easy Classic Basil Pesto, made in five minutes with a few ingredients and using your food processor! Quick and Delicious.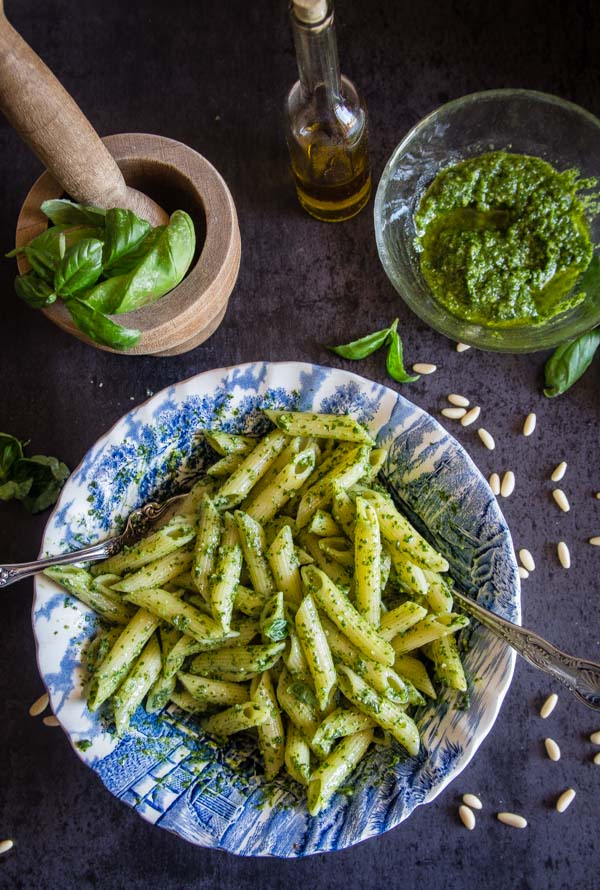 Easy Classic Basil Pesto
I hate to admit to it. But I will. I was never a big Pesto Lover! Basil that is, I make a really good Tomato Pesto!
Yes my mother-in-law made it a few times, even using a Mortar and Pestle. Even with her children raving about how delicious it was, I just couldn't get that excited.
Until, one evening we were sitting around talking about food (what else)? And of course we moved onto the big question. Can you really make a good Pesto using a food processor?
Basil Pesto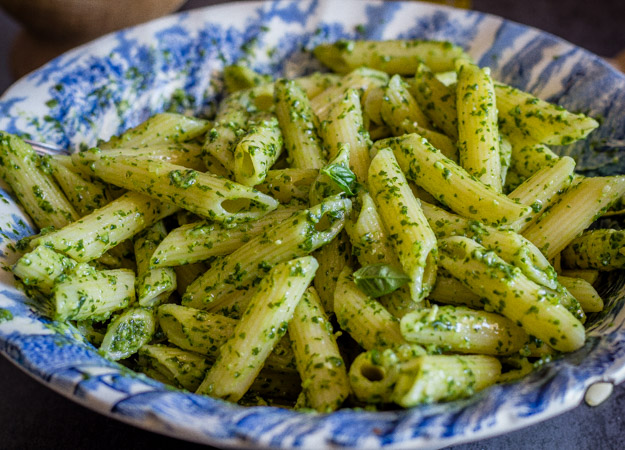 So of course I decided to give it a try. I was hoping that after all these years my tastes had somewhat changed and I could get a little excited about a Darn good Classic Basil Pesto.
Using my mother-in-law's recipe and my food processor I went to work.
Our amazing friend the Cook was convinced that the only way to make an amazing Pesto was using a Mortar and Pestle and a lot of arm work.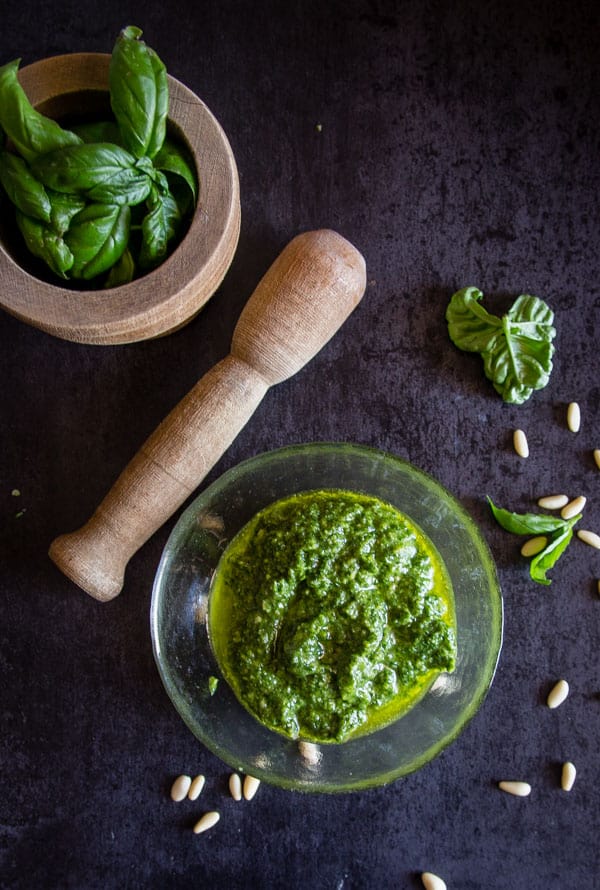 I convinced him otherwise. Make sure you use fresh Basil leaves, and a combination of freshly grated Parmesan Cheese and Pecorino, a good quality Olive Oil and of course some Pine Nuts.
This Classic Basil Pesto comes to together in so little time and so much better than store bought and yes I have discovered a love for Pesto! Buon Appetito.
Easy Classic Basil Pesto
Classic Basil Pesto, an easy homemade delicious pesto recipe. Made in 5 minutes with fresh basil.
Ingredients
1 3/4

ounces

fresh basil (about 4 cups)

(50 grams)

5

tablespoons

freshly grated Parmesan Cheese

(32 grams)

2

tablespoons

Pecorino Cheese

(13 grams)

1/3

cup

olive oil

(72 grams)

1

tablespoon

pine nuts (heaping soup spoon)

2

cloves

garlic chopped

1/4

teaspoon

salt
Instructions
Place food processor container and blade in the refrigerator for at least one hour.

Meanwhile wash and dry fresh basil leaves.

Remove container and blade from refrigerator. Add 1/3 basil leaves, half the salt, one third of the olive oil and pulse to combine. Add another 1/3 basil leaves and pulse to combine add remaining basil leaves and pulse.

Add pine nuts, Parmesan Cheese and Pecorino, another one third olive oil, remaining salt and pulse to combine, add remaining olive oil and garlic, pulse on high to combine. Serve over cooked pasta. Enjoy!

**Makes approximately 1 cup pesto, I served half over 3 cups cooked Penne Pasta with a little olive oil drizzled and tossed. Left over Pesto should be refrigerated.
Nutrition
Calories:
108
kcal
Protein:
2
g
Fat:
11
g
Saturated Fat:
2
g
Cholesterol:
4
mg
Sodium:
136
mg
Potassium:
25
mg
Vitamin A:
355
IU
Vitamin C:
1.3
mg
Calcium:
60
mg
Iron:
0.3
mg