Italian Roasted Peppers, the perfect Grilled Appetizer, peppers tossed with fresh parsley, garlic and olive oil, so easy and delicious, make this your next appetizer!

I think one of my favourite Italian dishes must be appetizers, probably because a lot of them are made with vegetables, and bread is always served on the side. Nothing like dipping your bread in the olive oil that remains on the bottom of the bowl.
This Italian Grilled Pepper Appetizer is one of our favourites and it is Incredibly Delicious.
I remember visiting my friend when she lived in the Italian area of Toronto, and we would look over the fence and see these people barbecuing peppers till they were black and how we would laugh and say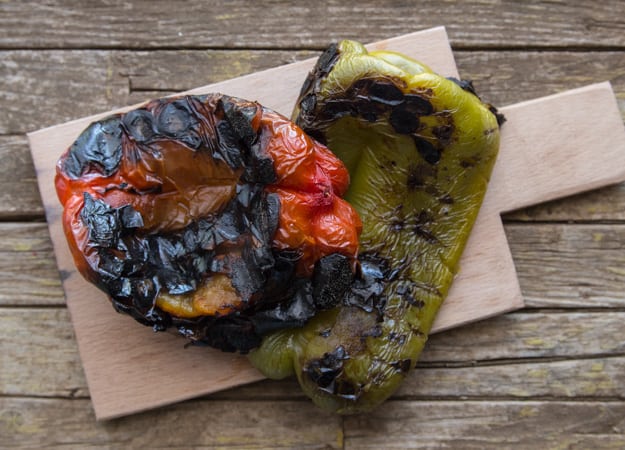 "Are they crazy? how can they eat burnt peppers?" now I have to say no they weren't the crazy ones, we were, because we just didn't get it.
Italian appetizers are usually quite simple but so flavourful. It makes you wonder how all that taste can come from just a few ingredients.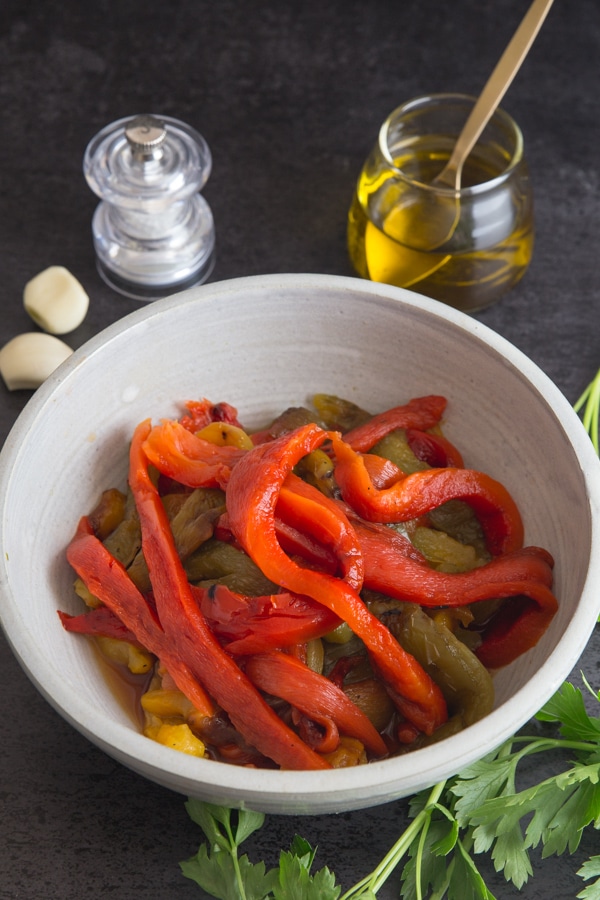 How to Make Grilled Peppers
If you don't have a Pan Grill, then definitely get one, no need to light the BBQ every time you crave some grilled veggies!
Clean well either red, green or yellow peppers (or a combination).
Place them on the hot grill and grill until burnt.
Throw them into a paper bag or bowl (cover with plastic wrap) and let sit for 15-20 minutes.
Remove the skin, stem, membranes and seeds, do not rinse.
Cut the peppers into strips, place in a bowl and toss with fresh herbs and olive oil. So good!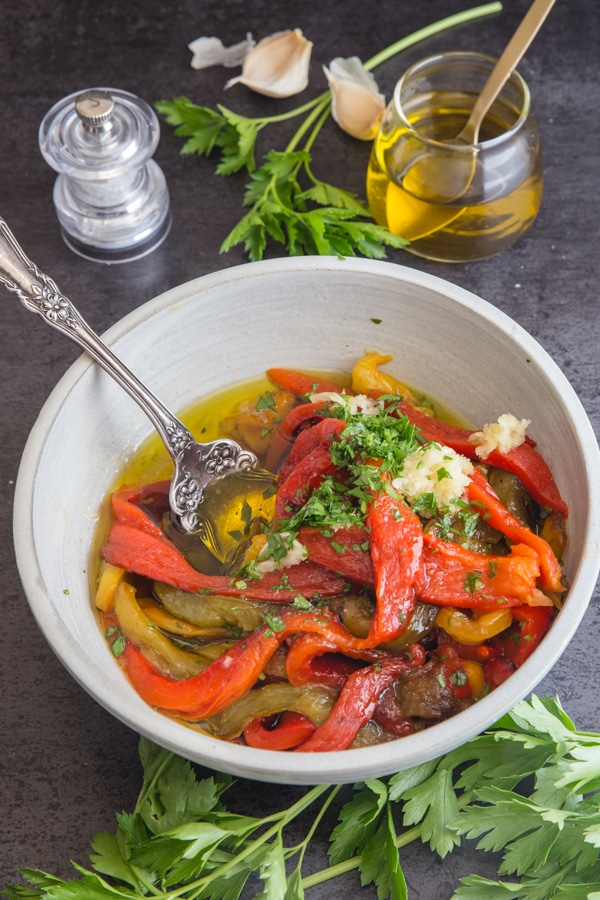 How to Store Roasted Peppers
Left over roasted peppers should be stored in a sterilized jar with a tight fitting lid, make sure the peppers are covered in olive oil. Opened jars can be kept in the fridge for up to 2-3 weeks. If any mold appears or there is an off smell, toss the peppers.
Roasted peppers can also be frozen, place cleaned roasted peppers in an airtight freezer bag or container. They will last 10-12 months in the freezer.
How to sterilize jars
I prefer to use the boiling water method – Wash the jars with hot soapy water before sterilizing. Make sure they are completely clean. Place the jars and lids upright in a large pot.
Fill the pot with water, make sure the water covers the jars by an inch (2.5 cm). Bring the water to a full, strong boil and continue to boil for at least 10 minutes.
Remove the jars and lids from the hot water (tongs work best) and place them on a couple of paper towels to dry. Make sure the sterilized jars do not come in contact with anything but the paper towels.
You could also sterilize the jars in your dishwasher on the hot water cycle if you prefer.
Be sure to fill the jars, when they and the tomatoes are both still warm. Adding hot food to cold jars or cold food to hot jars will cause the jars to crack or shatter.
What makes the Best Roasted Peppers
Make sure to roast the peppers until burnt.
Let them sit for 15-20 minutes in a bowl covered with plastic wrap or a paper bag like my mother-in-law always did.
Remove seeds but do not rinse the peppers.
Toss with fresh herbs and good quality olive oil.
and let everything mingle for about an hour before serving, if you can wait!
Roasted Peppers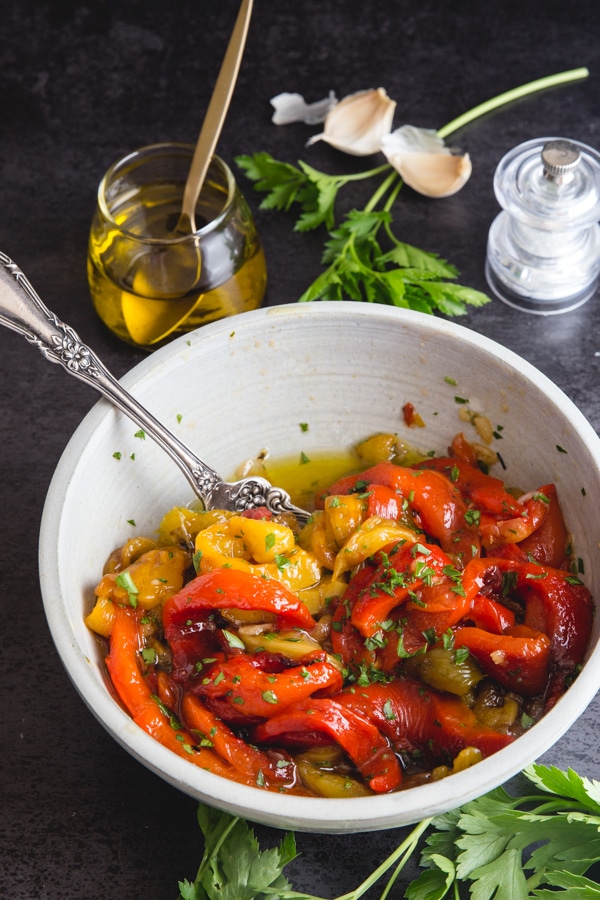 More Pepper Recipes to try:
So if you are heating up the Grill or BBQ this weekend, do yourself a favour and throw on a couple of peppers! Buon Appetito!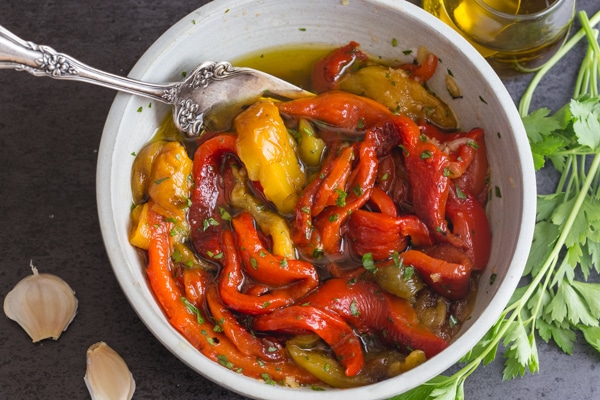 Italian Grilled Pepper Appetizer
Italian Grilled Pepper Appetizer, the perfect Roasted Pepper Recipe, tossed with fresh parsley and olive oil, so easy and delicious, make this your next appetizer!
Ingredients
3

medium peppers (nicely formed)

2-3

cloves

of garlic minced

1/2

cup

chopped Italian parsley

1/4

cup

olive oil

1/2

teaspoon

salt
Instructions
Heat your pan grill (or barbecue), keep the heat fairly high, place the peppers on top and continue to cook, turning until burnt all over.

Remove from heat and place in a paper bag or bowl and cover with plastic, let sit for 15-20 minutes.

Clean the peppers, slice in half, remove seeds and skin and cut into thin strips, (don't rinse peppers under water, hands yes, peppers no). 

Place pepper strips in a medium bowl, add garlic, Italian parsley, olive oil and salt, toss gently until combined. Let sit 30-60 minutes for flavours to mingle. Serve with fresh Italian bread or bruschetta. Buon Appetito!
Nutrition
Calories:
142
kcal
Carbohydrates:
5
g
Protein:
1
g
Fat:
13
g
Saturated Fat:
1
g
Sodium:
298
mg
Potassium:
197
mg
Fiber:
1
g
Sugar:
2
g
Vitamin A:
960
IU
Vitamin C:
82.2
mg
Calcium:
22
mg
Iron:
0.8
mg
As an Amazon Associate I earn from qualifying purchases.
Updated from May 22, 2017.