Italian Meatballs never tasted so good! Made in a delicious Tomato and Red Pepper Sauce. Serve over pasta or rice or like the Italians, as a Main Dish.
Italian Meatballs
Meatballs have always been one of my favourite meals, from my Mom's Meatballs to a made in Italy version.
Coming to Italy I learned to eat my Pasta first and my meatballs as a main dish, served with a side dish with a cooked veggie, such as Sauteed Chicory or even Peas.
To tell the truth I still love a bowl of Spaghetti and Meatballs sprinkled with some freshly grated Parmesan Cheese.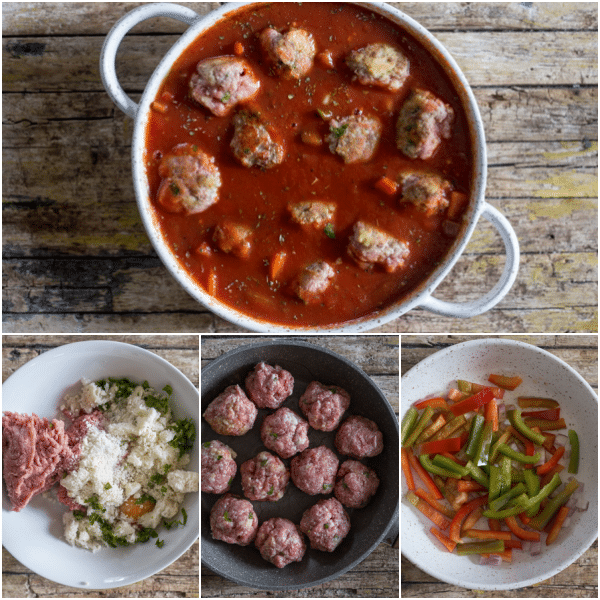 What is the difference between Grana Padano and Reggiano Parmesan Cheese?
Parmigiano Reggiano is produced totally without additives, even natural additives are prohibited, Grana Padano on the other hand uses a protein extract from egg whites to control the fermentation.

Cows are fed only grass and hay for producing Parmigiano Reggiano.
Reggiano is stamped at one year and Grana Padano is stamped at 9 months.
Reggiano is produced in the Provinces of Parma, Reggio Emilia, Modena and, in parts, of Mantua and Bologna. Whereas Grana is produced in as many as 33 different provinces.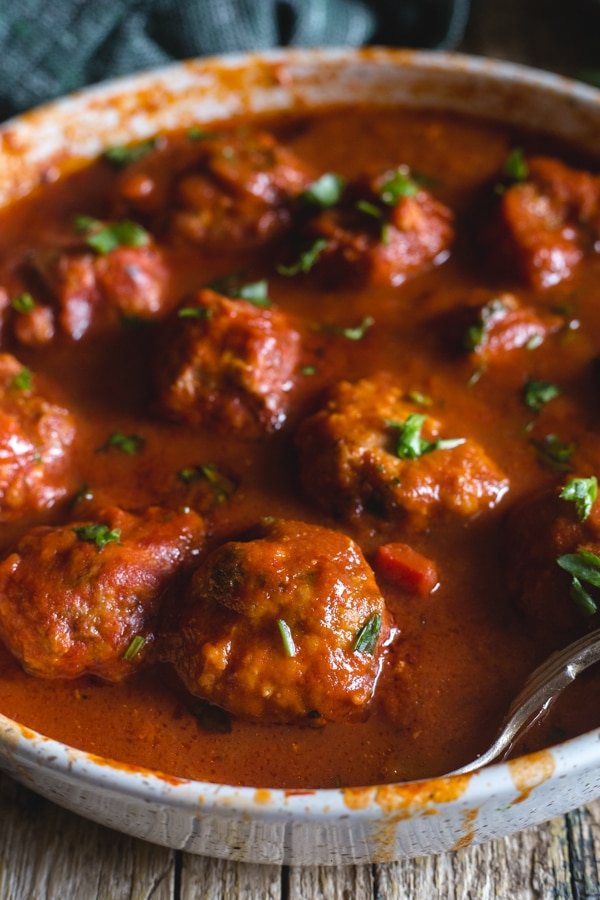 What are the ingredients in Italian Meatballs?
ground beef
and or ground pork
Parmesan Cheese usually Reggiano
freshly chopped Italian parsley
salt and pepper
oregano
chopped garlic
eggs
fresh bread crumbs either soaked in milk or water
all gently mixed by hand and rolled into the size of golf balls
I made these Italian Meatballs with a mixture of Pork and Beef which was different for me since I usually only use beef. A personal preference that it is all.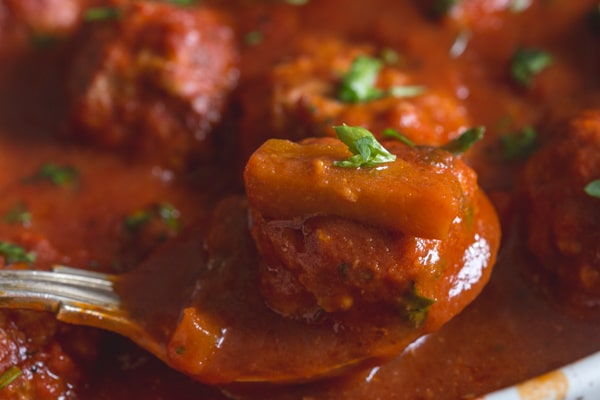 But I have to say this Pepper and Tomato Sauce was the perfect compliment to these meatballs. I served them the Italian way as a main dish, but there is plenty of sauce for the addition of Pasta.
How to Make Meatballs
When making meatballs be sure to include eggs and breadcrumbs in the mix, these are what holds (binds) the meatballs together.
But too much can cause the meatballs to fall apart when cooking and too little will keep them from binding together when mixed.
Be sure to soak your bread in a little milk this helps keep the meatballs tender once they are cooked.
I always mix my meatball mixture by hand and roll into the size of golfballs, don't worry about them being not perfectly round, that's the joy of Italian cooking, it's Rustic cooking at it's best.
Italian Meatballs in a Red Pepper Tomato Sauce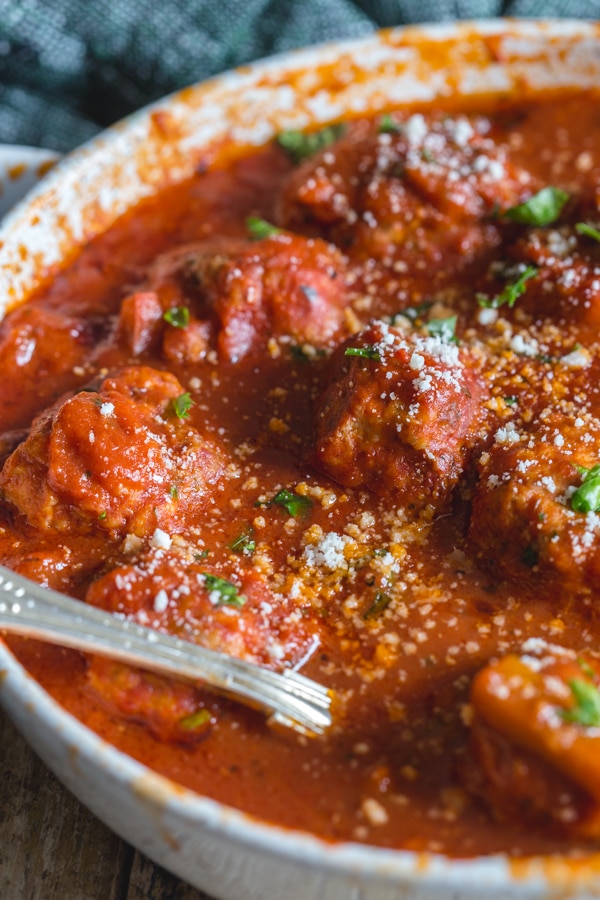 More Delicious Italian Dinner Ideas
Baked Italian Breaded Pork Chops
Italian Stuffed Flank Steak – Rolle
No matter how you decide to eat your meatballs with pasta or without, be sure to include a couple of slices of Italian Crusty bread to soak up all that sauce. Buon Appetito!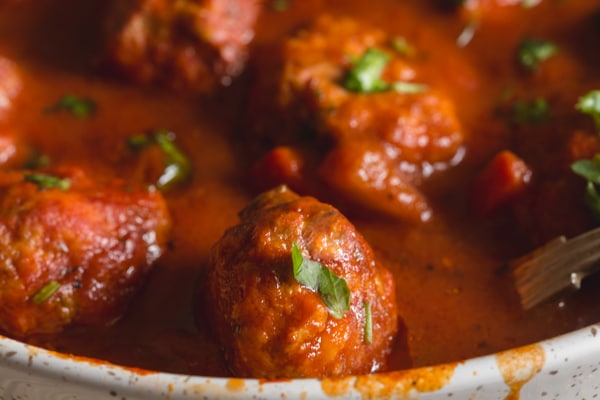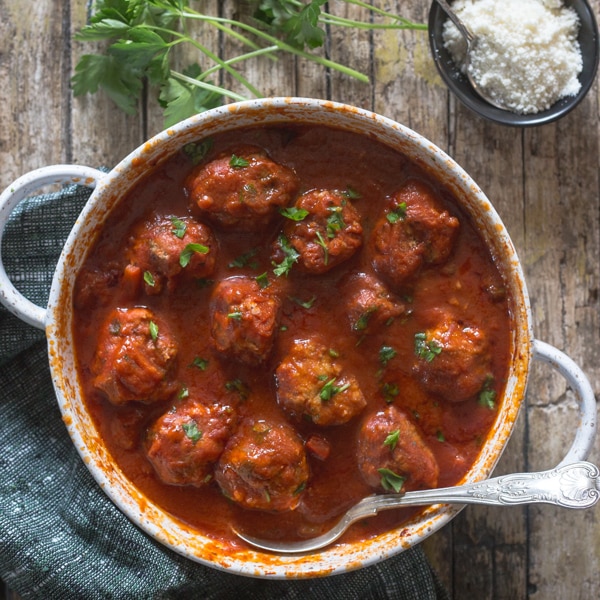 Italian Meatballs in a Red Pepper Tomato Sauce
Italian Meatballs never tasted so good! Made in a delicious Tomato and Pepper Sauce. Serve over pasta or like the Italians, as a Main Dish.
Ingredients
MEATBALLS
5.3

ounces

ground beef*

(155 grams)

5.3

ounces

ground pork*

(155 grams)

1

egg

1/4

cup

parmesan cheese

(40 grams)

1-2

slices

bread (without the crust)

(1 ounce / 30 grams / softened in a little milk)

1/4

teaspoon

salt

1-2

dashes

black pepper

1-2

tablespoons

fresh chopped parsley
*If you prefer just ground beef then omit the pork and double the beef.
PEPPER TOMATO SAUCE
2

tablespoons

olive oil

1

clove

garlic minced

1

shallot minced

1

red pepper sliced

1 3/4

cups

Tomato puree (passata)

(400 ml)

1/2

teaspoon

oregano

1/2

teaspoon

basil

1-2

pinches

salt

1-2

dashes

black pepper or hot pepper flakes

1/2

cup

water
Instructions
MEATBALLS
In a medium bowl mix together the ground beef, pork, egg, parmesan cheese, bread (squeeze out an excess milk and break into crumb size pieces), salt, pepper and parsley. Form the mixture into 12 equal size meatballs.

In a medium pan add 1 tablespoon of oil and brown the meatballs, turning to brown on all sides. Remove from heat.
PEPPER TOMATO SAUCE
While the meatballs are browning start the sauce, in a large sauce pan add the 2 tablespoon of oil, minced garlic, shallot and sliced peppers (about 1/4 inch wide and 1 inch long or smaller if you prefer). Cook for 2 minutes on medium heat, then add puree, oregano, basil, salt and pepper (or hot pepper flakes) and water, mix to combine. Add the browned meatballs (remove from the pan with a slotted spoon and add to the pan), gently cover with the sauce. Cover* the pan and cook on low / medium until sauce thickens and meatballs are cooked. Approximately 25-30 minutes. Serve immediately. Enjoy!
*Uncover after 20 minutes if sauce is still very thin and raise the temperature a little to cook and thicken the sauce.
Nutrition
Calories:
125
kcal
Carbohydrates:
5
g
Protein:
6
g
Fat:
8
g
Saturated Fat:
2
g
Cholesterol:
32
mg
Sodium:
159
mg
Potassium:
274
mg
Fiber:
1
g
Sugar:
2
g
Vitamin A:
570
IU
Vitamin C:
17.5
mg
Calcium:
42
mg
Iron:
1.3
mg