Sliced Beef Pizzaiola, a fast and easy Italian dish. Slices of Beef in a deliciously spiced Tomato Sauce. Perfect on it's own or make an Amazing Pizzaiola Sandwich.
Sliced Beef Pizzaiola
As I sit in my kitchen writing this post, I hear the rumble of thunder getting closer and closer. I love that sound and the lightning too.
Unfortunately in Italy we are prone to being hit by lightning. We have lost a couple of televisions and the house alarm only to name a couple of items.
When I was in Toronto sitting and having coffee with my sister and discussing this during an urban thunderstorm, I had a huge urge to run around the house and start unplugging everything.
Beef Pizzaiola
We are a participant in the Amazon Services LLC Associates Program, an affiliate advertising program designed to provide a means for us to earn fees by linking to Amazon.com and affiliated sites.
She laughed and said I don't have that problem here. Lucky you!
She then went on to tell me a really interesting way of determining how far away a storm actually is by counting the seconds between the strike of lightning and then the rumble of thunder.
You start counting the seconds between the first crack of lightning and stop at the rumble of the thunder and then divide by 2 or 3 (2 for miles and 3 for kilometers) to see how far away the lightning struck.
For example if it takes 10 seconds for the thunder to roll in, the lightning struck about 2 miles or 3 kilometers away. You learn something new everyday!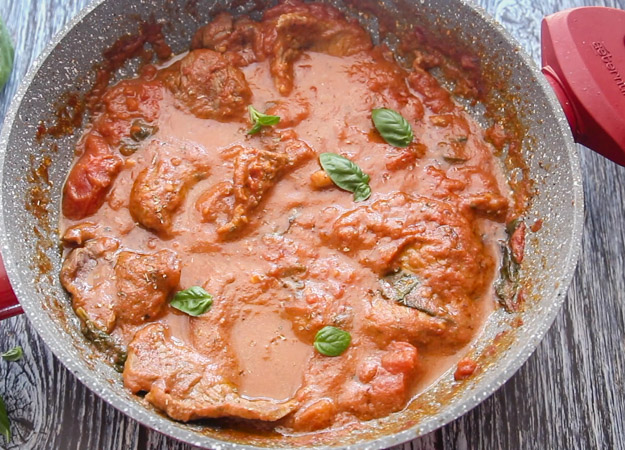 This was a great bit of information. Now I might just get a few more sentences written before I am jumping up to unplug this and that.
I continue to write this during a really long storm that seems never-ending. At least I am sharing this delicious recipe, Sliced Beef Pizzaiola, which is perfect to eat during a dark stormy day (comfort food at its best).
This is a fast and easy dish made with slices of beef in a tasty tomato sauce (where the name pizzaiola comes from). What is even better about this is that as a sandwich it really couldn't get any better.
Fry up some Peppers, Mushrooms or Onions, get a big Italian bread roll and you can have yourself one of the best Italian sandwiches you may ever eat! Buon Appetito!
More Beef Recipes You may enjoy!
Chunky Thick Italian Beef Stew
Baked Zucchini Stuffed with Meat
Sliced Beef Pizzaiola
Sliced Beef Pizzaiola a fast and easy Italian Recipe, thin beef slices in a perfectly spiced tomato sauce. Makes the best Sandwich too.
Ingredients
1

pound

of sliced beef (not too thick approximately 4 or 5 slices)

(500 grams)

1

can

marzano tomatoes

(400 grams)

3

tablespoons

olive oil

(39 grams)

1/2

teaspoon

salt

1 1/2

teaspoons

oregano

1

teaspoon

basil

1

clove

of garlic chopped

dash of hot pepper flakes if desired

1/2

cup

water

(120 grams)

4-5

fresh basil leaves
Instructions
In a medium frying pan add 2 tablespoons of olive oil, tomatoes, half the salt, oregano, garlic, hot pepper flakes (if desired) and basil, stir to combine, then add fresh basil and water, add slices of beef, stir gently to cover with sauce then drizzle with the remaining 1 tablespoon of olive oil and remaining half of the spices.

Cook on low heat with the lid 1/4 uncovered for approximately 25 minutes (turning after 15 minutes), then uncover and raise heat and continue to cook for an additional 5 minutes until thickened (but not too thick). Top with fresh basil. Enjoy!
FRIED PEPPERS
In a medium frying pan add 2 tablespoons olive oil, sliced pepper strips (2 medium peppers sliced), 1 teaspoon oregano, 1/4 teaspoon salt and 1 clove garlic chopped. Cook on medium until peppers are soft and browned. Stirring occasionally.
MAKE A SANDWICH
Slice a large Italian bun in half. Top with some fried peppers (or mushrooms or desired veggie). A slice of Pizzaiola and some sauce, top with a couple of slices of mozzarella. Serve hot. Enjoy!
Nutrition
Calories:
406
kcal
|
Protein:
20
g
|
Fat:
35
g
|
Saturated Fat:
11
g
|
Cholesterol:
79
mg
|
Sodium:
348
mg
|
Potassium:
354
mg
|
Vitamin A:
35
IU
|
Vitamin C:
0.2
mg
|
Calcium:
20
mg
|
Iron:
3
mg