Baked Zucchini Stuffed with Meat, nothing says Italian Summer Dinner Dish then this. A delicious meatball mixture stuffed inside a hollowed out Zucchini and then baked to perfection. An Easy and Tasty Summer Italian Meal.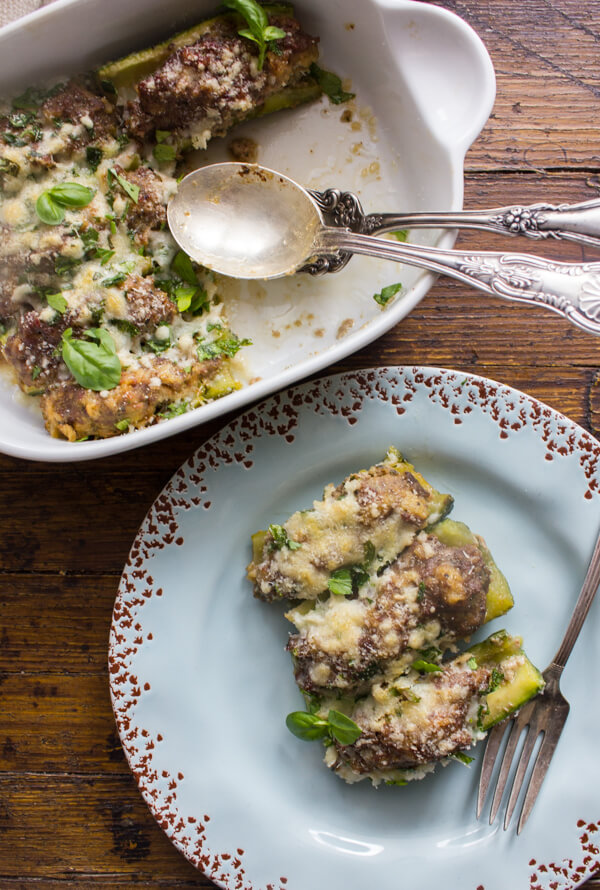 While checking out Pinterest, and stalking of my favourite blogs on the internet, I have come across so many Pumpkin, Apple and other Fall Recipes.
But as much as I love the fall season, I still have a few summer recipes up my sleeve or should I say in my oven.
Between Tomatoes, Zucchini and Eggplant I am just not ready to move onto cinnamon and maple syrup just yet. So for another couple of weeks I offer you some of my best Summer (because technically it still is summer) dishes.

Zucchini Stuffed with Meat, was one of the first recipes I tasted in mother-in-law's house on my first visit to Italy. Little did I know how this dish would easily become one of my favourite Zucchini Summer Recipes.
I really prefer it baked without any sauce and lots of cheese instead. So amazing, it is definitely a must try.
To tell the truth I really don't have much of a memory of ever eating zucchini in my house in Canada, squash yes zucchini no. My mother would make squash with a tasty rice stuffing, but she was not a zucchini lover.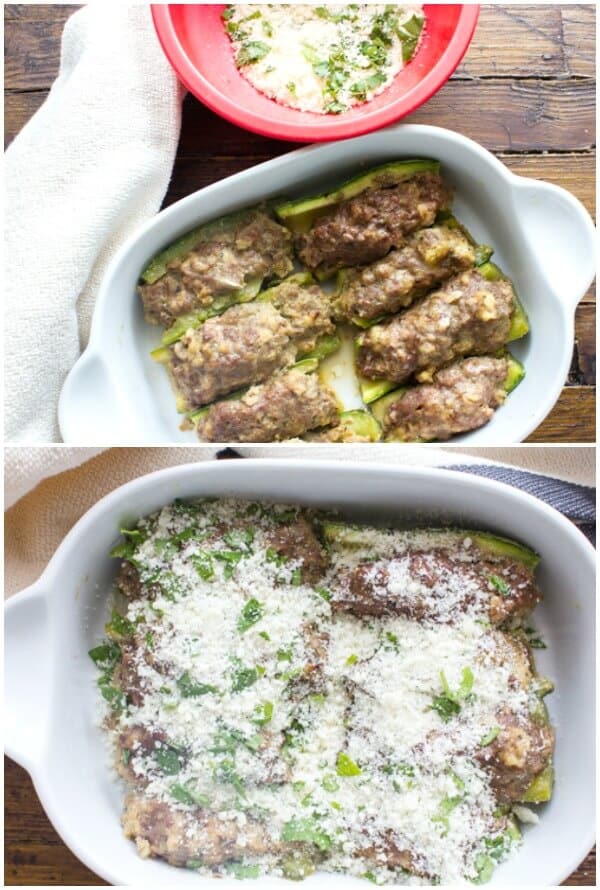 Too bad , because we didn't know what we were missing, and just maybe a taste of this Baked Zucchini Stuffed with Meat and she would have changed her mind!
Although I know a few people who will argue with that, my youngest daughter in fact.
Baked Zucchini Stuffed with Meat
This delicious Meat Stuffed Zucchini is so easy, it's stuffed with my meatball recipe (without the sauce of course) and usually cooked slowly on the stove.
Although lately I have changed it up a bit, to make it even more delectable, I slice the zucchini lengthwise, place the stuffing on top, cook it slowly in the pan and then sprinkle with a good amount of Parmesan Cheese and broil it in the oven for a few minutes. Perfect.
I always let the zucchini brown a bit and it becomes so tender and delicious. I suggest serving it with a salad, it's definitely the best choice! Buon Appetito!
Zucchini stuffed with meat
A delicious Italian Recipe made with a tasty meatball filling, Baked Zucchini Stuffed with Meat is the perfect fast and easy meal. We love it.
Ingredients
5

medium zucchini

not large because they are too pulpy

2

tablespoons

olive oil

pinch or 2 of salt

for sprinkling over the stuffed zucchini

1

cup

water

MEATBALL RECIPE

2

slices

of bread

I use day old Italian if extra thick use 1 1/2 slices

1/2

pound

ground beef

1

egg

1/4

cup

freshly grated parmesan cheese

1/2

teaspoon

parsley

1/2

teaspoon

basil

1/2

teaspoon

oregano

1/2

teaspoon

salt

1/2 -1

clove

garlic minced
Instructions
Cut the zucchini in half (it is easier to hollow them out),hollow out the zucchini, rinse and set aside. (the pulp is not used)

In a small bowl full of water soak the bread for about 30 seconds, remove the crust and squeeze out excess water, crumble and place in a medium bowl, add the ground beef, egg, parmesan cheese, spices and garlic, mix well with your hands. Stuff the meatball mixture into the zucchini.

In a medium to large frying pan add 2 tablespoons of oil and place the stuffed zucchini in the pan, sprinkle with a pinch or 2 of salt and drizzle with approximately 1 tablespoon of olive oil. Add the water, cover (leave a sliver uncovered) and cook on low to medium heat till zucchini is tender and water has evaporated. Raise the heat, and uncover and cook till zucchini is browned, turn and brown the other side. (golden brown) serve immediately, Enjoy!
Nutrition