Zucchini Patties, one of the best ways to use up summer Zucchini, fast and easy, onions, parmesan and spices make these so deliciously tasty, the perfect appetizer or side dish.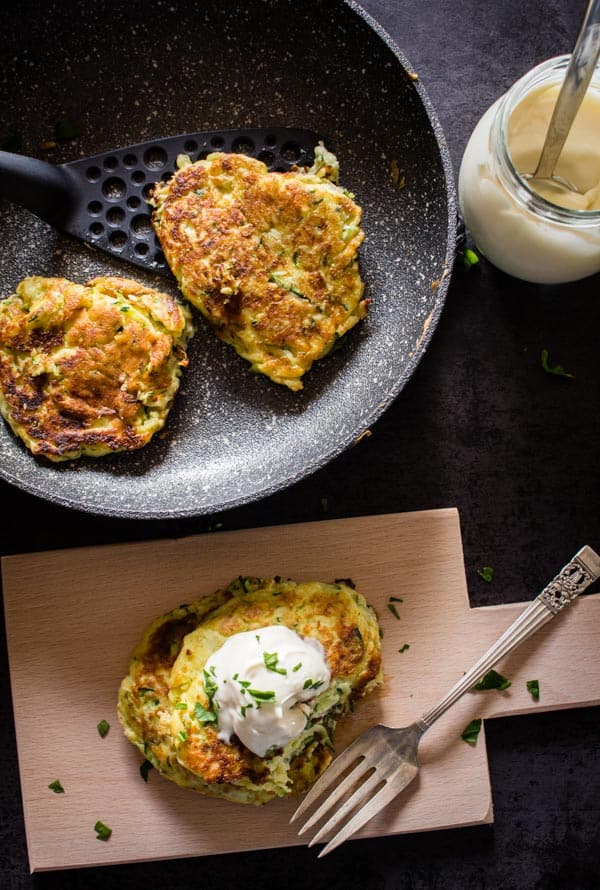 We are finally having some cooler weather! No more 40 to 45 and humid as heck but some low 30's. I really don't care how hot it is in the day as long as I can sleep at night, and yes I have been sleeping the last couple of nights.
What an amazing blissful experience!
On another happy note, you will be pleasantly surprised to know that this will probably be my last zucchini recipe of the summer season.
I have Baked it, Grilled it, I have made it with Pasta and turned it into a Dessert Loaf. And now they have become Zucchini Patties. So goodbye to the do-all-veggie of the summer.
Until next year when you take over my garden once again!
I have to admit though this is one of the best recipes for any of those bigger zucchini that you may have hanging around.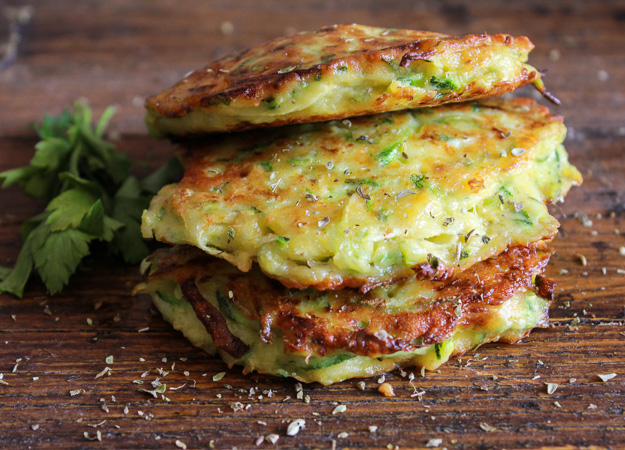 Believe me we have a few of our own. How many have we discovered hidden under some of those huge zucchini leaves. There are always a few that get away from us!
But don't despair, no need to throw them away. Just shred them down, toss the ingredients together in a bowl, add a little olive oil to a frying pan and add a heaping tablespoon full to the pan.
Cook until browned on both sides and there you have easy, healthy, and delicious Zucchini Patties.
If you make them small enough they could become an easy appetizer, bigger they become the perfect quick, weekday meal, serve with a little dipping sauce, a simple mayo and fresh chives mixture and a tasty Side Salad and there you have it. Buon Appetito!
Zucchini Patties
Zucchini Patties, a delicious, healthy, easy recipe, the perfect side dish, appetizer or even main dish, a yummy way to add some veggies!
Ingredients
2

cups

grated zucchini well-drained approximately 3 medium zucchini

wring out excess moisture with hands

1

tablespoon

finely chopped onion

9 grams

1/4

cup

Parmesan cheese

25 grams

1/4

cup

flour

30 grams

2

eggs

2

tablespoons

mayonnaise

30 grams

1/4

teaspoon

oregano

1/4 gram

1/4

teaspoon

salt

1.4 grams

sprinkle of pepper

1-2

tablespoons

olive oil

15-30 grams
Instructions
In a medium bowl mix together all ingredients except for 1-2 tablespoons olive oil.

In a medium to large frying pan over medium heat, heat 1-2 tablespoons olive oil. Drain on a paper towel lined plate and serve. Enjoy!

Drop a heaping tablespoon full of the zucchini mixture, cook until browned on both sides.

Drain on a paper towel lined plate and serve. Enjoy!
Nutrition
Calories:
126
kcal
|
Carbohydrates:
4
g
|
Protein:
3
g
|
Fat:
10
g
|
Saturated Fat:
2
g
|
Cholesterol:
84
mg
|
Sodium:
150
mg
|
Potassium:
137
mg
|
Sugar:
1
g
|
Vitamin A:
240
IU
|
Vitamin C:
8.9
mg
|
Calcium:
80
mg
|
Iron:
0.6
mg