Savory bite size Grilled Zucchini Roll-Ups are made with thinly sliced grilled zucchini then rolled up with a cheese and prosciutto filling before being baked with breadcrumbs and Parmesan. These healthy and flavorful small bites are the perfect appetizer for any summer gathering!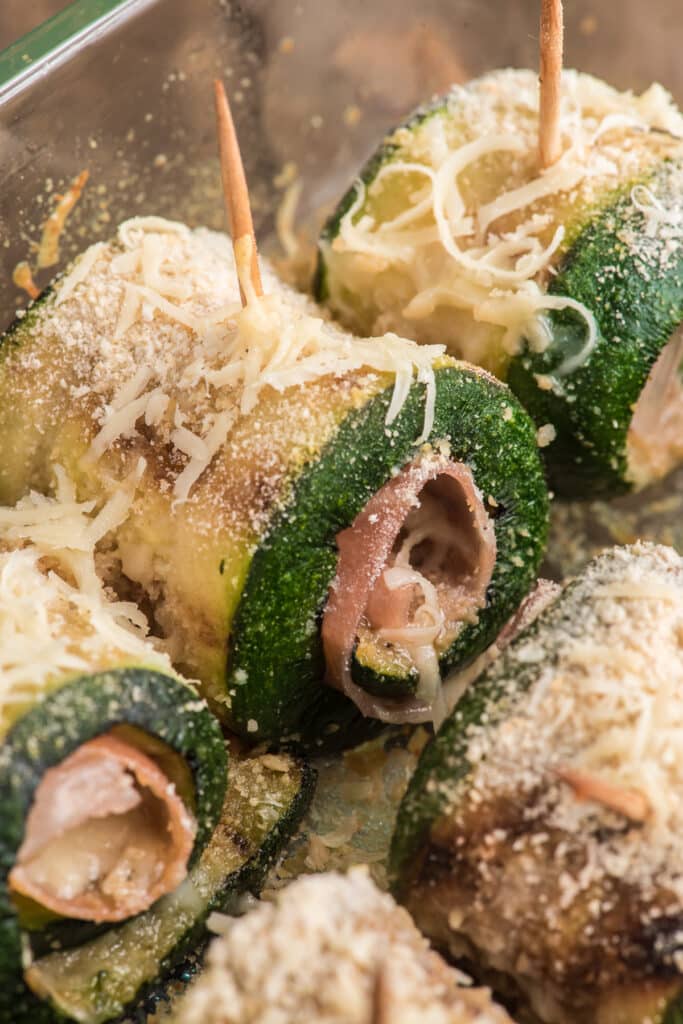 This post may contain affiliate links. Please read my disclosure policy.
I first made these grilled zucchini roll-ups as an appetizer for my eldest daughter's annual summer barbecue and they have been a hit ever since. They are the perfect balance of smoky grilled zucchini with a tasty filling that is both creamy, cheesy and salty.
You could also serve this easy zucchini appetizer as a light low-carb meal or as a healthy side dish to grilled steak or chicken. These zucchini pinwheels are so versatile when it comes to serving options!
Honestly, I find zucchini on its own a bit watery, but when grilled it becomes a veggie delight! Nothing is better than these scrumptious bite sized appetizers that are freshly grilled and then rolled into savory perfection. They are irresistible!
Other zucchini recipes that I love to add to my summer menu include these baked bread zucchini roll ups, stuffed zucchini flowers and sausage cheese stuffed zucchini! Buon Appetito!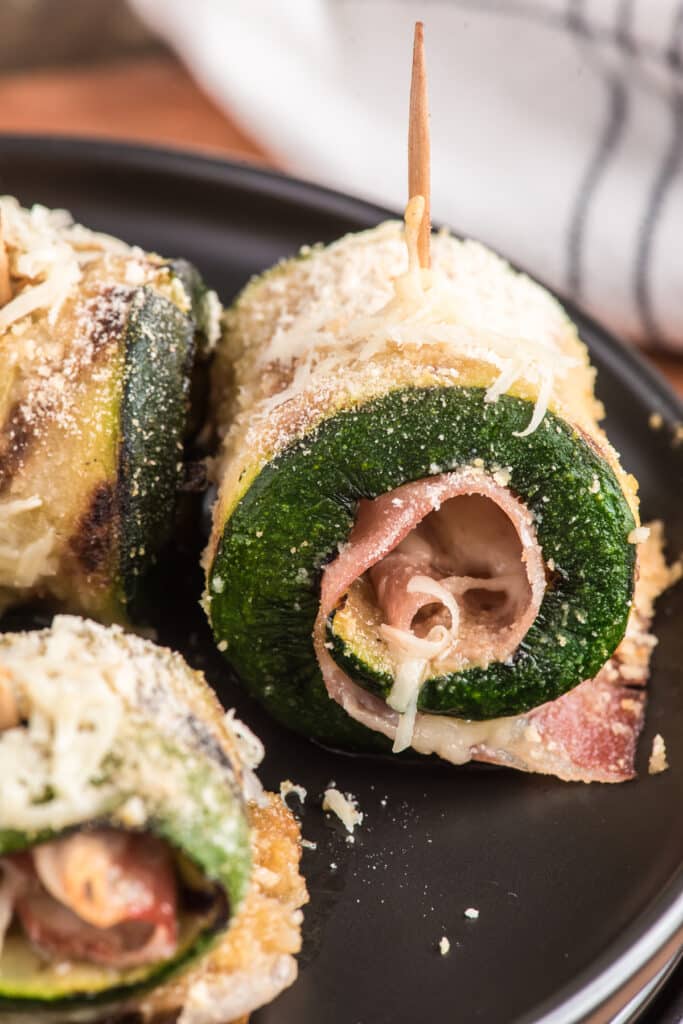 Why You Will Love This Grilled Zucchini Appetizer
Veggie-based appetizer: A healthy, low-carb, veggie appetizer that tastes great is not something you hear often, but in this case it's true!
Easy to make: With only 5 ingredients, this zucchini appetizer is ready in less than an hour.
Versatile: Use different cheese, meats or veggies for a new zucchini roll every time!
Summer staple: When zucchini is in season, this will be your new go-to favorite!
Ingredients
Simple ingredients add a whole lot of flavor to this zucchini roll up recipe! Here is what you will need to get started.
Zucchini: You will need 3-4 medium to large zucchini.
Cheese: Freshly shredded firm mozzarella, gruyere, Swiss or fontina cheese are all great to use in the filling for your roll ups.
Prosciutto di Parma: You could also use cooked ham if you would like a less salty meat. If using prosciutto you will need seven slices. One slice of prosciutto can fill 2 or 3 strips of zucchini.
Bread crumbs: Homemade, plain or seasoned bread crumbs all work.
Parmesan cheese: Freshly grated Parmesan cheese is used to top your zucchini rolls.
What type of zucchini should I use for zucchini roll-ups?
Choose firm, medium-sized zucchinis with a uniform shape and no blemishes, as they'll be easier to slice and hold up better when cooked.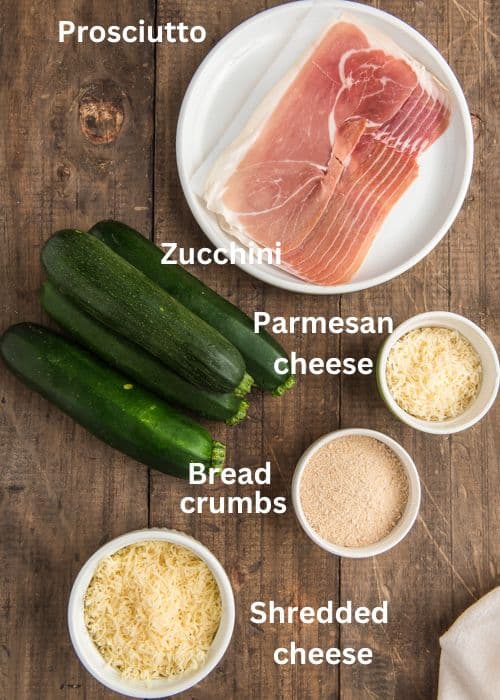 How to Make Grilled Zucchini Roll Ups
First, slice zucchini lengthwise into ¼ inch thick slices, grill the zucchini slices until soft. Do not grill too long or they may dry out.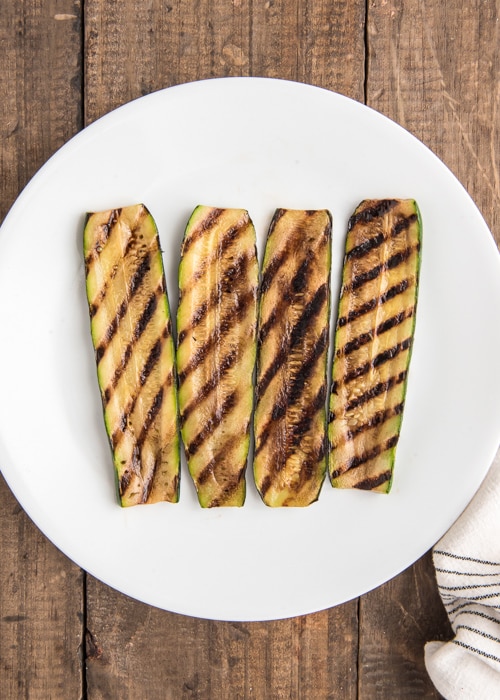 Once your grilled zucchini is cool enough to handle, place a slice of Prosciutto on each zucchini strip then add some grated mozzarella cheese.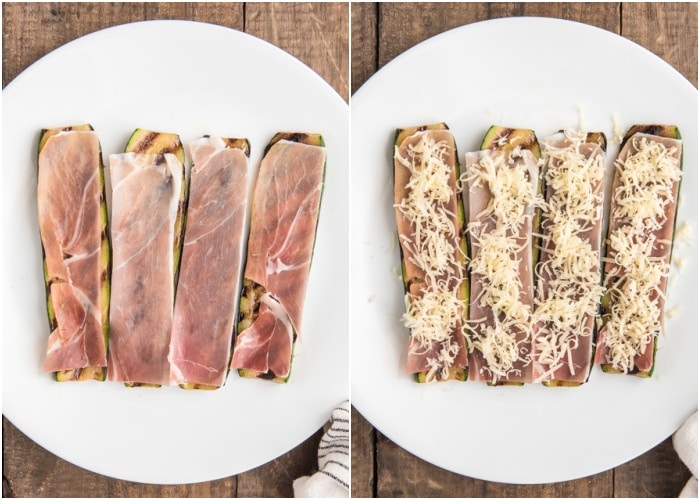 Roll up the zucchini and secure it with a toothpick.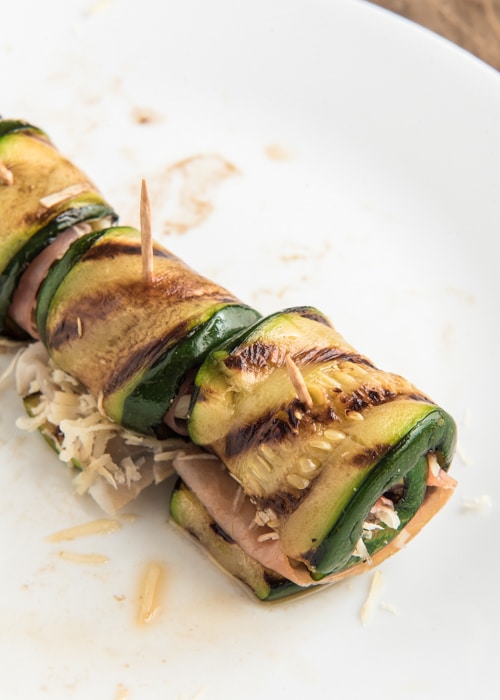 Place the rollups into a prepared medium baking dish that has been greased, sprinkle with the bread crumbs and then the Parmesan cheese.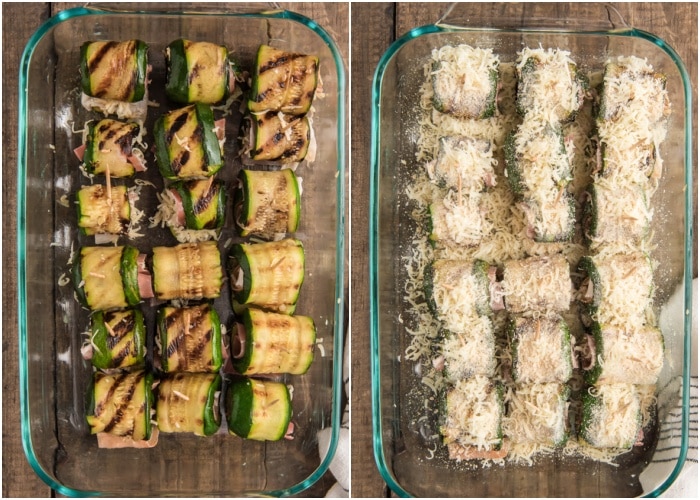 Bake at 400°F for approximately 10-12 minutes. Serve immediately.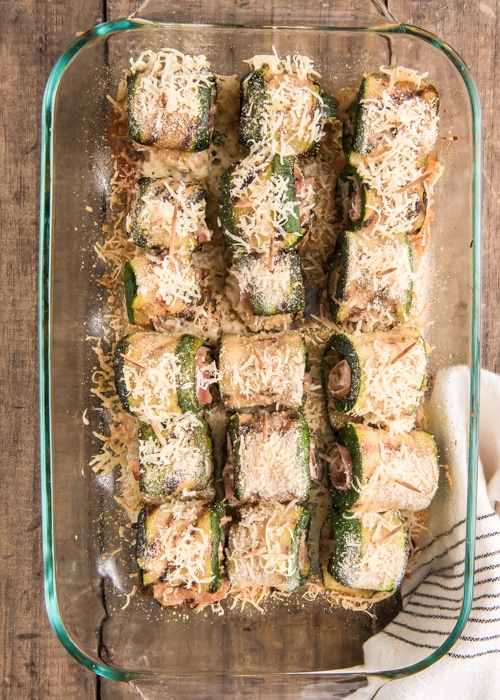 Tips and Variations
Prevent zucchini sticking to the grill: Brush your zucchini with olive oil and salt and ground black pepper before grilling to prevent it from sticking to the grill grates.
Grilled peppers: Grilled red peppers taste amazing in these zucchini roll ups! Grill quartered red pepper with your zucchini then cut into strips and add to your roll up filling.
Cheese: Firm mozzarella, gruyere, Swiss, or fontina cheese are great for the filling. You could choose another cheese, but just be mindful to not get one that is too salty, since the prosciutto or cooked ham already have a lot of salt.
Saltier: If you desire an even saltier and more savory taste, add some capers to your filling.
Less salty: Use ham or my favorite way is to use half ham and half prosciutto.
Drizzle with balsamic vinegar: Before serving, drizzle your zucchini rolls with balsamic vinegar or for even more tang a balsamic glaze.
How to Serve Grilled Zucchini Rolls
Transfer your zucchini roll ups from the baking dish to a large platter or plate and serve as an easy finger food.
They also taste great as a side dish when paired with steak, chicken or even fish.
For an elegant appetizer, add some marinara sauce to the serving platter and serve your roll ups on top of the marinara and garnish with fresh herbs.
For a summer appetizer spread, serve the rollups with this smoked salmon spread or mushroom cream cheese spread and toasted crostini.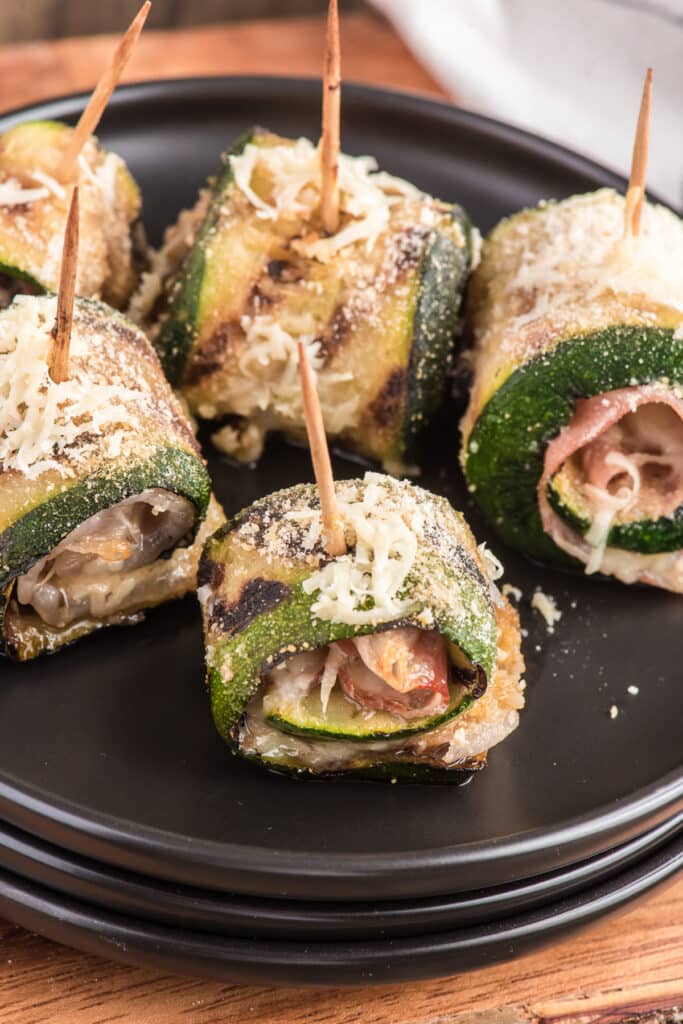 Storage
While this grilled zucchini appetizer is best served fresh, you can store it in an airtight container in the refrigerator for up to two days. After that the roll ups will start to go mushy. 
Can I freeze leftovers?
No, after zucchini is cooked it is not recommended to freeze. Zucchini is mostly water when fresh, cooking removes most of the water and if you freeze it the texture will change and it will not be very appetizing.
Do I need to peel the zucchini?
No, peeling the zucchini is not necessary. The peel actually helps give the zucchini better structure for rolling as the flesh of the zucchini will soften during grilling and without the skin your roll up may fall apart.
What is the best way to slice the zucchini?
You can use either a mandoline on a thicker setting or you can carefully cut the zucchini into ¼-inch thick slices by hand. Patience is key! You may want to have an extra zucchini or two on hand in case there are mishaps.
Can I use a grill pan?
Yes! I often use a grill pan on medium – high heat instead of firing up my barbeque grill.
Can I make vegetarian zucchini roll ups?
Of course! If you would like to make these vegetarian, just omit the prosciutto and add some extra cheese. I recommend feta cheese as it will add a salty flavor. I make vegetarian zucchini roll ups?
Can I make zucchini roll-ups ahead of time?
Yes, you can assemble the roll-ups and store them in an airtight container in the refrigerator for up to 24 hours before baking.
Can I add other ingredients to the filling?
Absolutely! Feel free to add sautéed spinach, mushrooms, or other veggies, as well as herbs like basil, rosemary, or oregano for extra flavor.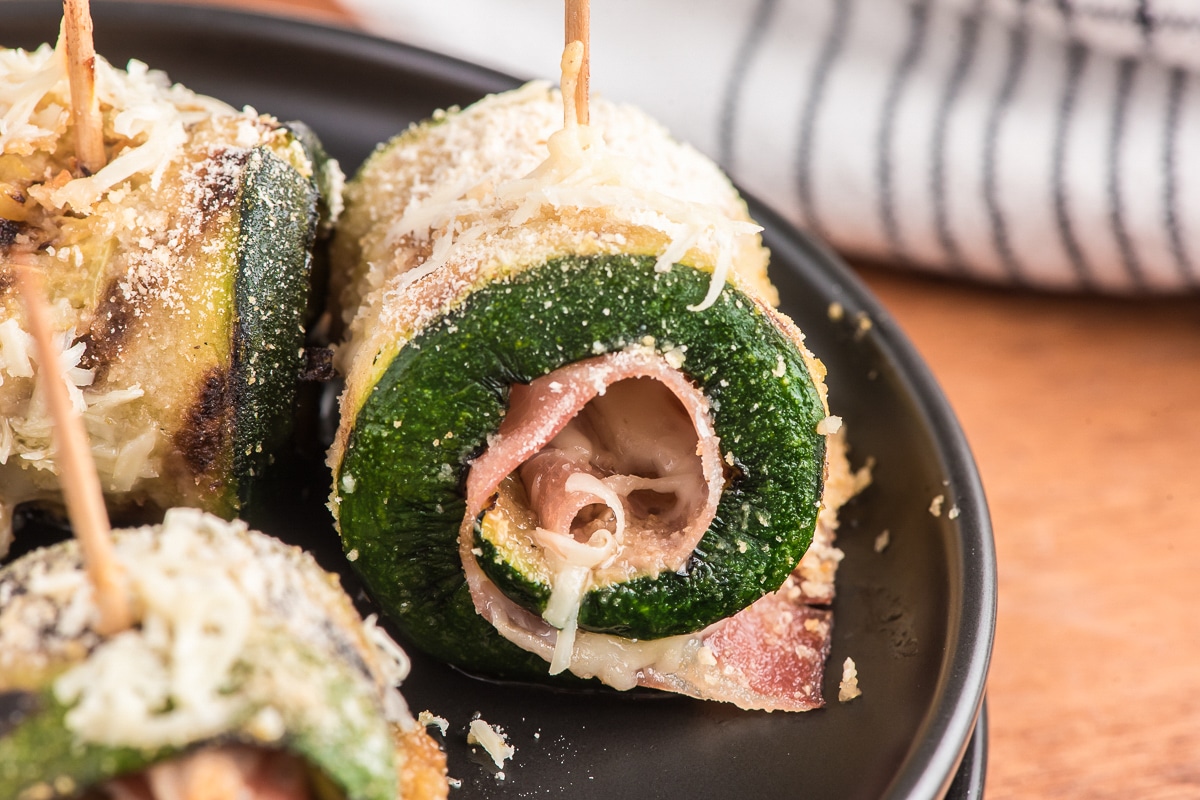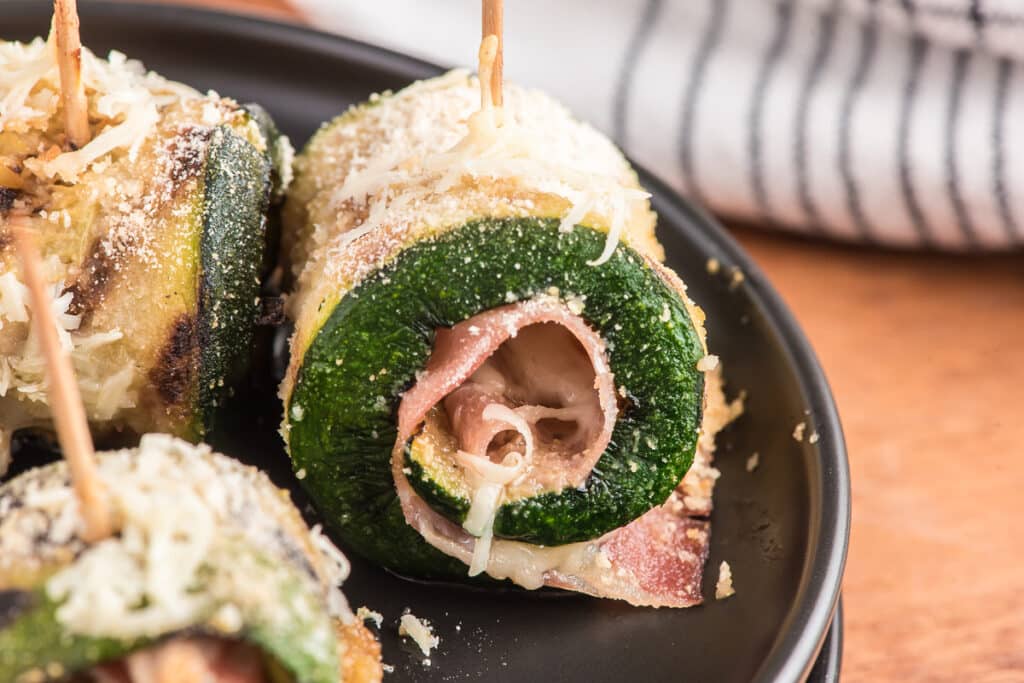 When you are looking for a perfect appetizer, these easy and delicious Bite Size Grilled Zucchini Roll-Ups, are the ones. Buon Appetito!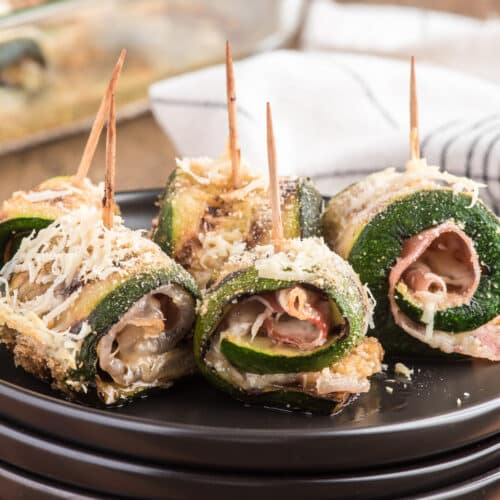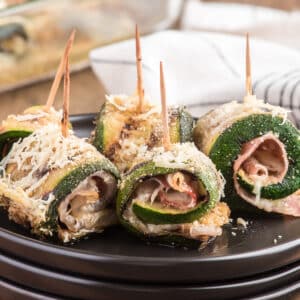 Bite Size Grilled Zucchini Roll-Ups
Bite Size Grilled Zucchini Roll-Ups are the perfect appetizers, a fast, easy and delicious recipe. Great anytime or even when entertaining.
Ingredients
3-4

medium-large

zucchini

½-⅔

cup

shredded cheese firm mozzarella, gruyere, Swiss or fontina

7

slices

Prosciutto di Parma or Cooked Ham*

¼

cup

bread crumbs

¼

cup

Parmesan cheese
*Depending on how many slices of zucchini you have. For one slice of prosciutto you can usually get enough for 2 or 3 strips of zucchini.
Instructions
Pre-heat oven to 400F (200C), lightly grease a medium baking dish with olive oil.

Slice the zucchini lengthwise ¼ inch thick. Grill the slices, be sure not to grill too long or they may dry out. On every strip of zucchini place one slice of Prosciutto, and some grated cheese, roll and secure with a toothpick.

Place the rollups in the prepared baking dish, sprinkle with bread crumbs and Parmesan cheese. Bake for approximately 10-12 minutes. Serve immediately. Enjoy!
If necessary lightly oil the grill so the zucchini doesn't stick.
Notes
No salt needed. If you like it quite savory then the Prosciutto is for you if you prefer a more delicate taste then choose the cooked ham. Or go half and half like I did.
Nutrition
Updated from June 15, 2015.