Bite Size Grilled Zucchini Roll-Ups, an easy and tasty appetizer. Grilled slices of zucchini filled with ham or prosciutto and cheese, then rolled and baked. A warm and delicious bite size antipasto or side dish.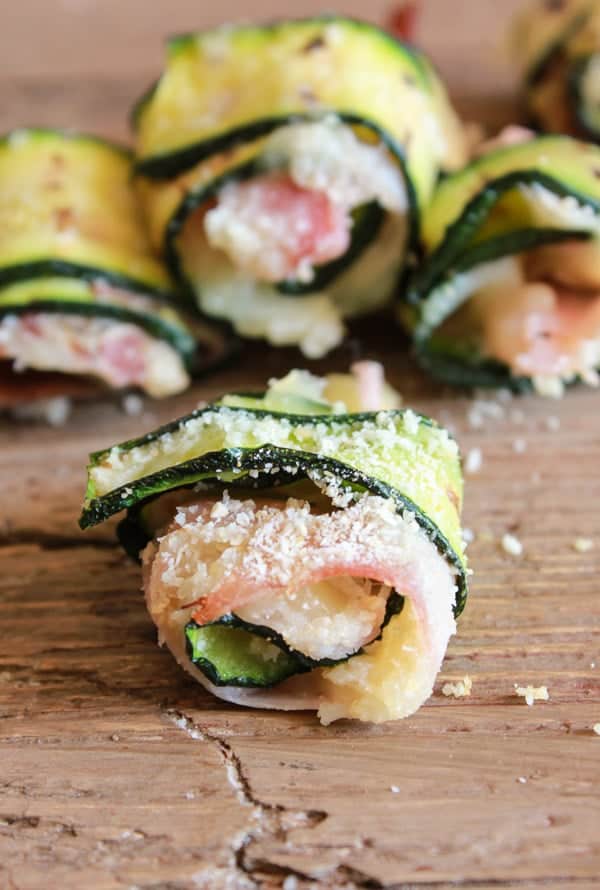 Summer is here and it is almost time for my eldest daughter's annual Barbecue and that mean lots of cooking. I love making appetizers, especially these Bite Size Grilled Zucchini Roll-Ups.
Because they are really quick and easy and nothing's better than bite size. Just pop them in your mouth. Sometimes one right after the other!
Zucchini I find to be a great summer  vegetable, there are so many ways of serving them. Sometimes the only drawback is they are quite watery, I find it has kind of a slimy feeling, but when they are grilled, zucchini  becomes so much more, it enters into a whole new class of food.
To grill the zucchini I use a grill pan on quite high heat (a barbecue grill works just as well), thin slices of zucchini are grilled in no time.
I actually filled a few  of these little Bite Size Grilled Zucchini Roll-Ups with Prosciutto di Parma and a few with cooked ham slices, if you are looking for a vegetarian version eliminate the prosciutto and add extra cheese, just as yummy!
I chose a couple of medium-sized zucchini, sliced them quite thin, grilled them and then added some Prosciutto and a little bit of cheese. Rolled them and secured with a toothpick.
Sprinkle them with some bread crumbs and freshly grated Parmesan cheese. Then into the oven they went  for about 10 minutes. They barely made it out of the pan and on the table. Okay a few found their way into my mouth too!
I make them, I eat them. That's my motto.
My advice when you are looking for a perfect appetizer, these easy and delicious Bite Size Grilled Zucchini Roll-Ups, these I am telling you, are the ones. Buon Appetito!
Bite Size Grilled Zucchini Roll-Ups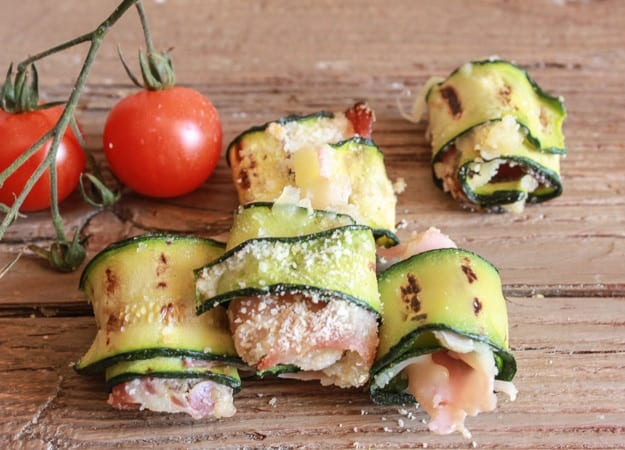 Bite Size Grilled Zucchini Roll-Ups
Bite Size Grilled Zucchini Roll-Ups are the perfect appetizers, a fast, easy and delicious recipe. Great anytime or even when entertaining.
Ingredients
2

medium-large zucchini cut thin lengthwise, I got 21 strips

1/2

cup

grated cheese or a little extra cheese if you are doing the vegetarian version.

firm mozzarella or Gruyere, 63 grams

7

slices

of Prosciutto di Parma or Cooked Ham (depends on how many slices of zucchini you have out of one slice you can usually get enough for 2 or 3 strips of zucchini)

1/4

cup

bread crumbs

23 grams

1/4

cup

Parmesan cheese

25 grams

* these ingredients pertain to 21 strips of zucchini
Instructions
Pre-heat oven to 400° (200° celsius), lightly grease a medium baking dish.

Grill the zucchini strips (do not burn), on every strip of zucchini place one slice of Prosciutto, and some grated cheese, roll and secure with a toothpick.

Place in baking dish, sprinkle with bread crumbs and Parmesan cheese. Bake for approximately 10 minutes. Serve immediately. Enjoy!

* No salt needed. If you like it quite savory then the Prosciutto is for you if you prefer a more delicate taste then choose the cooked ham. Or go half and half like I did.
Nutrition