Mushroom Cream Cheese Spread the perfect anytime appetizer. A fast and easy spread or dip, made with fresh mushrooms, spices and cream cheese. The perfect addition to any BBQ, makes a delicious Bruschetta spread.
In the summertime when BBQing, Italians like to grill sausages and chops or one of my favourites, thick slices of bacon! So good.
And of course besides the side salads including a delicious cold Bean Salad and of course you gotta have Bruschetta. From a Simple Bruschetta with a delicious topping of Fresh Tomatoes to some simple Oven Dried Tomatoes.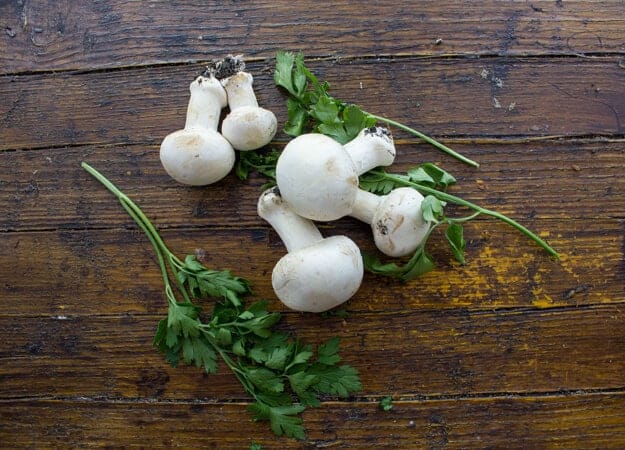 Just before leaving on our trip to Canada we had a few friends over for a BBQ and I wanted to do something different as a spread for the bruschetta. Since I had a package of mushrooms in the fridge I knew they were going to be the star.
It had to be a creamy, cheesy mushroom spread I decided. I didn't want to blend the mushrooms I wanted to leave them chopped, but not raw. Best way to do that was to chop them up quite small.
I placed them into a medium size bowl and drizzled them with the juice of a half lemon and some salt, and let them sit for about 30 minutes.
They release quite a bit of water so I then drained them and squeezed out as much of the excess water as possible. But remember don't rinse them! I then added some fresh chopped Italian parsley, oregano a little olive oil and of course some cream cheese.
Mushroom Cream Cheese Spread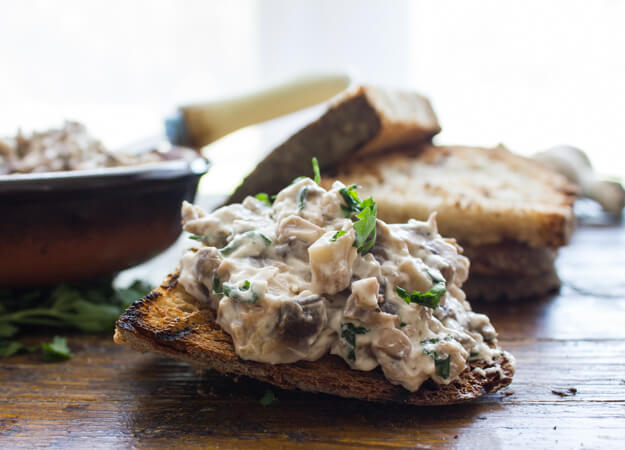 You are going to love this and believe me so did my guests! To tell the truth you can make this Mushroom Cream Cheese spread anytime and serve it with some crackers or even some tasty Italian bread. Fast and easy and delicious. Buon Appetito!
Mushroom Cream Cheese Spread
A fast and easy fresh mushroom dip or spread, serve with crackers, bread or bruschetta. The Perfect appetizer.
Ingredients
2

cups

finely chopped mushrooms

1

teaspoon

salt

5.64 grams

juice of 1/2 lemon

1 1/2

teaspoon

olive oil

6.8 grams

1-2

sprigs freshly chopped Italian parsley

dash of oregano

2 1/2

tablespoons

cream cheese

50 grams
Instructions
In a medium bowl combine, chopped mushrooms, salt and lemon juice, stir gently to combine, let sit for approximately 30 minutes.

Drain well and squeeze out excess moisture but do not rinse.

Place back in bowl and add olive oil, chopped parsley, oregano and cream cheese, fold gently to combine. Chill for approximately 30 minutes if desired or even overnight. Serve with crackers, bruschetta or Crusty Italian Bread. Enjoy
Nutrition