Remember that saying  "Beans, beans are good for the heart, the more you eat the more you fart?"  Well, I used to sing that to my kids and my husband, every time I made this Borlotti Bean Salad or any beans for that matter.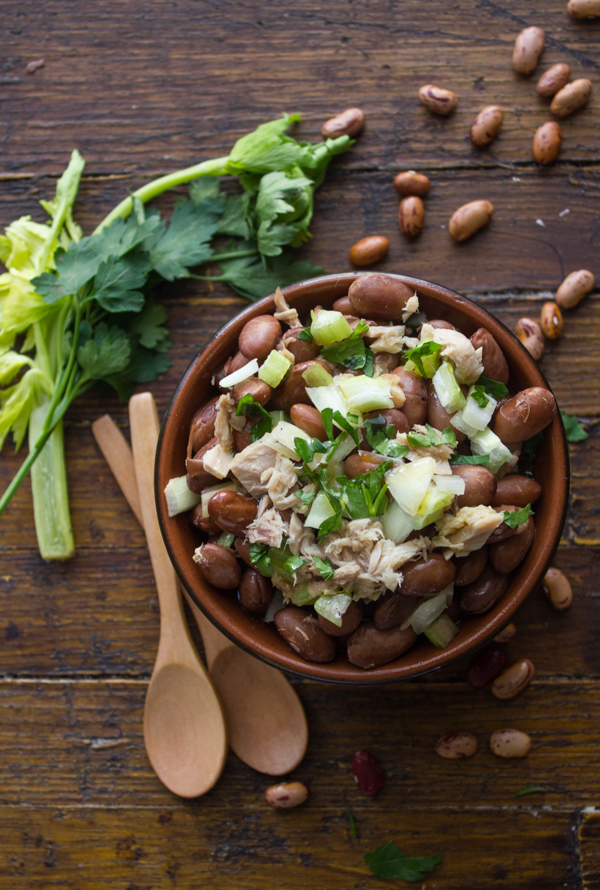 Being far away from home I would try to bring  a little bit of my life as a Canadian to my daughters and my husband, even if it meant singing silly little songs or even  reading The Cat in the hat, (as a kid that was always my favourite).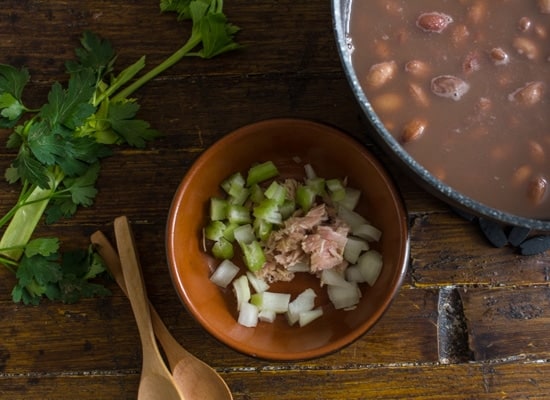 Making my Mom's special Thick Peanut Butter Chocolate Chip Cookies, a Delicious Coffee Cake or even a over the top Chocolate Layer Cake with Buttercream Frosting didn't hurt either.
But now, living in Italy and learning to cook and eating Italian Food I have added a lot of special food to my list, including this fast and easy and I have to say amazing Borlotti Bean Salad.  Everybody will love this one.
Easy Borlotti Bean Salad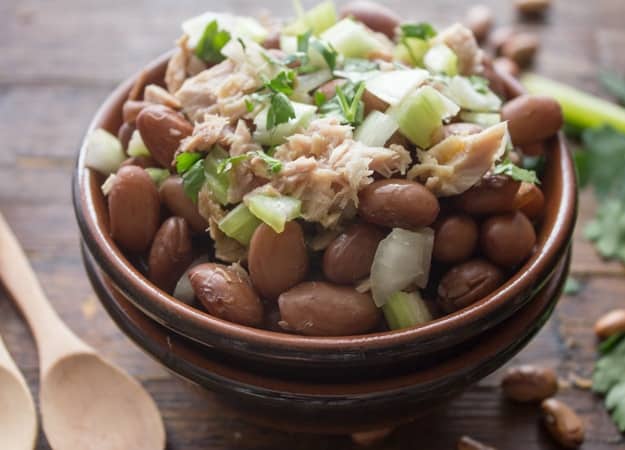 Seriously, this is probably one of the tastiest and most hearty bean salads ever.  This salad is great either served warm, room temperature or even cold just out of the fridge.
This is one of those things that I pull out of the fridge as leftovers for dinner and I eat half of it as I'm setting the table and then I think  "hell, now what?"
It's almost gone! I make this Bean Salad all year round, it even makes a great appetizer.  But however you serve it, appetizer or main course, I am sure you will love it.  Buon Appetito!
Easy Borlotti Bean Salad
Borlotti Bean Salad, an easy, fast and delicious healthy Italian bean salad recipe. The perfect appetizer or main meal. Enjoy.

Total Time
1
hour
5
minutes
Ingredients
1 1/4

cups

dried borlotti beans

225 grams

1

celery stalk chopped

1

small onion chopped

2

small cans flaked tuna

160 grams

1/2

teaspoon

salt

2 grams

3

tablespoons

olive oil

40 grams

1/4 - 1/2

grams

bean juice

57 to 115, liquid left in the pot after beans are cooked
Instructions
The dried beans have to be soaked for at least 8 hours, so the night before soak beans in a large bowl of water, (then after the 8 hours drain and rinse). In a medium pot add beans and cover with water to 1 inch (2.5 centimeters) from the top. Cover and cook on high heat till boiling, once boiling half uncover and continue to cook till tender, approximately 50 minutes (might need to go longer so taste a bean after 40 minutes and then again after 10 minutes, until cooked to desired tenderness). Remove cooked beans from pot leaving bean juice.

In a medium bowl, add chopped onion, celery, and flaked tuna, toss gently to combine, then add cooked beans, salt, oil and bean juice, again toss gently to combine. Serve immediately or at room temperature. Buon Appetito!
Nutrition