Mushroom Risotto is a creamy rice dish made with broth, white rice, mushrooms, and two kinds of cheese. Some mascarpone cheese makes it rich and creamy and Parmesan adds lots of flavor. Homemade risotto is not hard to make and the results are amazing. This is a classic Italian recipe every home cook should try.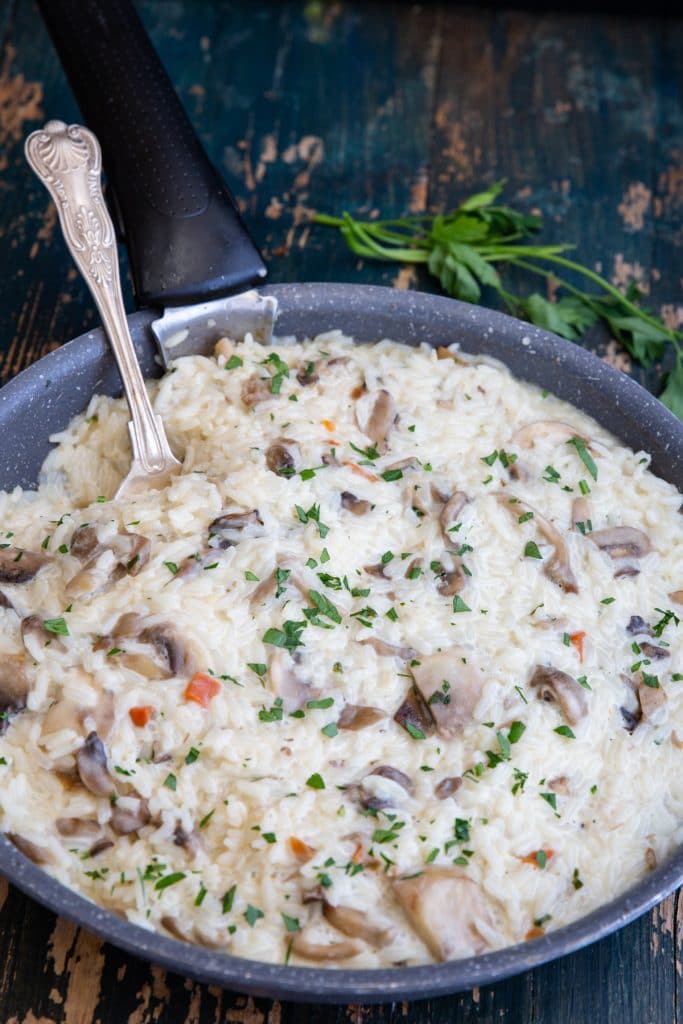 Somehow, and I'm not sure why, risotto got a reputation for being difficult to make. My friends and family who don't cook as much are so surprised to learn that it's actually quite easy, it just takes a little patience.
For this mushroom risotto, you don't need any special skills or equipment. If you can stir, you can make it! And there is really nothing better than homemade creamy risotto. It's rich and cheesy with delicious mushrooms. Perfect for a cold day.
Ingredients
Olive oil (divided)
Butter
Minced garlic
Sliced mushrooms
Salt and pepper
Chopped parsley
White rice – regular long grain or arborio
Minced shallot
Vegetable broth – homemade or store bought
Mascarpone
Freshly grated Parmesan cheese
Recipe Steps
In a large pan, cook the garlic in olive oil and butter. Cook it for one minute, or just until it's fragrant. Add the mushrooms, salt and pepper, and parsley.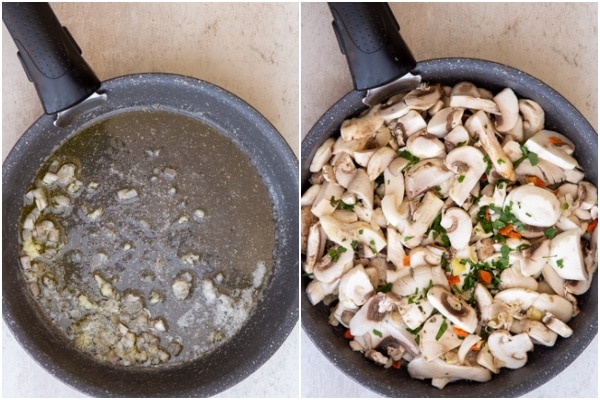 Stir and cook them until the mushrooms are soft and golden brown.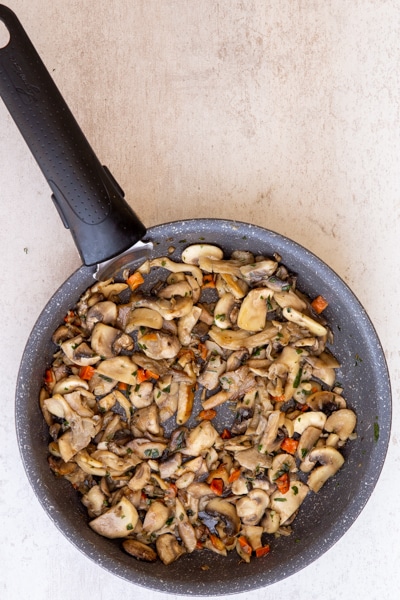 In a large pan, combine the rest of the olive oil and butter and, once the butter is melted, add the rice. Stir to combine then cook the rice over medium heat for two minutes, stirring occasionally.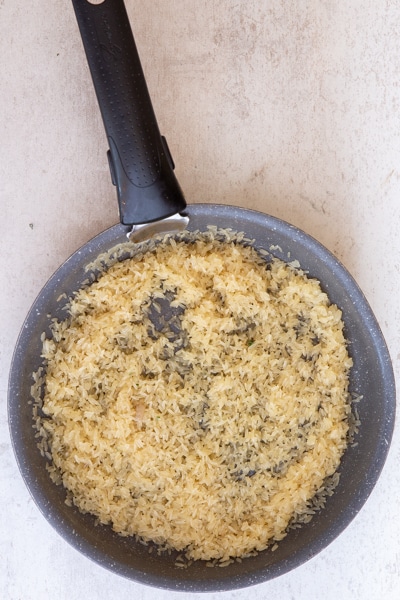 Add a 1/2 cup of broth to the pan. At this point, adjust the heat if needed. You want the broth to gently simmer so lower the heat, if needed. Stir the rice. As the broth simmers, the rice will absorb it. Once most of the liquid is absorbed, add another 1/2 cup of broth.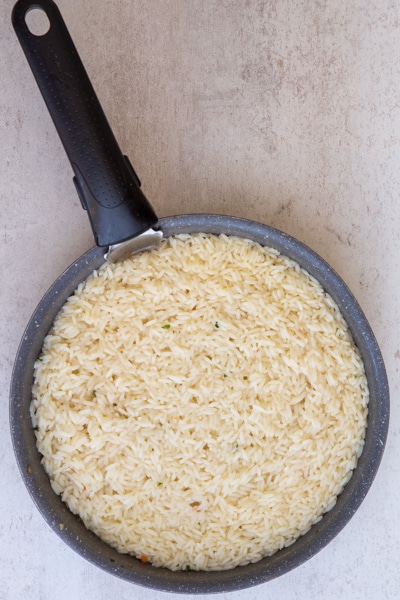 Continue this process until the rice is cooked to al dente. You may not need to add all of the broth. It will take about 20 to 30 minutes for the rice to cook this way.
Add the cooked mushrooms to the rice. Stir in the mascarpone and Parmesan cheese. For serving, I like to add a little more Parmesan and chopped parsley for garnish.
Tips for Making the Best Risotto
For this recipe, you can use storebought broth or you can use homemade. Depending on your broth, you may need more or less salt in the dish. It's always better to wait to add salt until it's done – so, give it a taste and add more if you think it needs it.
I like to use vegetable broth, but you can also use chicken broth if that's what you have on hand.
Don't rush adding the broth to the rice. You want the rice to slowly absorb the liquid. It will release starch and turn very tender and creamy. If the rice cooks too fast it will have a completely different texture.
Any kind of mushrooms you like will work in this dish. I have used this recipe to make wild mushroom risotto, too. No matter which kind you use, it helps to slice or chop them into equal-sized pieces so they cook evenly.
Mushroom risotto is best when it's made. If you have leftovers, you can reheat them with a splash of broth to thin it. Or, even better, use it to make homemade arancini which are delicious rice balls.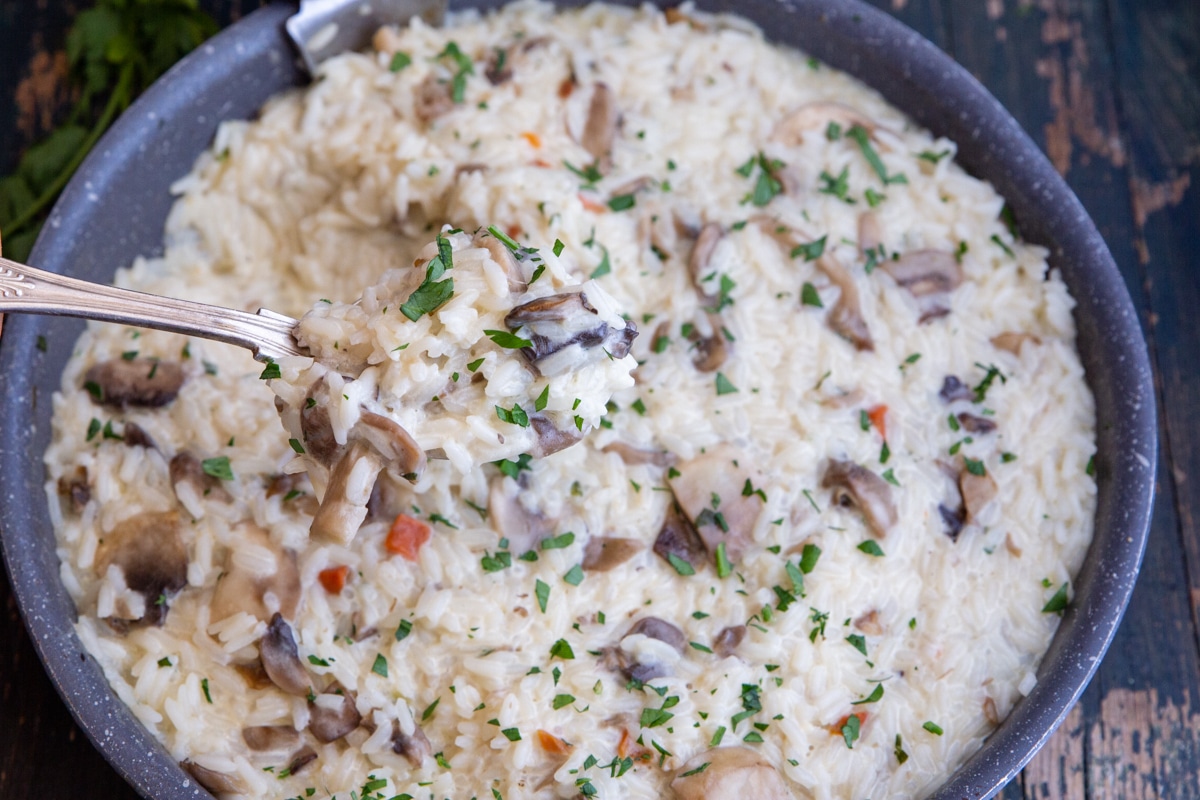 Do you need wine to make risotto?
No, you don't have to add wine to risotto. Many recipes call for this, but I like to make my mushroom risotto without wine. If you do want to add some, you should add it while the rice first cooks before adding any broth. Let it bubble and evaporate before adding the broth.
More Recipes
Once you know how to make risotto it's easy to switch up the ingredients. Here are other versions I've made that are delicious, too.
Squash Risotto can be made with pumpkin, butternut squash, or acorn squash for a great fall dish.
Four Cheese Risotto combines Swiss, Fontina, Parmesan, and Gorgonzola for the richest, cheesiest risotto.
During the summer I love to make Zucchini Risotto – it's a great way to use up all that extra zucchini.
This Italian mushroom risotto is always a favorite at our house. Pair it with a salad and a glass of wine for a great lunch or dinner. Enjoy!
Italian Mushroom Risotto Recipe
Mushroom Risotto is a creamy rice dish made with broth, white rice, mushrooms, and two kinds of cheese. Get tips for making the best homemade risotto!
Follow me on Youtube!
Watch the videos and don't forget to subscribe on Youtube!
Ingredients
2

tablespoons

olive oil (divided)

2

tablespoons

butter (divided)

1

clove

garlic (minced)

2-3

cups

sliced mushrooms

1-2

dashes

pepper

1

pinch

salt*

1

tablespoon

freshly chopped Italian parsley

1¼

cup

white rice

1

shallot (minced)

3-4

cups

vegetable broth (homemade or store bought)*

⅓-½

cup

mascarpone

¼

cup

freshly grated Parmesan cheese
*Depending if you make your own or store bought, you may not need to add salt. So taste for salt.
EXTRAS
2-3

tablespoons

freshly grated parmesan cheese

½

tablespoon

freshly chopped Italian parsley
Instructions
In a large pan add 1 tablespoon of olive oil, 1 tablespoon of butter and garlic, cook for 1 minute. Add the mushrooms, salt and pepper and parsley, cook until mushrooms are tender and slightly golden.

In an another large pan add the remaining tablespoon of olive oil and butter, melt, add the rice, stir to combine then cook on medium heat for about 1-2 minutes, stirring often.

Add the broth a little at a time (about 1/2 cup at a time), stirring often, lower heat a little, you want a low simmer, you do not want the rice to cook too quickly. Let the rice absorb the broth (but not dry out, a little moist) before adding more. Taste for salt (you may not have to add any if you have a salty broth), cook for approximately 20-30 minutes or until the rice is al dente, not mushy and a little moisture remains.

Add the mushrooms and stir to combine well, add the mascarpone and parmesan, gently combine. Top with parmesan cheese and chopped parsley before serving. Enjoy!
Notes
Mushroom risotto is best when it's made. If you have leftovers, you can reheat them with a splash of broth to thin it. 
Nutrition
Calories:
470
kcal
|
Carbohydrates:
53
g
|
Protein:
10
g
|
Fat:
24
g
|
Saturated Fat:
11
g
|
Polyunsaturated Fat:
1
g
|
Monounsaturated Fat:
7
g
|
Trans Fat:
1
g
|
Cholesterol:
41
mg
|
Sodium:
930
mg
|
Potassium:
272
mg
|
Fiber:
2
g
|
Sugar:
3
g
|
Vitamin A:
1017
IU
|
Vitamin C:
4
mg
|
Calcium:
130
mg
|
Iron:
1
mg