Creamy Pumpkin Risotto, the perfect Italian comfort food recipe that is perfect for fall. Arborio rice is slowly cooked in broth until it's tender and then finished with Parmesan, cream, and delicious cooked squash.
Ahhh risotto, I think one of the most delicious Italian dishes, there is nothing like a creamy and full of flavour risotto..
My husband is not a big rice lover (unfortunately for him because we are) but a risotto, when it's cooked well, even he will admit that it's good and will eat it. If he had to choose a risotto dish he would definitely go for a squash risotto, perfect for the cool fall weather.
But why are so many people afraid of trying to make a risotto? Probably because the perfect risotto takes a little, ok, maybe a lot of attention. But making a delicious four-cheese risotto, zucchini risotto, or this pumpkin risotto is a treat and not hard. They just take time.
Certainly not like leaving a pot of sauce on the stove while you go make the beds or do some math homework with the kids or even write a new post on your blog.
A Risotto is one of those dishes to make when you have the time and the patience because you will have to watch and stir this squash risotto for approximately 20 to 30 minutes, but in the end, the result will be well worth the effort!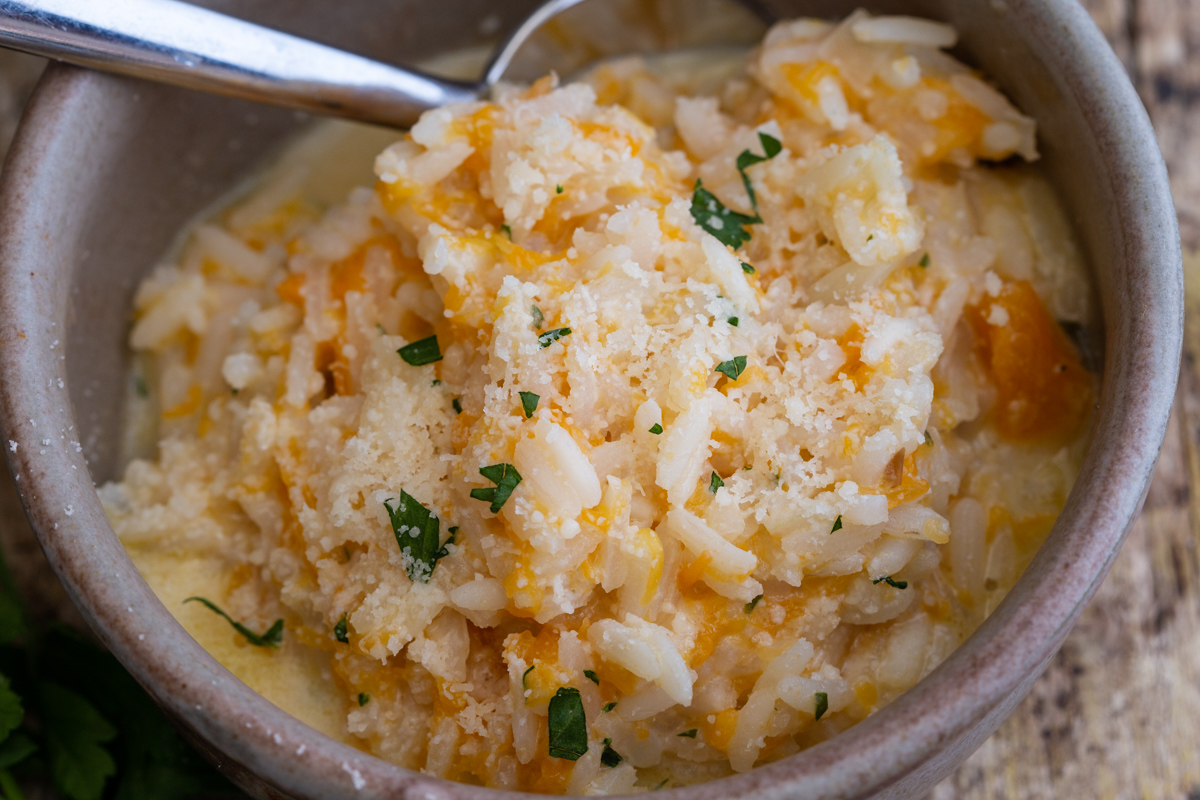 Ingredients
Squash – any squash will work and for fall I make pumpkin risotto. You can also use butternut squash or acorn squash.
Chopped onion
Olive oil
Arborio rice
Salt
Broth (homemade or storebought)
Butter
Grated Parmesan cheese
Whole cream
Recipe Steps
First, prepare the pumpkin. Cut it into four or five slices and clean out the seeds. Place the slices on a baking sheet and bake them at 350°F (180°F) for 15 minutes. Remove the skins and cut the squash into small cubes.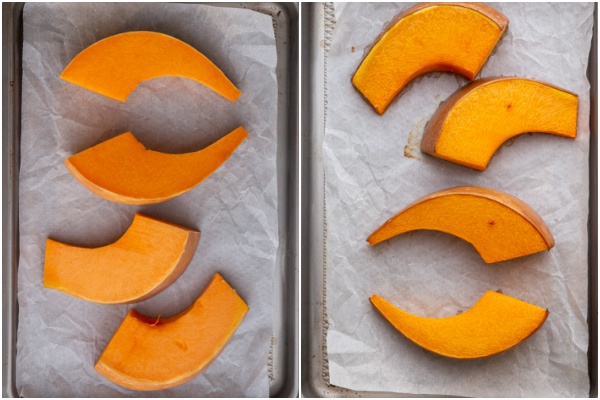 Heat the olive oil in a large pan and then add the onion and cook it until it's translucent.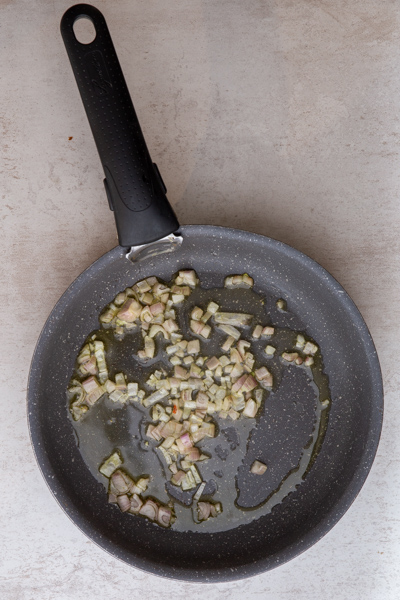 Add the cubed pumpkin and salt and coarsely mash it. I like it coarsely mashed because we like small cubes of pumpkin in the finished risotto. If you like, you can finely mash it.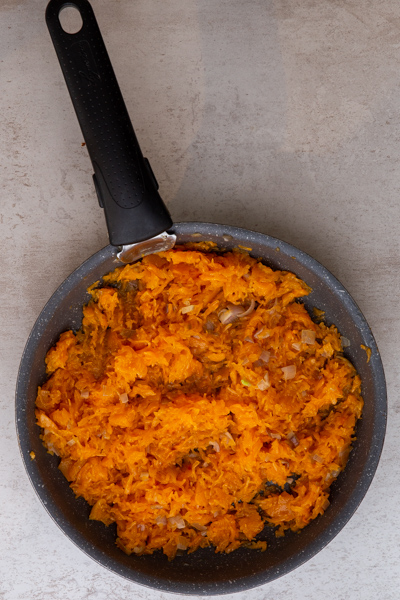 Add the rice to the pan, cook for 1 minute then add one cup of broth. Stir and once the rice has absorbed most of the liquid, add another cup of broth. Repeat this process until the rice is creamy and tender. Don't let it get too dry.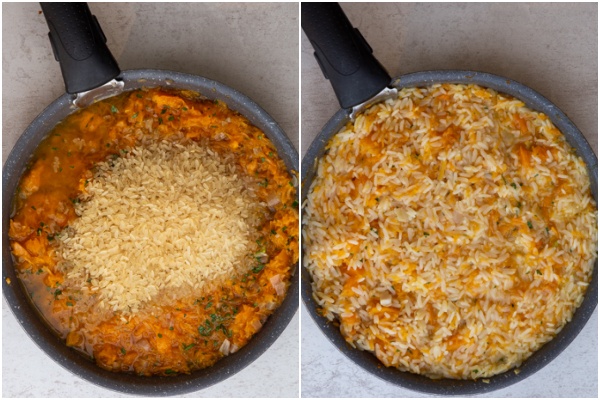 Turn off the heat, add the butter, cream, and cheese. Stir to combine. For serving, you can add some more Parmesan cheese on top.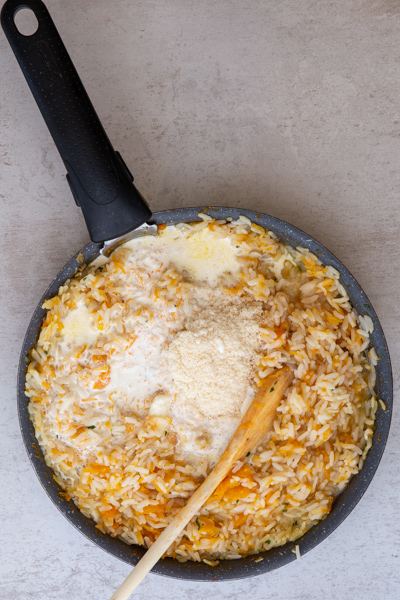 Can you cook risotto without wine?
I am asked this question a lot and the answer is, yes, you can cook risotto without wine. Many recipes call for it – it adds a little flavor and acid to the dish which can offset the richness. But, it's not required and I usually my risotto without it.
f you do want to add some wine, choose a dry white wine that you like the flavor of. When you add the rice to the pan, add a splash or two of the wine and little it simmer and reduce. Then proceed with adding the broth.
Recipe Notes
Homemade pumpkin risotto is best when it's made. When risotto cools, it tightens up and is less creamy and more sticky. If you have leftovers, I recommend using them to make rice balls.
I serve it as a main dish because it's very rich and filling. Adding a grilled or roasted vegetable is a good side dish or some crusty bread.
Make this when you're not rushed and have time to stir and simmer. It might be a delicious lazy Sunday lunch? Buon Appetito!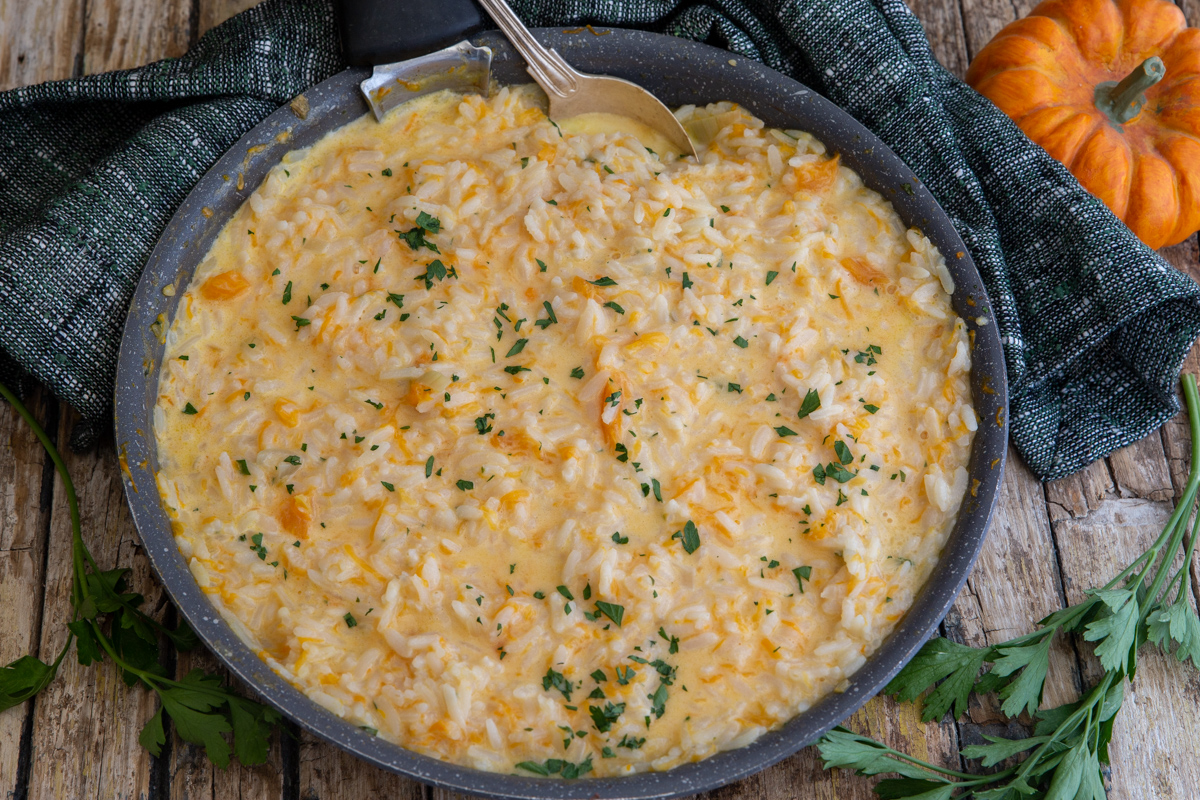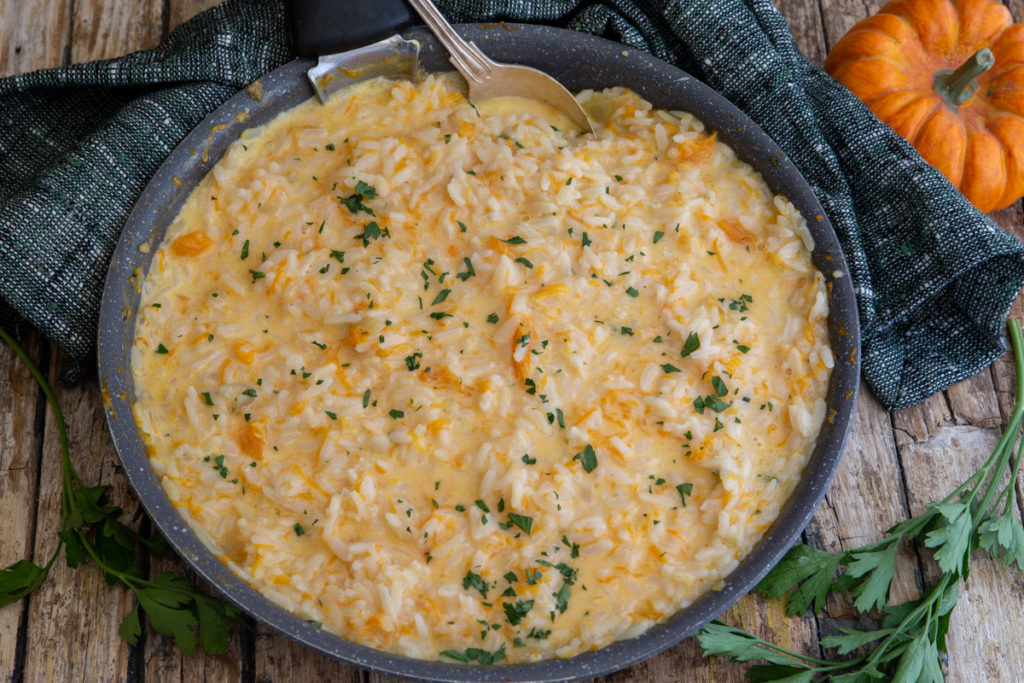 More Recipes You Might Like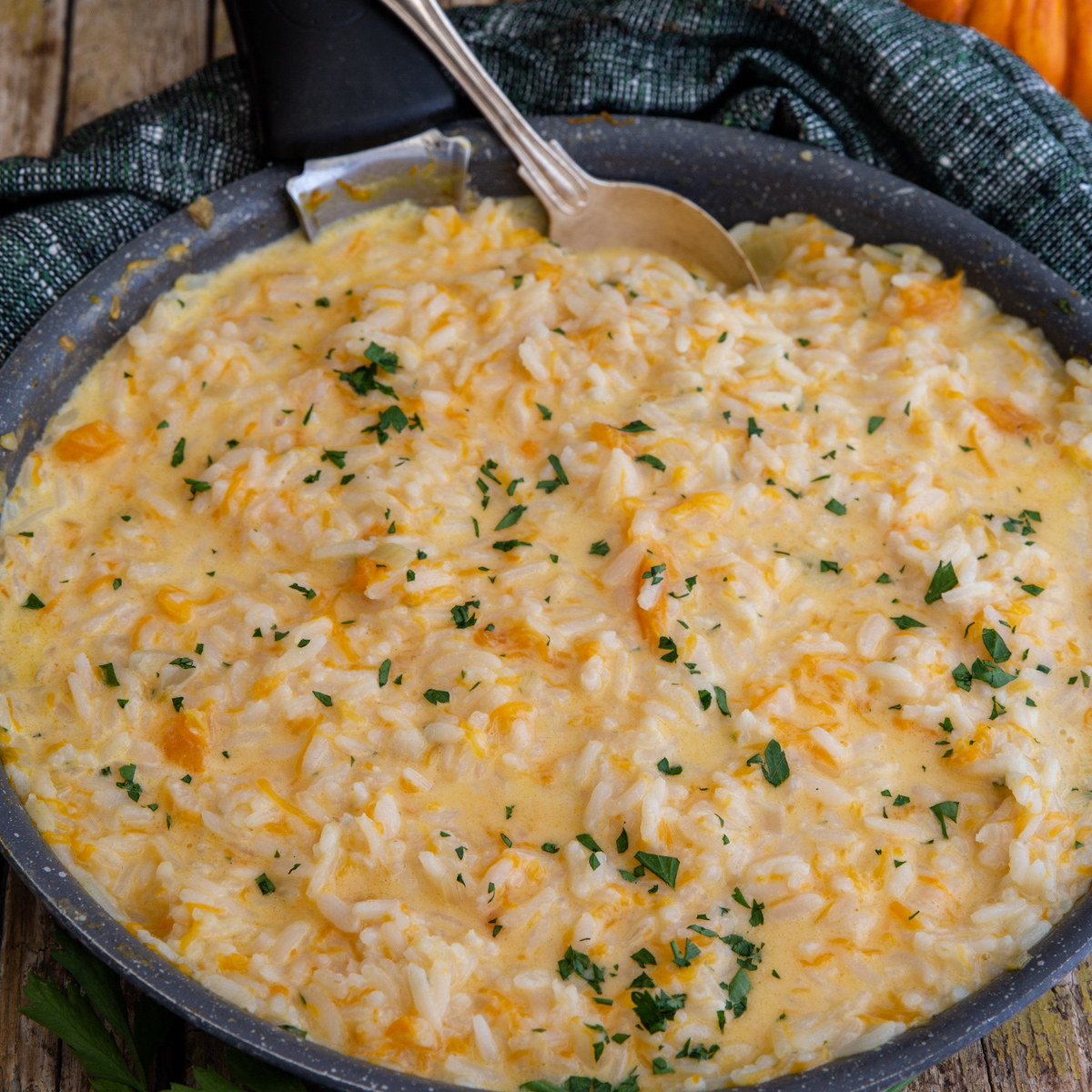 Pumpkin Risotto
Pumpkin Risotto, a delicious creamy Italian risotto, butternut, pumpkin or acorn any squash will do, a perfect Fall/Winter meal or side dish.
Ingredients
1/2

pound

raw squash (I used butternut squash)

1/2

onion chopped

1

tablespoon

olive oil

1 1/2

cups

arborio rice (short grain rice)

1/4-1/2

teaspoon

salt

5

cups

broth (homemade or store bought)

1 1/2

tablespoons

butter

1/4

cup

freshly grated parmesan cheese

1/4

cup

whole cream
Instructions
Pre-heat oven to 350 ° (180° celsius)

Clean squash (remove seeds but leave the skin) and cut into 4 or 5 large slices, place on a cookie sheet, cut side up and bake for approximately 30 minutes or until tender. Remove from oven let cool enough to handle, remove the skin and cut into small cubes.

In a medium to large pan add the olive oil and chopped onion, cook on medium heat until the onion becomes transparent then add the squash and salt, with a potato masher mash coarsely or finely the onion and squash (I mashed very coarsely because we like small cubes of squash in our risotto). Then add the rice, cook for 1 minute, add the broth one cup (250 grams) at a time, wait until the rice absorbs the liquid (but is not completely dry) before adding another cup, stirring almost constantly.

When the rice is cooked (add a little broth if needed). Remember you want to leave a little liquid, the texture must be creamy and not dry. Turn off heat and add the butter, cream and freshly grated parmesan cheese, stir to combine. Top with extra parmesan if desired. Serve immediately, Enjoy!
Nutrition
Calories:
357
kcal
Carbohydrates:
54
g
Protein:
6
g
Fat:
12
g
Saturated Fat:
6
g
Cholesterol:
29
mg
Sodium:
230
mg
Potassium:
230
mg
Fiber:
2
g
Sugar:
1
g
Vitamin A:
5145
IU
Vitamin C:
10.3
mg
Calcium:
88
mg
Iron:
2.9
mg