I have to admit I don't make ravioli very often. In fact I am quite the novice. But I just had to stuff something with this too-yummy-Creamy-Squash-filling and because my sister-in-law gave me a giant Italian Pumpkin.
It is the colour of a butternut squash and the size of a Halloween pumpkin, therefore, I think the best squash for this filling is either a butternut squash or pumpkin.
Creamy Squash Filled Ravioli
Well the first time I made these Creamy Squash Filled Ravioli, they were loved by all, but they didn't look so hot. And then suddenly a light bulb went off in my head, I have a ravioli mold upstairs, so you say go get it! Ummm easier said then done.
If you have ever seen Friends (of course you have) and the episode "Monica's closet" you will have an idea of what my upstairs looks like.
I live by the thought "I might need that someday, take it upstairs", "you never know, take it upstairs", so by the time you realize you really won't be needing that, you can no longer get upstairs.
Needless to say it took more than just a minute, but find it I did, and still in the box! So believe me, once you have a ravioli mold its smooth sailing.
The pasta dough is really simple, just three ingredients. It is my mother-in-law's recipe and is the basic Italian pasta all'uovo (egg pasta), eggs, flour and salt.
Simple and perfect. I've always loved watching her make pasta, no machines, all hand done,and rolled with a long thin rolling-pin, no machine in site, it was and still is an art.
Living in Italy, there are fresh pasta stores everywhere, almost like there are Starbucks' in Canada and the USA (OK not quite), not much need to make your own, but when you do, it is one of those things that you say to yourself "Damn, I have to make this more often".
Because this filling is quite rich you don't want to use another Rich Sauce, but a simple butter sage sauce. Toss the cooked Ravioli with the sauce and dinner is served. Buon Appetito!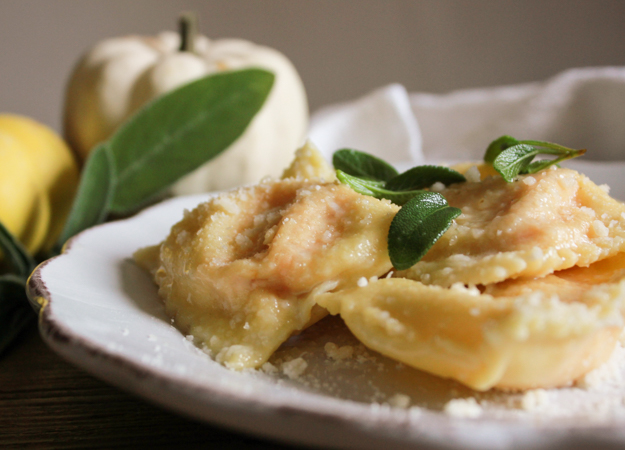 Creamy Squash Filled Ravioli
Makes approximately 48 ravioli.
Ingredients
PASTA DOUGH

2

cups

+ 2 tablespoons flour

300 grams

3

eggs

1/4

teaspoon

salt

1.4 grams

FILLING

2

cups

pureed squash

approximately 2 pounds/1 kilo fresh, if you use canned make sure it is only pureed squash and no extras, 460 grams

1/2

cup

freshly grated Parmesan cheese

50 grams

1/2

teaspoon

salt

2.8 grams

2

tablespoons

flour

16 grams

BUTTER SAGE SAUCE

7-8

tablespoons

butter

99/113 grams

8

leaves

sage

1/4

cup

freshly grated Parmesan cheese + extra

25 grams
Instructions
PASTA DOUGH

In a large bowl whisk together the flour and salt, make a well in the middle add the eggs, (you can either combine with your fingers or fork), start with beating gently the eggs and adding in the flour a little at a time until all is nearly combined, move mixture to a lightly floured flat surface and knead (add a little flour when needed to the surface, (if it is too sticky) until dough is smooth, almost silky and well combined. Cover and let rest 30 minutes.

FILLING

Boil fresh squash in a pot of water, puree until smooth, (or canned no extras) place in a sieve and let drain 10-15 minutes. In a medium bowl combine well, pureed squash, Parmesan cheese, salt and flour.

ROLLING OUT THE PASTA

If you don't have a pasta machine, I recommend rolling the pasta out in small batches, because it has to be quite thin, (1/8 inch or 1/3 centimeter) always keep the dough lightly floured or it will stick. If using a machine, take a batch of dough (the size of an apple) flatten and lightly flour, and place through the machine (using the largest setting), fold the ends into the middle and feed through the machine again (remember to always lightly flour the dough),change the setting to smaller and feed through the lightly floured dough again, continue until you reach the correct thickness, should happen around the 5th or 6th feed, and don't forget to always lightly flour the dough, (change the setting to smaller). Pasta should be long enough to cover the ravioli mold 2x.

Lightly oil and flour well the ravioli mold, place the floured side down pasta dough on the ravioli mold (see photo "dough in ravioli mold"), fill with squash filling (about a heaping teaspoon), cover with the second layer of dough. Press firmly down a 2-3 times on the borders and in between the ravioli, (use the small rolling-pin that comes with the ravioli mold if you wish). Flip the ravioli mold upside down on a lightly floured surface,separate the ravioli using a really sharp knife, pizza cutter or ravioli cutter, make sure the ravioli are not touching and lightly dust the ravioli with flour, and continue with the remaining dough. Lightly flour the ravioli mold again.

In a large pot of salted boiling water add the ravioli and cook for approximately 5-6 minutes or until they float to the surface (I always try a bit of the edge of a ravioli to make sure it is cooked).

BUTTER SAGE SAUCE

In a large frying pan on low heat add butter and almost melt add the sage and continue on low heat for approximately 1-2 minutes add well drained ravioli, sprinkle with freshly grated Parmesan cheese, toss gently and serve, sprinkle more Parmesan if desired. Enjoy!

**If you don't have a ravioli mold you can always cut out circles in the dough, fill with squash filling, fold the circle over and seal well (with slightly wet fingers and finish sealing with a fork).
Nutrition