Easy Tomato Cream Sauce for Ravioli, an easy sauce made with Tomato Puree and fresh cream. The perfect sauce for some Homemade or Store bought Ravioli or Tortellini.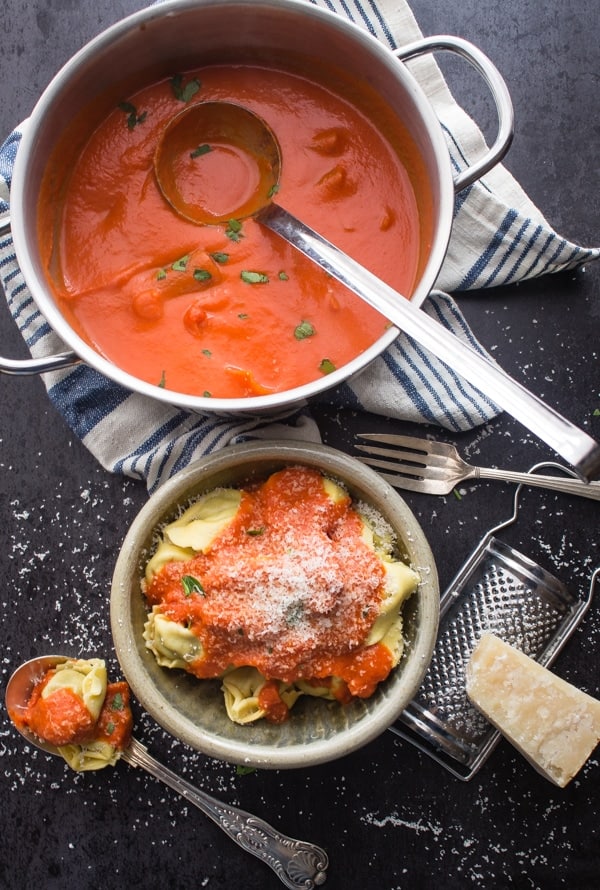 When I think back on over 20 years ago and how things have changed and how I have changed, I often wonder how did I do it?
I certainly couldn't converse in Italian, I missed my family and friends and don't forget not a mall in site! Of course over the years everything has changed, my Italian has improved, I still miss my family and friends and malls are in site.
One thing that drew me into this beautiful but unfortunately badly run country was and is the food. Is there another country on earth that appreciates food as much as this one?
Italians discuss food anytime and all the time, especially when they are eating!
At least once a day whether it is lunch or dinner, food and conversation must be shared at least for an hour or two. So when you have the time for a relaxing lunch or dinner this is the perfect sauce for you.
This Easy Tomato Cream Sauce for Ravioli is so easy to make adding a little cream to the thickened sauce makes a delicious sauce perfect.
I was served Ricotta and Spinach stuffed Ravioli with this amazing tomato cream sauce by my sister-in-law. This was the first meal I was served on my arrival in Italy and it has become one of my favourites.
Easy Tomato Cream Sauce for Ravioli
It has a wonderful soft creamy taste thanks to the simmering of the carrot and celery. The carrot and celery pieces are delicious and may be served with the pasta, my kids actually fight over the last piece! Easy Tomato Cream Sauce is fast and easy and so yummy!
Easy Tomato Cream Sauce for Ravioli can be served with homemade ravioli, your favourite store-bought ravioli or even normal pasta of choice. Whichever you choose as the Italian says "take your time, relax". Buon Appetito!
Easy Tomato Cream Sauce for Ravioli
Easy Tomato Cream Sauce, an easy delicious creamy tomato sauce perfect for ravioli, tortellini and pasta. A must try.
Ingredients
2 1/2

cups

tomato puree (passata)

680 gram bottle

1

carrot quartered

1

small stalk celery quartered

2

tablespoons

butter

1/2

teaspoon

salt

1 1/2

cups

- 2 cups water (if puree is very thick)

345 grams

1/4

cup

whole cream

60 grams
Instructions
In a medium to large pot add butter, tomato puree, carrot, celery,water and salt, stir and cook on low to medium heat, half covered till thickened, for approximately 30-40 minutes, stirring occasionally, once thickened add the cream ,stir to combine and cook for about 1 minute, turn off heat. Serve over cooked ravioli or pasta. Enjoy!

* Unused sauce can be refrigerated for 2-3 days.
Nutrition
Easy Creamy Tomato Sauce for Ravioli was originally posted May 2015.