Fettuccine and Meat Sauce, the perfect weekend Pasta Dish, rich and comforting. A family favourite Italian Dinner Recipe.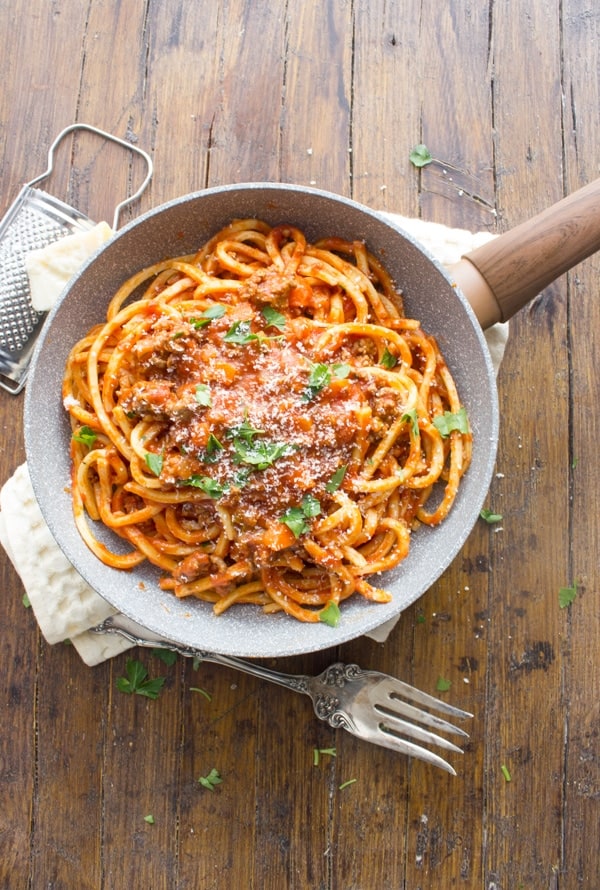 Ahhh pasta! I don't think I have eaten a dish  I didn't like! This fettuccine and Meat Sauce is one of my favourites and one that probably brings back the most memories.
This pasta dish was something my mother-in-law made for special occasions and sometimes if we were lucky she even made her own fettuccine.
My own mother made her own delicious meat sauce and Meatballs almost every Sunday. My father was not much of a pasta guy, but my mother,  me and my sisters sure were.
This is the perfect Sunday dinner recipe or company-coming-for-dinner-what-should-I-make-dish. I lighten up my sauce by pre-boiling the ground beef for about five minutes and then adding it to the tomato puree with all those amazing spices.
So when the sauce is simmering on the stove it  fills the house with so much aroma you really don't think you can wait for dinner. But the wait will certainly be worth it.
I love this kind of sauce too because you can let it thicken to what ever consistency you desire. I prefer it on the thicker side but some people, my husband for example prefers it a little bit thinner. Sometimes he wins sometimes I do!
Fettuccine and Meat Sauce
Here in Italy pasta is usually served at noon and  pasta is called " primo piatto" (the first dish) and then it would be  followed up with a "secondo piatto" and a "contorno" (a meat dish and a vegetable).
But if you made this fettuccine and meat sauce for dinner you could serve it with a nice salad tossed with olive oil and a little wine vinegar or balsamic vinegar and of course don't forget the Italian crusty bread, with this dish you will certainly want to scoop up every drop of that delicious meaty sauce.
Of course don't forget a nice glass of white wine if you wish. Buon appetito!
Fettuccine and Meat Sauce
Fettuccine and meat sauce one of the most delicious Italian recipes. An easy, healthy tomato sauce, the perfect addition to any pasta.
Follow me on Youtube!
Watch the videos and don't forget to subscribe on Youtube!
Ingredients
3

cups

tomato puree (passata)

680 grams

1/2

pound

lean ground beef

250 grams

2

tablespoons

olive oil

26 grams

1/2

teaspoon

salt

2 grams

1

teaspoon

oregano

3/4 gram

1

teaspoon

basil

3/4 gram

3-4

leaves

fresh basil chopped

1-2

cloves

garlic chopped

1

bay leaf

2

cups

water

472 grams

1

small carrot chopped

1/2

onion chopppec

4

cups

cooked fettuccine
Instructions
In a medium- sized pot add olive oil, garlic, chopped carrot, chopped onion and cook on medium for approximately 5 minutes add ground beef and brown, then add puree,salt,oregano,basil,fresh basil leaves,bay leaf and water. Bring to a boil, then lower heat and simmer for approximately 35-40 minutes or until desired thickness. Serve over cooked fettuccine and sprinkle with freshly grated parmesan cheese. Enjoy!
Nutrition