This Meat Sauce Recipe makes pasta delicious and hearty! This meat sauce is rich and comforting made with lean ground beef, vegetables, fresh herbs, and spices. A family favourite Italian Dinner Recipe.
Ahhh pasta! I don't think I have eaten a dish I didn't like! This Meat Sauce recipe is one of my favourites to pair with pasta and one that probably brings back the most memories.
This pasta dish was something my mother-in-law made for special occasions and sometimes if we were lucky she even made her own fettuccine.
My own mother made her own delicious meat sauce and Meatballs almost every Sunday. My father was not much of a pasta guy, but my mother, me and my sisters sure were.
So my whole life, both in Canada where I grew up, and in Italy, pasta has always been a favorite meal. And what better way to serve it than with a delicious, hearty Italian sauce.
Maybe you're wondering, what is the difference between meat sauce and bolognese? They are both meat sauces, but bolognese is a specific kind of sauce from Bologna.
The main difference is that it's made with milk that is added after the sauce has simmered for several hours. It gives the sauce a rich creaminess. This easy meat sauce recipe I'm sharing today doesn't need to cook as long and it has a little more tomato puree, too. No milk in this meat sauce – we save that for Authentic Bolognese!
Why I Love This Recipe
This is the perfect Sunday dinner recipe or company-coming-for-dinner-what-should-I-make-dish. When the sauce is simmering on the stove it fills the house with so much aroma you really don't think you can wait for dinner. But the wait will certainly be worth it.
I love this kind of homemade sauce too because you can let it thicken to what ever consistency you desire. I prefer it on the thicker side but some people, my husband for example prefers it a little bit thinner. Sometimes he wins sometimes I do!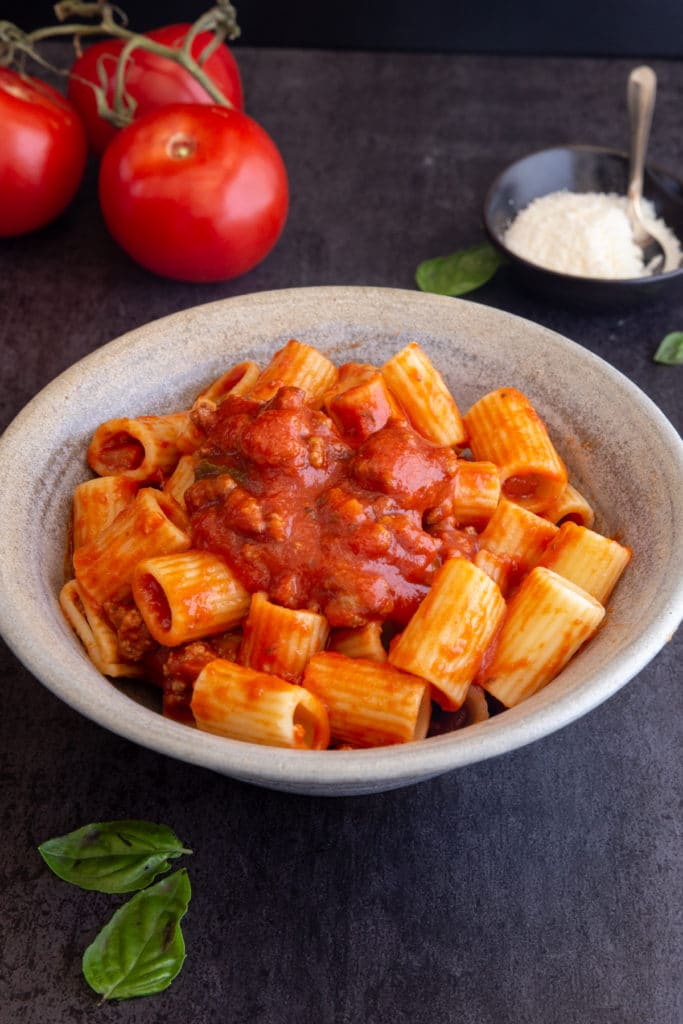 Ingredients
Olive oil
Chopped garlic, carrots, onions, and celery
Lean ground beef or a mixture of ground beef and pork
Tomato puree (passata)
Water
Salt
Dried oregano and basil
Chopped fresh basil
Bay leaf
Hot pepper flakes
Cooked pasta like spaghetti, fettuccine, linguine, penne, etc
Recipe Steps
Heat the olive oil in a medium pot, then add the garlic, chopped carrot, onion and celery. Cook them on medium heat for approximately two to three minutes or until the onion is softened and translucent.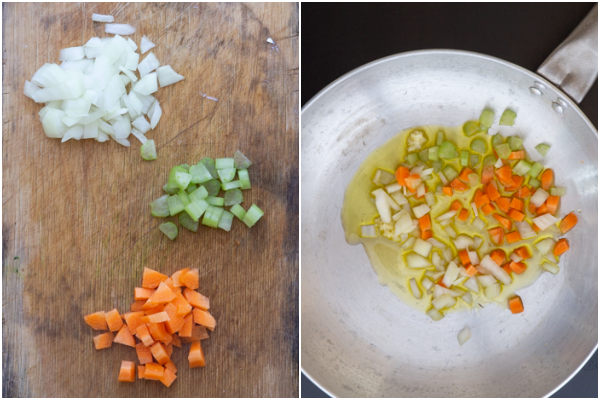 Add the ground beef and brown it with the vegetables. Add the tomato puree, water, and all of the spices and herbs. Stir well to combine and bring the sauce to a boil.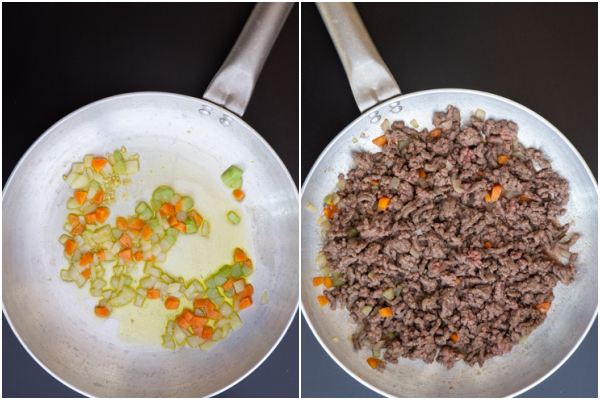 Lower heat and simmer it half-covered for 35 to 40 minutes or until it's thickened to your liking.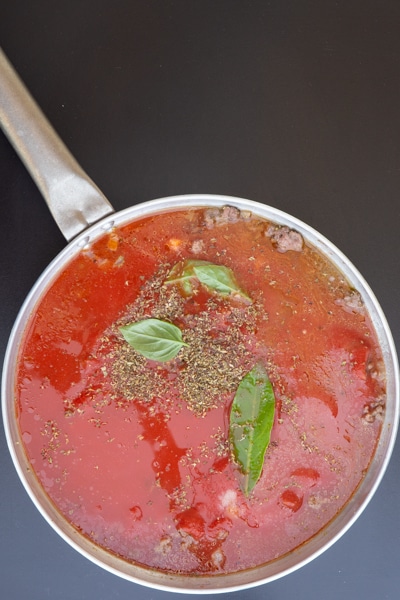 Serve with your favourite pasta and a sprinkling of freshly grated Parmesan cheese on top.
FAQ
Can you freeze this sauce?
Yes, let it cool and store it in a freezer container.
How long does meat sauce keep?
It will keep well in the refrigerator for several days. It tastes even better a day after it's been made when the flavors mix and meld together. Warm it on the stove and then toss it with your pasta.
Can you use another kind of meat?
Yes, ground pork or try Italian sausage. Or do a mix of meat like beef and pork. You can also use ground turkey.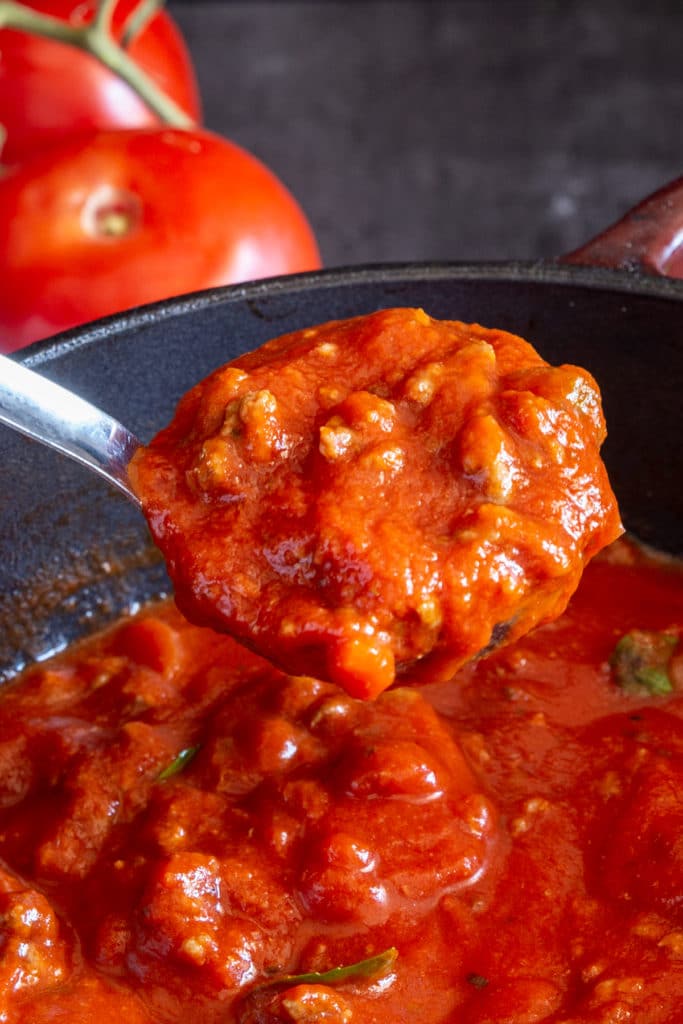 What to Serve with Meat Sauce and Pasta
Here in Italy pasta is usually served at noon and pasta is called " primo piatto" (the first dish) and then it would be followed up with a "secondo piatto" and a "contorno" (a meat dish and a vegetable).
But if you made this fettuccine and meat sauce for dinner you could serve it with a nice salad tossed with olive oil and a little wine vinegar or balsamic vinegar and of course don't forget the Italian bread, with this dish you will certainly want to scoop up every drop of that delicious meaty sauce.
Of course don't forget a nice glass of white wine if you wish.
Making your own delicious meat sauce from scratch is a dinner your family is going to love. Buon appetito!
More Sauces to Try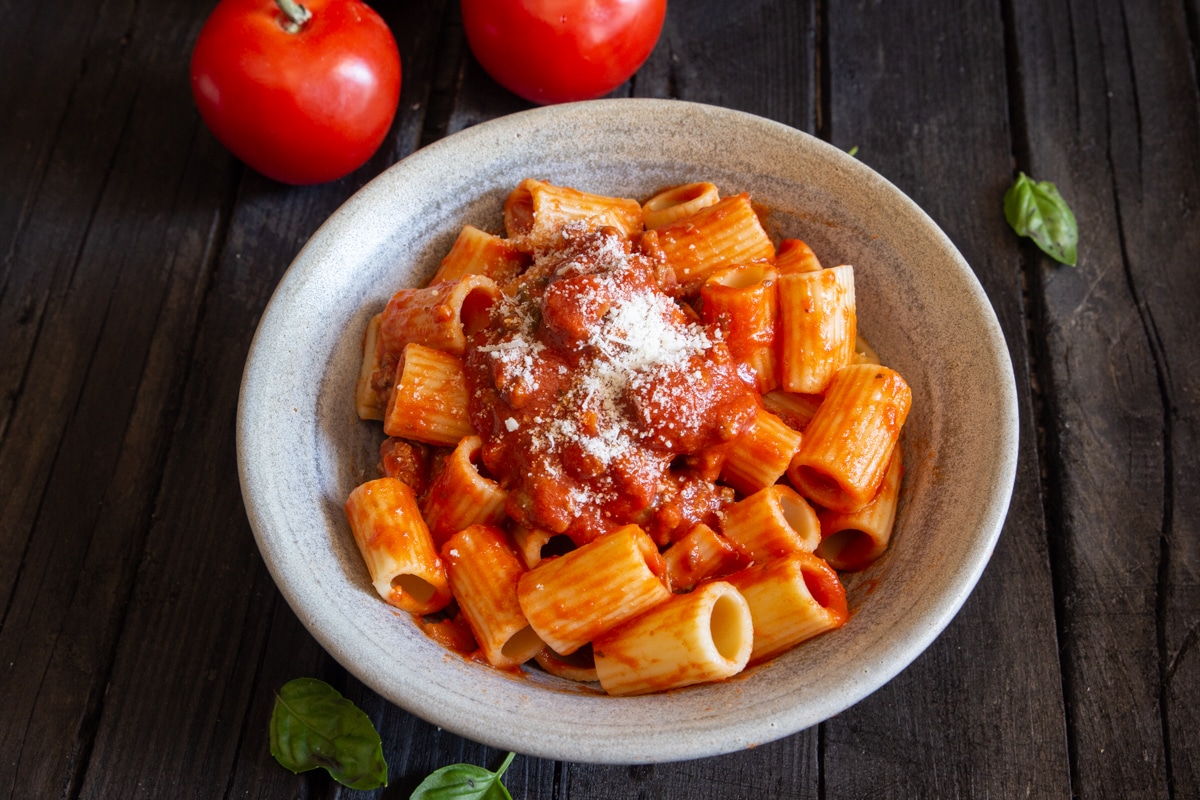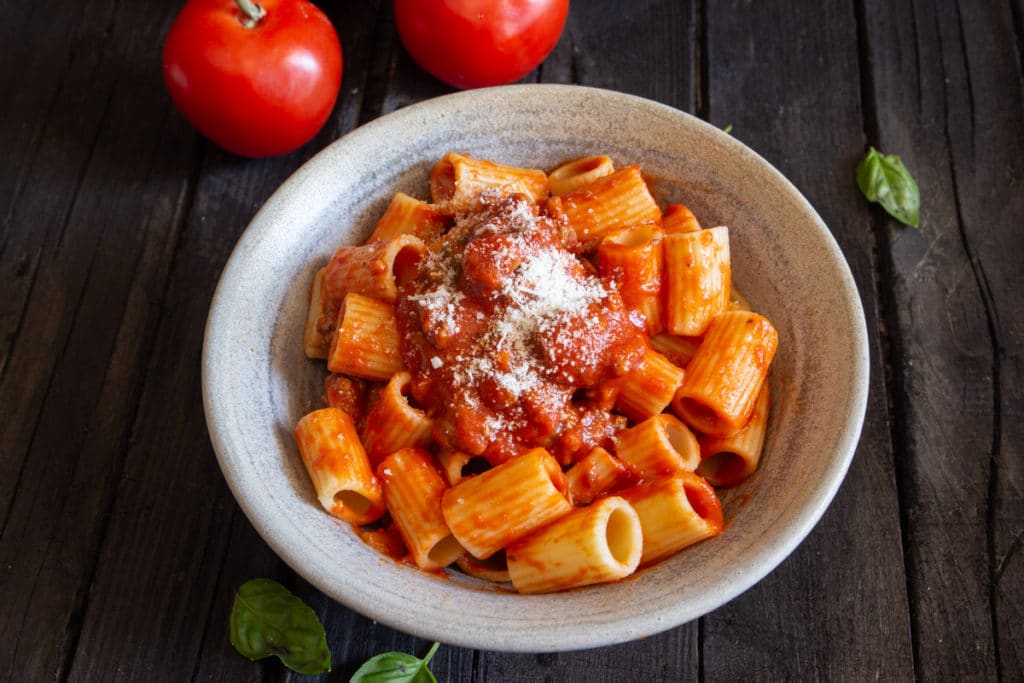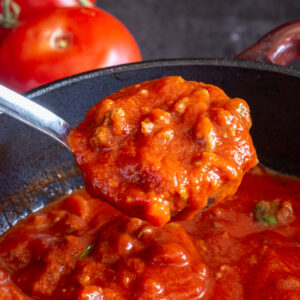 Meat Sauce Recipe
The best Meat Sauce recipe to make a delicious and hearty pasta dish. This meat sauce is rich and comforting made with lean ground beef, vegetables, fresh herbs, and spices.
Ingredients
2

tablespoons

olive oil

1-2

cloves

garlic chopped

2

tablespoons

carrots chopped

2

tablespoons

onion chopped

2

tablespoons

celery chopped

1

pound

lean ground beef*

(454 grams)

3

cups

tomato puree (passata)

(680 grams)

1

cup

water

½

teaspoon

salt (or to taste)

½-¾

teaspoon

oregano

½-¾

teaspoon

basil

3-4

leaves

fresh basil leaves chopped

1-2

bay leaves

1-2

pinches

hot pepper flakes or black pepper (if desired)

4

cups

cooked pasta (fettuccine, penne etc)
*You can use ½ ground beef and ½ ground pork if desired.
Instructions
In a medium- sized pot add the olive oil, garlic, chopped carrot, onion and celery, cook on medium heat for approximately 2-3 minutes or until the onion is transparent.

Add the ground beef and brown, then add the puree, water, salt, oregano, basil, fresh basil leaves, bay leaf and hot pepper flakes (or black pepper) if desired, stir well to combine. Bring to a boil, then lower heat and simmer half covered for approximately 35-40 minutes or until desired thickness, stirring occasionally. Remove the bay leaf.

Serve over cooked fettuccine or pasta of choice, sprinkle with freshly grated parmesan cheese if desired before serving. Enjoy!
Nutrition
Calories:
741
kcal
|
Carbohydrates:
66
g
|
Protein:
36
g
|
Fat:
13
g
|
Saturated Fat:
3
g
|
Polyunsaturated Fat:
1
g
|
Monounsaturated Fat:
5
g
|
Trans Fat:
1
g
|
Cholesterol:
47
mg
|
Sodium:
2762
mg
|
Potassium:
889
mg
|
Fiber:
8
g
|
Sugar:
14
g
|
Vitamin A:
2458
IU
|
Vitamin C:
7
mg
|
Calcium:
96
mg
|
Iron:
7
mg
Did You Make This Recipe?
Please leave a comment below or pin it to your Pinterest account!