Lots of Fresh Basil Tomato Sauce, a delicious Tomato Sauce full of fresh basil and spices.  Perfect over a bowl of al dente Pasta.
Lately we haven't been eating much pasta these days.  It has been so cold here that Soup has been going down really well.  From a fresh Vegetable Soup to one of our favourites, Chickpea Soup.
But sometimes you just have to have a big bowl of Pasta.  The Italian decided that he wanted one of his mother's fast and easy Pasta dishes.  A perfectly spiced Basil Tomato Sauce.
This is the perfect Tomato Sauce to serve with short Pasta,  yes my husband loves his short Pasta, as he says the best way to hold in all that wonderful sauce.
When I think of Italian Comfort Food, I pretty well think all of it is Comfort Food!  From a delicious Tiramisu to a cheesy homemade Pizza but for me my favourite will aways be Pasta.
Lots of Fresh Basil Tomato Sauce
There is nothing difficult or time-consuming about this dish.  While the water is boiling and the pasta is cooking, you can make your sauce.
All you need is a few ingredients, a can of tomatoes (just tomatoes no added ingredients), garlic, olive oil a few spices and lots of fresh basil.  One cup to be exact.  And a few extra for sprinkling on top.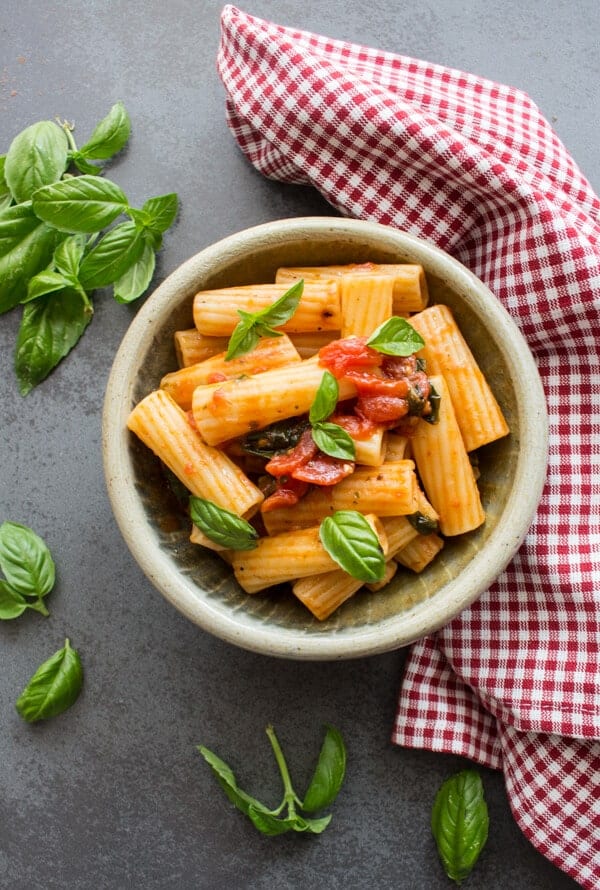 I made this with Rigatoni but you can use your favourite type of Pasta.  You might also like a good topping of freshly grated Parmesan Cheese.  Oh and don't forget a slice of Italian Crusty Bread to wipe up all that delicious left in the bowl Basil Tomato Sauce.  Buon Appetito!
Lots of Fresh Basil Tomato Sauce
An easy Homemade Fresh Basil Tomato Sauce, makes the perfect Pasta Sauce for any day of the week. Simple, Healthy and Delicious.
Ingredients
1

cup

fresh basil chopped

1

can

tomatoes, chop if whole (do not discard liquid) (no additions) 14.1 ounces

400 grams

2

tablespoons

olive oil

1

or 2 cloves garlic chopped

1

teaspoon

oregano

1/2

teaspoon

salt

hot pepper flakes to taste

1/4

cup

water

3

cups

cooked pasta (short eg rigatoni, penne)
Instructions
In a large pot boil water, add salt and cook pasta al dente.While water is boiling, in a large pan add olive oil, garlic, can of tomatoes, oregano, salt, hot pepper flakes, fresh chopped basil and water, cook on medium heat until thickened, add drained cooked pasta and one ladle of pasta water, raise heat and while stirring constantly cook for approximately 2 minutes or until thickened. Serve immediately with chopped fresh basil and grated Parmesan Cheese. Enjoy!
Nutrition