Simple Baked Tomatoes with mozzarella and Parmesan cheese. A delicious fresh tomato summer recipe, perfect as a main dish or appetizer.
When it comes to Summer and all the fresh tomatoes don't forget to make one of my family's favourites, Oven Dried Tomatoes or how about a simple Fresh Tomato Sauce with or without Sausages.

There's nothing like the taste of fresh tomatoes and mozzarella, just think of a tasty Caprese Salad! And it's even better when you add a sprinkling of parmesan cheese.
This simple and easy tomato recipe can be served as an appetizer or why not as a main dish?
Baked tomatoes can be an iffy thing, if they are really juicy you have a complete mess, so in order to eliminate this from happening, I decided to Grill the tomatoes first.
Grilling removes just enough of the juice so that they remain compact and hold the cheese. And while you are grilling why not add some Fresh Tomato Bruschetta to the meal?
When it comes to the cheese, you are going to want to use a firm but creamy cheese, such as a firm mozzarella, gruyere or even a fontina cheese, and of course don't forget the freshly grated Parmesan.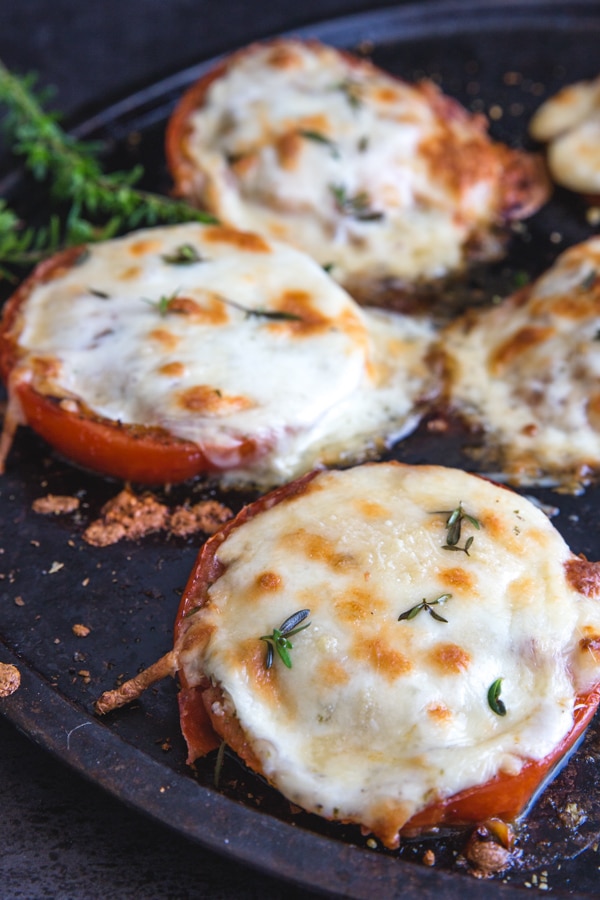 Why grate your own Mozzarella & Parmesan Cheese?
A couple of reasons it's better to grate your own. It's cheaper and it tastes so much better. Packaged cheese tends to have a coating to keep the cheese from sticking together. Not a good thing.
You can grate your own cheese with either a Cheese Grater or by placing chunks in your Food Processor and just pulsing a few times until coarsely ground.
Freshly ground parmesan cheese can be kept in a plastic bag or airtight container and stored in the fridge for up to two weeks. You can also store it in the freezer for up to 18 months.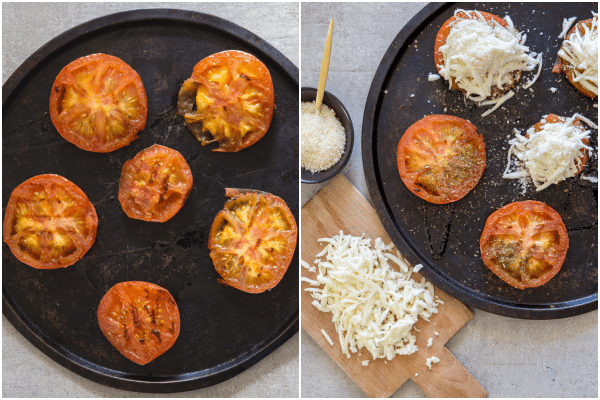 How to make Mozzarella & Parmesan Baked Tomatoes
Grill the tomato slices about 1/4 inch thick on both sides.
Place the slices on a lightly olive oiled cookie sheet.
Sprinkle with a little salt and oregano.
Top each slice with grated firm mozzarella and parmesan cheese.
Bake for about 8-10 minutes, or until a golden brown on top.
Top with fresh basil before serving.
What are the best Tomatoes for baking?
Since we are grilling the tomatoes first I would say probably any firm ripe tomato would work. Just make sure it is firm to the touch and not mushy.
If you want to try making baked tomatoes without grilling then I would use a Roma Tomato since they are less watery than most.
So if you are looking for something cheesy and light, then why not give these Baked Tomatoes a try and let me know what you think. Buon Appetito!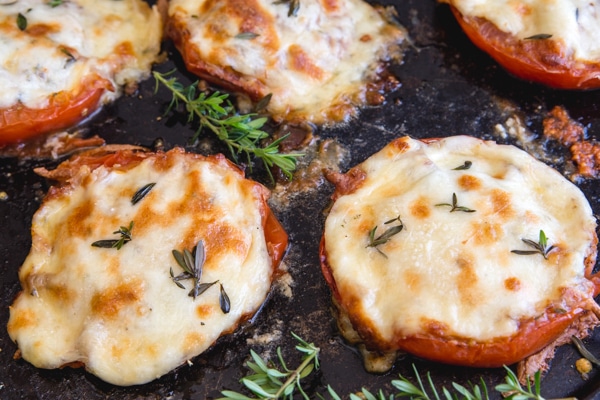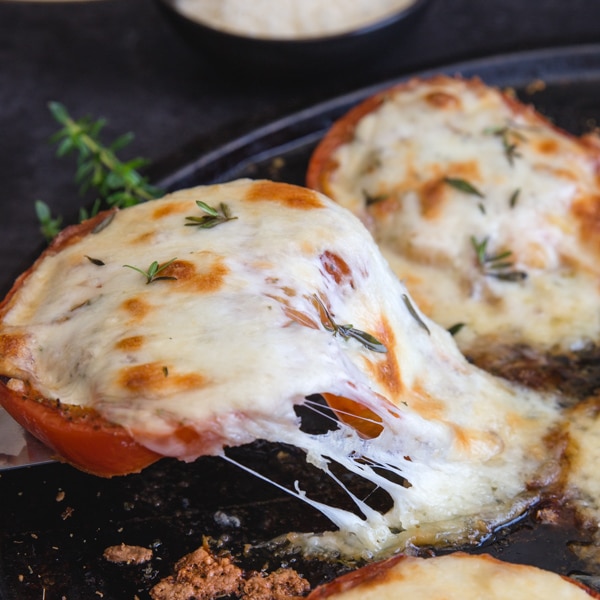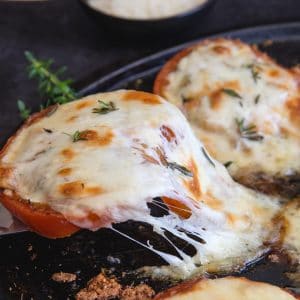 Mozzarella & Parmesan Baked Tomatoes
Simple Baked Tomatoes with mozzarella and Parmesan cheese. A delicious fresh tomato summer recipe, perfect as a main dish or appetizer.
Ingredients
1-2

medium/large

firm ripe tomatoes sliced 1/4 inch thick

1-2

tablespoons

olive oil

2

pinches

salt

1/2

teaspoon

oregano

1/2

cup

shredded firm mozzarella / gruyere / fontal

(or more to taste)

1/4-1/2

cup

grated parmesan cheese

fresh

basil leaves
Instructions
Pre-heat oven to 400F (200 C). Lightly grease a cookie sheet with olive oil.

Grill the tomato slices on either a pan grill or bbq. Then place on prepared cookie sheet.

Sprinkle the slices with salt and oregano, top each slice with shredded mozzarella, and parmesan cheese. Bake for approximately 8-10 minutes or until cheese has melted and top is slightly golden. Top with fresh basil and serve. Enjoy!
Notes
This recipe can be doubled or tripled etc, you can add as much or as little cheese as you please.
Nutrition
Calories:
136
kcal
Carbohydrates:
1
g
Protein:
7
g
Fat:
11
g
Saturated Fat:
5
g
Cholesterol:
22
mg
Sodium:
503
mg
Potassium:
36
mg
Fiber:
1
g
Sugar:
1
g
Vitamin A:
275
IU
Vitamin C:
1.2
mg
Calcium:
192
mg
Iron:
0.3
mg
As an Amazon Associate I earn from qualifying purchases.