Delicious Homemade Fresh Tomato Sauce, just a few ingredients makes this fast and easy sauce the perfect way to use up some Summer Tomatoes.
Fresh Tomato Sauce
For most people August is the season of vacations and getting the kids ready for going back to school, for me August is also tomato season. Well it was the season of tomatoes for the past 25 years.
Unfortunately my mother-in-law is no longer capable so it's everyone on their own. Even though I don't make the bottles like we used to, I still like to make a tasty Fresh Tomato Sauce during the summer.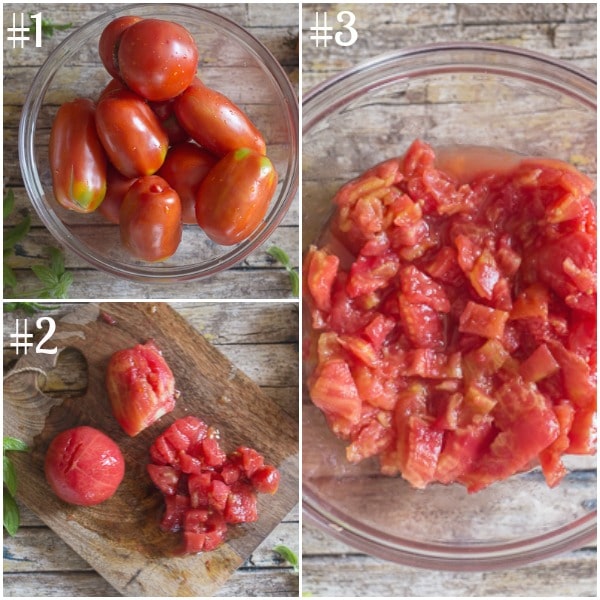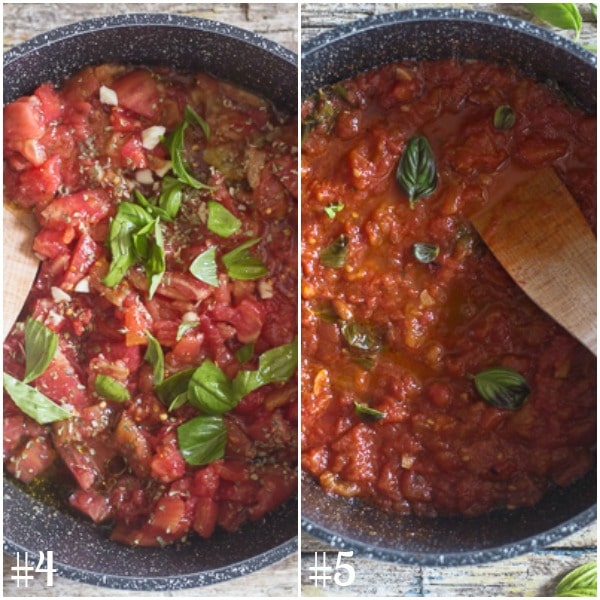 How Italian make Fresh Tomato Sauce
This is the time of the year  we would focus mainly on picking and boiling tomatoes to make a delicious sauce that I then usually use for my pasta dishes.
We would sit around a huge pot of boiling water filled with tomatoes.
We would then peel, squish and squeeze those tomatoes into as many bottles as we can fill,
Cap them and then boil the bottles in a huge metal barrel over a wood burning fire.
These will last over the winter until the next August.
When I have too many ripe tomatoes I make a home made fast version of the way we used to make the sauce. This way uses approximately 10 ripe tomatoes and is plenty enough to feed 3-4 people for lunch and dinner or whichever you prefer.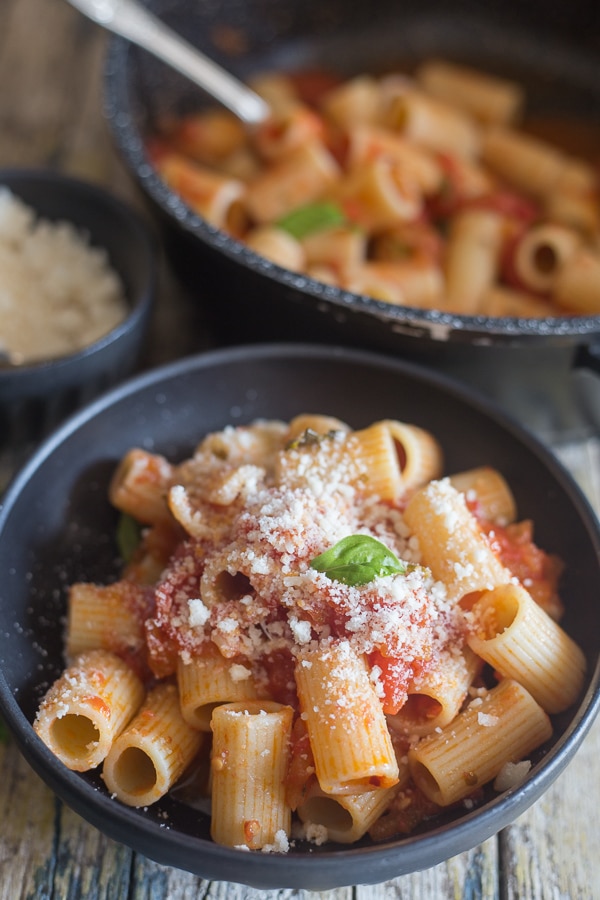 How to make Fresh Tomato Sauce
Wash the tomatoes and place them in a large bowl, cover the tomatoes with boiling water and let them sit for approximately 10 minutes (it should be easy to remove the skin, but be careful it's hot)
I hold the tomato with a fork in one hand and with a knife in the other I remove the skin.
Be sure to squeeze out excess water and remove the seeds and any white flesh,
Cut the cleaned tomatoes into small pieces place in a medium to large pan with a some Olive Oil.
Add your spices, squish the tomatoes with a fork and then simmer on low medium until thickened.
Toss with cooked al dente pasta and serve sprinkled with some freshly grated Parmesan Cheese.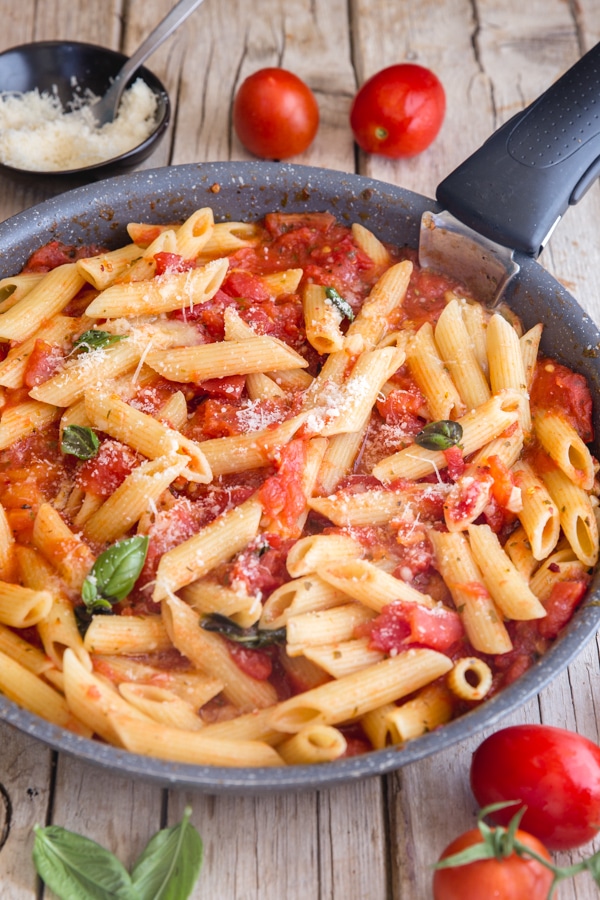 More Delicious Fresh Tomato Recipes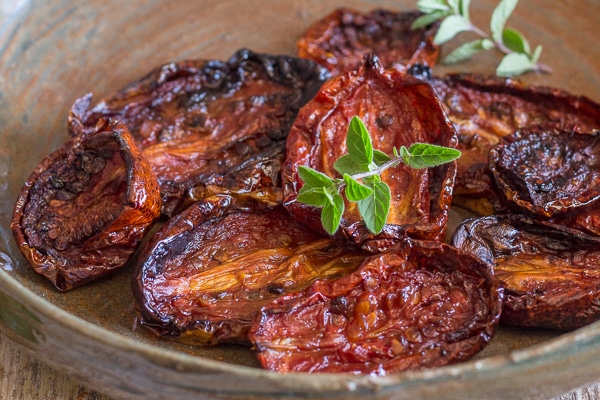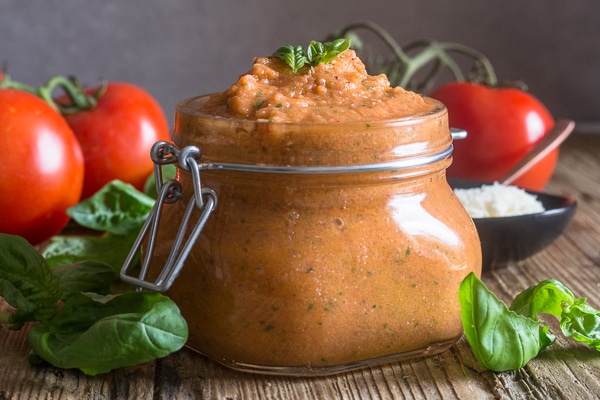 Pesto Pizza with Fresh Tomatoes & Mozzarella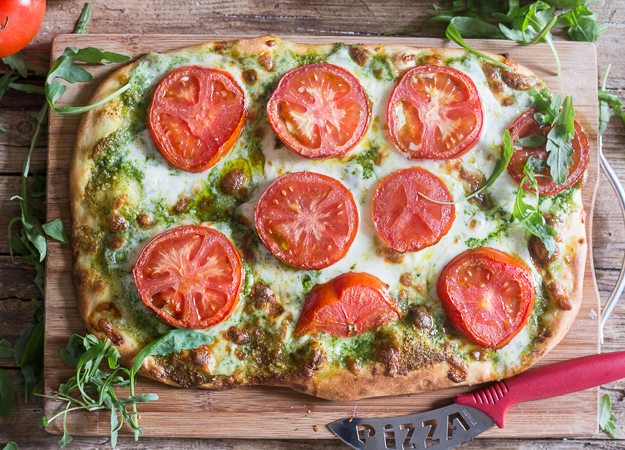 The good thing is that, when making this sauce you can use all the fresh spices available at this time of year too, fresh basil, oregano and garlic are all perfect choices.
This fresh tomato sauce is so good, there's no need to add meat or any other vegetable, all you need is your favourite pasta, preferably a short pasta like penne.
Sprinkle with some freshly grated parmesan cheese, and don't forget a few slices of  crusty Italian bread to soak up any extra sauce left on your plate. Dinner is served. Buon Appetito!
Homemade Fresh Tomato Sauce
Fresh Tomato Sauce, a healthy lunch or dinner sauce recipe. Made with fresh tomatoes and basil, the perfect easy homemade Italian sauce recipe.
Follow me on Youtube!
Watch the videos and don't forget to subscribe on Youtube!
Ingredients
5-8

very ripe tomatoes

(plum, roma, round etc)

1-2

cloves

garlic

(chopped or minced)

1 - 1 1/2

teaspoons

oregano

1/4-1/2

teaspoon

salt

6-8

leaves

fresh basil chopped

3

tablespoons

olive oil

hot pepper flakes to taste

3

cups

cooked pasta

(we prefer short pasta for this sauce)
Instructions
Wash tomatoes and place in a large bowl, cover with boiling water and let sit for approximately 10 minutes (should be easy to remove the skin, be careful because it is very hot). Remove skin and squeeze out excess water, remove seeds and any white or yellow flesh, cut into small pieces.

In a medium-sized high sided frying pan add olive oil, tomatoes, garlic, oregano, salt, fresh chopped basil leaves and hot pepper flakes if desired .

Mix together and then squish gently with a fork, cook uncovered on medium heat till thickened,(while the sauce is cooking occasionally gently squish with a wooden spoon or fork). Simmer for approximately 20 - 25 minutes.   

While sauce is cooking boil the water, add salt and cook pasta al dente.

Add 3 cups of cooked short pasta and 1/2 ladle of pasta water, heat on medium/high heat for a couple of minutes gently tossing.  Serve immediately with freshly grated Parmesan Cheese.  Enjoy!
Nutrition
Calories:
251
kcal
|
Carbohydrates:
31
g
|
Protein:
6
g
|
Fat:
12
g
|
Saturated Fat:
2
g
|
Sodium:
151
mg
|
Potassium:
238
mg
|
Fiber:
3
g
|
Sugar:
3
g
|
Vitamin A:
705
IU
|
Vitamin C:
10.9
mg
|
Calcium:
34
mg
|
Iron:
1.9
mg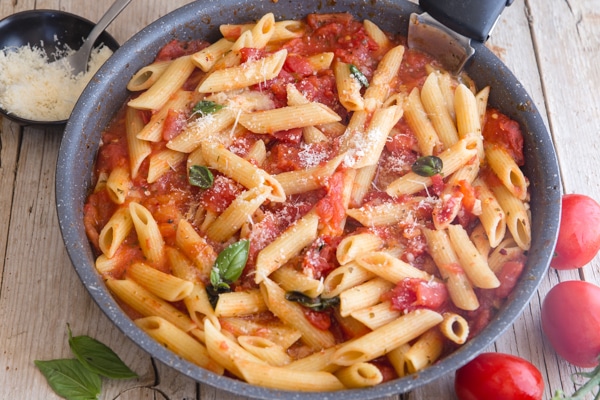 Republished from August 21, 2014.