Homemade Oven Dried Tomatoes, slow baked in the oven makes these Oven Dried Tomatoes the best. Drizzle with Olive oil, toss with spices to make the perfect Appetizer or Side Dish.
Oven Dried Tomatoes one of our favourite side dishes or appetizers.
When I first came to Italy and tried these delicious Oven Dried Tomatoes I knew they would become one of my favourite ways of using up my summer over- load of tomatoes.
Different ways to use (Sun)Oven Dried Tomatoes
Top some on a Pizza
Chop them up and toss with your favourite al dente pasta
Use them in a frittata
Eat them on your a slice of Italian Crusty Bread
Top them on a simple Bruschetta
I have to say, many times over the summer and into the fall these have become a lunchtime and dinnertime favourite.
On my return from Canada, I received a late summer bag of tomatoes from our summer vegetable garden.
In a few days ago we will pull up all the tomato vines, then my husband will till the soil and once again we start planting our winter vegetables,  broccoli, broccoletti and cauliflower,  just to name a few.
Delicious Sun Dried Tomato Recipes
Spaghetti with Sun Dried Tomatoes and Pancetta
Italian Sausage Artichoke Cheese Pizza (& Sun Dried Tomatoes)
Every time a new veggie season arrives I think of how much I love that season the best.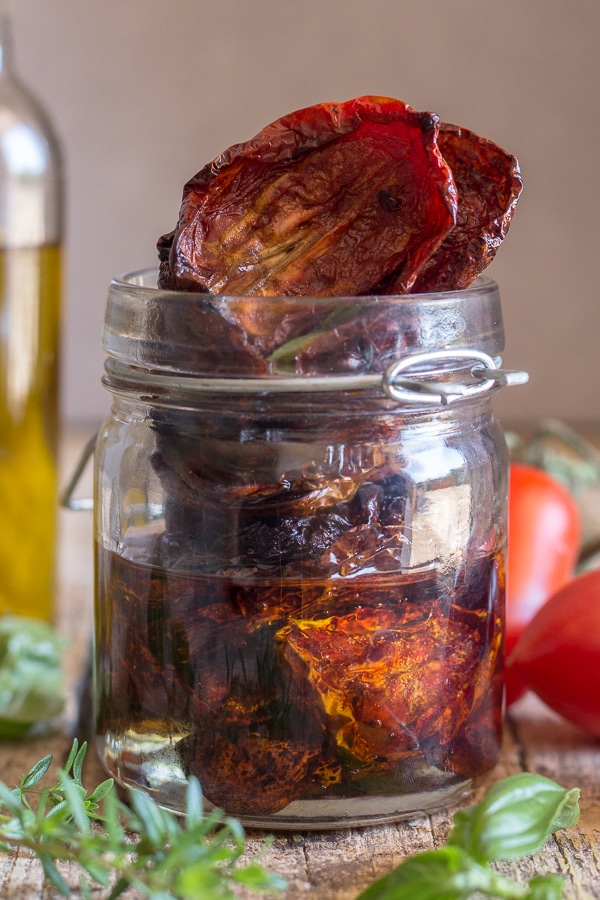 When my mother-in-law was well she would actually sit the tomatoes out to dry in the sun, just thinking about that makes me want to try it again myself.
How to make Sun Dried Tomatoes the Traditional way
Place the tomatoes cut side up on a grid and sprinkle each tomato with a little salt (salts speeds up the drying process)
Cover with netting to guard from dust and insects
Place the tomatoes under direct sun light.
Remember to bring the tomatoes into the house in the evening (evening moisture should be avoided)
Repeat the procedure for approximately 7 days
Carefully turn the tomatoes once a day to allow for a fast and even drying
These Sun Dried tomatoes will be ready when they are dried and wrinkled
Tomatoes can be conserved in olive oil or placed in an air tight bag and frozen
So what's almost as good as that? The oven! Faster than waiting around for a week! It takes about an hour or two. And you will basically have the same results.
These lovely Homemade Oven Dried Tomatoes are tossed with olive oil and fresh spices, so tasty. My husband loves these tomatoes on some  crusty Italian bread.
Sun Dried Tomatoes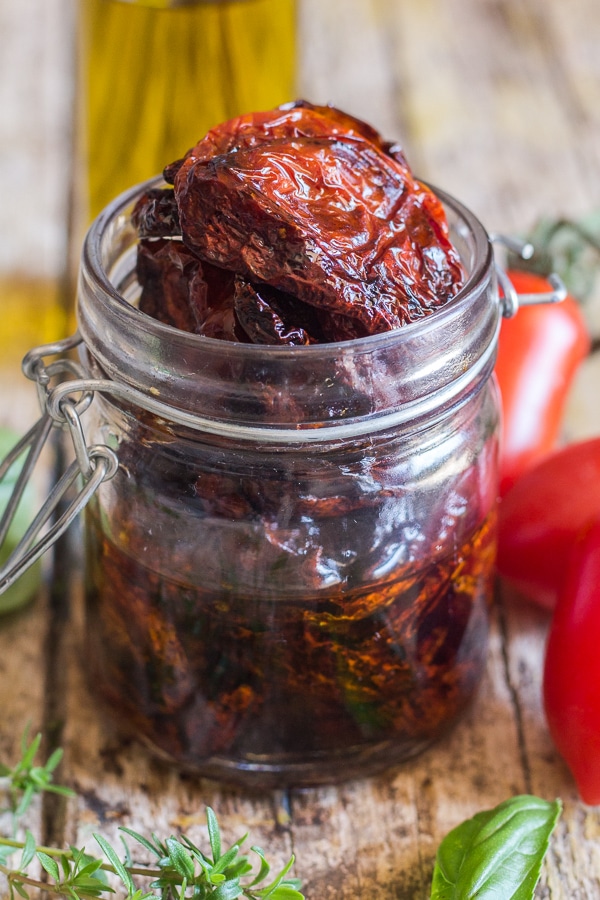 These  Oven Dried Tomatoes would be great as an appetizer or side dish or even tossed with some Pasta or how about Pizza?
Add a nice glass of Italian wine and these oven dried tomatoes become a  fast and easy meal to serve at dinnertime.
I usually make this recipe when we have friends over, in fact my husband's best friend loves them so much he's always the one who finishes them. If you do have leftovers store in a jar under olive oil and they will keep up to 6 months in the fridge.
So enjoy these Dried Tomatoes and Buon Appetito!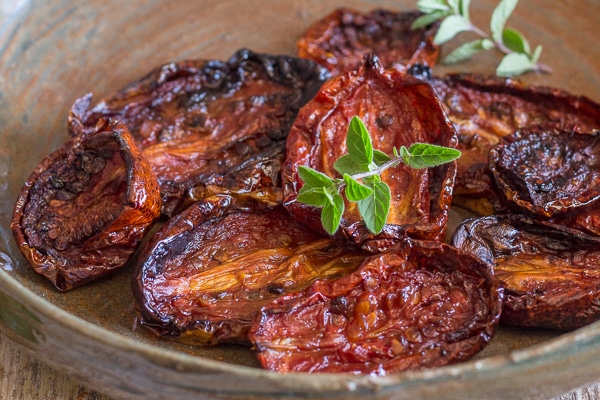 Homemade Oven Dried Tomatoes
Oven Dried Tomatoes, how to make Homemade Oven Dried Tomatoes delicious and easy, tossed with olive oil and fresh spices.
Follow me on Youtube!
Watch the videos and don't forget to subscribe on Youtube!
Ingredients
20

or more plum ripe tomatoes (Roma)

4-5

tablespoons

olive oil

2

cloves

of garlic chopped

1/2

teaspoon

salt

1

teaspoon

oregano

4

or 5 sprigs chopped fresh Italian parsley

3 -5

fresh basil leaves chopped

pinch or two hot pepper flakes if desired
Instructions
Pre-heat oven to 400 (200 celsius)

Slice tomatoes lengthwise and place on lightly greased (drizzle with a little olive oil) baking sheet. Bake in the middle of the oven for 20 minutes, then lower the heat to 300 degrees (150 celsius) and continue to bake for approximately 1- 1 1/2 hours. Tomatoes should be dried, remove from oven and let cool.

In a bowl toss the dried tomatoes with olive oil, chopped garlic, salt, oregano,fresh chopped parsley,chopped fresh basil leaves and hot pepper flakes if desired. Serve over fresh Italian crusty bread. Enjoy!
Nutrition
Calories:
146
kcal
|
Carbohydrates:
10
g
|
Protein:
2
g
|
Fat:
11
g
|
Saturated Fat:
1
g
|
Sodium:
245
mg
|
Potassium:
587
mg
|
Fiber:
3
g
|
Sugar:
6
g
|
Vitamin A:
2135
IU
|
Vitamin C:
35.4
mg
|
Calcium:
33
mg
|
Iron:
0.9
mg
Republished from January 5, 2017.
As I was walking down Bloor Street (between Dufferin and Ossington) I noticed a couple of women selling ceramic bowls, cups, and jewlery. I have to say this bowl and a plate caught my eye immediately. So naturally I decided I needed and wanted them for my photos. I also learned that the women who made these articles are women from a wonderful Organization called "Sistering". Which helps women who are homeless, marginalized  and low income in Toronto. So if you are ever walking down Bloor take a look, I'm sure you will find something that catches your eye, and know you are purchasing something for a great cause.