Sun-Dried Tomato Olive Bread, a fast and easy Italian No Yeast Bread. A Delicious Bread which is Stuffed with Olives and Sun Dried Tomatoes makes this the perfect Snack or Appetizer Olive Bread.
Olive Bread
I love Carbs, all three types but in particular,  Pasta , Rice and of course Bread. In my defence how can you not living in Italy? And this Sun-Dried Tomato Olive Bread sure makes it easy to love bread.
I was visiting my mother-in-law which I try to do at least a few times a week. It is so hard to believe that just last  year she was fine and digging in her garden and planting and planting, and now she hardly remembers who anyone is.
She is never alone, her husband who is still in pretty good shape is with her along with my sister-in-law and her daughter.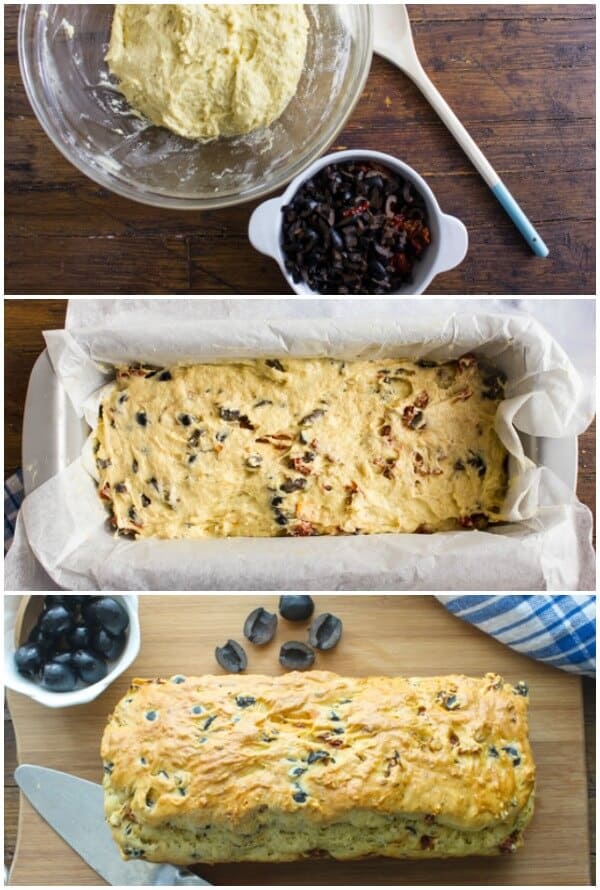 After my sister-in-law and I have gotten the "how are you?" out, we then get down to the important stuff. That's right food.
Sun-Dried Tomato Olive Bread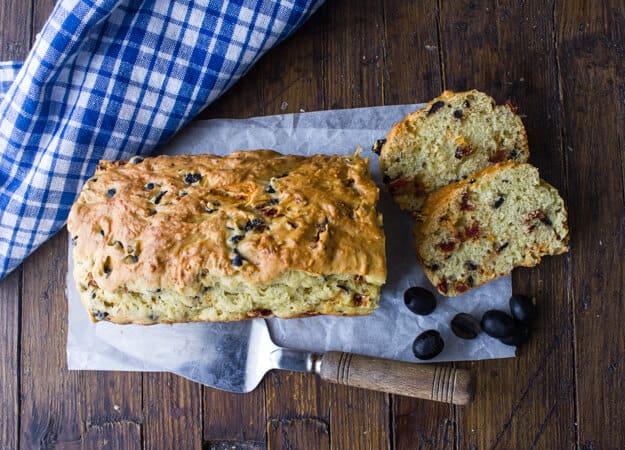 I am always up for a new recipe and she is always up for sharing. How we got on to bread I don't know. But somehow we talked about the different ways to Dry Tomatoes and how we were so tired of Broccoli.
We couldn't wait for Tomato season. And "have you ever tasted this amazing Sun-Dried Tomato Olive  Bread that they make at the Bakery"?,  "Nope, never had, why do you have a recipe"?
Of course she did and here my friends is a delicious savory Sun-Dried Tomato Olive Bread. This bread is so tasty sure it as an appetizer with some cut up cheese or even have a slice for a snack.
You can have this perfect loaf made and baked in an hour, and the best thing, no yeast so no need to wait.
So naturally I took a loaf of Sun-Dried Tomato Olive Bread to my mother-in-law's. It was enjoyed by all. My mother-in-law even commented that her daughter was going to eat it all. Haha that sweet lady does remember some things. Buon Appetito!
Sun-Dried Tomato Olive Bread
Sun-Dried Tomato Olive Bread, a delicious healthy savory no-yeast Italian bread recipe. Fast and easy, the perfect appetizer or snack.
Follow me on Youtube!
Watch the videos and don't forget to subscribe on Youtube!
Ingredients
2

cups

flour

250 grams

3

eggs

1/2

cup

chopped black olives

1/2

cup

chopped sun-dried tomatoes

1/2

teaspoon

basil

1/2 gram

1/2

teaspoon

oregano

1/2 gram

1/2

teaspoon

baking soda

2 1/2 grams

2 1/2

teaspoons

baking powder

12 1/2 grams

2 1/2

tablespoons

olive oil

34 grams

1/2

teaspoon

salt

2.84 grams

1/3

cup

greek yogurt

81.6 grams

1 1/4

tablespoons

milk

18 3/4 ml

2 3/4

tablespoons

freshly grated Parmesan cheese

17 grams
Instructions
Pre-heat oven to 340°, (170° celsius) line a 9-10 inch (22-25 centimeter) loaf pan with a lightly greased parchment paper.

Towel dry the sun-dried tomatoes before chopping if they are under oil.

In a small bowl mix together chopped olives and chopped tomatoes, set aside.

In a medium bowl beat together eggs, yogurt, milk and olive oil.

In a medium bowl whisk together flour, baking soda, baking powder, oregano, basil, salt and Parmesan cheese.

Beat the flour mixture into the egg mixture a little at a time to prevent lumps. Add olive/tomato mixture and gently combine with a wooden spoon.

Spoon into prepared loaf pan and bake for approximately 40 minutes or until toothpick comes out clean. Let cool, slice and enjoy!
Nutrition
Calories:
174
kcal
|
Carbohydrates:
21
g
|
Protein:
5
g
|
Fat:
7
g
|
Saturated Fat:
1
g
|
Cholesterol:
50
mg
|
Sodium:
335
mg
|
Potassium:
241
mg
|
Fiber:
1
g
|
Vitamin A:
180
IU
|
Vitamin C:
5.6
mg
|
Calcium:
87
mg
|
Iron:
1.7
mg