Delicious Italian Antipasto Skewers are fast and easy. Using fresh ingredients, these three appetizers are the perfect addition to any get together. From Parties to BBQs, everyone will love these.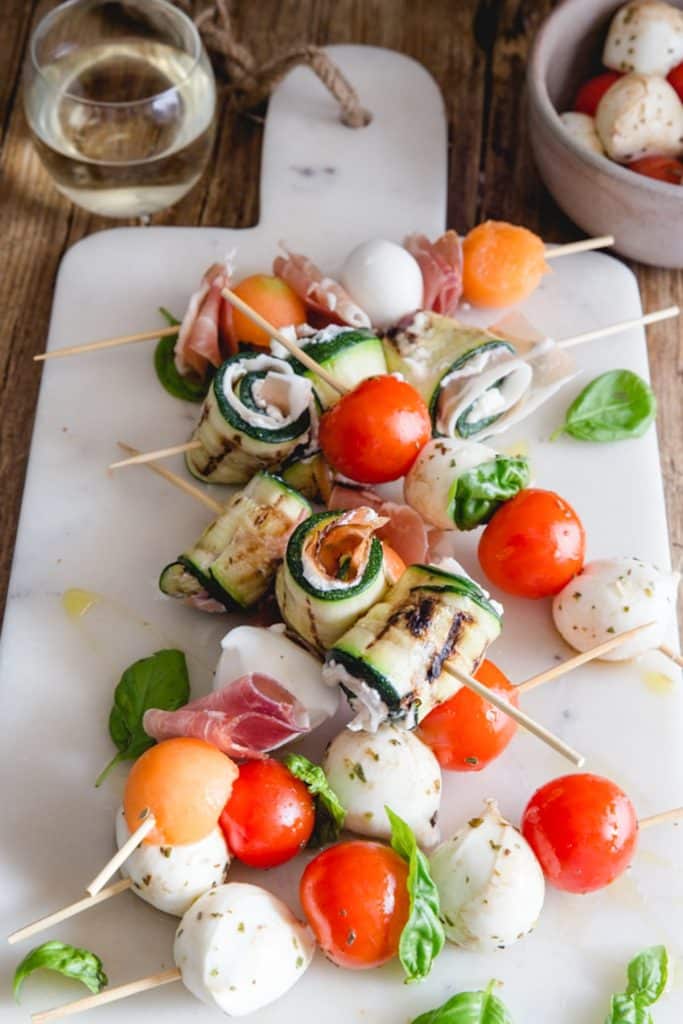 I love appetizers and who doesn't love to nibble on a fresh antipasto skewer while your burger or if you are lucky, your steak is cooking on the grill. I wanted them Italian, simple, and of course with fresh ingredients.
Recipe Ingredients
Caprese Skewers
Cherry tomatoes
Mozzarella balls
Olive oil
Oregano
Salt
Fresh basil
Melon & Prosciutto Skewers
Cantaloupe
Prosciutto
Mozzarella balls
Grilled Zucchini & Ricotta Skewers
Grilled zucchini
Ricotta
Parmesan cheese
Salt
Pepper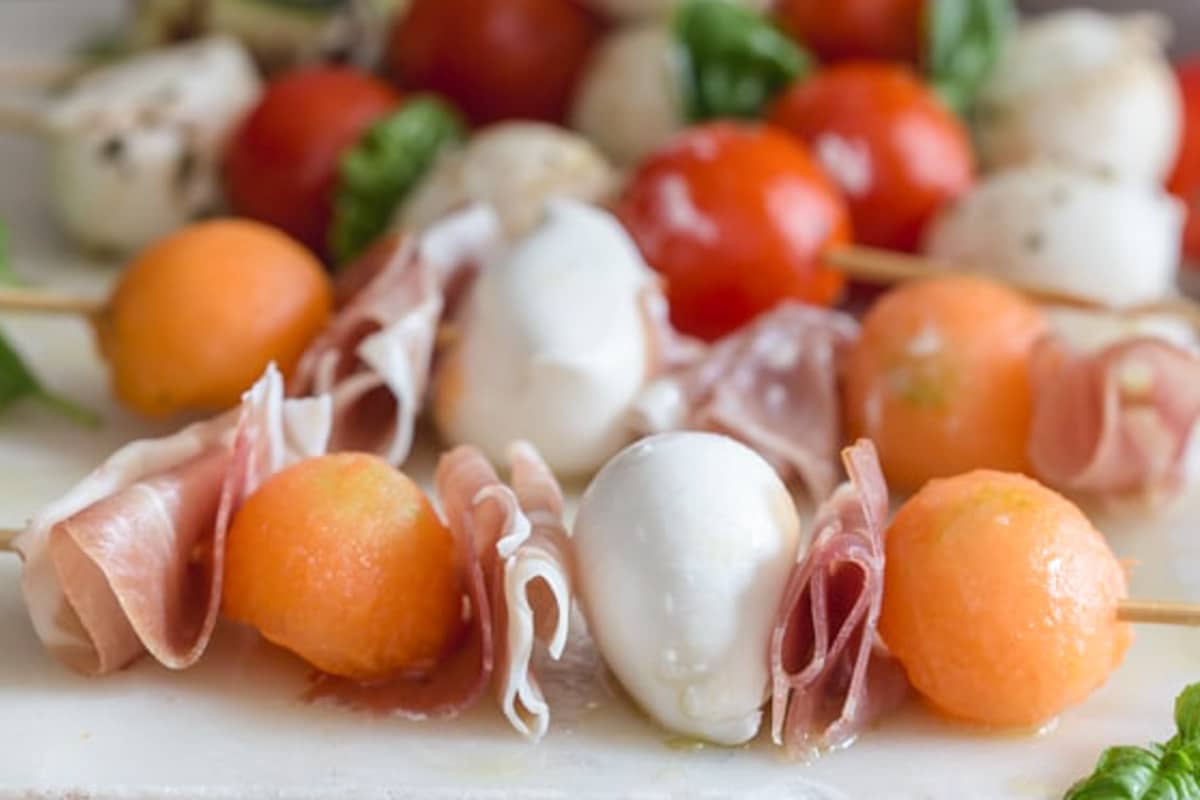 What does Antipasto mean?
Antipasto means before a meal, in other words an appetizer. There are so many Italian appetizers that you could make a meal out of them. A typical antipasto before a pizza could be, grilled Zucchini or Eggplant, an Olive Salad, Bruschetta, Suppli (never forget the suppli before a pizza).
Of course it also depends on whether you choose Mare or Montagna (Sea or Mountain) antipasto. Sea for all seafood and mountain for the addition of salami and prosciutto. Or why not choose an Antipasto Platter?
What is Prosciutto di Parma
Prosciutto di Parma is a cured meat from the province of Parma. The production area is located 3 miles (5 km) south of the Via Emilia (a Roman street), up to an altitude not exceeding 2953 feet (900 m), it is boarded by the Enza stream on the east side and the Stirone stream on the west side.bordered to the east by the Enza stream and to the west by the Stirone stream. The only ingredients are the meat and salt, there are no additives or preservatives.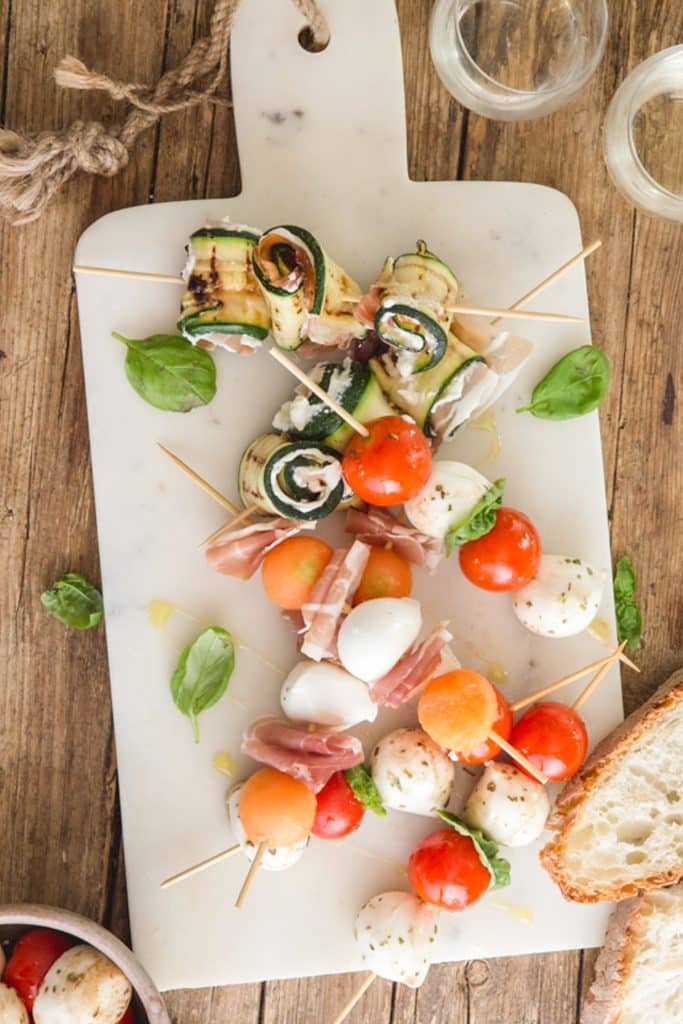 How to make Antipasto Skewers
This post may contain affiliate links. Please read my disclosure policy.
For the Caprese Skewers I used cherry tomatoes, fresh mozzarella mini balls and fresh basil. I  tossed the tomatoes and mozzarella in a little olive oil, oregano and salt. Then I threaded first a cherry tomato, then a mozzarella ball, and a fresh basil leaf onto 7 inch (18cm) Wooden Skewers.
To make the Melon skewers, I made melon balls with this Tool and I sliced slim slices of Prosciutto di Parma and folded it fan style. Again I used 7 inch wooden skewers, I first added a melon ball, then prosciutto, a fresh mozzarella ball, prosciutto, melon and prosciutto.
For the third appetizer I decided to use one of my favourite grilled veggies, zucchini. I grilled thin slices of zucchini, then I spread it with a creamy Ricotta dip (recipe below) and topped it with a thin slice of Prosciutto do Parma, you could also use cooked Ham if you prefer. I rolled them up and threaded 3 onto a wooden skewer.
Of course these Skewers are very adaptable, if you prefer longer sticks and more on the skewers, then that's good too.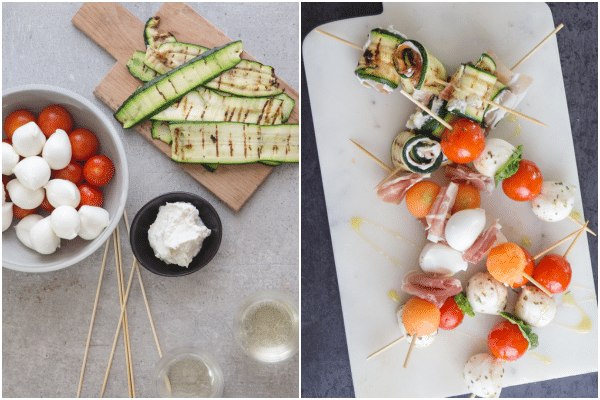 Can the Skewers be made in advance?
Yes they can, just be sure to cover them in plastic and refrigerate, bring them to room temperature about 30 minutes before serving. If you prefer you can serve them straight from the fridge. Give them a little drizzle of olive oil before serving.
Different add ons
If you wish you can add on some olives, salami, add some marinated mushrooms or other veggies of choice.
How to store leftovers
They are best eaten fresh but they can be stored wrapped well or in an air tight container in the fridge for up to 3 days.
So if you are looking for something a little different for your next get together I hope you give these Easy Antipasto Skewers a try. Buon Appetito!
More Quick and Easy Antipasti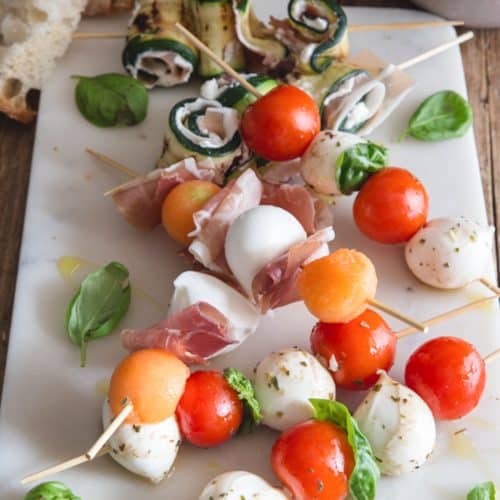 Easy Italian Antipasto Skewers
These Italian Antipasto Skewers are fast and easy. Using fresh ingredients these 3 appetizers are the perfect addition to any get together.
Ingredients
CAPRESE SKEWERS
8

cherry tomatoes

8

small

fresh mozzarella balls

1 -2

tablespoons

olive oil

1/2 -1

teaspoon

oregano

1-2

pinches

salt

4-8

fresh basil leaves

4

7 inch (18cm) wooden skewers
MELON / PROSCIUTTO SKEWERS
1

cantaloupe (8 melon balls)

6

thin slices

Prosciutto di Parma

4

small

fresh mozzarella balls

4

7 inch (18cm) wooden skewers
GRILLED ZUCCHINI & RICOTTA SKEWERS
12

thin slices

grilled zucchini
RICOTTA CREAM
1/2

cup

ricotta cheese drained

1

tablespoon

freshly grated parmesan cheese

1

pinch

salt

1

dash

pepper

4

7 inch (18 cm) wooden skewers
Instructions
CAPRESE SKEWERS
In a small bowl toss together the cherry tomatoes, mozzarella balls, olive oil, oregano and salt. Then thread a cherry tomato, mozzarella ball, basil leaf, cherry tomato and a mozzarella ball.
MELON / PROSCIUTTO SKEWERS
Cut the cantaloupe in half and clean, then make 8 melon balls.

Slice the prosciutto down the middle and fold in an accordion style. Then thread starting with a melon ball, then prosciutto, mozzarella ball, prosciutto, melon ball and prosciutto.
GRILLED ZUCCHINI & RICOTTA SKEWERS
Grill Zucchini slices on a pan grill or bbq.

Then slice each the prosciutto slice down the middle, set aside.

In a medium bowl mix together the drained ricotta, parmesan cheese, salt and pepper. Spread some of the ricotta mixture on each slice of grilled zucchini, place a slice of prosciutto on top and roll up. Thread 3 zucchini rolls on each skewer.
Notes
The ingredients in the recipes can easily be doubled or tripled depending on how many people you are serving.
Nutrition
Calories:
188
kcal
Carbohydrates:
2
g
Protein:
13
g
Fat:
15
g
Saturated Fat:
6
g
Cholesterol:
32
mg
Sodium:
150
mg
Potassium:
77
mg
Fiber:
1
g
Sugar:
1
g
Vitamin A:
295
IU
Vitamin C:
6.4
mg
Calcium:
254
mg
Iron:
0.2
mg
Updated from June 3, 2019