Olive Salad, a light and tangy salad with green olives, crunchy celery, onion, and carrot combined with a simple white wine vinaigrette. An easy, refreshing starter or appetizer that pairs perfectly with a glass of crisp white wine.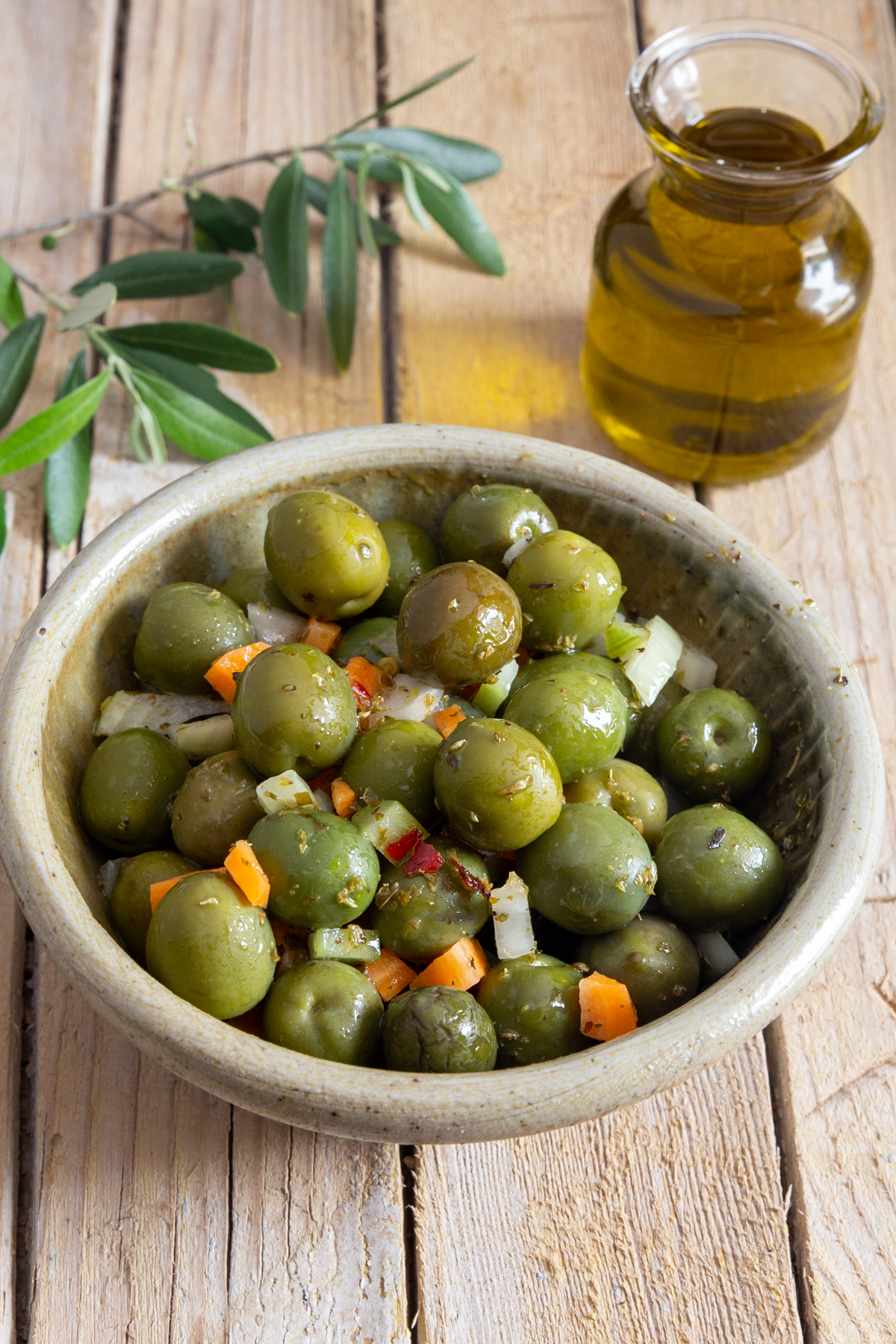 If you need an easy appetizer this Italian olive salad is one of the easiest. It has a mix of delicious flavors and textures – a little tangy with crunchy vegetables and delicious green olives.
This is an antipasto we would serve on a warm day before serving the other courses. It's light and refreshing, a delicious way to start a meal. Or, just enjoy it on its own with some focaccia or other bread and, of course, a glass of cold wine.
Like most Italian dishes, this olive salad is simple but so delicious – the perfect flavor combination.
Ingredients
Large green olives unpitted
Chopped celery
Chopped onion
Chopped carrot
Olive oil
White wine vinegar
Salt
Oregano
Hot pepper flakes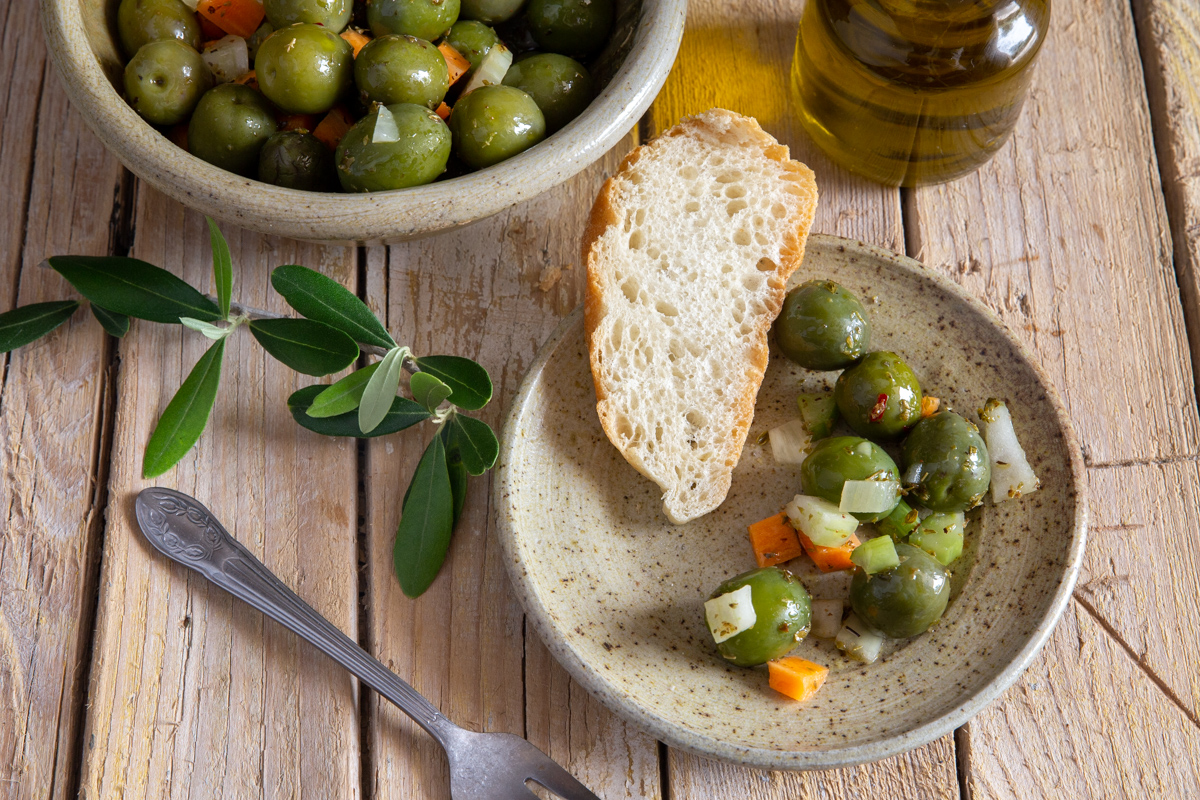 How to Make It
Combine all of the ingredients in a bowl and toss to combine. The red pepper flakes are optional and can be omitted if you don't like them. The salad is nice with a little kick of heat, so just a pinch is enough.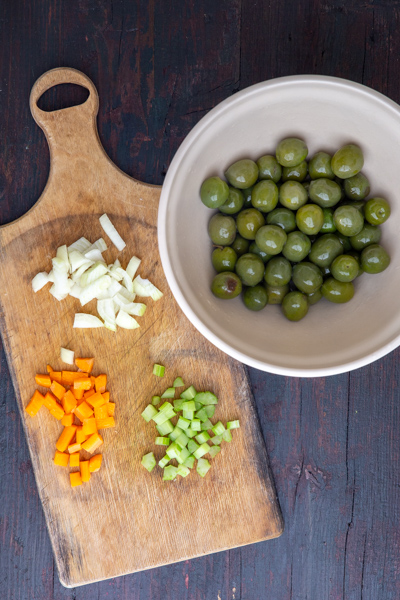 You can serve the salad right away, but it's even better when it's been chilled and the flavors have had a chance to mix together and develop. So, I usually make it a few hours in advance.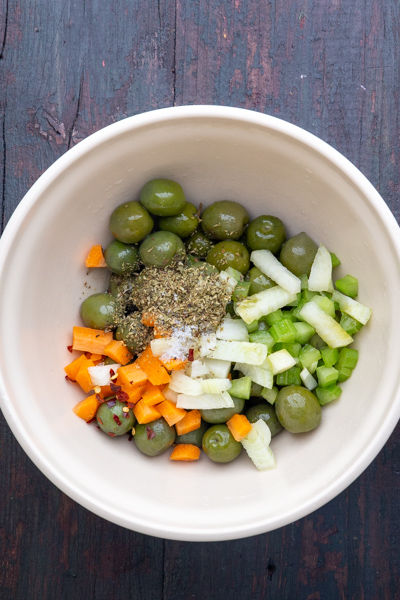 Why use unpitted olives?
Olives that are unpitted are firmer and keep their structure better than pitted ones. Pitted ones tend to be soggy and limp, which is not what we want for this salad. I preferred large green olives under water rather than oil for this recipe, but oil will also work, just drain them well.
Tips
You can chop the vegetables to a size you like, but I prefer them on the smaller side.
This salad is all about the olives so choose a ones that are a good quality brand.
If you have leftovers, store them in an airtight container and keep them in the refrigerator for four to five days.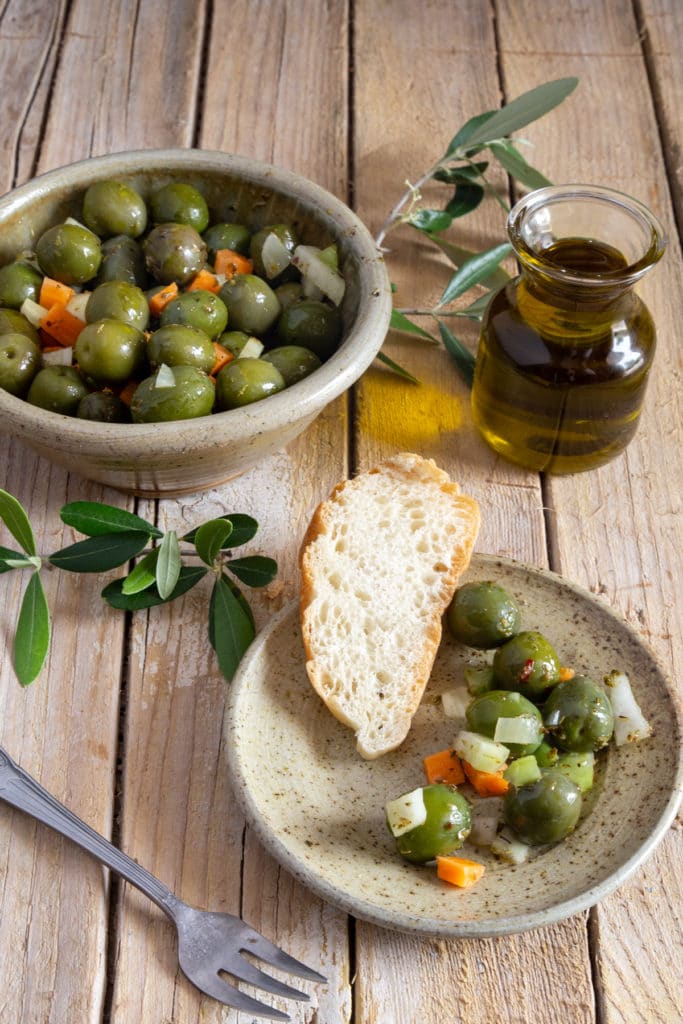 FAQ
Is olive salad healthy?
Olives have healthy fats and combined with the vegetables the salad is healthy and light.
Can you use black olives for this recipe?
You can use whatever olives you like. It's a good idea to use unpitted olives and if you opt for black olives you can't go wrong with kalamata olives.
Can you use a different kind of vinegar?
White wine vinegar works very well because it's light and tangy. You can change the flavor of the salad and use balsamic vinegar or red wine vinegar. Feel free to experiment!
This salad is wonderful all year round but especially during the warm summer months. We love to enjoy it outside with our glasses of wine. It's even better to share it with friends and family. Enjoy!
More Salad Recipes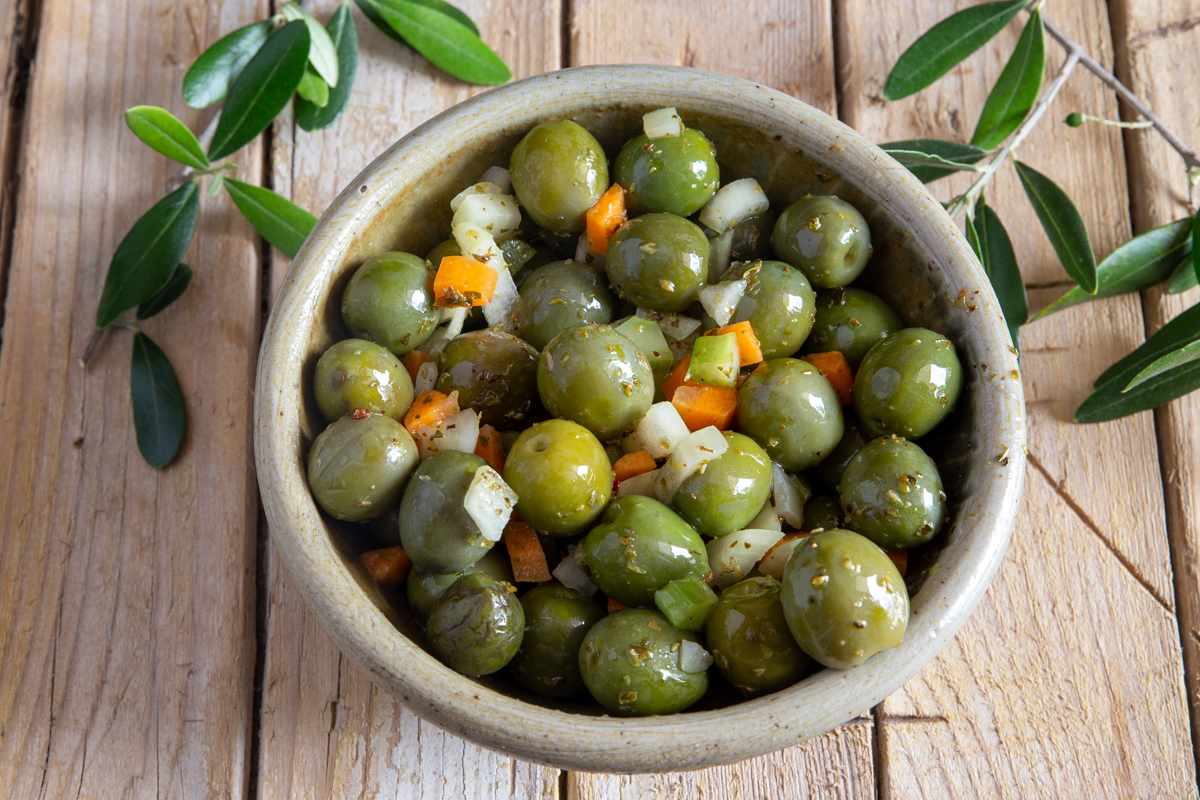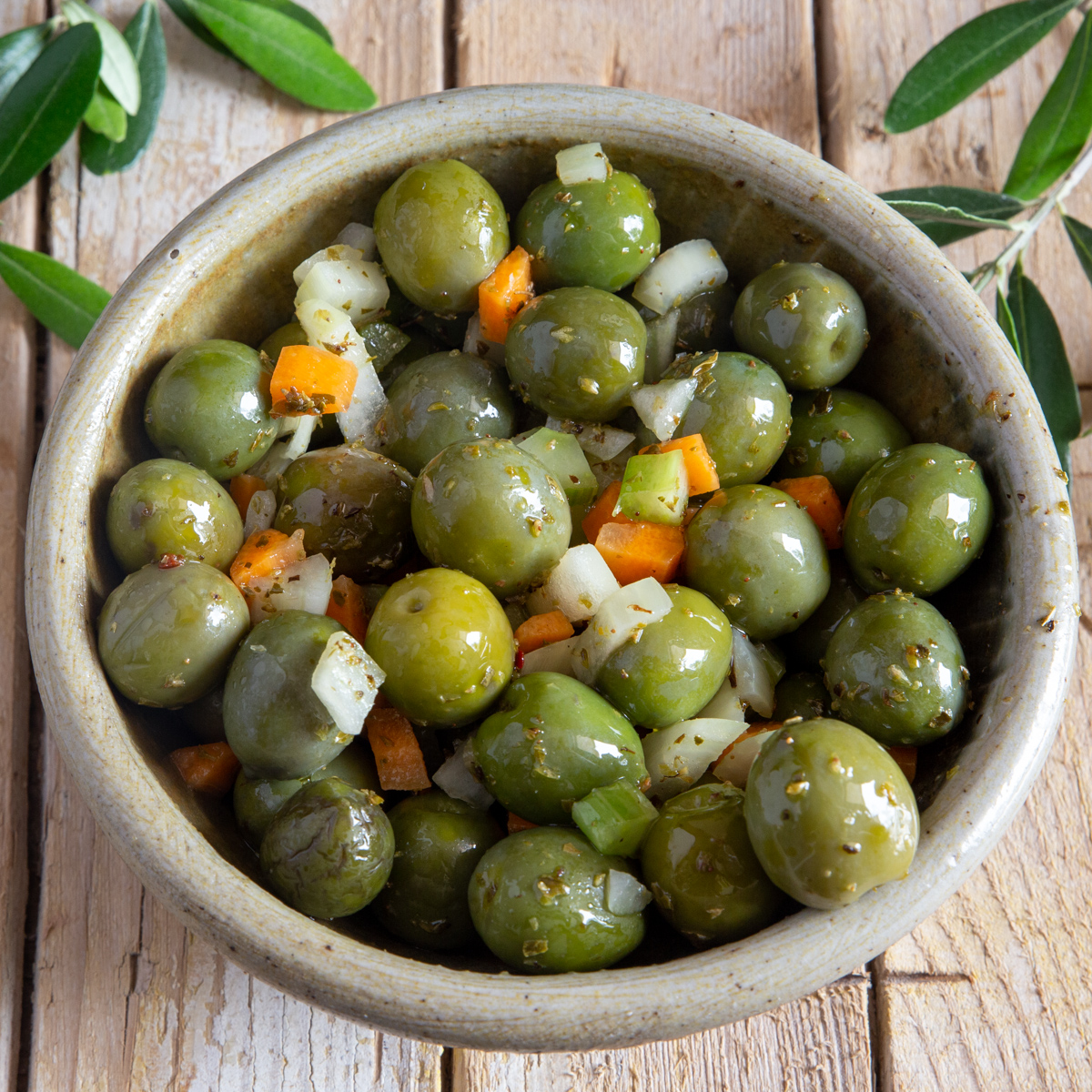 Italian Olive Salad
Olive Salad, an easy salad with green olives, crunchy celery, onion, and carrot combined with a simple white wine vinaigrette. It is a refreshing appetizer.
Ingredients
9

ounces

large green olives

(250 grams)

2-3

tablespoons

chopped celery

2-3

tablespoons

chopped onion

2-3

tablespoon

chopped carrot

2

tablespoons

olive oil

1

tablespoon

wine vinegar (white)

1-2

pinches

salt

1

teaspoon

oregano

1-2

pinches

hot pepper flakes (if desired)
Instructions
In a medium to large bowl toss the olives with the chopped celery, onion and carrot add the olive oil and wine vinegar and toss to combine. Add the salt, oregano and hot pepper flakes, combine well. Serve.
Notes
Leftovers should be stored in an airtight container and refrigerated. It will keep for up to 4-5 days.
Nutrition
Calories:
162
kcal
Carbohydrates:
4
g
Protein:
1
g
Fat:
17
g
Saturated Fat:
2
g
Polyunsaturated Fat:
2
g
Monounsaturated Fat:
12
g
Sodium:
1099
mg
Potassium:
77
mg
Fiber:
3
g
Sugar:
1
g
Vitamin A:
1538
IU
Vitamin C:
1
mg
Calcium:
47
mg
Iron:
1
mg