Savory Parmesan Cookies are perfect as an appetizer or even served with your favourite stew or soup. Fast and easy, no chilling time needed and they are ready in 20 minutes!

I would say of all the cheese in the world, Parmesan is definitely one of my favourites if not the favourite!
I love it on my Pasta, Pizza and just eaten in chunks. One of my favourite appetizers is grilled eggplant, Italian crusty bread and chunks of Parmesan Cheese.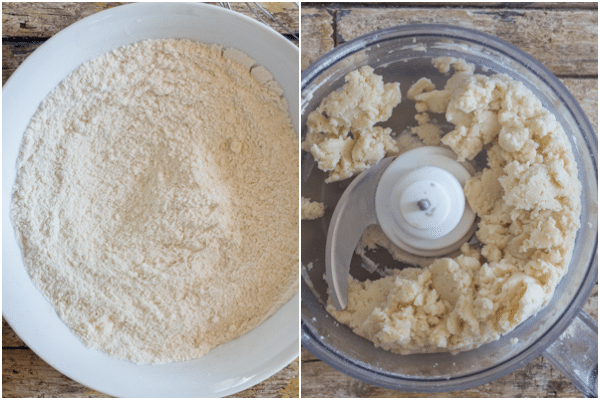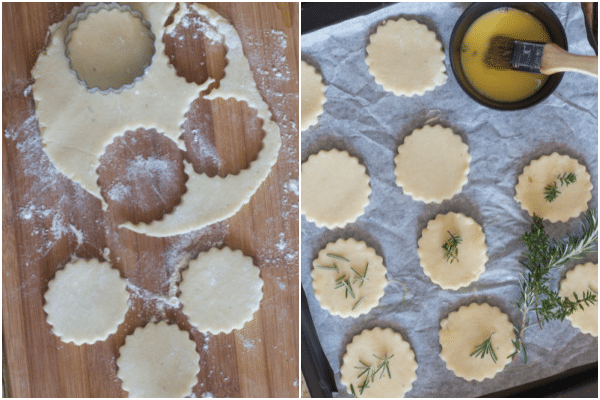 So when I was told about these Savory Parmesan Cookies I knew they were meant for me.
It's is such an easy recipe, whip it up in your Food Processor and it's ready in no time. And no chilling necessary.
How make Parmesan Cookies
I use a food processor although kneading the dough by hand works too.
There are only a few ingredients in these cookies, butter, flour, parmesan cheese, salt, pepper and a tablespoon or two of water.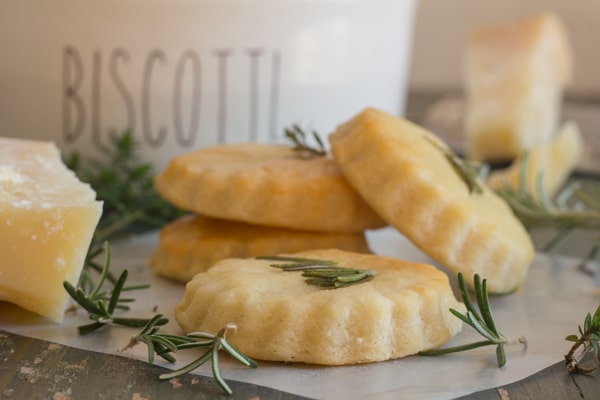 I also recommend grating your own Parmesan rather than buying packaged pre grated cheese. It is probably cheaper too!
Remember you want to grate the cheese and not shred it.
Knead the dough to form a soft compact dough, then roll to about 1 cm thickness. I like to use a small round cookie cutter.
Place the circles on a parchment paper lined cookie sheet, brush with an egg wash, top with your favourite toppings and bake for about 10-12 minutes.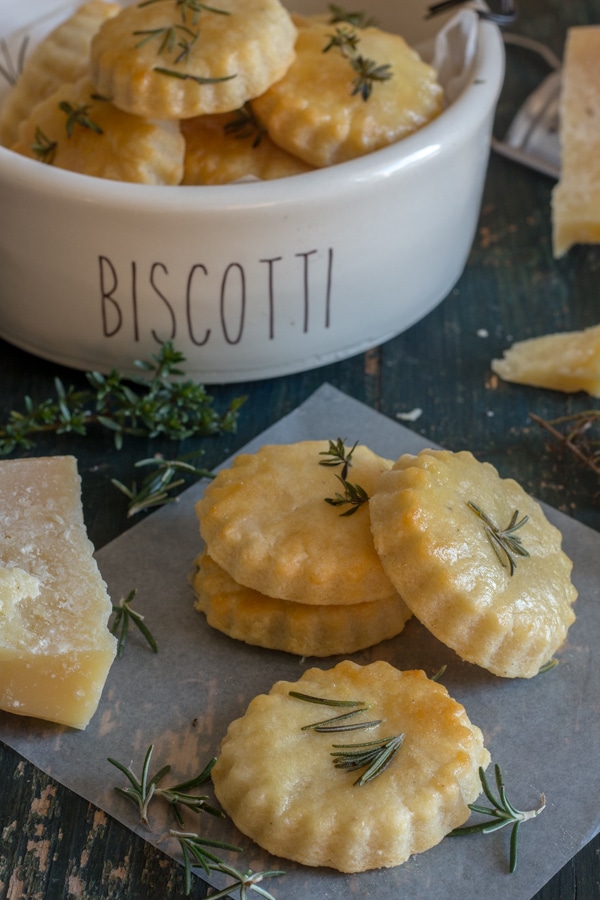 Shredded or Grated Parmesan
Shredded cheese are long strips while grated cheese are like tiny fragments almost to the point of being powdery, but not quite.
Tasty Toppings for Parmesan Cookies
Chopped rosemary
chopped fresh oregano or thyme
seeds of choice poppy, sesame, chia etc
More herbs to add are minced chive, parsley, savory, tarragon or go plain.
How to Store Parmesan Cookies
The cookies should be stored in an airtight container in the fridge for up to 6 days. The cookies can also be frozen in a freezer safe bag or container, they will keep for up to 2 months in the freezer. The dough can also be frozen, wrap in plastic and place in a freezer bag. The dough will keep up to 3 months in the freezer.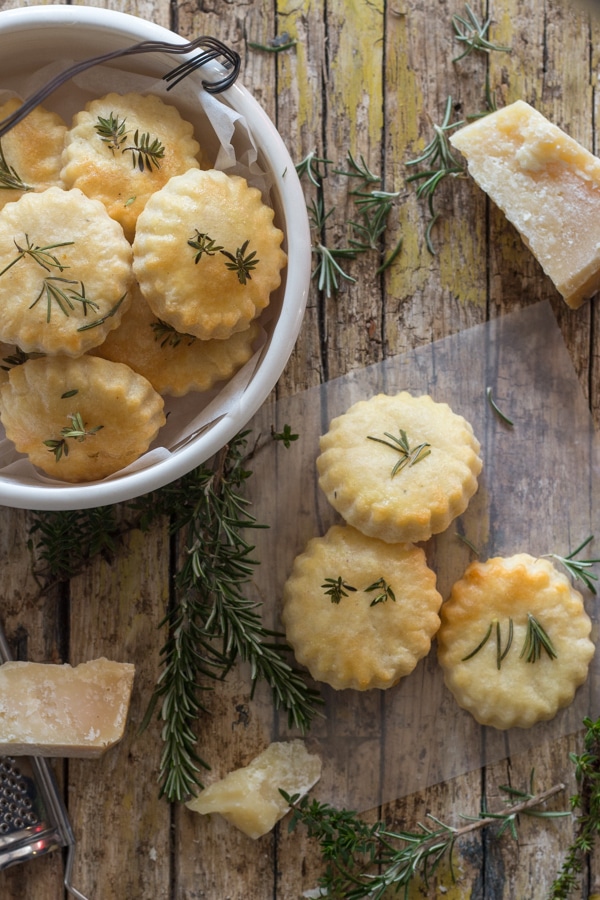 More Easy Appetizers
These delicious Savory Parmesan Biscuits make the perfect snack, appetizer or even accompaniment to your favourite soup or stew. Buon Appetitto and a Happy and Wonderful New Year to everyone!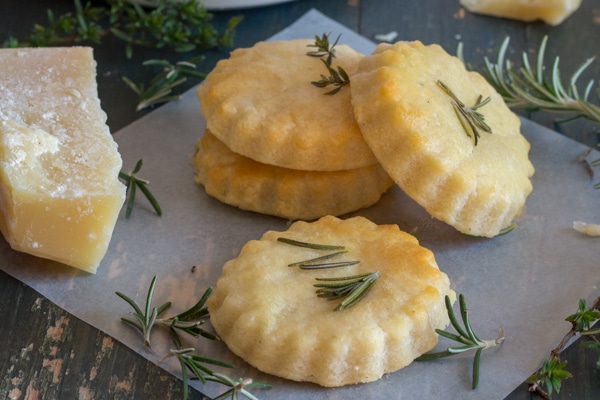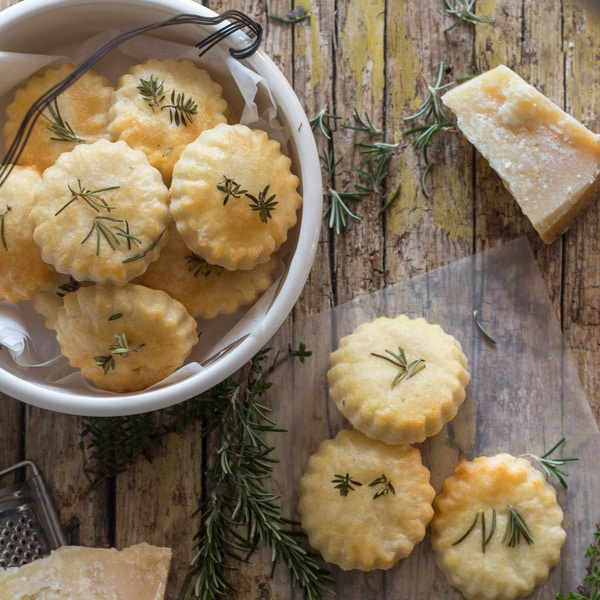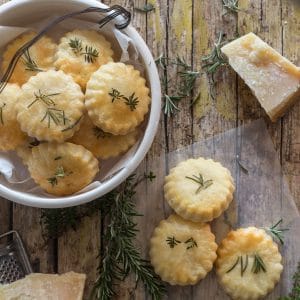 Savory Parmesan Cookies
Savory Parmesan Cookies are perfect as an appetizer, snack or even served with your favourite stew or soup. Fast, easy & no chilling needed.
Ingredients
3/4

cup

all purpose flour

(100 gram)

3/4

cup

grated parmesan cheese

(75 grams)

1

pinch

salt

1-2

dashes

pepper

1/4

cup

+ 1 tablespoon butter

(cold cubed/ 70 grams)

1-2

tablespoons

water
TOPPINGS
1-2

sprigs

rosemary

1-2

sprigs

fresh thyme / oregano

various seeds

various herbs
Instructions
Pre-heat oven to 350F (180C), line a cookie sheet with parchment paper.

In the food processor add the flour, parmesan, salt and pepper and whisk (small whisk or fork) together.  Then add cubed butter and pulse to form coarse crumbs, add the water a tablespoon at a time until dough is almost combined.

Move the dough to a lightly floured flat surface and knead a few times until you have a soft smooth dough.

Lightly flour the dough and roll out with a lightly floured rolling pin, to about 1 cm thickness. Cut out with a small round cookie cutter, place on prepared cookie sheet, brush with egg wash sprinkle with your favourite topping (I used fresh rosemary and thyme). Bake for approximately 10-12 minutes or until lightly golden.
EGG WASH
In a small bowl beat together the egg and water.
Nutrition
Calories:
81
kcal
Carbohydrates:
5
g
Protein:
3
g
Fat:
5
g
Saturated Fat:
3
g
Cholesterol:
25
mg
Sodium:
118
mg
Potassium:
18
mg
Vitamin A:
165
IU
Calcium:
63
mg
Iron:
0.4
mg
Recipe Adapted from Giallo Zafferano