Tuna Mozzarella Stuffed Cherry Tomatoes, a fast and easy appetizer. Stuffed Cherry Tomatoes filled with a creamy Tuna and Mozzarella Filling, in the perfect bite size serving.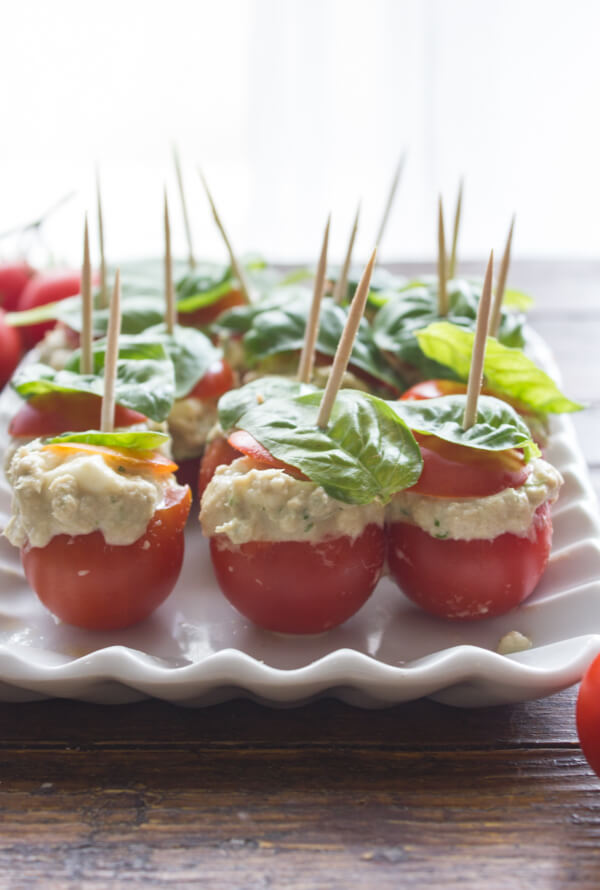 Do you ever go to parties or BBQs and the first thing you think of is I have to try that Appetizer! Well that's me. Ok I also think that about the Desserts too!
I love the idea of small Pop-In-Your-Mouth finger foods. Those cute ones with a tooth pick stuck in them, that you can just grab and you don't even need a plate! And since we are coming on Tomato season and I love cherry tomatoes……
The other day at the supermarket there were numerous food magazines with lots of appetizers on the covers, a couple that caught my eye were Stuffed Tomatoes.
Some were stuffed with cream cheese, some with anchovies (these are big in Italy), they looked so cute and what a great idea for an appetizer. I knew I had to make them and eat them!
My favourite summertime combinations are tomatoes and tuna or tomatoes and mozzarella, so naturally why not combine the three of them together. So that is what I stuffed my tomatoes with and it works!
I didn't want the tuna to remain too chunky, so I decided to blend it with some chopped fresh parsley and mayonnaise, and then combine it with fresh mozzarella chopped into small pieces.
Once I removed the pulp and seeds from the cherry tomatoes, which didn't take long at all. I found using a sharp knife worked really well. Filling them up with the Tuna Mozzarella Mixture was simple and quick.
Tuna Mozzarella Stuffed Cherry Tomatoes
And since I have fresh basil growing everywhere, and we all know you can't eat tomatoes without chopped fresh basil! I picked some of the smaller leaves and placed one on top of each of the tomatoes.
So let me tell you this is the perfect Pop in Your Mouth Appetizer you will probably taste this Summer. Buon Appetito!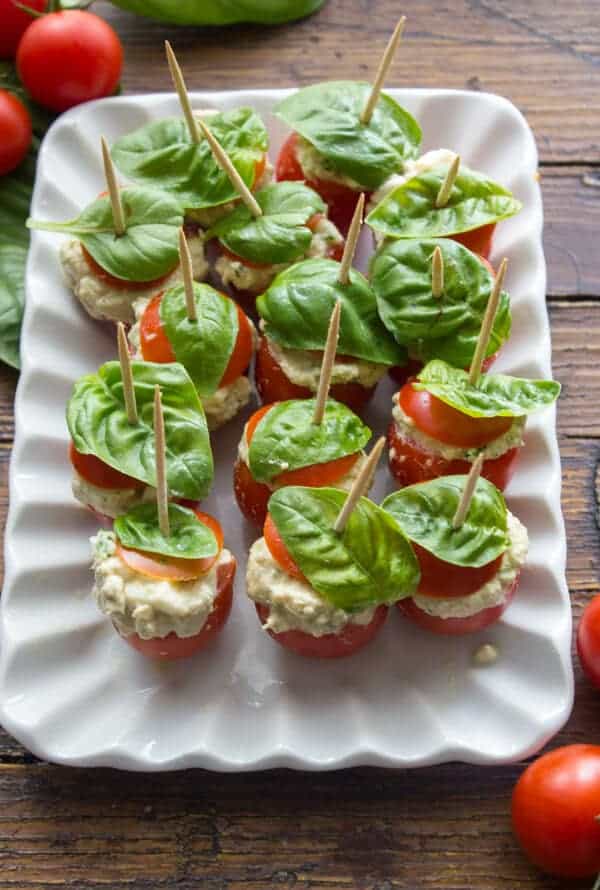 Tuna Mozzarella Stuffed Cherry Tomatoes
Tuna Mozzarella Stuffed Cherry Tomatoes, a quick and easy creamy tuna mozzarella appetizer recipe. A healthy bite size serving. Delicious.
Ingredients
16

cherry tomatoes

2-3

tablespoons

freshly chopped Italian Parsley

1

teaspoon

olive oil

2

small cans tuna in water

4

teaspoons

mayonnaise

1/2

small fresh mozzarella chopped into small pieces

16

small fresh basil leaves

16

toothpicks
Instructions
In a blender or food processor add the parsley, oil, tuna (well drained) and mayonnaise, blend for approximately 7 or 8 seconds, until mixture is nice and creamy. Set aside.

With a sharp knife cut off the top of the tomato (just the top part, like a hat) and remove the inside pulp and seeds. Turn tomatoes upside down on a rack to drain for approximately 10 minutes. Return to upright position and sprinkle with a little salt and oregano.

Place a basil leaf on every toothpick then poke the toothpick through the middle of the tomato top, continue with every toothpick.

Divide the mixture between every cherry tomato and replace with the top of the basil/tomato. Serve immediately or cover with plastic and refrigerate until serving. Enjoy!
Nutrition
Calories:
30
kcal
Protein:
4
g
Fat:
1
g
Cholesterol:
8
mg
Sodium:
61
mg
Potassium:
77
mg
Vitamin A:
160
IU
Vitamin C:
4.6
mg
Calcium:
7
mg
Iron:
0.5
mg
Adapted from Ricette Tradizionali Giornale